The relationship between a brand and its subscriber can, to a great extent, be associated with the relationship between two individuals. If we fail to understand each other's likes and preferences, a relationship can be strained.
Similarly, a visitor subscribes to your email newsletter – liking something about your brand. You keep sending them emails, they respond for some time- till they receive content that matters to them; but might choose to UNSUBSCRIBE if they find the emails persuasive or irrelevant.
Unsubscribes are nonetheless one of the most pertinent problems faced by businesses at all times. Recently GetApp surveyed over 500 internet users to learn the most common reasons behind email newsletter unsubscribes: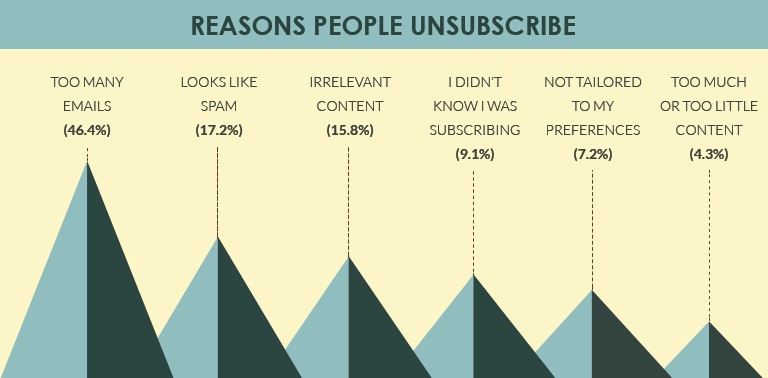 While receiving emails too frequently is the major reason behind unsubscribes, the other reasons are closely related to the content received by subscribers. However, only 30% of marketers are known to allow their subscribers to decide how often they want to be emailed, while 40% of marketers give subscribers the option to select the types of emails they want to receive.
The solution is pretty simple – create a Preference Center landing page, and allow your customers to manage the kind of communication they are interested in. But before we delve deep into how a preference center can reduce your unsubscribe rate, the Uplers would first like to describe what a preference center exactly is.
Know Me Thy – Preference Center
A Preference Center is a landing page on your brand's website, that allows a subscriber to add, change, or delete email preferences. When a subscriber clicks on 'unsubscribe' in your email, most reputed brands ensure that they are directed to the preference center/landing page.
Here, the subscribers are given a choice as to how often or what kind of emails they would like to receive. Maybe some will still proceed to unsubscribe but then you can certainly bring back some, thus benefiting your email marketing campaign.
A case study shows that New York Media's average unsubscribe rate was lowered by 76% in one year after they set up a Preference Center. In addition, they received fewer customer service complaints regarding their email subscriptions.
It is a good idea to decide on the options you want to include and give your subscribers as much control as you want. Now, let's look at what all factors a preference center typically includes:
Provision to select frequency
Sometimes, the subscriber doesn't really want to unsubscribe but wants to receive fewer emails. These are the ones you don't want to lose and they can be won back by setting up an email preference center. Let your subscribers decide how frequently they want to hear from you. Give them a choice between daily, weekly, monthly or quarterly and see how it helps to reduce your unsubscribe rates.
Provision to select content type
Another reason behind unsubscribes is irrelevant content; the subscribers don't mind emails about a specific event/product/service of their choice. In case you have multiple email lists, give your subscribers the option of selecting the type of emails they want to receive (whether they would like to hear about new products, sales, festive offers, etc., depending upon your type of business). This strategy helps to deliver hyper-customized campaigns also shooting up your open and click-through rates.
Provision to update email address
Around 15-25% of valid email addresses are discarded each year as people switch jobs, or just acquire a new email address. Give them a chance to update it; you might succeed in getting back a valuable subscriber.
Provision to unsubscribe
You might not succeed in stopping everyone from unsubscribing even after taking them to your preference center, so there must be an unsubscribe option in your preference center too. There comes a point when you have to let go.
5. Provision to collect personal data
Personal data such as name, gender, contact number, address, product purchase history can be collected in your preference center. This also helps to decide what type of emails you must send to a particular subscriber.
6. Provision to collect subscriber's interests
A short checklist of interests, which they can tick according to their preference of products/services helps in sending out the right emails to the right people. Emails can be tailor made to meet the needs of the subscriber, conveying that their opinions and choices are valued.
art.com's preference center has covered almost all the provisions mentioned above – from updating email address to filling personal information and from changing the frequency of emails to subscriber interests. A good potpourri, indeed!
7. Provision of other digital channels
Your subscriber may not want to receive your emails but would not mind staying connected through other channels like Facebook and Twitter. So optimize your marketing strategy accordingly by providing these social media options in your preference center.
And once you create that ideal preference center for your business emails, you also need to make sure your subscribers are easily directed to the center. Put a link to your preference center in every email you send out. If possible, place the link at the top as well as bottom of every email just like CSS conference did.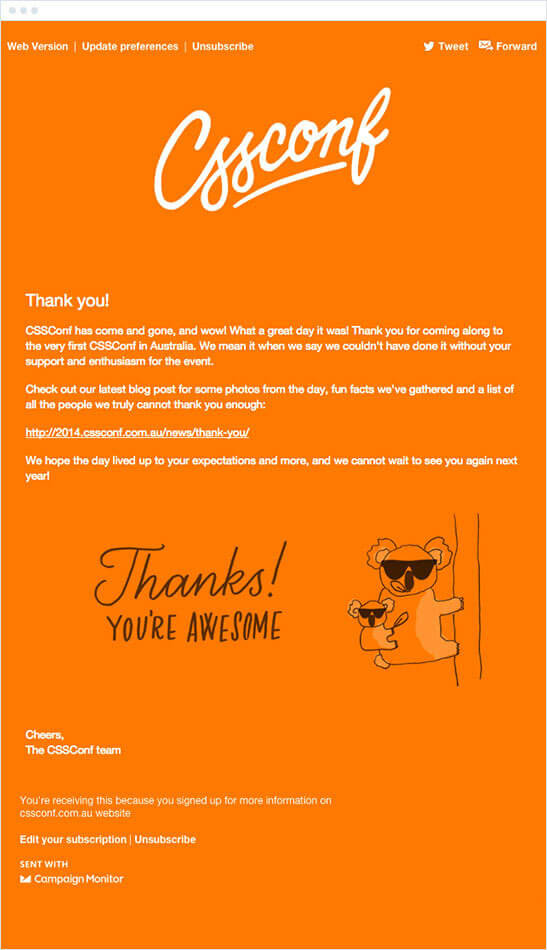 Takeaways
Unsubscribes is a pain in the neck for businesses. While sending emails too frequently is the major reason behind unsubscribes, the other reasons are closely related to the content they receive. Both these problems can be handled at an email preference center and you can certainly win back some, if not all, subscribers.
Preference Center helps create a permission based relationship depicting that you value your subscriber's choice
Data will be cleaner and more up-to-date as you can give your contacts the chance to amend their name, address, etc.
Helps reduce unsubscribe and complaint rates