Collecting subscriber information, gathering feedback, delivering personalized experiences, fostering brand loyalty, and improving your reach- these are things that top the priority list of every email marketer across the globe. Well, what if I told you that you could achieve all this with the help of just one tool? No, I'm not kidding. This powerful tool, I'm alluding to, is the email preference center.
A Quick Glance
So, what exactly is an email preference center? Well, it's a dashboard that lets your subscribers decide what kind of emails they want to receive (or stop receiving) from you and the frequency with which said emails should land in their inboxes. Now, why are they important? Because they help you retain subscribers.
You see, the two primary reasons that drive people to unsubscribe from your communications are:
An email preference center helps you tackle both of these issues effectively. It lets them specify how often they want to hear from you and lets you learn about their interests, enabling you to craft tailor-made content for them. In essence, a preference center allows you to place the ball in their court. Subsequently, you build the foundation for strong and lasting customer relationships, greater customer loyalty, and better retention rates.
Further, with the usual tracking tools such as third-party cookies and open rates (courtesy of Apple's Mail Privacy Protection) being no longer in the picture, email preference centers have become all the more critical in understanding your audience's pulse. At present, they are pretty much central to bolstering your engagement and ROI.
What Are The Benefits Of Using An Email Preference Center?
A preference center does much more than decrease your unsubscribe rates and help you cater to your customers' interests. Take a look.
1. Lets You Collect First-party Data
Over the last few years, there has been a tremendous focus on protecting consumer privacy (the crackdown on third-party cookies and the introduction of the MPP have been direct consequences of this movement). This, in turn, has made it imperative for every business out there to seek the consent of their subscribers before acting on data being generated from digital interactions. All of this has led to zero-party and first-party data becoming the backbone of a brand's marketing efforts.
In technical terms, first-party data refers to information that is collected by a business from customer interactions on the channels it owns. One of the most convenient ways of gathering first-party data is through an email preference center. Once collected, there are several ways in which you can leverage it. How, you ask? Take a look.
2. Improves Email Deliverability
Allowing your subscribers to manage preferences will ultimately translate to you sending them content that aligns with their interests and preferences. And this automatically increases the chances of your emails landing in their inboxes. As more and more of your subscribers start opening and interacting with your messages, you start earning the goodwill of ISPs (Internet Service Providers). This is important as they are responsible for positively ranking your future emails. Goes without saying, the more positive your ranking, the lesser the chances of your emails ending up in spam.
3. Ups Your Segmentation Game
Dividing your subscribers into different sections based on different parameters such as age, gender, interests and preferences, location, past purchases, browsing histories, and the like- that's what segmentation refers to. Based on the responses you receive on your preference centers, you can easily compartmentalize your subscribers into different segments. This helps you identify the diverse buyer persona interacting with your brands and craft relevant content for each unique segment. Personalized content, in turn, will help you fetch increased interaction and engagement, paving the path for higher conversions.
Best Practices To Keep In Mind While Designing Email Preference Centers
Now that we understand the significance of customer preference centers, let us see what all you should take into account to create one that's spot on.
1. Be Absolutely Certain About What You Want To Include In Your Preference Center
How well you are able to curate and optimize the content of your preference center will go a long way toward giving you an edge over your competitors. You have a lot of options at your disposal, of course, but you must cherry-pick and include the ones which you think will provide you with the best results.
New to this game? We've got you covered. Here are a few items we feel one must include in their customer preference centers.
Take a look at Litmus' email subscription preference center, for instance.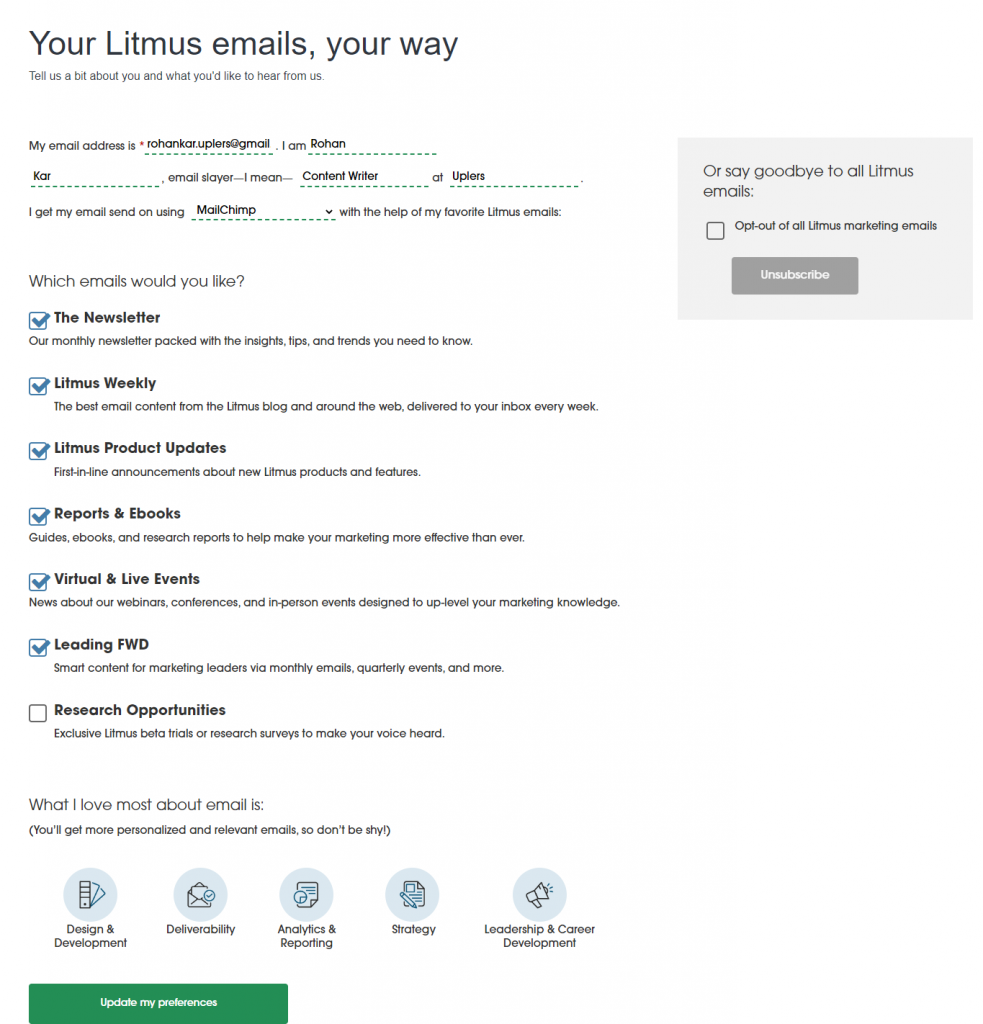 Here, they have clearly listed out all the different categories of emails they send out. To select the ones you'd like in your inbox, all you have to do is tick the concerned checkbox. Below the "kinds of email" section, there's the "topics of interest" section; yes, the "What I love most about email is" segment.

Now, see Kitchn's preference center, which solely asks its readers to choose their topics of interest.

What makes this subscription preference center particularly effective is the addition of images next to the categories. Makes it that much more appealing.
2. Always Keep It Simple
This is actually a logical continuation of the point made above, but it's so critical that it deserves to be a unit of its own. No matter what you do, never clutter your preference center. Subscribers should be able to navigate it as frictionlessly as possible. Don't include any unnecessary data fields. Stick to the basics- name, email, and contact information.
Magic Spoon's preference center aptly encapsulates this philosophy.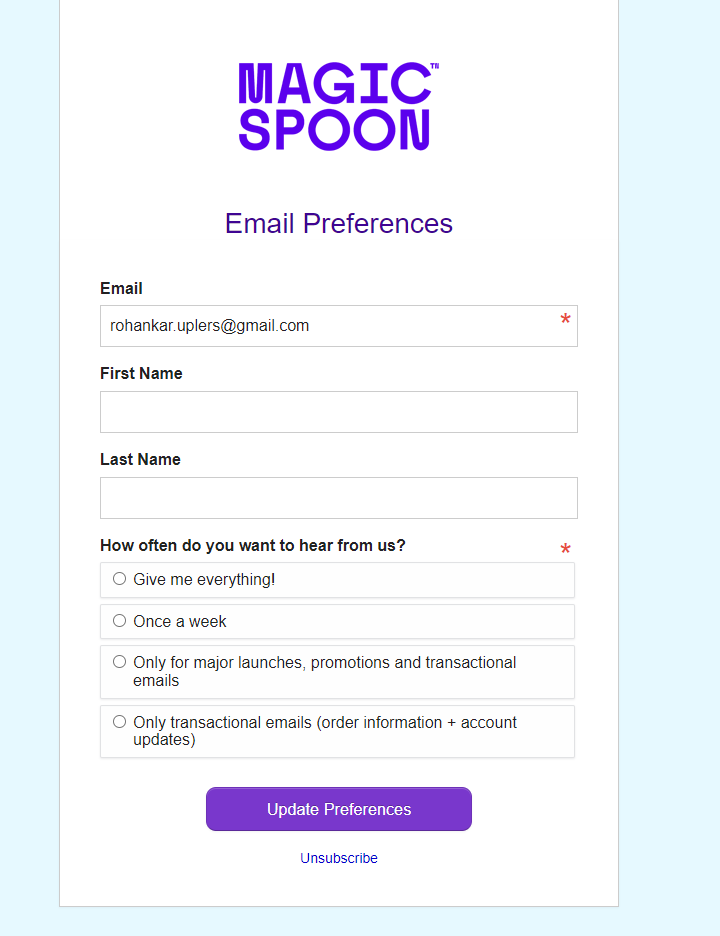 If you want to be more minimalistic and ask just for your subscriber's email address, no problem at all.
That's exactly how Framebridge does it.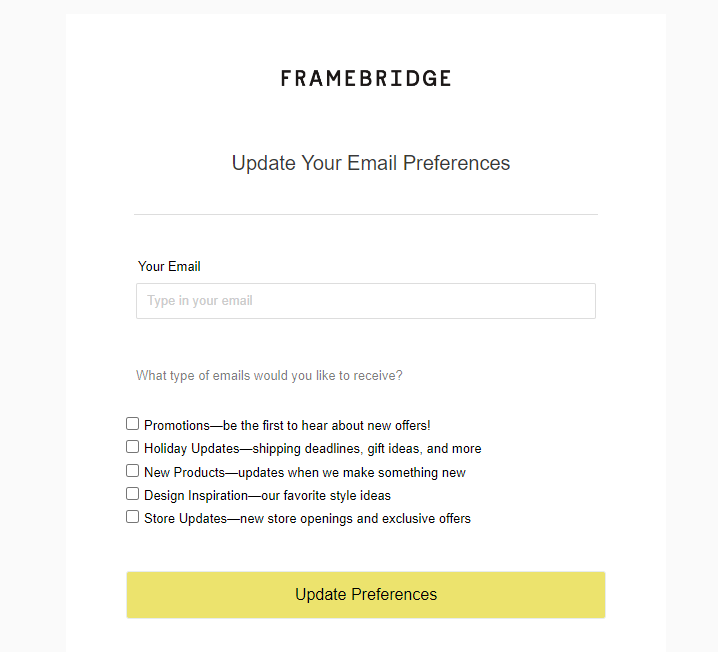 3. Stick To Single Page Subscription Preference Centers
Even if you feel that your preference center page is becoming a tad bit lengthy, fight the urge to phase out your elements across multiple pages. The best course of action is to put everything on a single page. Thing is, when your customer preference center has multiple pages, your subscriber has to put in that extra bit of effort to manage their email preferences. That is counterintuitive to our goal of inviting readers to update preferences in the first place- improving their user experience.
Here's Formaggio Kitchen's subscription preference center, for example.

Sure, it might be a touch long, but look how they have kept it all on one page.
4. Include The Unsubscribe Link In Your Email Preference Centers
Besides allowing subscribers to opt-down, your customer preference centers must also give them the option of opting out altogether from your communications. Remember, some subscribers might be unsatisfied even after making all the necessary adjustments to their preferences.
See how Food52 does it.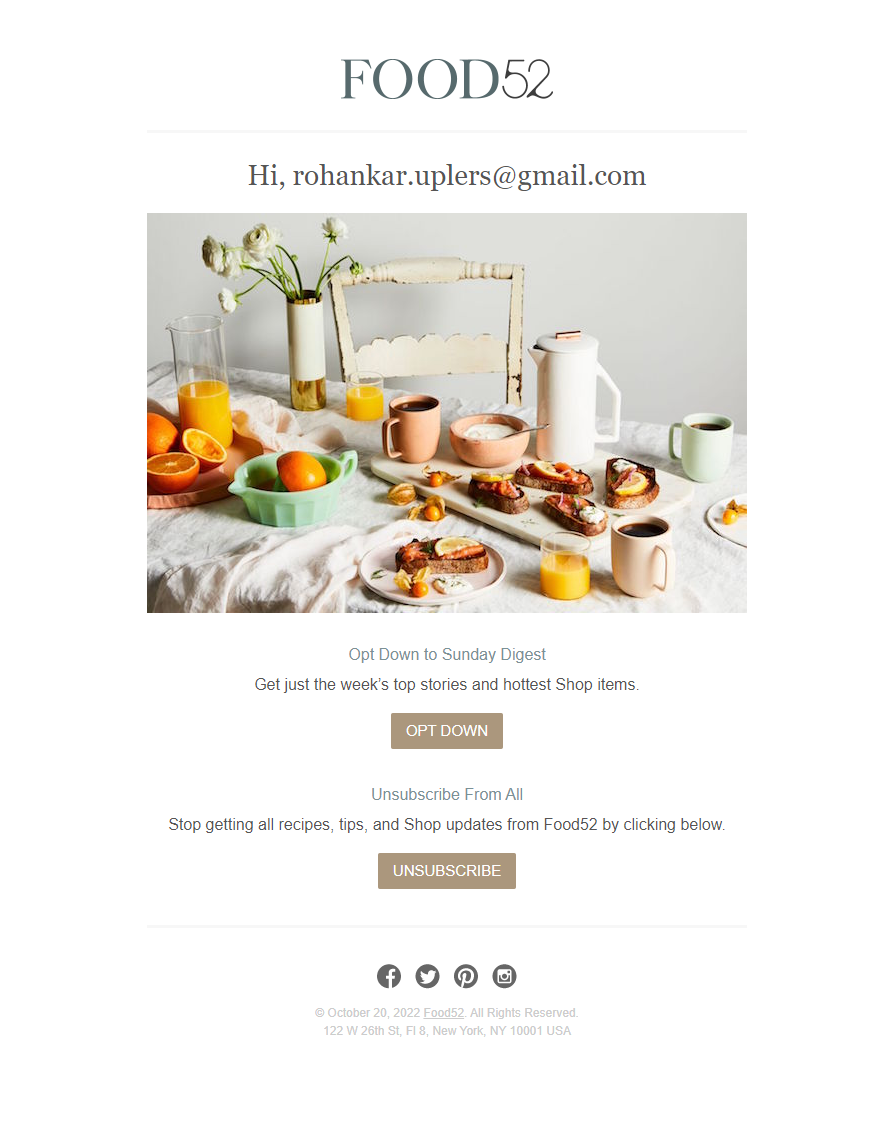 Wrapping It Up
A customer preference center is a vital asset of your email marketing strategy. If done right, it can play an influential role in improving your brand reputation. We hope the insights and email preference center examples shared above help you hit all the right notes while designing your own.