Have you ever skimmed your emails and got that "déjà vu" kind of a feeling because most of them look 'almost' similar?
Check out these emails: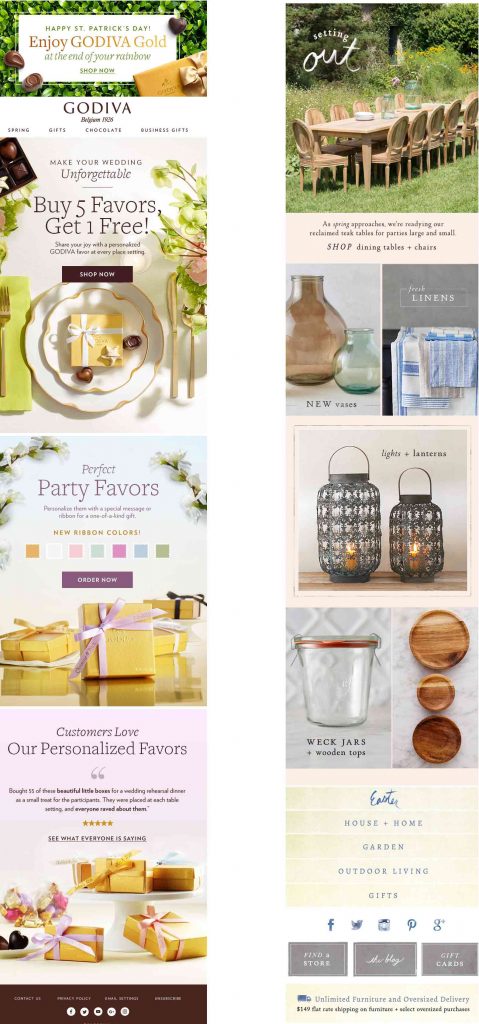 Don't they bear striking resemblances?
These are known as reusable templates.
An alternative to reusable email template is one-off emails where you design every template from square one and begin with a plain white screen each and every time.
These conventional emails that have to be designed from scratch every time are known as one-off email templates.
Let's have a look at the benefits and limitations of each one of them, starting with one-off emails.
Why Marketers Choose One-off Emails?
1. Unique look and feel
One-off templates give your emails a unique look and feel unlike reusable email templates that give a similar impression to the subscribers every time.
2. Effective for holiday email campaigns
Holiday email marketing works better if you use customized one-off email templates. You can include GIFs or cinemagraphs and give it a visual appeal to engage subscribers better.
3. Work better for event invitations
Event invitations need to be designed in a way that they attract more leads and booth visitors. Sending out one-off email with an embedded video and brief copy would work wonders in this case rather than a reusable template.
Limitations of One-off Email Templates
It is time-consuming. You have to think of unique design ideas days before the campaign is planned. Also, you have to get it designed and coded. Of course, you cannot forget to test the email.
Moving on to REUSABLE EMAIL TEMPLATE…
Reusable email template like the name suggests is a preset HTML file that can be used multiple times as and when required. It allows you to adjust the elements like pre-header text, images, body content etc. to an email according to the purpose of your campaign.

These email templates are generally saved in your Email Service Provider. They work like a scaffold on which you can create the entire email.
Benefits of Reusable Email Templates
While one-off emails take time for design, reusable templates help you to send out emails almost instantly. You only have to load the email template and replace the content or graphics with the elements that you need in the new email.
Reusable templates enable consistent formatting in emails as per the branding guidelines that gives your emails a distinct personality of their own.
As the branding guidelines are invariably adhered to, ISPs recognize your emails and thus ensure a better deliverability for your emails.
Limitations
Reusable emails emit a sense of monotony with sections separated by spacers & stacked in the same ol' column and row based layout…
Your email becomes boring despite the tempting discounts offered and awesome images displayed.
Wrapping Up
Weigh the pros and cons of one-off email templates against reusable templates and choose the best that suits your brand.
As an email marketer, you should consider that your subscribers are constantly evolving to filter the clutter of unwanted emails, and it's up to you to send out unique emails that make them go "WOW".
You can do this by sending out attractive one-off email templates and make your subscribers look forward to receiving your emails.
If you wish to enhance your email marketing strategy with some awesome hand-coded email designs, Uplers would be more than happy to help!