Your business uses email. As do hundreds and thousands of your competitors. So, how can your email marketing efforts tower above theirs? It all boils down to who you have chosen to steer your ship- yes, we are talking about an email marketing agency. Email has plenty to give, but to mine it effectively, you need to partner up with the right email marketing agency. With options galore in the market, it is anything but an easy choice to make. But what if you are already availing of the services of a particular agency? In that case, you need to evaluate whether you are getting the right bang for your buck. And that's precisely what this article intends to help you out with.
Should your agency be underperforming, you will definitely observe the five signs we have listed today. Read on to check if any of them seem familiar.
1. Your Audience Engagement Rates Are Going Down
Keep in mind that millions of emails bombard your target audience on a daily basis. To earn their attention, thus, the design and content of your emails must be top-notch. Content and design trends are extremely dynamic within the email marketing landscape. If the campaigns designed by your email marketing agency fail to take stock of them, you will find your audience engagement rates decreasing steadily.
To prevent this, look to it that your agency implements the following best practices.
On the content front:
Your email copy should always be concise. The shorter your copy, the greater are its chances of being read by your subscribers. Remember, people always appreciate emails that quickly get to the point. Additionally, always construct your copy with short and simple sentences. This will improve the clarity and general readability of your copy. Most importantly, this is ideal from an email accessibility point of view as well. Subscribers using assistive technologies like screen readers find it easier, invariably, to engage with brief copy comprising crisp sentences.
Be mindful of your word choice. For your email's message to be interpreted effectively, it must be accessible in the first place. Draft your emails such that a broad spectrum of your audience can understand them. Put them in a lexical maze, and they will spare no time in bouncing from your email.
Stay away from jargon. This point is mainly targeted at brands operating in the B2B and SaaS space. We understand you deal with complex products, to explain which using a few technical terms becomes necessary at times. And that's completely fine. What we want you to steer clear of is writing your emails in a language that befits, say, a white paper. This will severely hamper their readability. With your emails, you are looking to drive sales, right? For that, you need to make your products as accessible as possible for your readers.
Make your copy customer-centric. Telling your audiences how your product ranks one across "n" metrics isn't going to grab their eyeballs. That sort of information is entirely irrelevant to them. To secure their attention, you need to clearly illustrate, instead, how your offering is the perfect fit for their pain points. In fact, go a step ahead and discuss all the various ways in which they can make the most out of it.
Make it personal. In this age of email overload, only those copies that attempt to foster a 1-on-1 dialogue with their readers are successful in driving engagement. Writing your copies in the second person is an excellent tactic to establish a personal connect with your audience. Moreover, this also makes your copy's tone seem conversational.
Leave no stone unturned while crafting your subject lines. They are the first things that recipients notice about your emails. If they are not compelling enough, your audience can't be convinced even to open your emails, let alone interact. With almost 85% of people using smartphones to access their inboxes, it has now become highly critical for marketers to optimize their subject lines for mobile viewing. Popular consensus proposes 25-30 characters to be the optimal subject line length.
Personalize your copy. Understand the needs, preferences, and buying patterns of every subscriber on your contact list and address the same in your emails. This will do a world of good to your engagement and conversion rates.
Here are a few examples of emails that absolutely hit the bull's eye with their copy.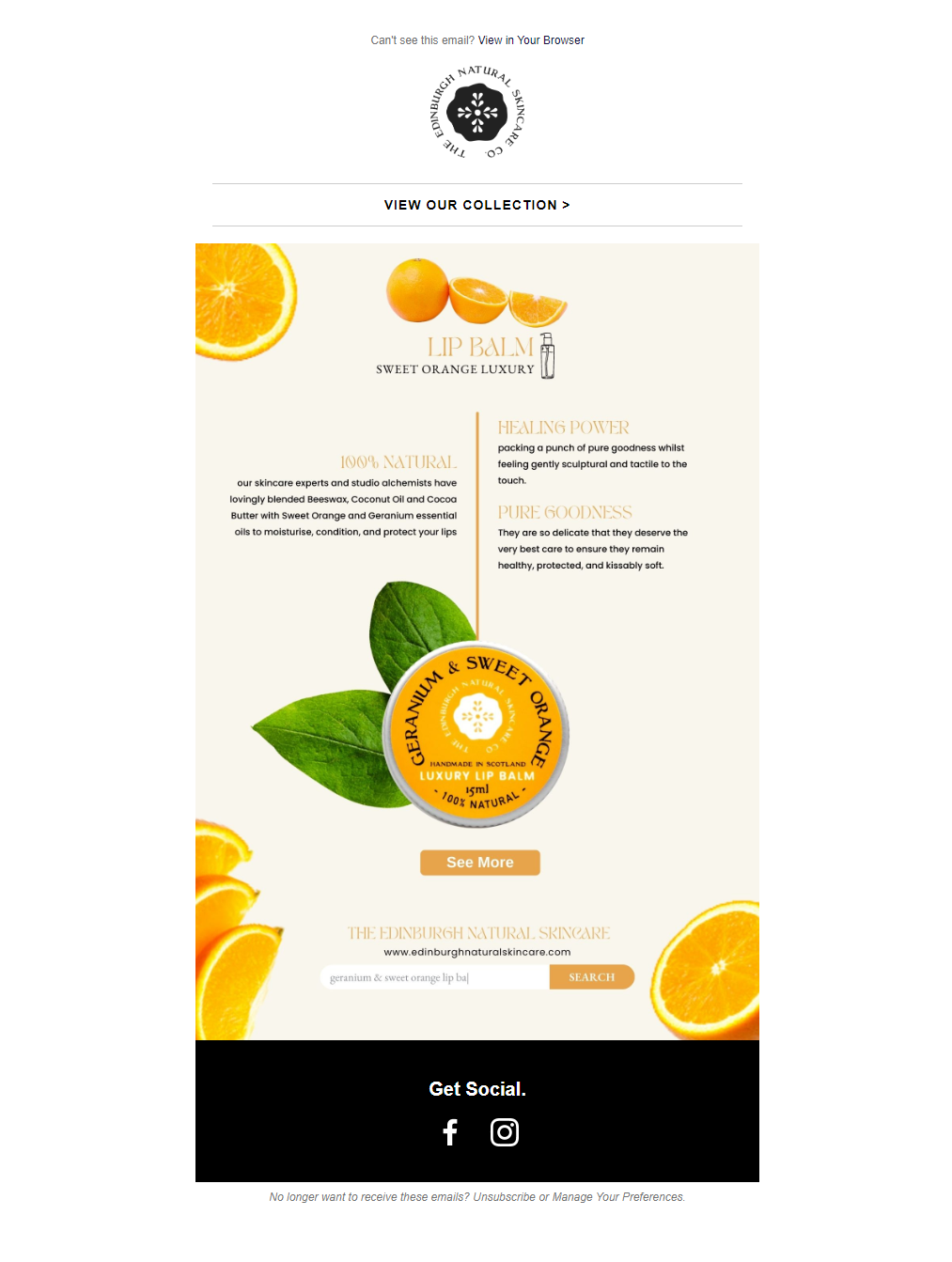 On the design front:
Always aim for a visually uncluttered layout. Keeping multiple elements in your email is fine so long you are able to arrange them in a manner such that no one's unique appeal is compromised. The best way to go about this is to make sure that every element has ample white space around it.
Use a magnetic visual component for your hero section- it can be a high-quality photo, an animated GIF, a cinemagraph, or an illustration. It is the first thing that greets the reader when they open the email. If it is attractive, it will definitely encourage them to scroll down and check out the rest of the email.
Be conscious of the contrast between your background and foreground elements. If it's not appropriate, it will end up becoming inaccessible for people with visual disabilities. Don't rely on manual judgment while taking this call. Take the help of tools such as Contrast Finder, Coolors, Contrast Ratio, Monsido, and the like.
Do not use different kinds of fonts in your email. It can end up looking quite visually jarring. If possible, stick to one font for your headings and subheadings and another for the body. This way, a certain degree of uniformity will also be maintained.
Design your templates in a single-column layout. This will help you make them mobile-friendly as well as maintain a logical reading order.
Take a look at these stunning templates to get your creative juices flowing.




2. Your Email Deliverability Is Down In The Dumps
Imagine merging your days and nights to create your campaigns, only to discover that they are not even landing in your subscribers' inboxes. Sounds terrifying, doesn't it? Well, that's exactly why email deliverability is among the topmost priorities of every agency out there. However, if yours is not doing its job properly, you'll find a lot of your emails bouncing from your recipient's inboxes, plummeting the performance of your campaigns in the process.
So, what possible oversights by your agency might be costing you a healthy deliverability rate? Take a look.
Not setting up a proper opt-in system. Always add new subscribers to your contact list through a single or double opt-in process. That way, you know that you have your consent before mailing them.
Ignoring the hygiene of your email list. As you grow your mailing list, you will inevitably accumulate a few inactive and dormant contacts over time. It is important to weed out such contacts, for continuing to email them will affect both your deliverability and sender reputation.
Failing to authenticate your email domain. To prevent falling prey to email spoofing, your agency must enable Domain Keys Identified Mail (DKIM), and Sender Policy Framework (SPF).
Not warming the IP address before delivering emails in bulk. It is simply not enough to set up a dedicated IP for your marketing campaigns. You must also warm it up to ensure you don't land on the wrong side of ISPs (Internet Service Providers).
3. Your Performance Is Not Being Measured Properly
Successfully executing an email campaign isn't the end of the line. Equally important is to monitor how your subscribers are responding to it. To do so, your email marketing agency must devise a foolproof email campaign report. That, in turn, must include the following metrics.
Click-through Rate (CTR)- A measure of the number of subscribers who clicked on your links, CTR helps you understand whether your messaging can drive your subscribers to action are not.
Conversion Rate- The conversion rate tells you about the number of subscribers who completed the action that was desired of them post clicking on your email's link. It is a reliable metric to evaluate the ROI of your campaigns.
Bounce Rate- The bounce rate is indicative of the quality of your email list. The greater the number of invalid contacts on it, the higher will be your bounce rate.
Unsubscribe Rate- Illustrating the number of recipients who unsubscribed from your emails, a spike in your unsubscribe rate is a pressing sign to revamp your existing email marketing strategy.
List Growth Rate- This metric helps agencies understand the efficiency of their lead generation campaigns. 
If your agency's campaign report doesn't have the above metrics, identifying and fixing the potholes in your plans will become extremely difficult.
4. You Are Gaining New Leads At A Painstakingly Slow Pace
Acquiring new customers is critical to a business' sustenance and growth. To do so, they take the help of signup or opt-in forms. But, if your email marketing agency fails to curate it properly, adding new contacts to your mailing list will become a Herculean task.
Here are a few things agencies should keep in mind while designing email signup forms.
Write a catchy headline. For visitors to fill out your signup forms, they should notice it first, right?
Be clear with your value proposition. Your visitors must have clarity regarding what they are receiving in exchange for sharing their contact information.
Don't keep too many input fields. This will spark suspicion in your visitors' minds, eventually discouraging them from filling out your opt-in form.
If you are planning to use a pop-up signup form, make certain that you time it right. Look to it that it doesn't flash on the visitor's screen the very instant they land on your website. Let the form pop up only after the visitor has spent 10 seconds or more browsing through your page.
5. Your Customer Retention Rates Are Reducing Drastically
Automation and personalization play a pivotal role in modern-day email marketing. If your email marketing agency is not adept at executing complex automation workflows and implementing personalization, your campaigns will naturally suffer.
Listed below are a few grounds where they might be coming up short.
To implement personalization effectively, one must segment their list into various segments such as age, gender, occupation, interests, location, past purchases, position in the sales funnel, and the like. 
Know your triggers. The better you are at trigger identification, the more relevant will be your automated emails for your subscribers. 
Keep your segmentation framework simple. Start with a few basic parameters and then build upon them with time as per your customers' behaviors.
Always be flexible. Be it setting up automation workflows or devising segmentation strategies, you must always prepare to change and attune it to your customers' actions.
Wrapping It Up
It goes without saying, if any of the above signs look familiar to you, discuss the requirements with your agency. And if that too does not work, start looking for a new email marketing agency at the earliest. Only a well-oiled agency can treat you to the extraordinary delicacies this evergreen marketing channel has to offer!