Email marketing is one of the best channels for engaging subscribers and nurturing leads. Moreover, with the number of active email users predicted to reach a whopping 4.1 billion by 2021, leveraging email marketing has become all the more important for marketers in order to give the best marketing experience to customers.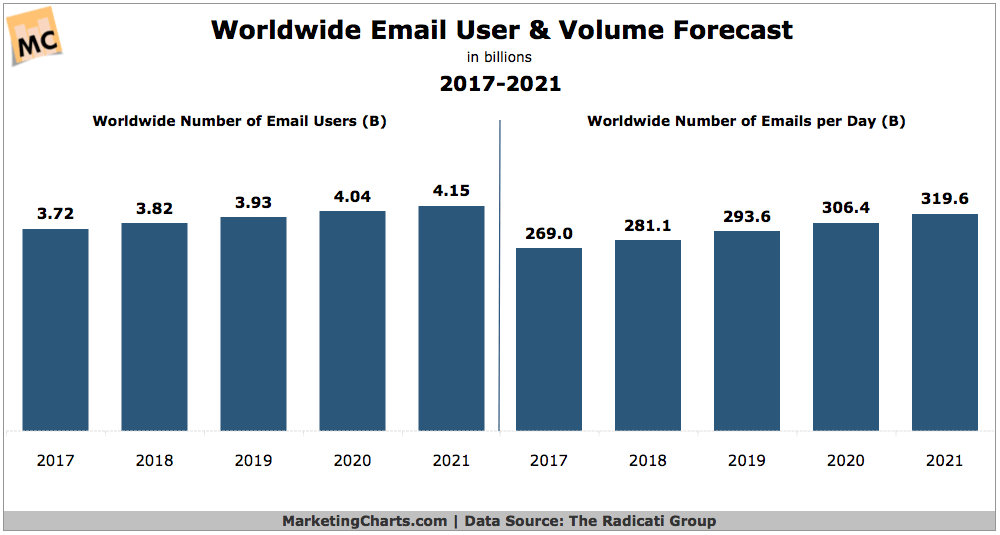 However, with the unprecedented growth of email users, the competition amidst email marketers have become prominent too. Every marketer wants to stand out with their email marketing campaign. So, if you want to do the same, it is imperative to think outside of the box and keep the freshness in your email marketing alive. Here's how you can do it.
1. Make use of interactive content
Interactive content is the best way of garnering a subscriber's attention. It doesn't only make the emails more accurate and simpler but also brings out its fun elements and informative side – which are few of the important content characteristics that consumers look for.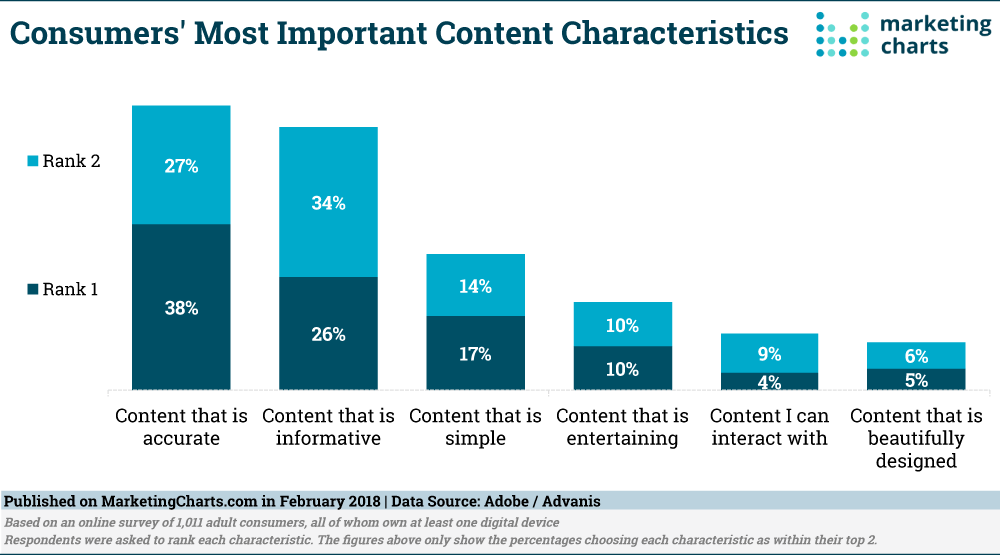 In fact, 57% of customers make a purchase based on the valuable online content provided by a brand. So, if you want your customers to be amidst that 57%, make sure you use interactive elements right. You can start by including relevant videos, GIFs and memes within your email campaign. In addition, opting for a non-formal and conversational tone in your email is also a great way of enhancing the interactivity of your campaign. Remember, if your customers love what they see in your email campaigns, they would love your brand too. This, in turn, would work wonders in driving conversions and boosting ROI.
ToughMudder sends out a punny interactive email that leaves the subscribers pleasantly surprised at the climax of the animation.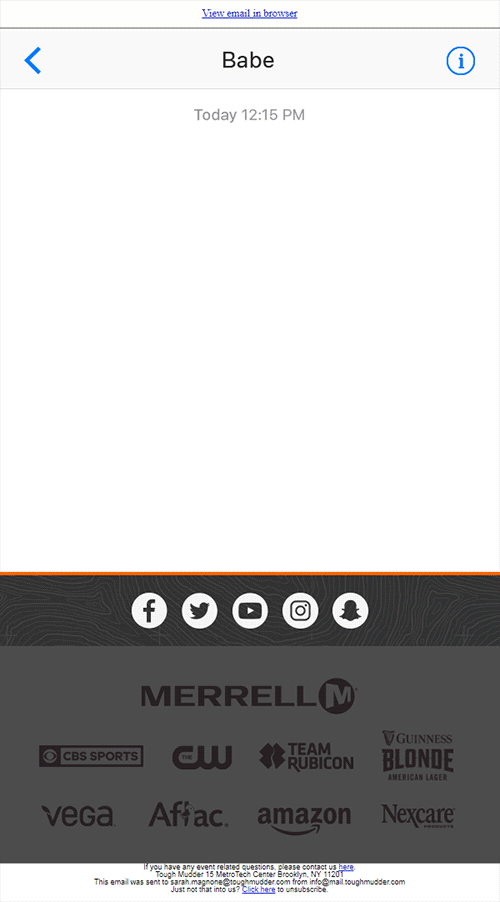 2. Subscribe to an email savvy brand
Good emails pave avenues for a successful email marketing campaign. However, finding emails that stand out on a regular basis is a tough task. So, to get hold of some creative email ideas, subscribe to a brand that's email savvy. This way you will have a huge resource of inspiration for making your email campaigns fresh, unique and attention-grabbing.
3. Watch on your competitors' email campaigns
Apart from subscribing to an email savvy brand, keeping an eye on your competitor's email campaign is also a great idea to get a competitive edge over them. See what strategies they are implementing to capture the subscriber's attention. Take a look at their content, design elements, layouts etc. All these observations can help you strategize your email campaign perfectly and stay a step ahead of your competitors. In fact, you might just make the competition irrelevant altogether with your one-of-a kind of email campaign.
4. Make use of professional images
Nothing grabs a subscriber's attention more than a high-end, professional image. It doesn't only help in breaking long walls of text but, also gives you the option to include something attention-grabbing. In this context, Pixabay can serve as a great option for getting hold of some high-resolution stock photos for free. Include these in your email campaigns and see how your click through and open rates escalate like never before.
5. Go the automation way
Another sure-fire way of keeping your email marketing top-notch is by opting for automation. From welcome emails to drip and triggered campaigns, email automation helps you do it all instantly. This is the reason 53% of marketers are already using automation as an innovative email marketing tool.
While it sends welcome emails automatically to help establish a connection with your new subscriber, it uses drip campaigns to send unique content at regular interval and keep the customers involved.
Related: Email Automation Workflow to Create Lead Nurturing Emails
6. Keep your email campaigns mobile friendly
With more and more emails being opened on mobile, marketers must optimize their email campaign for mobiles. So, if you haven't already done it, it is high time you make your emails mobile friendly. From graphics and texts, everything should be responsive enough to adjust automatically on a phone screen and maximize scale, size, readability and font.
7. Segmentation is the key
The fact that 88% of marketers believe segmentation to be a key element of impacting customer focus is enough to comprehend its importance.
In fact, the click-through and open rate of the segmented campaign is 101% and 14.3% more than that of non- segmented campaigns respectively.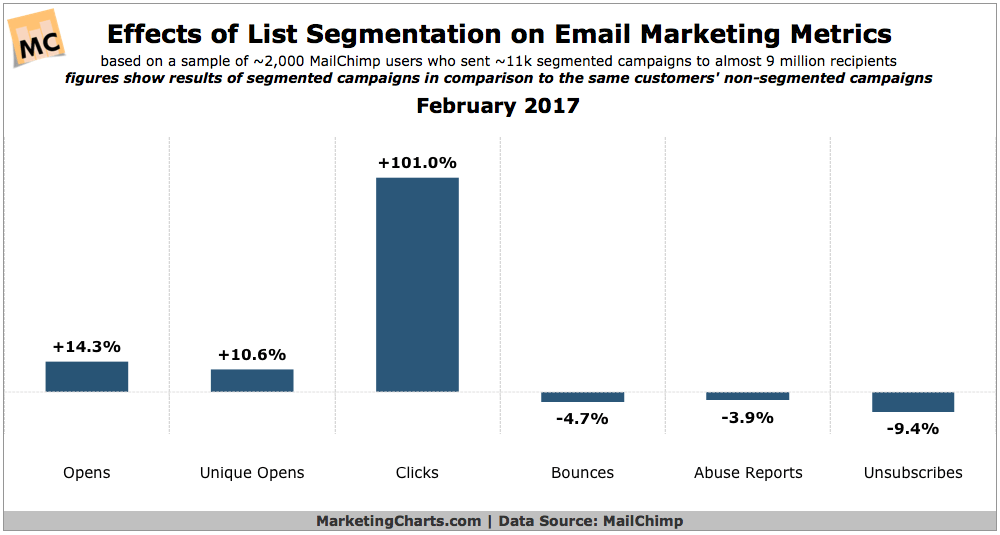 Hence, if you want to make your email campaign the talk of the town while enhancing your sales and revenue, go the segmentation way. You can start by segmenting your email list based on criteria like age, age, gender, demography, purchasing history, buying behavior, sales funnel position etc.
8. Get creative with personalization
Do you know 74% of marketers believe personalization to be a great tool for improving customer relationship? And why wouldn't they? After all, it gives a personal touch to their email campaign. However, just limiting your personalization tactics to including the subscribers first name in the subject line isn't enough. To give your email campaign an edge over others, you must go a step ahead and get creative with your personalization strategy. Here's a little sneak peek on how you can do it like a pro:
Send personalized emails based on the browsing or purchase history of the subscriber.
Connect emotionally by sending personalized birthday greetings to your subscribers.
Send a personalized abandoned cart email with enticing images of the products left in the cart. See how MassDrop does it:

These are few of the many ways you can use to make your personalization game top notch and increase the value and relevancy of your email campaign.
Final thoughts
With the right strategy and a consistent approach, you can easily keep your email marketing campaign creative, innovative and fresh, all at the same time. So, incorporate the above-mentioned strategies and align them with your brand to get productive results in no time.