Index
Introduction
In earlier times, commerce and trade were simple. You get a commodity in exchange for a commodity (barter system). As the civilizations evolved and advanced forms of trading were invented, business was divided into subtypes based on the clientele. Some brands directly sold to the customer (D2C brands), some did business with the customers (B2C brands), and some did business with other businesses that acted as the middleman between seller and customer (B2B brands).
In the digital era, B2B businesses are using digital marketing strategies to identify, target, interact, and engage with their prospective clients. Irrespective of marketers' newer technological advancements, email is still leading the pack for lead generation and customer retention. In fact, email is considered the top free organic distribution channel by 87% of B2B marketers, and 85% of marketers use email for content marketing. On the other side of the spectrum, 86% of businesspeople prefer email over other business communication channels.
This is an indication that adopting B2B email marketing early on can help you score better engagement. Better engagement leads to more qualified leads, which in turn means increased conversions. Being a marketer, you know that increased conversions mean increased revenue for your business.

What is B2B email marketing
Simply put, B2B email marketing is when a business sends marketing emails to other businesses. B2B is all about sending the right email to key decision-makers of a business with a longer lead nurturing stage than B2C email marketing. Unlike B2C email marketing, where you need to send emails that match customers' emotions and wants and motivate them to take the impulsive action, B2B email marketing has a longer wait cycle. Thus, when you're crafting a B2B email marketing strategy, you need to rely more on logic and reasoning than what you would while contending with a B2C campaign.
The goal in B2B email marketing is to remain at the top of the customer's mind when they are ready to make the purchase decision. The tone differs from B2C email marketing, as the message needs to be more solution-centric than emotion-centric. The sales pitch in a B2B email would be data-oriented and will highlight the return on investment for the customers when making the right choice. In B2B email marketing, the focus is concentrated more on educating your prospects and nudging them along the sales funnel.
Differences between B2B and B2C email marketing
Above, we have mentioned a few differences that set B2B email marketing apart from B2C email marketing. In this section we shall explore the core differences by classifying them under seven major categories:
1. Audience
Even though the end customer is a real person, the audience for a B2B brand would be narrower. This means a B2B marketer has a better understanding about the prospects' pain points.
2. Content
In the end, it eventually boils down to what would be the returns on investment they make. B2B customers are thus more interested in receiving case studies, whitepapers, or customer testimonials. Data in the form of graphs, charts, or reports are always present in a B2B marketing email.
3. Requirements
B2B customers are not affected by how your products/services make them feel but are more interested in learning the value of your offerings. They wish to understand what they shall gain from working with you.
4. Customer Journey
While the overall customer journey stages are similar for both marketing types, the difference is in the time spent at each stage. B2B customers spend the most time in the lead nurturing stage while the sales and after-sales aspects are comparatively smaller.
5. The overall cost of conversion
The longer path taken to convert someone means increased marketing cost. On the other hand, the average order value for B2B is much higher than that recorded in B2C, so ROI for B2B email marketing is still high at the end of the day.
6. The duration of decision-making
Unlike their B2C counterparts, decision-making in the case of B2B customers doesn't necessarily rest at the discretion of a single individual. The process is much more prolonged because it requires multiple departments of the organization to be on the same page.
7. The visual framework
A major point of difference between B2B and B2C email campaigns is their visual grammar. While brands operating in the B2C space prefer greeting their subscribers with visually-rich emails, those in the B2B spectrum rely more on copy-heavy emails that have a minimal and neat layout.
These five differences result in the following changes to be expected from a B2B email marketing campaign:
A. Logic precedes Emotion
While everyone loves brilliant storytelling, it should revolve around the value addition you bring to the table. While a data-driven email copy drives B2B email marketing, creating urgency using crafty words, or countdown timers don't work effectively. Bulk order discounts or dedicated resources are great ways to get your customers to consider your offer.
B. Formal tone
One thing you'll find in common across the best B2B email marketing examples out there is the usage of an extremely professional, logical, and informative tone. This is in sharp contrast to B2C emails where the tone is a lot more casual and peppered with action verbs and sensory words to push the readers to take action.
In B2B email marketing, there is a chance that you may have access to professional information of your prospects that you can use to personalize your email copy. Use it as an icebreaker to start a conversation and make the email relevant to them without over-bearing. B2B customers don't want to be treated like a name in the mailing list but don't expect to be treated as the next-door neighbor as well. Moreover, different people have different tolerance for humor, so use it sparingly.
C. More emails
The customer wouldn't jump onto buying your offerings in the first email itself. Since the average order value is much higher than B2C, it requires enough considerations and analysis before your customer decides to go ahead with the order. This means you need to send more emails that are lead nurturing in nature and complement their thought process.
D. Finer Segmentation criteria
Different people have different expectations of your brand. Additionally, your prospects will take different amounts of time to progress through a customer journey stage. This means you need to create different segmentation criteria that help you send them the correct communication that assists them to progress as per their preferred speed.
E. Fixed Sending Times
In the case of B2C, your customers would check their emails any time of the day in the pursuit of getting a good deal. For B2B customers, the only mode of interaction is through their business email address. So, they are only approachable during office hours and generally are in the process of clearing out the previous day's emails in the morning, so avoid the early morning rush. As it is, B2B emails and newsletters are known for the unique engagement patterns they invite. B2B email activity (i.e. weekly click volume and open rates) reaches its peak at the beginning of the week (specifically on Mondays and Tuesdays) and plummets post that. Speaking of the time of the day, most B2B emails reach customer inboxes either as early as 8AM in the morning or around 12 in the afternoon (typically around that lunch break corridor).
The graphs below illustrates the same: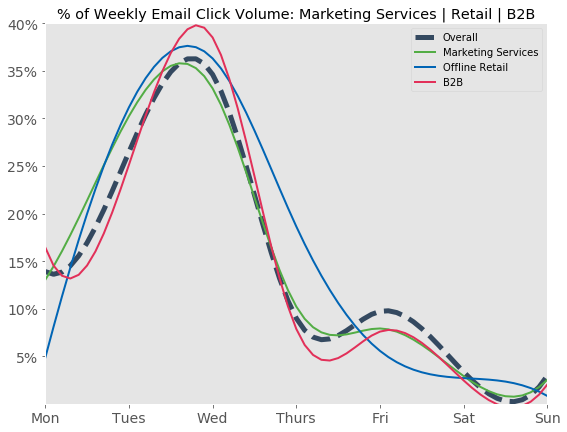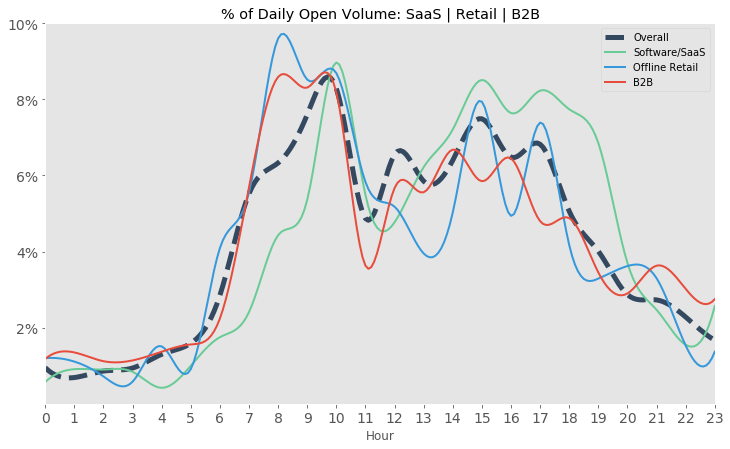 How to get started with B2B email marketing
Now that we have set the expectations from B2B email marketing, let's move towards learning about which tools do you need for effective B2B marketing and how to begin planning your email marketing campaigns.
★Tools required in B2B email marketing
Man's affection towards tools has been there since early prehistoric times. So, it is natural for a marketer like you to use tools for managing every aspect of your marketing efforts. Based on what other marketing channels you are using for your customers, B2B email marketing tools required can be divided into two broad categories:
1. Email Marketing Related
a. Marketing Automation: Not every email needs to be sent manually. Automation can help you create custom email workflows that send specific emails based on the user-end actions that act as triggers. More on this later.
E.g. Drip, Convertkit, SendinBlue
b. Email Sending Program: In B2B, it is all about reputation and presentation. People tend to give more weightage to an email sent from a business domain email address over a free-to-use email service provider such as Gmail, Yahoo!, Hotmail, etc. Moreover, if spamming or heavy email send volume is suspected, Internet service providers can blacklist your IP address (thus blocking your emails from reaching your customers). An ESP allows you to send emails from your business domain but using their spectrum of pre-whitelisted IP addresses. This way, you can be assured of your emails' maximum deliverability.
E.g., MailChimp, Hubspot, Marketo
c. Lead Capture tools: Email marketing relies heavily on your prospects' email addresses that you collect in exchange for an incentive. Pop-up signup forms or lead generation material such as ebooks, whitepapers, or any other downloadables kept behind a signup form can help you collect email addresses from your prospective customers. This is along with demographic details such as company name, employee strength, contact information, etc., that can be used to serve better-personalized content to them.
E.g., Optimonster, Hellobar, Thrive Leads
d. Landing Page Creator: This is another lead capture tool but requires special mention as it is different from other tools and is vital for email marketing. You can consider landing pages to be a bridge between two emails; the information you collect in them can affect the next email you plan to send.
E.g., Unbounce, LeadPages, Instapage, Wix
e. Graphic Design Programs: Sometimes, you may need a visual to include in an email, but a designer's unavailability would be a hindrance. A graphic design program can allow you to create attractive visuals on the fly without relying on a designer or designing skills. It can be helpful in tight situations where you can't afford to wait for a designer.
E.g., Canva, Stencil, PicMonkey
f. Customer Relation Manager (CRM): The brain behind the operation is a robust CRM. It stores the information about your leads, prospects, as well as customers and automatically updates the profile whenever an action is taken. This way, you can easily track the progress of a customer and make necessary tweaks in your email strategy. A CRM also helps significantly in list management and cleaning activities.
E.g., Hubspot, ZOHO, Oracle CRM, Salesforce
g. eCommerce platform (for B2B eCommerce brands): Applicable only to the brands that deal in B2B eCommerce, platforms such as Shopify, BigCommerce, WooCommerce is where you can create product listings, make a sale. Based on the actions taken on your product page, the eCommerce platform sends relevant information to the ESP that sends the eCommerce emails. Consider the storefront to be the counterpart to the traditional websites.
2. Cross-channel related
a. Website Analytics: For measuring campaign performance and analyzing website traffic, an analysis tool is vital. It helps you identify key sources for website traffic and provide other demographic information such as age, location, the device used, time spent, etc. A must-have for anyone who has a website.
E.g., Google Analytics
b. Heatmap tool: To provide a customized user experience, you need to understand your customer's actions on your website. Using a heatmap generation tool, you can identify the key locations on your website that observe maximum interaction.
E.g., Hotjar, Crazyegg
c. Blogging Platform: As we stated earlier, 85% of marketers use email for content marketing. This means you need to have a blog section that features diverse topics related to your customers' interests. Moreover, a blog is a great way to draw inbound traffic to your website. Most searched topics paired with appropriate SEO optimization can help your blog become the topmost search result for your customers' query.
E.g., Blogger, WordPress
d. Social media automation: While most pit social media against emails, in reality they are marketing channels that have a synergetic relationship. Social media is great for gaining visibility when a post is sent when your customers are most active. This needs additional tools that automate the process and makes it easier for the customer.
E.g., Hootsuite

★ Developing a plan
As we have mentioned earlier, B2B email marketing takes time to become successful. Thankfully, email has the power of personalization paired with the ability to reach the recipient's inbox at the most opportune time. When done correctly, it can generate insane revenue for your business. All you need is a concrete B2B email marketing strategy that takes care of all the pitfalls and is flexible enough to accommodate any changes.
Step #1 Identify and Understand your Target Audience
In B2B email marketing, you are not targeting one person; you are targeting a group of people who handle different roles in a single organization. Different roles face different challenges, and so you need to conduct extensive market research and learn how you can deliver your offerings as per the needs. Understand the pain points of your prospects, explore how your product/service will help them solve these problems without having them jump through hoops. Aim to create an email campaign that focuses on educating them about your offerings rather than providing a sales pitch to your prospects.
Step #2 Create an individual customer persona
Based on what you learned from the market research, infuse new life into your B2B email marketing campaigns by creating an individual customer persona for different customer types. E.g., someone in the higher management position would be more interested in becoming early adopters of new technology. In contrast, those in the mid-level would be more concerned about the cost and the training required. Based on such granular observation, complete the different aspects of a customer persona such as
The challenges they face
What grabs their interests
Their expectations
Goals or their definition of success
Role in the company
How they interact with your competition (only if applicable)
Based on your completed persona, you will know which persona type to target, and this helps you create the content for email campaigns.
Step #3 Create S.M.A.R.T (Specific, Measureable, Attainable, Relevant, and Time-based) goals
At the outset, clearly state the KPIs (Key Performance Indicators) with which you wish to measure the success of your B2B email marketing campaigns. In fact, align your KPIs with your objectives. For instance, if your goal is to enhance your brand awareness, you should measure your campaign on the volume of website traffic your emails are generating. If the goal is to improve user engagement, opens and click-throughs need to be prioritized. You get the drift. When you create goals and set objectives, you give your email marketing campaigns direction, and the goals become the yardstick to measure success. The trick is to make S.M.A.R.T goals which is an acronym for goals that:
Have a specific end result – 'Improve the open rates by 5%'
Have a measurable aspect – 'Using better segmentation methods to improve open rates'
The end goal needs to be attainable- 'The open rate needs to increase from 2% to 5%'
The goal should be relevant to business objectives- 'Focus on onboarding more travel agencies'
Should be time-bound -'The results should be attained by the end of financial year'
Avoid broad goals that are open to interpretation as it will create conflicts and confusion. A joint discussion with your team helps you list out what your business wishes to achieve, assign responsibility to individual stakeholders, and set deadlines for individual tasks that help create the big picture, i.e., your email campaigns.
Step #4 Implementing Pre and Post send 'rituals'
The final aspect of a B2B email marketing plan is defining the pre-send and post-send 'rituals' (tasks). The reason for calling them rituals is that these are the tasks that you and the team should perform without fail to ensure smooth operations. The pre-send tasks cover everything that needs to be done before you send an email campaign or set an email automation workflow to action, such as:
Email Copywriting
Template Coding
List Cleaning & Segmentation
Final Proofreading and Template testing
Campaign Set-up
This ritual aims to complete all the activities required to make your email campaign ready to send.
The post-send tasks include:
Introspection
Identifying the parts of the emails that worked
Measuring the campaign performance
The aim is to learn something from the campaign and implement the learnings in future email campaigns for greater success.
★ B2B lead generation strategies
As we have stated earlier, email marketing is incomplete without appropriate emailing lists. Unless you follow the unethical act of purchasing your mailing list (which would crash your marketing campaigns no matter what), you need to put in efforts towards collecting email addresses from interested clients. People only tend to share their email addresses if they are getting something valuable in return, so you can't directly approach a client to share their email address without providing any worthy temptation.
Some of the most common B2B email lead generation strategies are:
Offering lead magnets (Case studies, Whitepapers, Research Reports, Comprehensive "How-to" Guides) or gated content
Option to subscribe under popular content
Exit-intent Pop-up forms
Retargeting ads
Webinar registrations
Freebies
★ Define the Customer Journey & Segmentation Tactics
While comparing the differences between B2B and B2C email marketing, we mentioned that the customer journey for B2B email marketing is similar to B2C except for a longer lead nurturing stage. The overall customer journey stages are:
Awareness
Consideration
Purchase
Retention
Advocacy
In the case of B2B email marketing, the 'consideration' stage is further divided into:
Research – Where the prospect delves deeper into your products/service page to understand what you are offering, checking testimonials & reviews on the way.
Demonstration – Where the prospect takes a trial of your offering to get a first-hand experience
Consider – Where the prospect considers your offerings' pros and cons and compares them with the existing solution.
Decision making
Negotiations – Where the wrinkles in understandings are ironed out, the customer moves towards finalizing the deal.
The purchase stage is more of delivery and integrations, and the retention stage is more about sharing the knowledge base, asking for reviews/feedback, and providing post-sale support. So, the entire B2B customer journey can be summed up as:
Awareness
Consideration

Research
Request for Demo
Consider
Decision making
Negotiations

Purchase
Retention
Advocacy
B2B email campaigns' segmentation variables are no different from B2C segmentation, focusing on the demographics and behavioral variables. In B2B email marketing, segmentation works best when starting with segmentation on a broad level and moving down to make it finer. The most common B2B segmentation criteria are:
Demographic (Industry, Company size, Geographical location)
Operating Variables (Technology used, Service Capability)
Purchasing Approach (Nature with Relation, Purchasing criteria, Purchasing policies)
Situational (Urgency, Size of order)
Behavioral (Loyalty, Turnaround for order placement)
As mentioned earlier, each lead will progress through the customer journey stages at their own pace. So you need to ensure that the segmentation criteria don't overlap at any point.
★ Automation workflows
Automation is a boon for marketers as it automatically handles repetitive tasks such as welcoming new subscribers, sending order confirmations, webinar reminders, etc. without human interventions. This frees up time for the marketers to focus on other important tasks or other marketing strategies. Every time a user takes an action, it triggers a condition in the pre-set workflows. An email relevant to the triggered condition is automatically sent as a result of the user's actions.
Email automation is versatile enough to be used at any stage of the customer journey but the most important B2B email automation is the drip email campaigns. Drip campaigns allow you to send a series of emails where the next email is determined from the result of the current email. This way the subscriber receives the right kind of information as per their choices. While lead nurturing email campaigns and drip email campaigns are synonymous, they have a slight difference. A newsletter email is an example of a lead nurturing email where all the subscribers receive the latest emails irrespective of the duration from joining. In drip campaigns, all subscribers receive the same email while onboarding but the subsequent email changes based on the user behavior.

B2B email examples you need in your toolkit
Welcome Email
HelpScout sends out an introduction welcome email to their new subscriber. They have highlighted three important links to allow the user to login, check the help docs, or book a demo.
It is a good idea to share their email address to let people reach out to them. Featuring the photographs of their team members adds a personal touch to the email.
(Source: Delivra)
Get Started Email
Once a business owner signs up to Amazon Web Services, they send out an email with three tips to get started. It is a good way to prompt people to take action and use their services.
(Source: Really Good Emails)
Feature Announcement Emails
Slack does a great job at explaining the features to its users. In this email, they have shared actionable tips to make the most out of their platform. The CTA "Explore Slack Tips" will pique the subscriber's curiosity and prompt them to click.
(Source: Really Good Emails)
Lead Nurturing Email Newsletter
Salesforce has sent out a drip email to their prospective clients. Through this email, they have talked about their resource center, developer forums, and their guided learning feature of Trailhead.
(Source: Really Good Emails)
Webinar Invitation Email
Webinars can be very valuable for B2B sector marketers to acquire new customers, retain the existing ones, or get people to make the purchase. Take a look at this webinar invite by Listrak. They have informed the users about what the webinar will be about and the notable speakers who will share their domain expertise.
(Source: Automizy)
Re-engagement Emails
Winning back the dormant customers and getting them to take action once again are important aspects of B2B industry. See how informz sends out a re-engagement email that lets the users confirm if they want to receive future emails. It is a good way to maintain your list hygiene and keep it up-to-date.
(Source: OpenMoves)
Whitepaper/ Case Study promotion emails
If you want your business to grow, you must share your well-researched whitepapers and case studies. It would instil a sense of confidence in the subscriber's mind. Recurly Research sends out a short and sweet email to promote their insightful research article. It will build brand credibility too.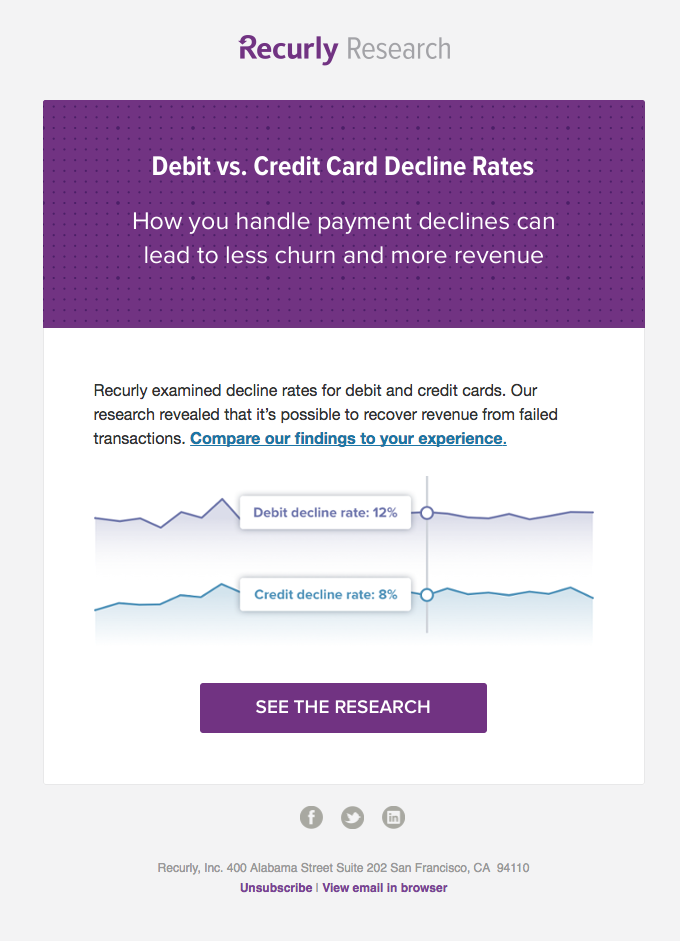 (Source: Really Good Emails)
Feedback Emails
Asking the customers for their feedback plays an integral part of every business. Here's how Tailor Brands has created their feedback request email. They have incentivized the user so that they are keener to share their feedback.
(Source: Really Good Emails)
Upsell Emails
Shopify sends out a nice post-purchase email to upsell their services to a client who has created a Shopify store. They have endorsed their Partner Program that would help the customers to grow their web designing business. The copy of the email gives detailed information to the reader about its features and encourages them to "JOIN".
(Source: Really Good Emails)
Transactional Email
Here's an example of a transactional email by Wistia. Although it is designed pretty well considering the minimalistic approach, it would have been great to mention other services and upsell or cross-sell.
(Source: Really Good Emails)
Interactive Email
Moo sends out an interactive email with a GIF followed by a CTA "Snip the String"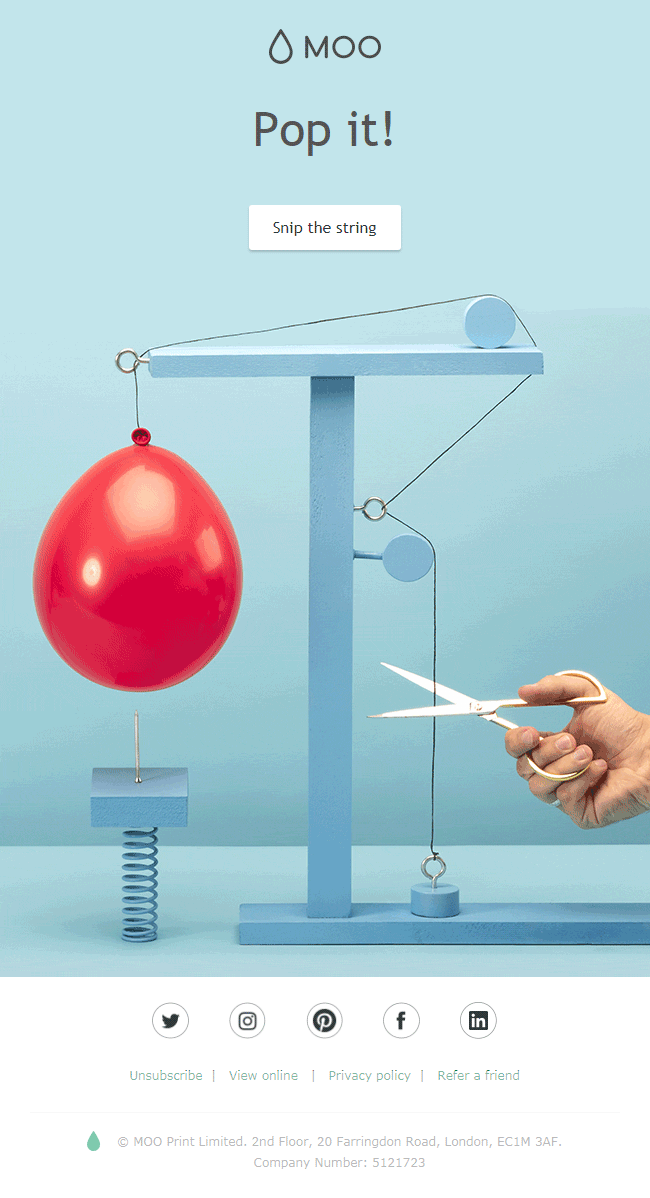 Once the user clicks on the CTA, it will display a landing page that reveals 15% discount offer along with the coupon code.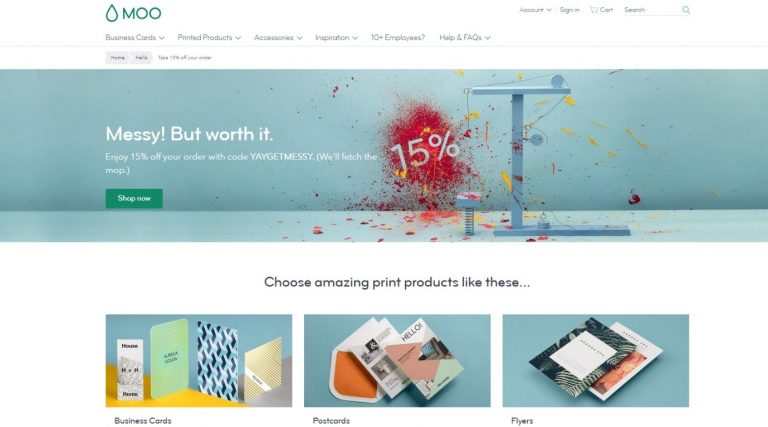 This is a great way to show, rather than tell, and win the subscriber's heart by telling a story.
Common B2B email marketing Strategies
Focus on Lead Nurturing
As we have been mentioning multiple times, your B2B email marketing is only as effective as your lead nurturing campaigns. This is where your prospects begin considering the pros and cons of providing business to you. If you fail to bring them to your side at this stage, you can experience extended wait times and easy poaching by competition. Hence, give ample consideration while planning your lead nurturing email campaigns.
Take efforts to find a personal connection
Emails have the ability to be personalized based on the customer profile and past behaviors. Yet, sometimes this might sound too robotic and you need to find that personal connection to gain an edge. If you exchanged cards during a conference, use the reference to start the conversation. Browse which pages or specific products are they browsing, and craft your email copy accordingly.
Push your prospects towards marketing or sales based on interest level
Everyone has different expectation levels as well as perception of your brand. So, some prospects may convert quicker than others. It would be a wasted opportunity to continue keeping them in the same customer journey milestone. So you need to put in periodic checks to prune out achievers among your mailing list and progress them quicker than others.
Re-engage efficiently
Just like with B2C email marketing, B2B customers can also become dormant after a while. It is important to address the dormancy at the starting signs itself, as you have better chances of re-engaging such prospects or customers then. This also allows you closure on those subscribers who left for good.
B2B email marketing Best Practices and TIPS
As we move towards the end of the article, it is important to shine light on some of the B2B email marketing best practices that brands should follow.
Pen a concise Email Copy
Your subscribers have a mountain of emails to clear, and unless you don't provide a concise email copy, your email may not stand a chance of getting read. While email subject lines need to be eye-catching and relevant to the copy inside, it is important to limit your subject lines between 36 to 50 characters. The science behind the range is that different email clients allow a different range of characters to be shown in a subject line.
As per a research conducted by Backlinko, the subject lines of different ranges performed as per the graph below, and the subject lines of 36-50 characters inched on gaining the most open rates.
Similarly, people tend to skim through the email copy once opened and are discouraged by a wall of text. Campaign Monitor found out that 'an email copy length between 50 – 125 words has a response rate of above 50%.' Moreover, break the text into smaller chunks for better readability.
Keep a conversational tone
As we mentioned, subscribers hate being treated as a name on the mailing list. This is evident from the cut-dry and straightforward interaction they have with most B2B emails. By utilizing a conversational tone with your subscribers, they are better engaged and feel competent interacting with you. Moreover, the conversational tone helps the subscribers connect with the person behind the brand and build a more potent & lasting relationship.
Use Images and Visuals
Even though B2B email templates are more copy- centric, you shouldn't discount the usage of images altogether. Human eyes are more receptive to visual information than textual. By including images, graphs, charts in your emails, you cut down on the email copy, making it crisp and more intriguing for the recipient. Include images of your clients while sharing their testimonials in emails. This allows the subscribers to associate a face with the review and build trust in your brand.

Ask these three questions while creating an email
Each email you send needs to have a purpose. Contemplate every email you wish to include in an email campaign. Ask yourselves the following three questions:
What are you offering?
How will it help the reader?
What should they do next?
Based on the answers you get, create the hook, offer, and call to action. When the email copy makes you take action, consider that your subscribers would also do the same.
Final Thoughts
B2B email marketing may seem intimidating at the first glance, especially for those starting out or coming from the B2C market. The article covers most of what to expect in B2B email marketing and prepares you for managing your email campaigns. Closely monitor your email campaigns and analyze the campaign performance; this will help you make the essential changes to your strategy and craft B2B email templates that will skyrocket your opens, click-throughs, and ultimately, your conversions!