Birthdays are special, aren't they? That one day of the year when the earth deserts the sun and every other mighty celestial body in the galaxy, only to revolve around you; a rosy 24 hours where friends, family, and loved ones all get together to appreciate your fabulous existence! Nothing beats that feeling, you'd agree?
Now, how do you imagine your subscribers would feel if you sent them a personalized email on their special day? Spoiler alert- they'd be thrilled!
Take a look at this data: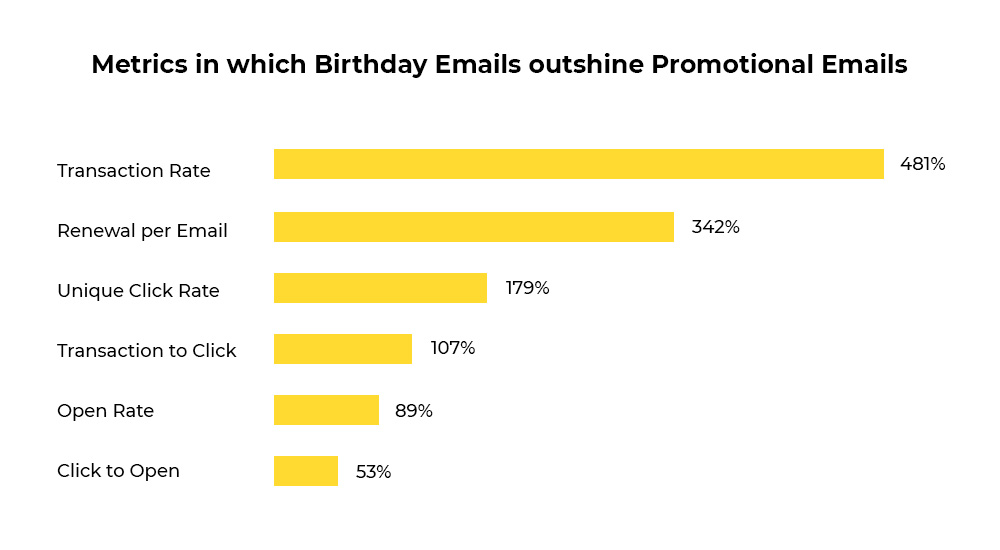 Compared to promotional emails, birthday emails register a 179% higher click rate and generate 342% more revenue per email. Aren't these figures some pretty compelling incentives to start taking your birthday emails more seriously? And get this- birthday emails need not necessarily be about your subscriber always; they could be about you as well. Yes, you read that right! Inviting subscribers to be a part of your business anniversaries is a great way to fortify customer relationships.
Need a little creative spark to get started? We got you covered! In this blog, we will showcase a set of imaginative, customized email templates for birthdays, that will provide you with just the fuel you require- excited to see what's in store? Read on!
MacPaw
Subject line: Happy Anni-Birth-Sary!

The charm in MacPaw's birthday lies in delightful minimalism. The headline, accentuated by bold typography, highlights the occasion (as well as that wonderful wordplay!) and the copy that follows, succinct and warm, keeps the reader engaged.
Now, most birthday emails contain a special offer to lure subscribers into taking action. This one has, too, no surprises there. However, the manner in which they have presented it takes the cake. In asking the reader to scroll down to discover their gift, the design is essentially interactive in nature. And once they have found their gift, how do they avail of it? By clicking on the CTA, of course, that is placed right below it. MacPaw also takes care to inform its users about the gift's validity right from the outset, a good move to establish transparency.
Really Good Emails
Subject line: It's your birthday?!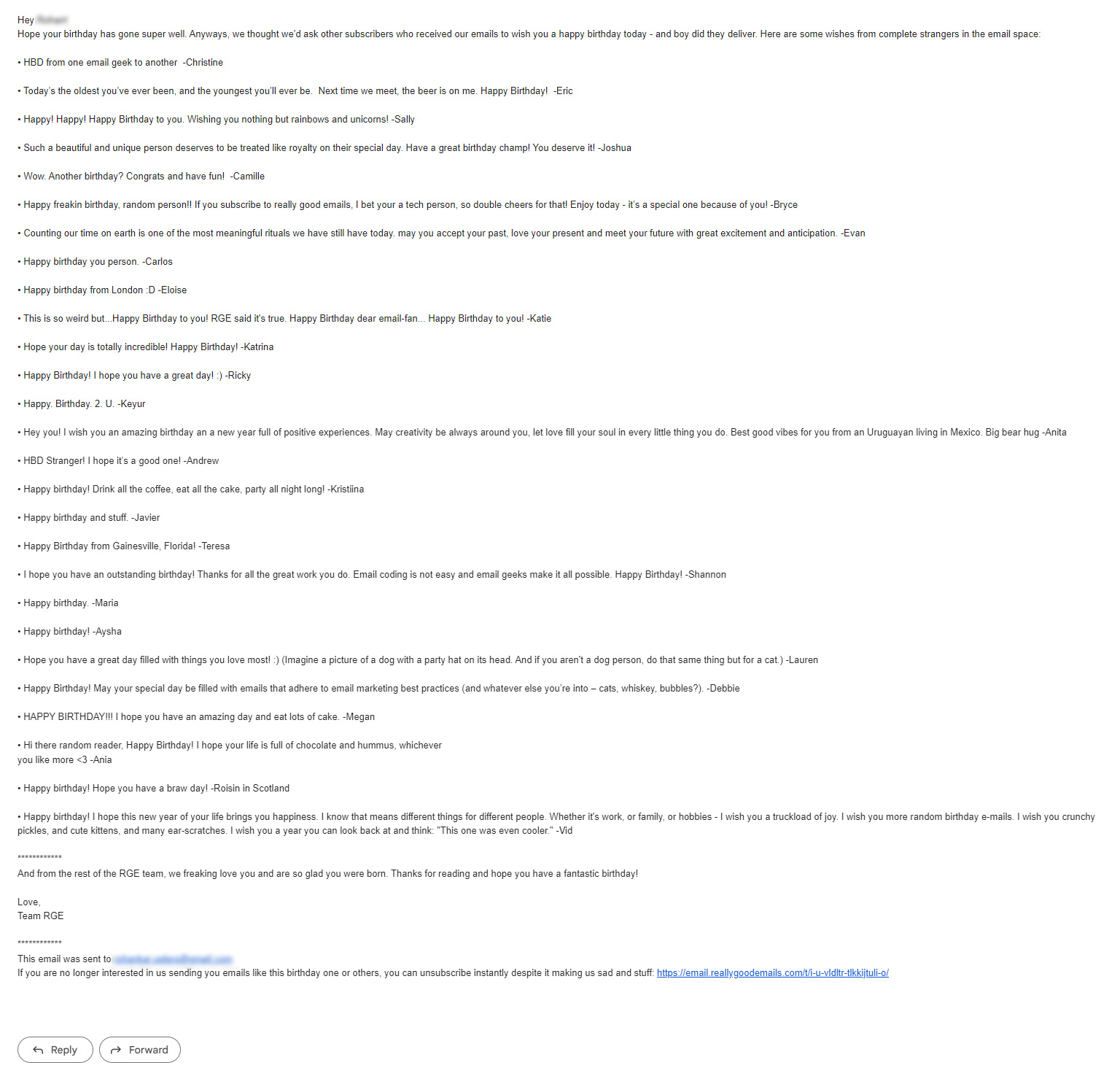 Normally, brands would think twice about sending a text-only birthday email, but if your content game is as formidable as Really Good Emails, you need not worry. Imagine receiving an email containing friendly and loving birthday wishes from a bevy of kind strangers all across the globe; wouldn't that absolutely make your day? Really Good Emails really does know how to leave their subscribers smiling ear to ear on their special day.
Swiggy
Subject line: Make a wish!

Swiggy's birthday email is a masterclass in how one can tie their offerings with the occasion at hand. As a brand, what's a better way of celebrating your birthday than by granting the wishes of your customers? That's exactly what Swiggy does here by highlighting Swiggy Genie- the company's label for its package-delivery services.
The hero section is enticing, containing a lovely illustration and a satisfyingly cheesy copy. As we scroll down, we are greeted by the email body, wherein the scope of the Swiggy Genie service has been clearly laid down for the readers. Notice how proper use of line spacing keeps this section from appearing cluttered. At the bottom of the email, the precise location of the service icon on the application has been visually depicted for the user's convenience.
VAT19
Subject line: Happy Birthday from Vat19!

An email that is as loud and fun and exuberant as your birthday celebrations- yes, we are talking about VAT19's birthday email, of course. So infectious is the cheer in this email that you can't help but be smitten by it. From the absolutely lovely hero image to the bubbly copy to the bright colors- this birthday email is nothing short of a celebration itself. Humor is this copy's driving force, which is why it has such a magnetic and charming quality.
Aeropostale
Subject line: Birthdays are a big deal…

Some brands don't collect their subscribers' birthdays with their sign-up forms. And that's not a bad move necessarily- sign-up forms are best kept minimal, with as few data fields as possible. That said, birth dates are crucial data points and the sooner you collect them, the better. Wondering how you can go about it? Borrow a trick or two from this remarkable email by Aeropostale. The question of the hour is posed right at the top of the email itself. This way, the reader knows what's expected of them the minute they open this email. On the design front, Aeropostale uses high-quality images and a gorgeous gradient in the email background, making the overall template extremely visually arresting.
Wrangler
Subject line: It Was Our Birthday | Explore More

How you celebrate your birthday can tell your subscribers a lot about your brand. No, seriously! Take a look at this birthday email by Wrangler, for instance. Over here, they have cherry-picked the finest moments from their birthday bash and collated them into this terrific GIF occupying the email's hero section. Now a brand that is THIS fun-loving when it comes to their celebrations must also be super fun while conducting their business also, no? Don't know about you, but we are strongly getting those vibes from this email. Also, definitely wouldn't say no should we happen to get an invite for their next birthday!
Running Bare
Subject line: The Power Of Pink. Breast Cancer Awareness Month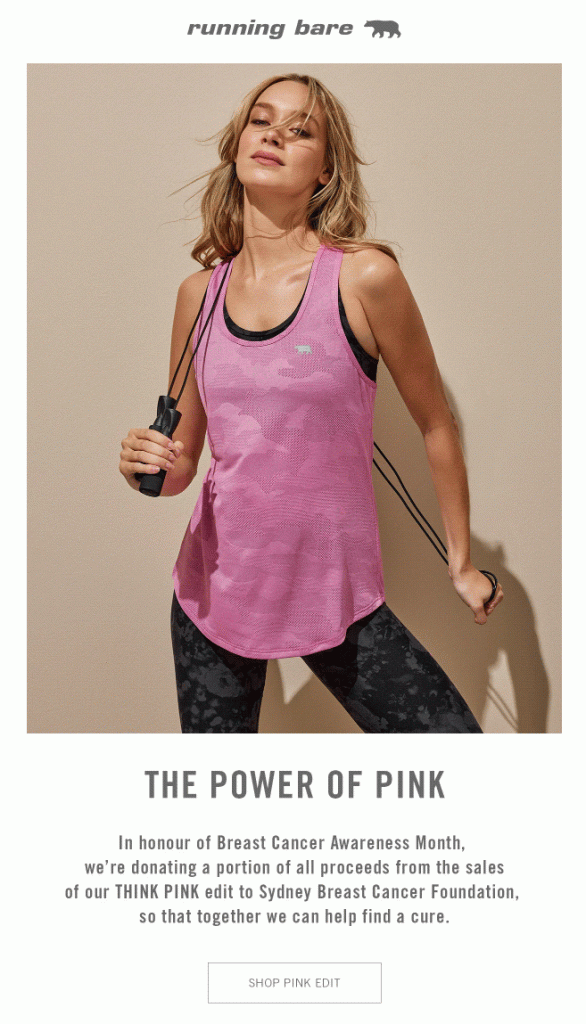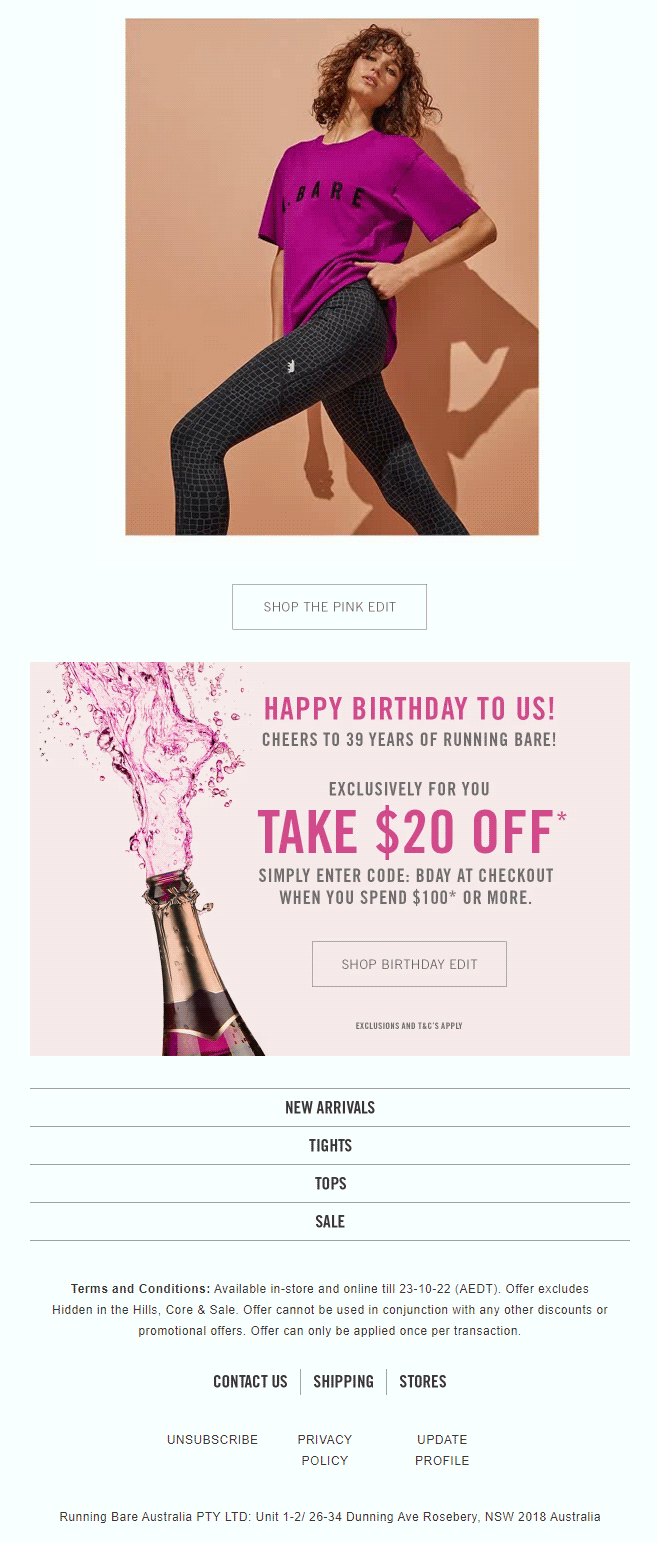 Want to do something extra with your birthday email besides handing out an offer to your customers? Well, how does talking about a cause that you deeply care about sound? We live in a time where brands are no longer regarded as mere commercial entities. They are also expected to take an active stance on the socio-political developments happening around them. And if you're looking for inspiration, look no further than this email by Running Bare. While the copy talks about the cause they're supporting, the accompanying visuals gracefully display their products- a seamless blend of promotional and social messaging.
Rebel Sport
Subject line: Happy Birthday to us! 26% off deals starts NOW 🥳

We absolutely love emails where the brand's ethos reflects in its design language, particularly when it's a birthday email; birthdays are about celebrating oneself, after all, isn't it? And that's precisely why we have added Rebel Sport to this list. Just take a look at this email- the bold typography, the vibrant backgrounds, the images, everything has an inherent dynamism about them; an attribute which you'd certainly want to associate with a company that deals with sporting goods.
Applebees
Subject line: Smiles Davis, we got you a birthday gift!

Free desserts on birthdays, it doesn't get any better than that now, does it? What we like about this email is that you don't really have to entirely read your copy to figure out what Applebees' present is. Why? Because they have hinted at it in their hero image in the first place. Quite clever, isn't it? Of course, the wordplay in the hero section is as delectable as the images of the desserts across which it is emblazoned.
Boomf
Subject line: How many times have you sang Happy Birthday this year? 🤲 🧼🥳

Boomf's birthday email looks nothing less than a birthday card- replete with the pomp and joy of one. Our favorite bits about this email? Well, we have quite a few, actually. Firstly, we love the fact that the special offer has been showcased in the hero section itself- the more visible your offerings, the greater the brownie points you'll earn from your audience. Next, the CTA.
Although simple, it is effective, because its size, placement and color (which contrasts nicely with the background) are all on point. And lastly, the hilarious GIFs; they perfectly round off the overall warm tone of this birthday email.
Wrapping It Up
We hope the examples shared above will help move your birthday campaign gears in the right direction. As always, we eagerly await to see what you come up with!