Does this screenshot look familiar?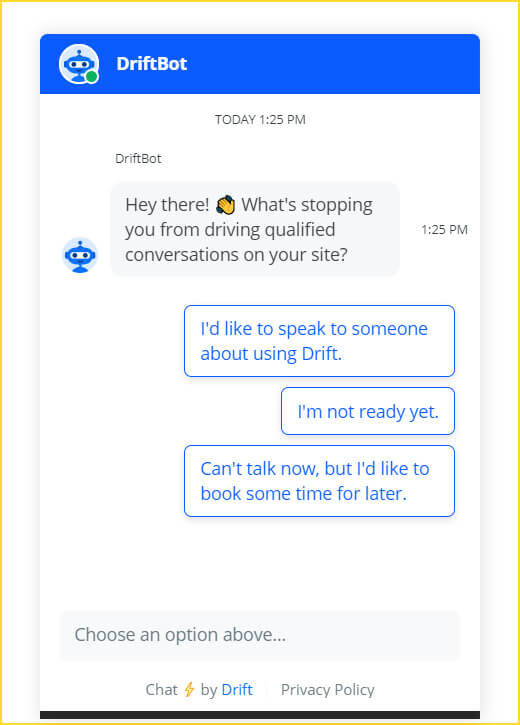 Indeed, it does, right? There was a time when people had to invest in a live chat software program and hire several customer support executives to address their customers' concerns. With the advent of Artificial Intelligence, business owners have started using chatbots in digital communications with their users.
So, what do you mean by a chatbot?
A chatbot is a software that can facilitate communication with a human, essentially to answer frequently asked questions, resolve common problems, and help the users to execute particular tasks.
Statistics have suggested that 59% of millennials and 60% of Gen Xers have communicated with chatbots. Interestingly, 50% of customers revealed that they are keener to shop from a business they can connect with, through a chatbot.
If we go by the reports, 85% of our engagement with businesses will be done without any human interaction, by 2020. That is quite evident in the way we are using chatbots and self-service options. By 2021, $4.5 billion will be invested in chatbot technology, and more than 50% of enterprise companies like Google, IBM, and Facebook will spend more money on chatbots rather than mobile apps, annually.
47% of customers would like to make a purchase from a chatbot, as reported by a HubSpot survey.
With that said about chatbots, let's switch our focus to "emails" since they have been here for the longest time.
Email marketing has evolved and turned out to be the most effective marketing channels despite the mushrooming of several other marketing channels.
It brings an ROI of $51 for every $1 spent which is quite a huge number.
Now, imagine if chatbots and emails come together, how powerful your marketing strategy will be!
So, now the question is – "How to bring email marketing and chatbot marketing together?"
The simplest answer would be "Incorporate chatbots and emails in your marketing automation".
Through this article, we shall understand how you can strike the perfect balance between chatbots and emails through the automation system.
1. Let your chatbots work like a lead generation system
The first step to an effective marketing strategy is getting the contact details, including the email addresses of a prospect. Considering inbound marketing strategy, the foundation of business growth is "attracting the right people" and getting them to sign up.
While not everyone would be open to sharing their email address on a landing page, people would not mind providing their email address when a humanized chatbot is interacting with them. Rather than having multiple lead magnets, a chatbot can make customer acquisition a breeze for you.
An advantage of chatbot is that besides personalizing the sign-up experience for the user, it will also streamline the process, much better than a lead generation page. Providing details to a human always works better than having a long lead generation form asking too many questions.
2. Chatbots will also serve as a segmentation tool and lead scoring model
To send out persuasive automated communications, you must qualify your leads well. A chatbot will help you to qualify the lead and evaluate their stage in the customer journey. People are so used to "instant messaging" nowadays that chatting with a bot does not evoke any repulsive feelings. It just comes off as a routine activity. You can tap on this psychology to get additional information from the subscribers.
Based on this information, you can then set the email campaigns that would be most relevant for them.
Chatbots use parameters like resources downloaded, products in which the user has shown interest in, and kind of concerns asked, work as the segmentation criteria.
3. Welcome the new leads
Subsequently, email marketing comes into picture. By now, the chatbot has collected all the necessary information from the prospect and assessed the intent of purpose and stage of buyer's journey. According to this data, you must send out a welcome email that would introduce your brand to them.
As soon as a subscriber provides his or her email address to the chatbot, the CRM tool will trigger an automated welcome email that sheds light on what your products or services are all about.
These emails help to build credibility and keep the subscriber hooked to your brand.
Here's an email template by Truebill. Through this welcome email, they have informed the subscriber about all the features and services that they can use.

Depending on your niche and business type, you can set up email marketing automation and send out a similar email after the prospect has conversed with your chatbot. 


4. Nurturing the warm leads comes next
After onboarding, you must send out a series of drip emails to nurture the warm leads. Drip email campaigns are automated communications that are triggered based on the subscriber's interest, past searches, or purchase history.
For example: If your agency offers digital marketing services and a subscriber has inquired for SEO services, you will send out nurture emails that talk more about your SEO services. Once you close the deal, you can cross-sell and encourage him or her to check out other services you offer.
Nurture emails are the best way to convert warm leads into hot leads, and ultimately into customers. You will be able to build trust with the subscriber and move them closer to conversions.
Let me share a few nurture emails that will help you understand the tactic better.
So, once someone signs up, they will receive a welcome email.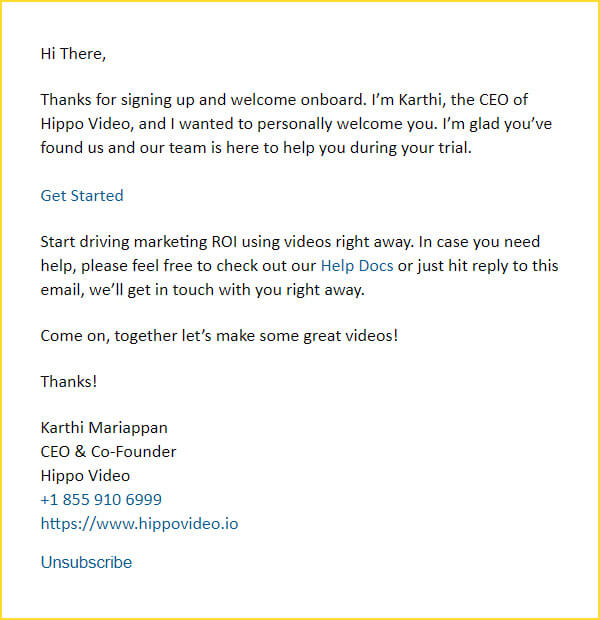 After this email, the prospect will start receiving lead nurturing emails at specific intervals.
In the first email, they help the user get started and share the benefits of their services.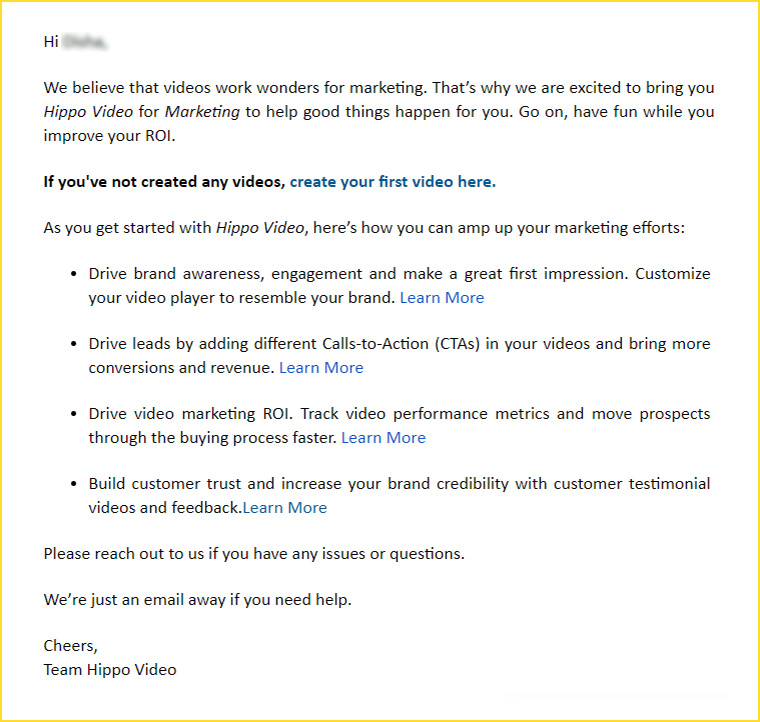 In the second email of their drip campaign, they have reiterated the benefits of using videos and emphasized call-to-action buttons.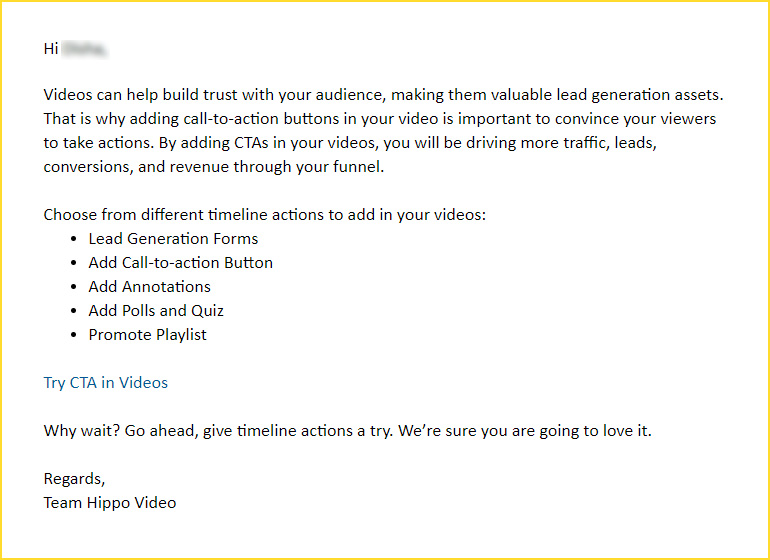 All these emails will keep the subscriber interested and keen to hear more from them.
The next email shares social proof by featuring a customer testimonial.
That will relieve the user of any apprehension and encourage them to avail the services.
5. Chatbots can work as customer support executives
Once the prospect moves further in the sales funnel, they can get in touch with a chatbot and schedule a call or book a demo with the sales representative. The bot can redirect the conversation to the right professional and brighten the chance of conversion.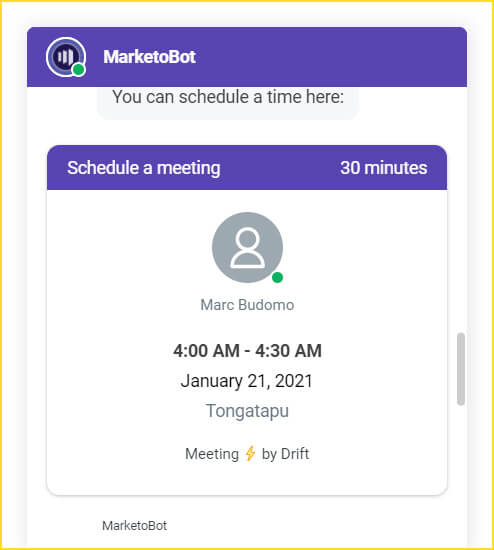 That's how easy it is to schedule a call with the help of a chatbot.
You will receive an acknowledgment email to confirm the call with the executive.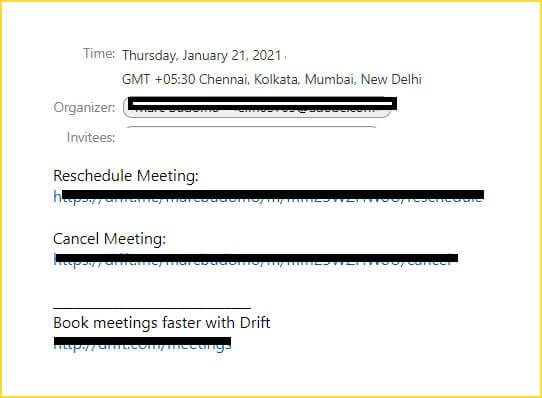 You can even reschedule or cancel the meeting if needed.
So, you see how chatbots and emails work in unison to give the best experience to the subscriber.
6. Chatbots and emails both get together to take care of the post-purchase concerns
In case the user is not satisfied with the products or services and has any concerns regarding the same, they can easily get in touch with the chatbots. These chatbots are programmed in such a way that they can easily resolve common concerns. They redirect the user to the relevant documents or content resources where the customer can get more information about the problems that they are facing.
Besides SaaS companies, even eCommerce giants like Amazon use this feature to help the customers. In case you want to cancel a product or have any refund-related questions, these chatbots give a satisfactory resolution of those issues.
As a best practice, you must include a post-purchase feedback email in your automation workflow so that as soon as the customer receives the order, you can get his or her feedback and sort out any issues. This will make the customers feel that you care for their reviews and are committed to flawless customer service. In turn, it will make them purchase again from you and boost customer retention.
7. Automated feedback emails come next
After a customer has chatted with the chatbot, you can send out a feedback email that asks the customer how satisfied he or she is, with the troubleshooting — whether it was helpful or not.
These reviews will let you optimize your chatbot marketing and make the experience more pleasant for the user. 


Wrapping Up
The entire chatbot and email marketing framework is based on three foundation stones.
Engage
Understand
Recommend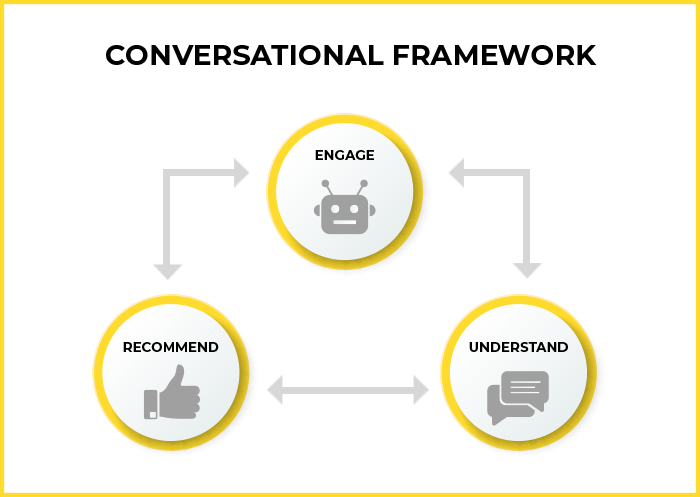 In the marketing automation system, chatbots are positioned in such a way that they can engage the leads by initiating a conversation. They try to understand their requirements so that the future communications can add more value to them. Finally, email marketing helps to take the conversation to the next level and prompt the user to take action with the power of persuasion.
These marketing tools are not exclusive, to be used in siloed fashion. They work the best when integrated with each other.
Take a holistic and omnichannel marketing approach to make the most out of it.