Whether you are at home, college or at office; April fool's day is all about having fun, playing crazy pranks, and splashing the dash of laughter. But for email marketers, it brings ample opportunities of trolling their subscribers' and making them aware of the offers and discounts. Thus, if you too are planning an email campaign for Fool's day that is both informative and humorous…read on!!!
Traits of a Winning April Fool's day email campaign
Sticking to the Brand's Image
If you're planning to give your consumers a dose of humor, be ensured that it reflects your brand's aura. This will not only lighten up your subscribers' moods, but also make them aware them of your brand. Just like Boden did to troll their readers.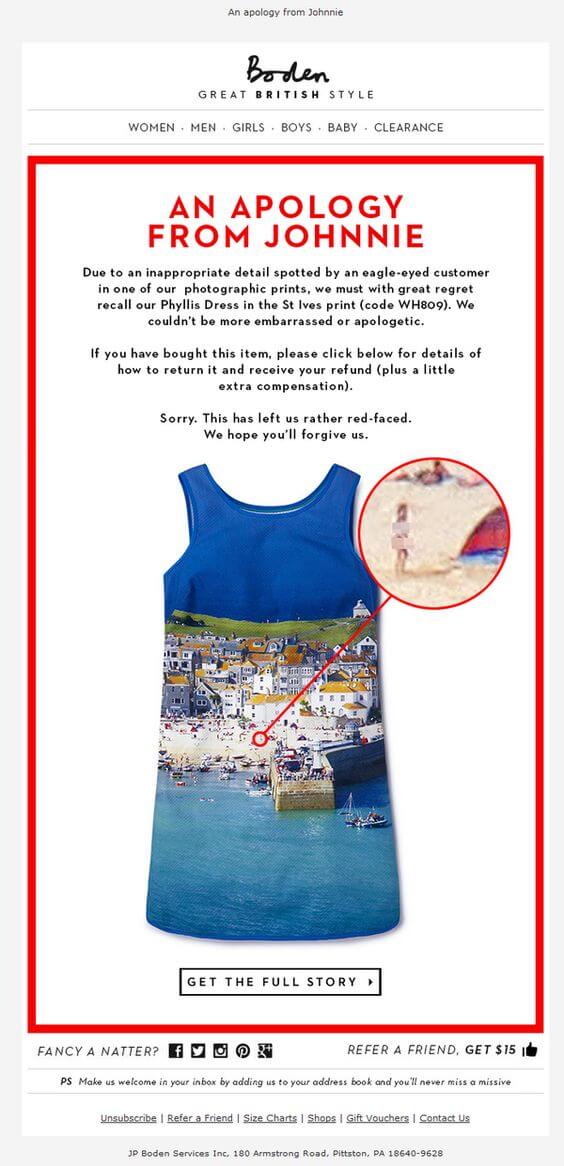 Boden has cleverly increased their brand's visibility as well as added a witty element to make their email amusing.
Planning before Strategizing
Before planning your email campaign, keep the goal in mind. Whether you are offering a discount, launching a new product or just entertaining your consumers for a gag, keep your thoughts in a picture first and then strategize accordingly. The House Outdoor Gear is a great and practical example of this.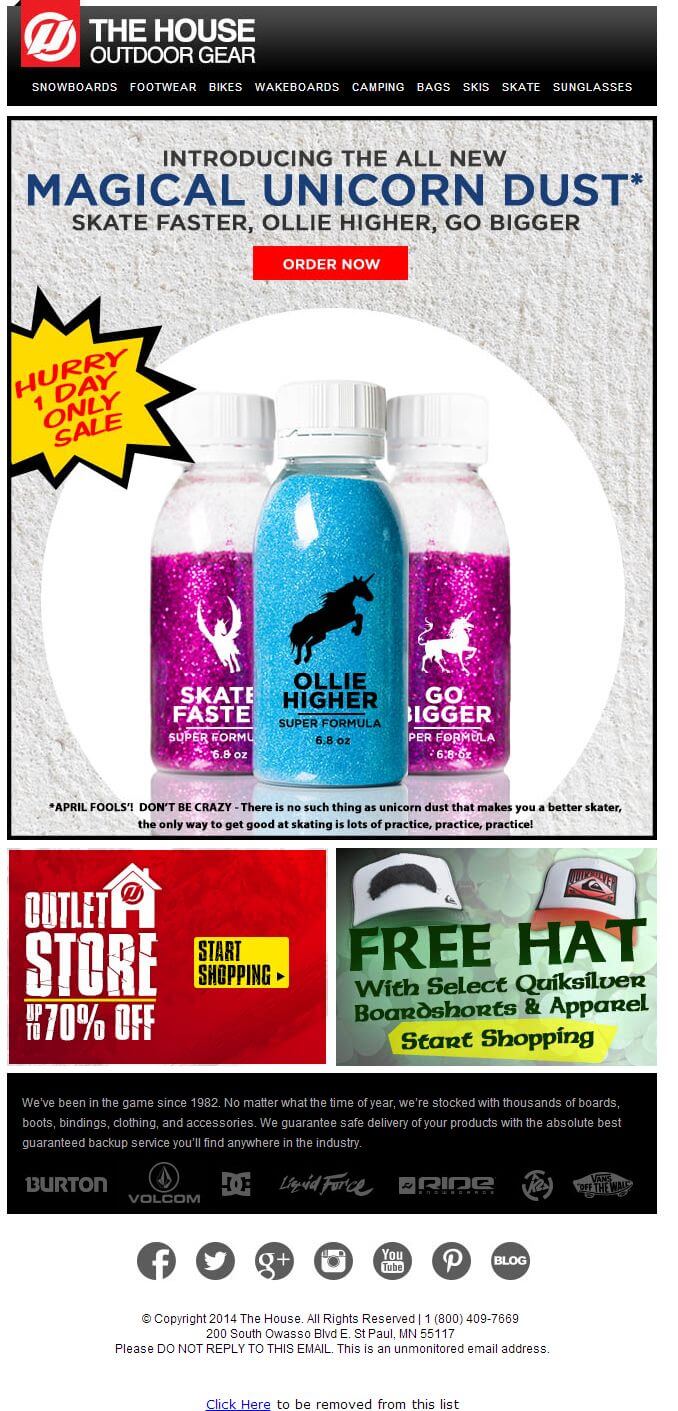 The House Outdoor Gear has cleverly used this email to display their offer in a funny way. After cracking the joke they unveiled it via their compelling copy and displayed the discount in the funniest way possible.
Easy to Believe Trick
In order to keep the special day's zest going on, you need to come up with an excellent yet too-good-to-be-true idea. The trick should be easy to believe or else it will lose its charm. Domino's created a win-win strategy that is completely believable yet tricky.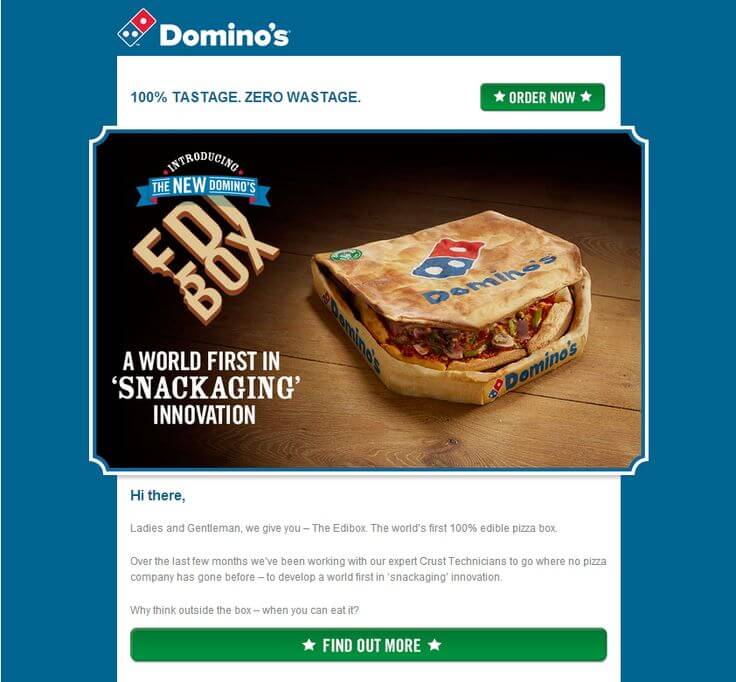 This email by Dominos is both witty and wise. This image alone by Dominos is enough to bring a smile on the faces of readers. 🙂
Another great example is from Bonobos. This brand has not only tried to make their consumers laugh, but also created an actual email that contained an image of a horse, ready to be shipped. Now, this is called a joke, Bonobos style. 😀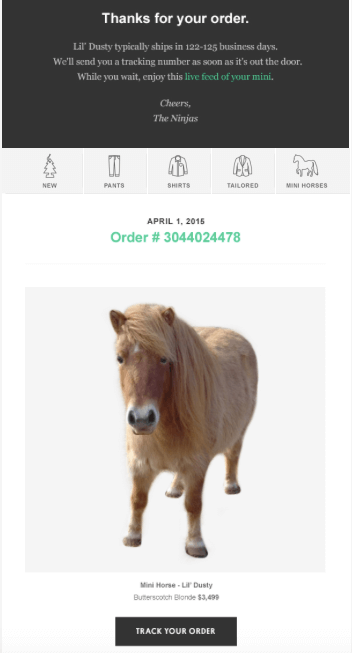 Don't Play Around and go Overboard with Brand Image (Strict No-No)
April Fool's day email marketing campaign is all about having fun, getting trolled, and, being funny. Many brands plan email campaigns full of humor, but they don't realize when they went overboard and ruined the brand's image. That said; it is quintessential to keep your brand's image in mind before an email blunder takes place. Overstock did it well in their email. The copy of their email contains great humor, but doesn't fail to deliver the message.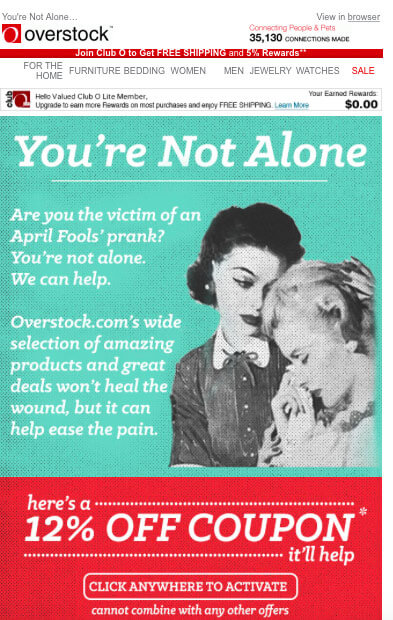 The offer merges well with the copy and delivers a clear message which is quirky & comical.
Have Fun: It is All About Getting trolled 🙂
Though, it is crucial to keep the brand and purpose of email campaign in mind, but be ensured that you don't lose the day's fun. Let your email spread the joy and humor too. Threadless's email says it all. It's comic, wise, and delivers the message flawlessly.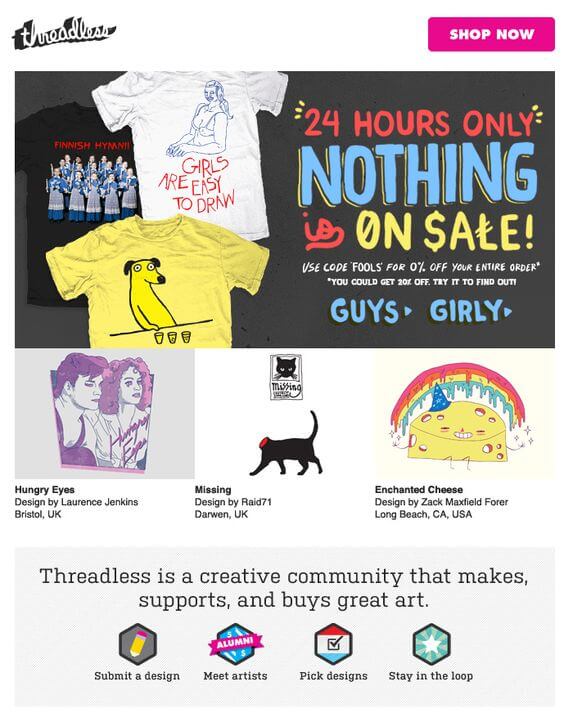 Takeaways
Consider the right time to send emails
Don't go overboard with humor as it can damage your brand's image
Be creative and keep your offer both comic and specific
Create compelling copy so subscribers can relate the copy with the offer and your brand
Still craving for April fool's emails that can knock out your subscribers with laughter, while pitching your brand too? We can help design & code beautiful and comic emails.