The cupid's month has arrived and people from all over the world are going gaga for 14th of February. To articulate the love, affection, and care to their beloveds ample products are being bought every single year. A report by Soundest stated that people spent $18,9 billion during valentine's day and 26% of them bought the gifts online.
This is just the last year's stats and the numbers tend to increase every year. That said, whether people sweep away the love or hate this day, but this is a good occasion for sale as another conducted survey revealed that this year's valentine's expenditure is more likely to increase up to 6%. To make the most out of this occasion, Uplers can help in heating up your emails with these love-fueled email tips.
Successful list segmentation
List segmentation is and has always been a power packed strategy that works efficaciously. 14th February is all about expressing love and thus; it is crucial to target the correct audience and differentiate well between gender and age. What a 50-year-old prefer for his valentine many not be liked by a 20-year-old couple. The accurately segmented list can take your valentine's email campaigns to the next level.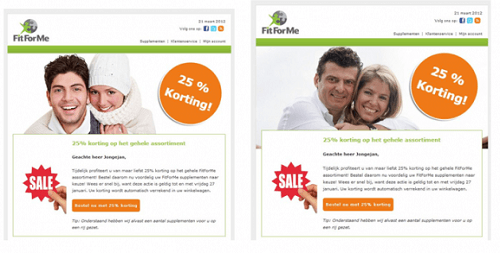 Start early and remember the 3 Rs
These 3 Rs- the Reminder, The Resource, The Reassurance maybe the great fit for your readers. The reminder will take place in early February and aims to notify your consumers that you have the perfect gift for them. The second newsletter is the resource. This email will contain plenty gift ideas and tips to make this occasion even more special. The last email will be the reassurance email and is a down-to-earth email that it's okay to be an anti-valentine.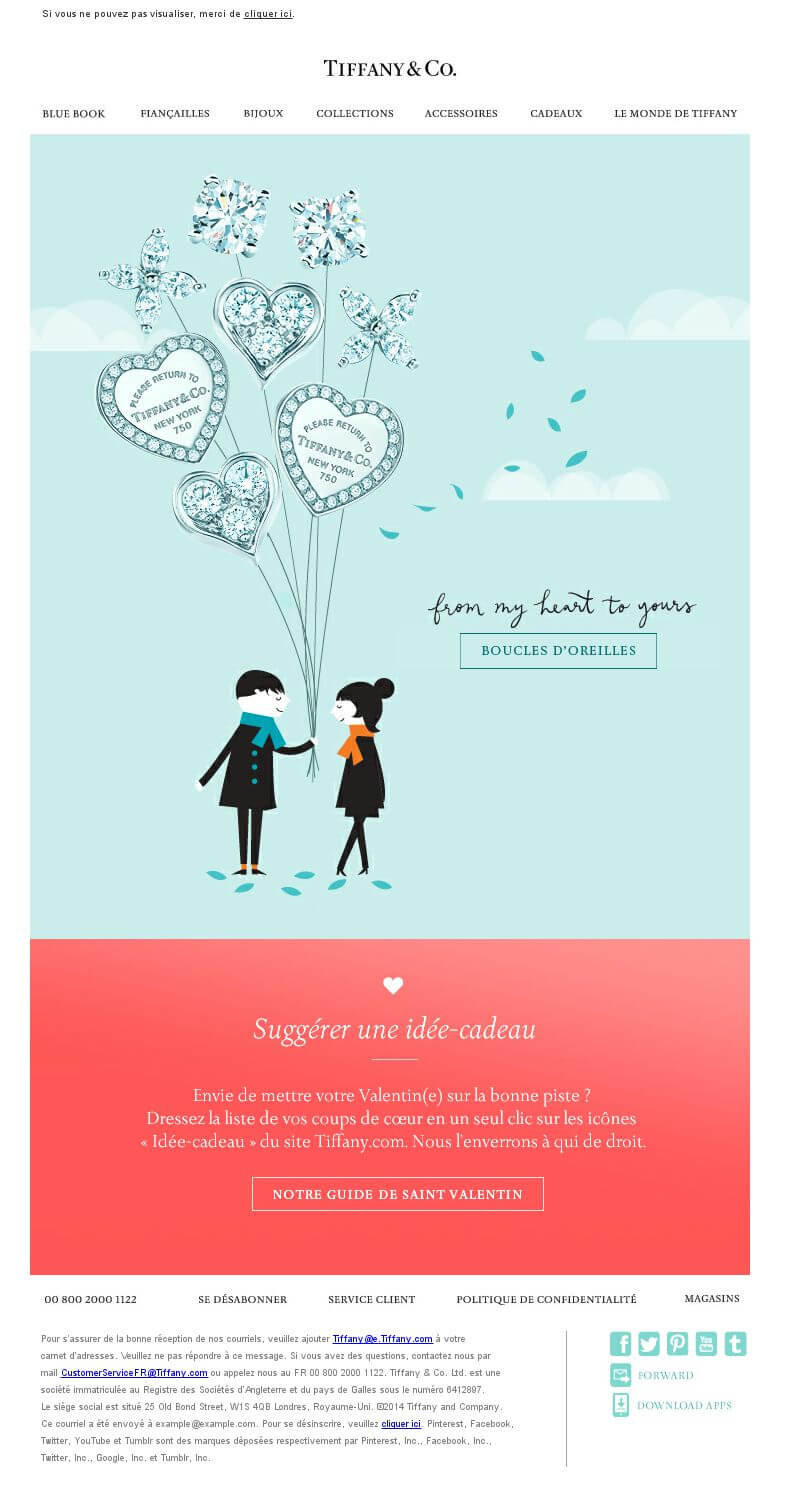 Flirt a little with hot email trends
Valentine's Day is the perfect occasion to display your creative phenomena. Create custom email design templates by checking the latest email trends. The adaptation of metro style email design can be really beneficial to display multiple gift ideas as well as hot enough to steal the glimpses. Make your emails a little flirtatious by merging email design with CSS3.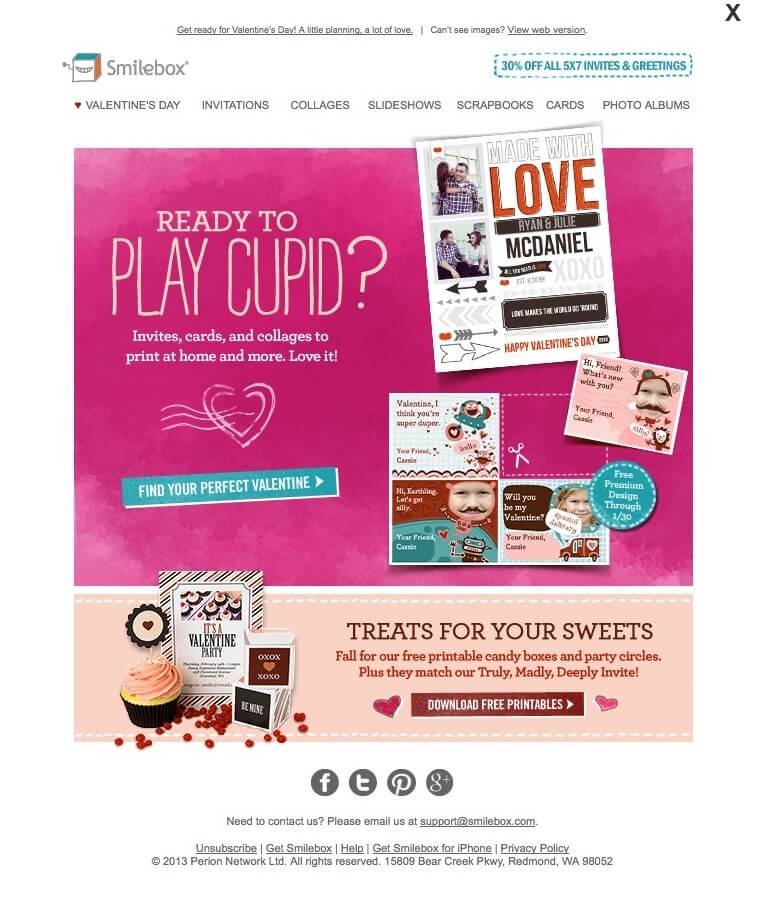 Valentine's is not only for couples
It isn't crucial to have a valentine on Valentine's Day and so your gift ideas may not hold the relevancy. Don't send "candy and kisses" email to your subscribers'. Instead, make them fall in love with your services by offering products that they can gift themselves. According to a survey, Americans spend $700 on their pets during Valentine's Day. So, include gifts that appreciate the pets' love.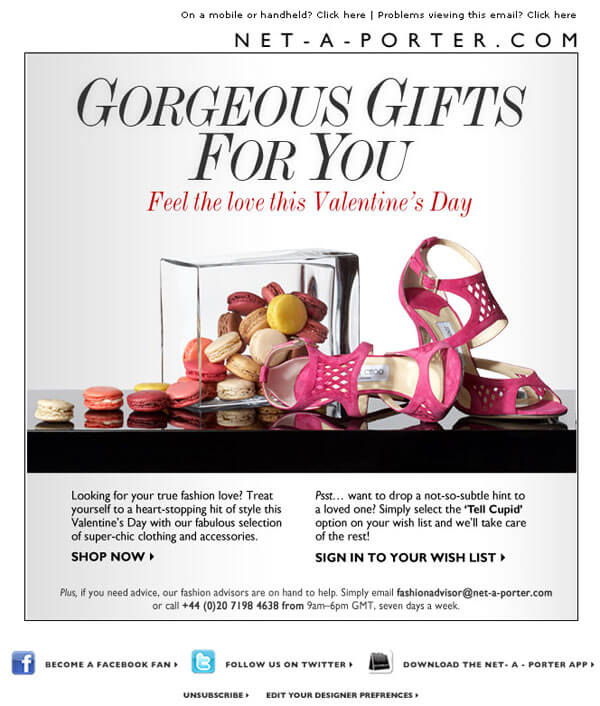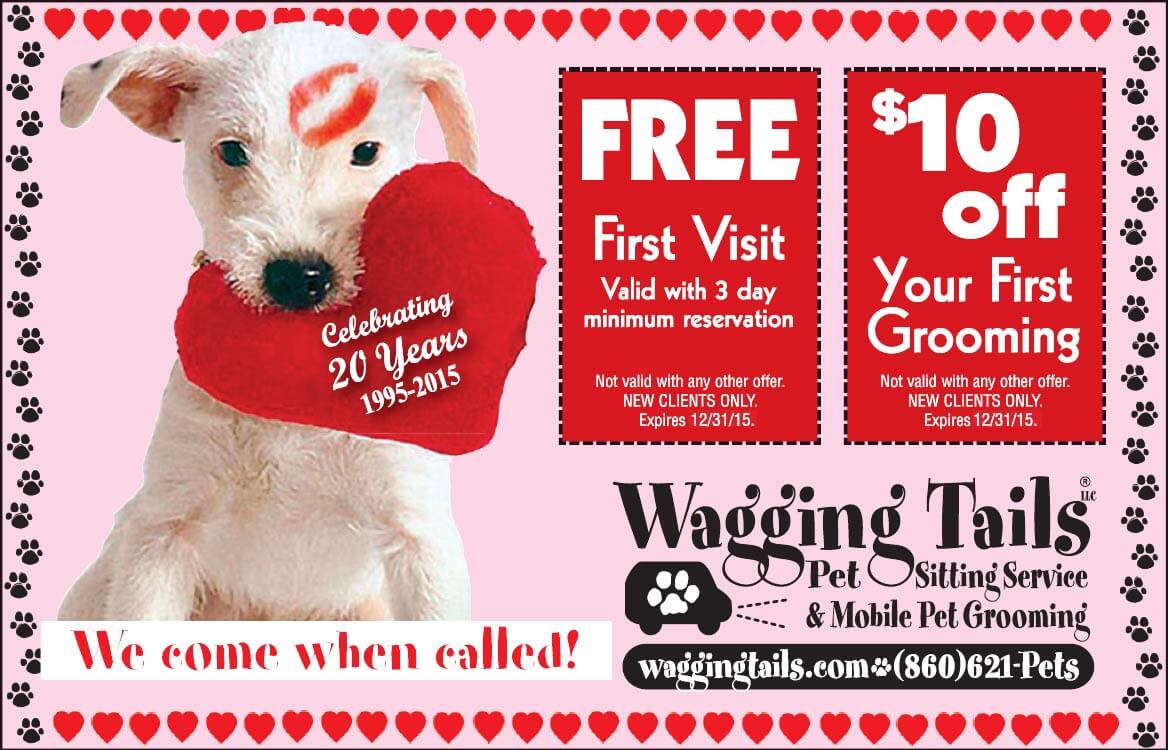 Last minute e-gift certification
Many people run out of ideas or get confused on what to gift. Throw an email full of ideas and tell them it's not too late. Create a beautifully customized email for those last minute procrastinators and help your subscribers by offering them an e-gift certification. Make the creative a little bolder and the CTA can be heart shaped to provide that valentine oomph. Another pro tip can be the subject line, craft a subject line, especially for your last minute buyers so they can know what's inside.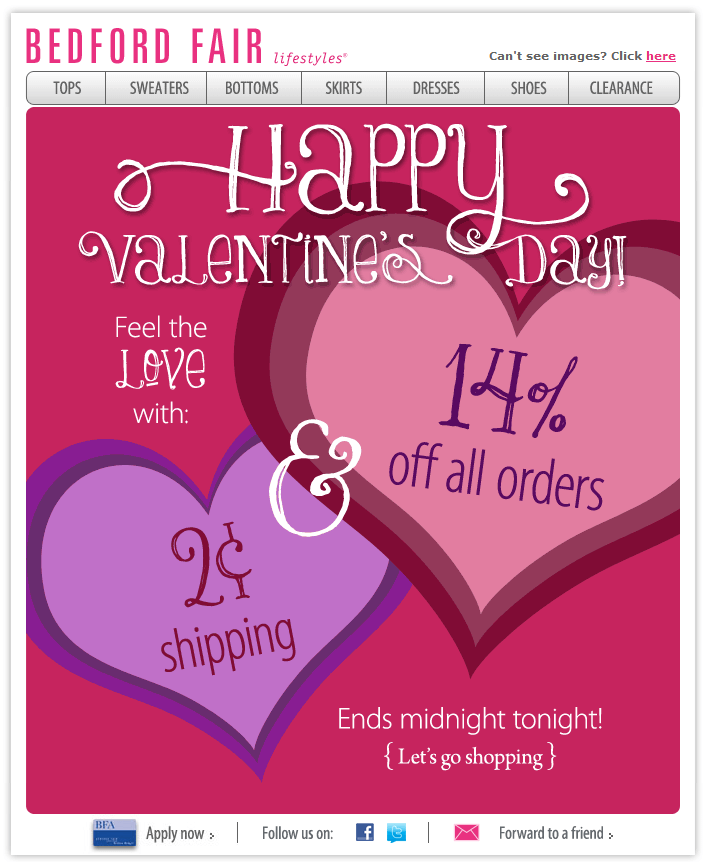 Takeaways
Keep the 3 Rs in mind and draft the emails accordingly
Craft a flirty subject line that accurately delivers your message
Create urgency for the last minute buyers
Create customized creatives for non-valentine celebrators
Use GIFs to highlight your products