Digital marketing has become an essential part of every higher education institution's marketing strategy. And apart from well-designed websites, email marketing for educational institutions is emerging as one of the most effective ways of promotion for institutions/ universities..
With such great numbers to start with, as an email marketer, it is vital for you to craft great email templates that serve the purpose as well as encourage subscribers to enroll for a course.
Email Uplers has collated some awesome higher educational email campaign ideas to help you boost the admission counts.
#1 Arizona State University

Creativity will always help you stand out from the crowd. Look closely at this email by ASU to get an idea of how they have crafted a creative email with the latest email marketing tactics.
The GIF at the top adds extra flavor to the email. On the other hand, the illustration is cherry on the cake. The social sharing link and the unsubscribe button gets this email a thumbs up!

What could've been better:
They could have provided the information in the footer in a better way. Additionally, they could have upped the visual factor by adding a Cinemagraph. Check out our blog on how you can create an attractive Cinemagraph in emails.
#2 Salesforce Developers

Among all the educational email examples we surfed, we found this one quite interesting. This email by Salesforce is having all the necessary characteristics of a good email to grab the recipient's attention. They have used attractive images with the right background contrast.
The heading is in bold text that makes it captivating enough to get the subscriber's eyes hooked to it. The CTAs are placed in such a way that they call for immediate action.

What could've been better:
They could have included a "View Online" link in the email.
#3 Udemy

While looking for higher education email ideas, we stumbled upon this email from Udemy. If you are looking for some holiday inspirational emails, then this one is the best example.
During holidays, you can promote an exciting limited time offer and create urgency by adding a countdown timer in your email so that customers get compelled to take immediate action.
Wishing to add a countdown timer to your holiday emails but still in doubt? Check out this fun interactive email element.
The good thing about this email is that they have used a single clear CTA. They have shared the popular courses to prompt the user to take action.
What could've been better:
The email looks very cluttered as it has no white space. Also, they have missed out on social media sharing links and an unsubscribe button.

#4 Cambridge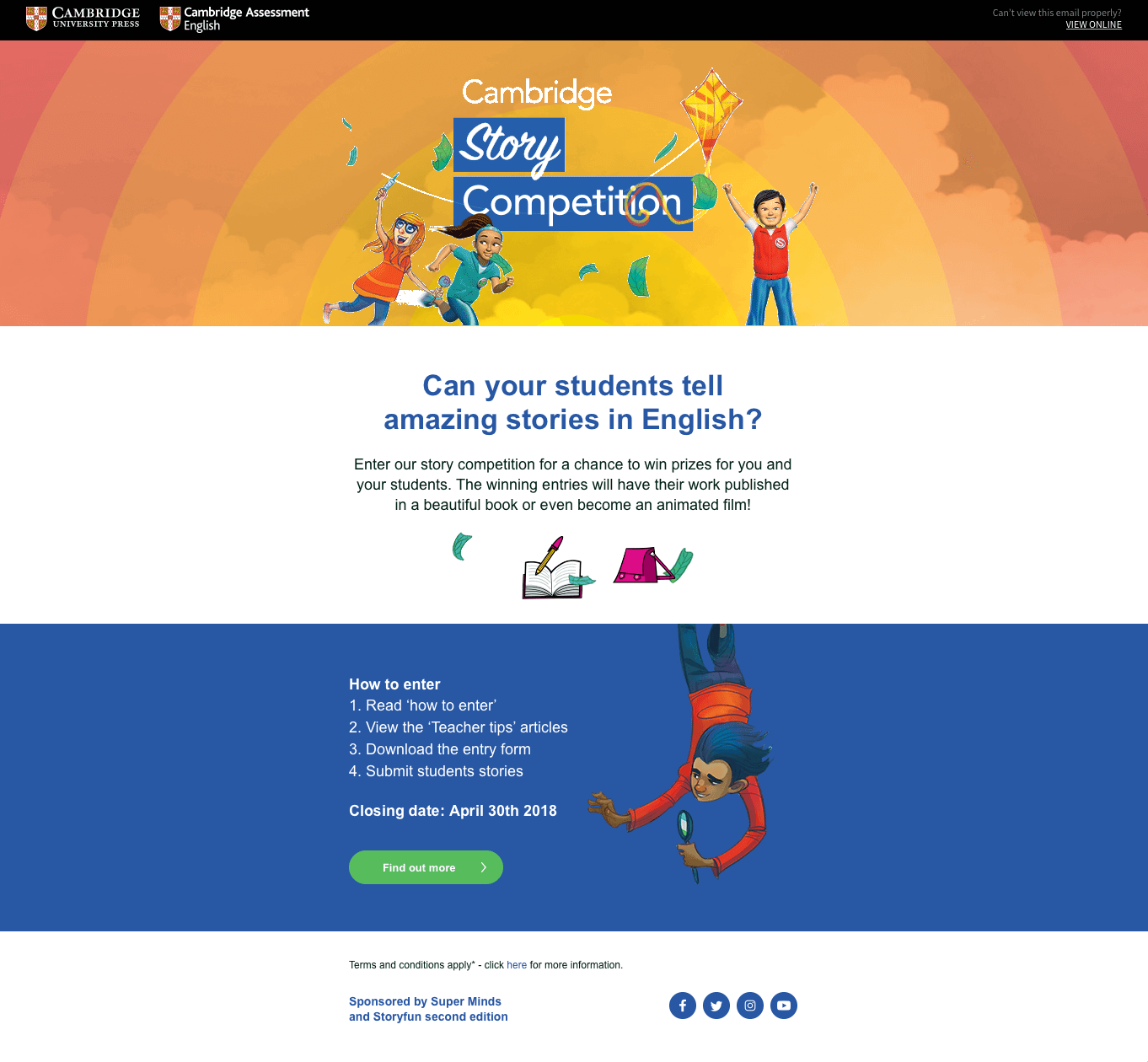 Education email marketing can be tricky, but Cambridge has aced it. It follows a minimalistic email design approach with sufficient whitespace that makes the email more readable for the recipient. The images are visually engaging for the reader. The CTA catches the attention of the subscriber and entices them to take action.
What could've been better:
Though the email follows most of the best practices, it could have been better with pre-header text, View Online link and unsubscribe button.
#5 Masterclass

This email by MasterClass is a perfect example of minimalistic email with the same CTA placed in both the folds of the email. The header image with the play button is sure to catch the subscriber's attention.
What could've been better:
They could've added interactivity to make the email look attractive.
#6 treehouse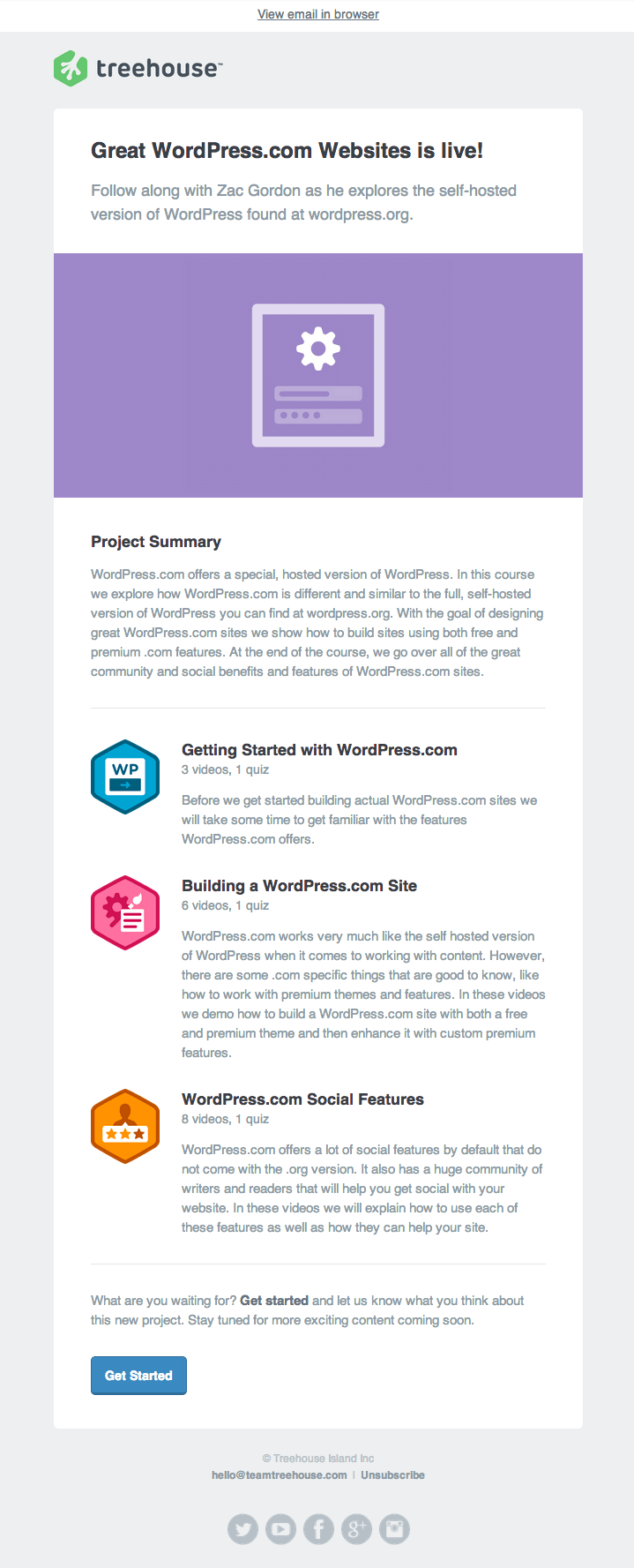 The email has an attractive headline with relevant copy that can engage the readers better. The social sharing buttons in the footer encourage the subscriber to interact with the brand on other platforms except email.
What could've been better:
Adding an interactive hero image would have done wonders for them. Instead of giving all the information via email, adding a CTA redirecting to that information would be better. Alternatively, they could've used accordion feature to present stacked information.
Let experts audit your email marketing campaign and help you optimize it.
Wrapping Up:
We hope these educational email examples will help you design your educational email templates as good as these or even better. Be clear about the audience you are targeting and provide information the subscriber is expecting. You can get free education email templates from many platforms but if you want to create a stunning email template for your organization for free, have a design ready, Email Uplers can code your first email template at ZERO cost.