One of the best ways to spur customers into taking action is by instilling a sense of urgency and scarcity in their minds. And few methods are as effective at achieving this as countdown timers. There's just something about the very image of a ticking clock that never fails to get your veins pumping, right? Brands and marketers understand this well, which is why they routinely leverage this tool in their email campaigns.
Particularly during the holiday season, their stocks reach spectacular heights, for they prove to be an extremely potent means of rising above the crowd. As a matter of fact, a countdown timer that hits all the right notes can increase your conversion rates by a staggering 400%! If you, too, are planning to incorporate them in your holiday campaigns, you couldn't be reading this blog at a better time. Here, we discuss all the various factors one needs to take into account while using countdown timers. Curious to find out what they are? Read on!
How Do You Make An Email Countdown Timer?
We understand that countdown timers are pretty useful, but how do you really create one?

Well, there are two ways you can go about it:
Make an HTML timer and embed its code in your email:
These are the timers that countdown live, in real time. In case you are wondering, no, you don't need to code them from scratch. There are multiple tools available online that you can use.

All you have to do is specify your deadline and the time zone. Additionally, you can also customize the language, text, and background color (as well as the color of the numbers). Now, let me address a question that must be renting your head- "Will my timer start counting down as soon as the reader opens the email?" No, such timers start ticking away from the moment they are created.
Make a looped GIF animation:
Yes, it's pretty much what it sounds like. You make an animated GIF that loops within a fixed starting and ending point. Goes without saying, they are far more convenient to execute than HTML timers. You might lose a couple of points for authenticity, sure, but atleast you don't have to worry about email clients flagging these timers because they are essentially GIFs. There are a few things that you need to be mindful of, however.

Firstly, know that not all email clients support GIFs. Outlook, for instance, displays only the first frame of an animated GIF. Secondly, you have to create different GIFs for different batches of subscribers depending on the send timing. Let's say your sale ends at 7 pm, and you are sending a reminder email containing the countdown timer to a few subscribers at 12 pm. Here, you have to take care to include the GIF that shows 7 hours are remaining. You can't use the timer GIF you would have sent to your 9 am subscribers (and neither can you use the one sent to your 12 pm subscribers for your 3 pm batch).
When Can You Use A Countdown Timer?
One of the foremost reasons why email marketers are fond of countdown timers is because they can be called to action for a wide range of occasions. Below, we have listed out some.
Sales
Email countdown timers are associated with sales more than any other event out there; I think all of us can agree to that. The first step towards nudging your customers to shop your shelves clean involves inserting a good ol' timer in your email. Take a look at Wix's email for some inspiration.
New Product Launch
Releasing a new product into the market is always a tricky affair, no matter how renowned and loved your brand is. To ensure that it ends up in your buyer's shopping cart, not only do you have to win their trust by successfully communicating its USPs but also convince them of its scarcity. Countdown timers will help you with the latter. Some brands even prefer counting down to the release date of their product to generate a buzz around it.
Seasonal Events
Remember how I said earlier that email countdown timers become particularly popular during the holiday season? There are other high-traffic periods besides the holiday season as well, such as Woman's Day, St. Patrick's Day, and the like, where you can use countdown in email. The bottom line is that they are quite handy when it comes to calling attention to your seasonal offers.
Take a look at these examples.
Four Sigmatic during Black Friday.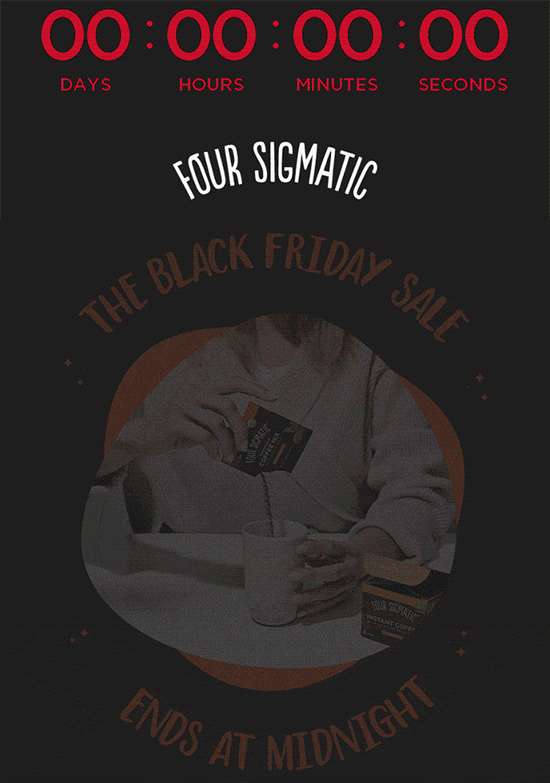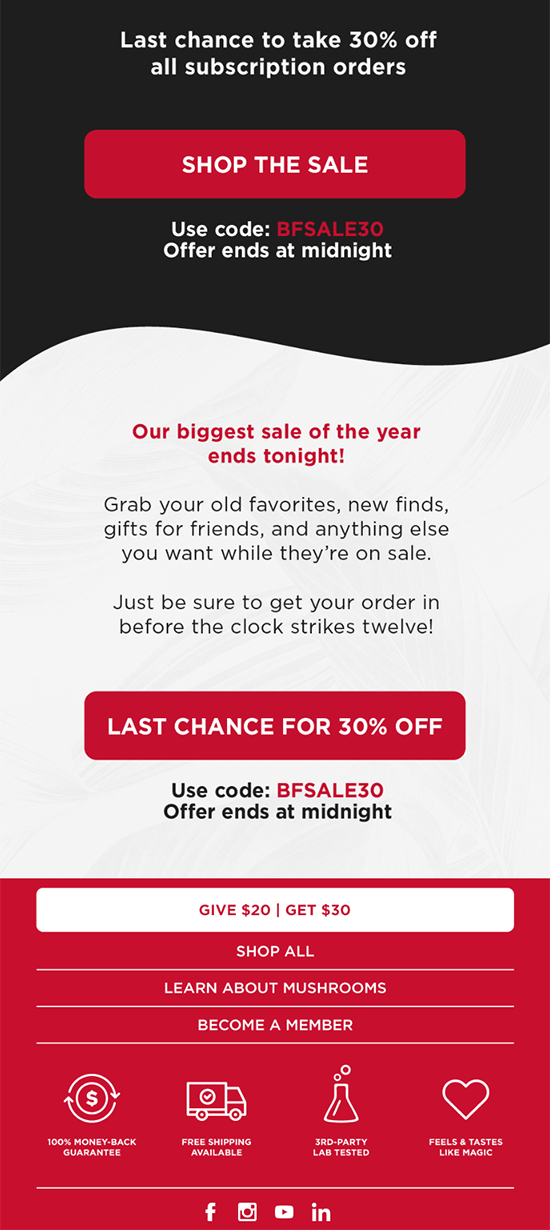 Walmart during Black Friday.

Designmodo during Cyber Monday.

Coupon Redemption
Brands often slip a discount coupon into their re-engagement campaigns to lure back some of their dormant subscribers. This ploy of offering an incentive is a successful one, but what if we told you that you could further enhance it? All you need to do is throw an email countdown timer into the mix. An attractive discount, against a ticking clock? That's definitely gotta rouse a few from their slumber.
Early Access
Want to pique the curiosity of their subscribers? Give them early or exclusive access to the launch of a product. Tell them that they have a shot at purchasing their product before their fellow shoppers. And what can you do to nudge them? You guessed it, summon the services of a countdown timer.
Some Best Practices
Listed below are a few best practices that will help you maximize the impact of the countdown timers in your emails.
Verify the expiration date specified on your timer: Any confusion in that aspect and the whole purpose of using a timer in the first place will be defeated.
Place your CTA in the vicinity of your timer: Besides serving its desired purpose of instilling a sense of emergency in your subscribers' minds, your timers are eye-catching visual elements also; always remember that. Therefore, by placing your CTA (which is arguably your email's heart) near your timer, you are simply increasing the likelihood of it getting clicked.
Don't overuse timers: With all that I've talked about countdown in email up until this point, this really needs to be stated as well. Timers are precious real estate, of course, but if you start using them in every second email you send out, you'll dilute their gravity.
Ensure the copy accompanying the countdown timer is justified: Readers shouldn't have any ambiguity regarding the deadline or the event to which your timer is counting down.
Pay attention to the placement of your timer: Ideally, it should be kept above the fold. That way, it's the first thing your subscribers will notice upon opening the email.
Add the best version of your countdown time: How do you determine that, you ask? Two words: A/B/n testing.
Wrapping It Up
If previously you used to look at countdown timers through a foggy lens, I hope this blog was able to rectify that for you. Go ahead, then, weave them deftly into your campaigns and watch your conversions skyrocket!