[This post was originally published on 11th Jan 2021. It has been updated on 8th March 2022.]
Emails are an inevitable marketing platform for small businesses as well as the established ones. With 293.6 billion emails being sent and received every day, making your emails worth your readers' time is an arduous task. You need to perfect every aspect of your email to ensure the same. One such essential detail is your email signature design. Many businesses make the mistake of taking email signatures lightly, making their brand unapproachable and distant.
Before we look into the reason why businesses should pay special attention to email signature marketing, we need to understand that investing in an email signature is a one-time task, like how an organization does while establishing their logo, tagline, and other brand-related elements. This one-time investment in email signature marketing has a great potential to embark on a new dimension of success for your email marketing campaigns.
In this blog, apart from telling you why you need to incorporate email signatures in your email program, we will also tell you actionable best practices with some creative email signature samples.
3 Key Reasons Why You Should Use Email Signatures
Imagine you meet someone at a social gathering. You find them to be interesting and of great value to you or your business, but they don't share their name or any other information as to where you can reach them. Now, even though you are interested in approaching them for further acquaintance, it seems difficult. Similarly, when you send an email without a brand signature, you are not just losing out on potential customers or partners, but also failing to provide credibility and build trust.
According to a study by Mediapost, 37% of marketers have never used email signatures in their email campaigns. Here are four reasons why you should totally have your own brand email signature.
• Brand awareness
Almost 82% of those who used brand email signatures have mentioned that it boosts their brand awareness and creates familiarity amongst prospects. The more your brand is visible and noticed, the more you will win your audience's trust and establish yourself as a credible brand.
• Driving traffic to the website
48% of marketers said they use brand email signatures to drive more traffic to their website.
• Lead generation
34% of marketers said they use email signatures to build credibility and trust by including social proof and other such links.
• Professionalism
Your signature mail design must reflect professionalism and help you stand out as a reputed brand in your subscriber's mind.
How to Incorporate an Email Signature
When it comes to an email signature, each and every brand can have a way of representing themselves. There is neither a one-size-fits-all formula nor a right or a wrong way to do it. The email signature, apart from fulfilling its basic purpose of signing off the email, should reflect the brand and initiate an action from the viewer's end.
For that to happen, the email signature should fit in with the email template design and at the same time stand out to leverage the necessary information. Let's see the various email signature examples with best practices in which we can incorporate an approachable and comprehensible signature in email campaigns.


• Highlight your brand and brand values
Prioritizing the most important action you want your email signature to achieve is the first step in incorporating an email signature. All brands need an email signature, but not necessarily for the same reason. At the same time, do not forget to highlight your brand and make sure you reflect your brand values in the desired action.
Most email signatures best practices suggest that you must include the brand logo, the address of the headquarters, and the contact details.
Here are a few examples that follow the proper email signature format.
• Keep it simple
Email signature design does not need to be too complex. Simplicity is an email signature best practice. Although the content and design expertise traditionally end before the footer of an email, some brands jazz up their email signatures but if not done right, it can come across as overwhelming and fail to convert into action.
Here are a few email signature examples with simplistic design:
• Use colors – not too much
You can make your email signature design pop out with contrasting colors, but make sure your text does not subside in the design. Using your brand color is a smart way of registering your brand.
Take a look at some email signature examples and get inspired.
• Get creative with typography
Another business email signature best practice is to experiment with comprehensible typography. Be it adding your tag line under your logo or a hashtag that you are prominently using, you can always try out different typography. Although make sure to be consistent while leveraging important information.
See how you can use beautiful typography in the email signature examples.
• Make it responsive
It is important that your business email signature, just like your email design is deliverable and rendered across devices and platforms. It is always clever to deliver a standby design so that your email signature is not missed in case of an incompatibility issue. Remember, the email signature templates carry important information like your contact details, address, and other information.


• Keep it consistent
Experimenting is good, as said earlier, keep your information and design consistent, so that the brand and the desired action remain constant across all email campaigns and therefore make your business approachable and interactions hassle-free.
• Use templates and test them
A smart solution to all your consistency and other design hurdles is using an html email signature template, which you can add at the end of each email. A/B testing your email signature design with variations in colors, images, typography, and CTA, is also a great way to make sure that your subscribers have a smooth email experience. There is a smart way to create email signature templates with the easy-to-use email signature generators available online.
• Track results
The most important part of an email campaign is knowing where you stand and how you can improve your email design. Tracking results will help you measure the success rate of your email design, including your professional business email signature. This will help you rectify mistakes for future email campaigns.
Some of the important metrics to track are:
– Total emails sent
– Clicks generated through email signatures
– Leads generated through those clicks
– Website traffic generated through email signatures
– Total impressions made by email signatures
• Get social
Being socially present is not enough to connect with prospects and leads. Effective email signature templates can be a great way to encourage them to connect with you across platforms. Social proof, testimonials, and reviews are few of the most common ways to increase credibility and email signatures are a great place to leverage such information.
A few more unique professional business email signature examples: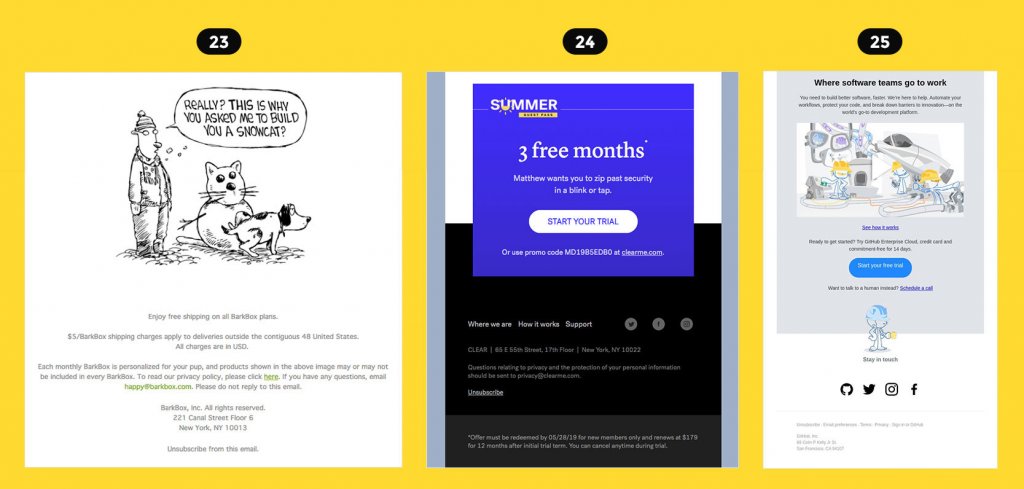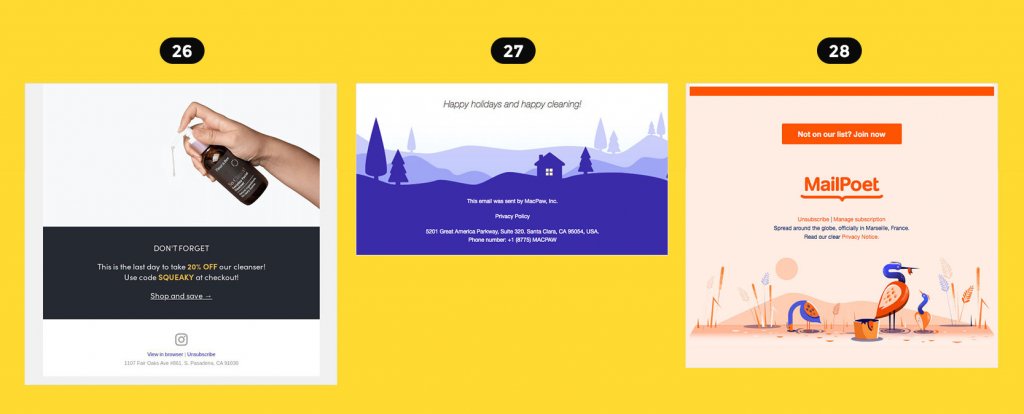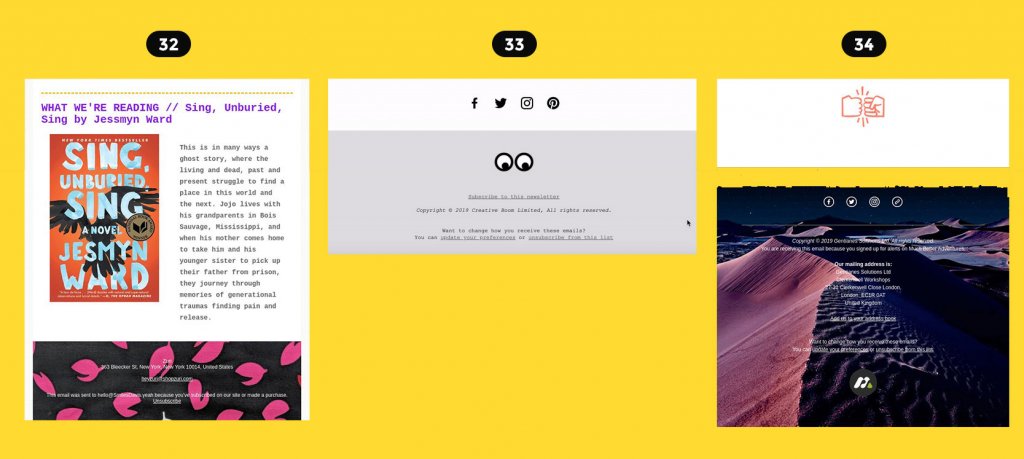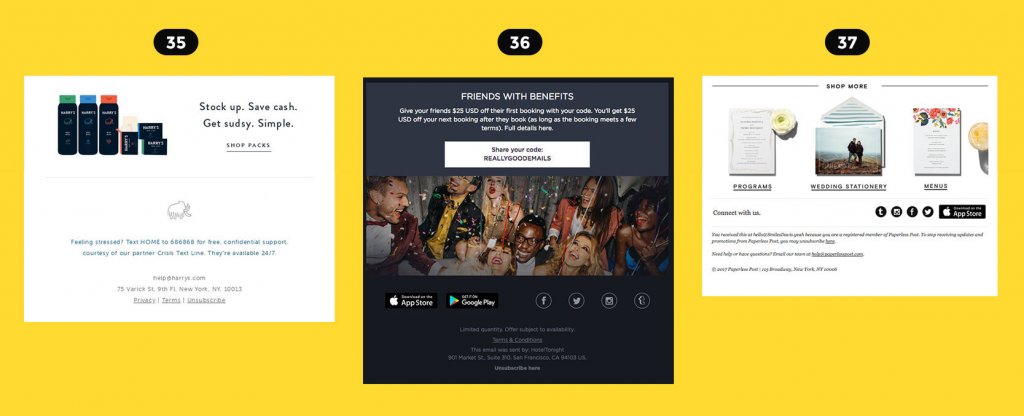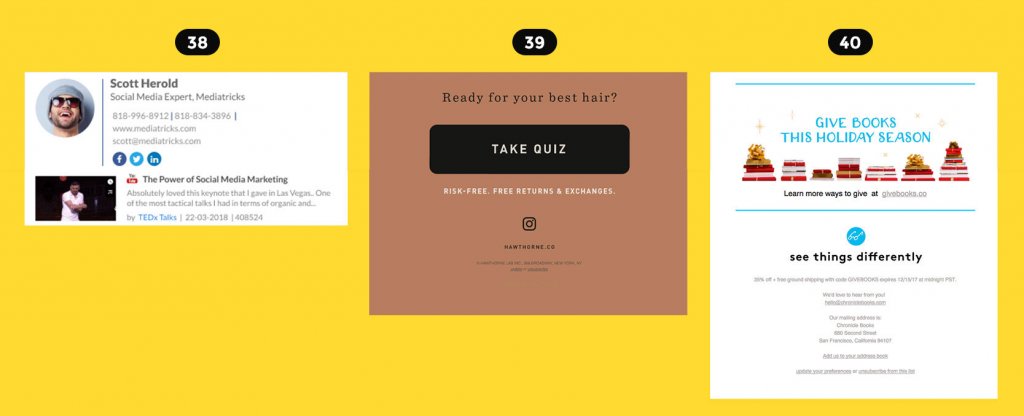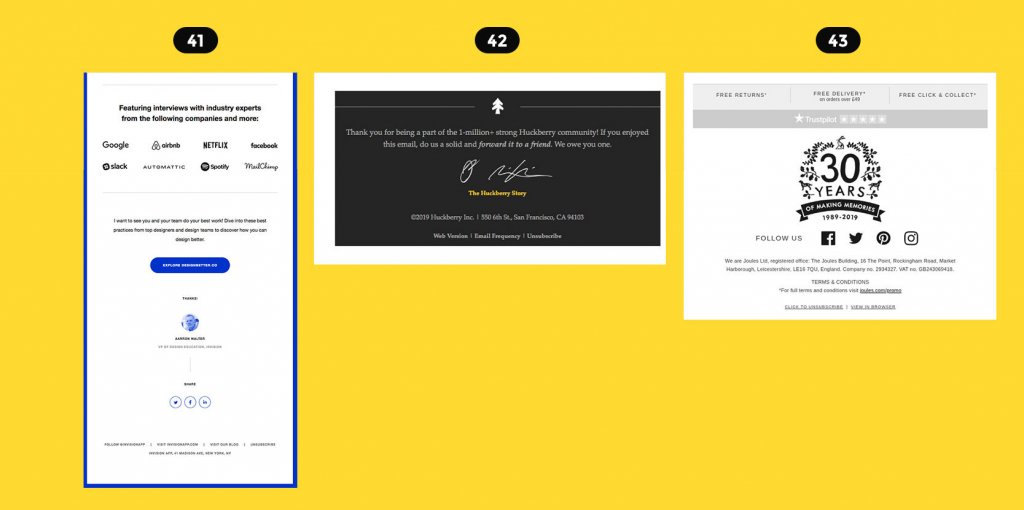 Email Signature Best Practices: At a Glance (With 10 More Examples)
1.Your HTML email signature template should not be too much cluttered and gaudy.
2. Using image in email signature marketing is a strict no no, if you want to make accessible email signatures templates.
3. You can incorporate the feedback widget in the HTML email signature template.
4. Utilize the space allotted to your HTML email signature template to highlight the availability of your customer support team.
5. Do not forget the social sharing icons.
6. Whitelisting, unsubscribe link, and preference center link are essential components of a professional business email signature.
7. Many marketers forget to include their physical address in the email signature. Including contact details is one of the basic email signature best practices.
8. Add shortcuts to important pages like FAQs and resource center in your email signature.
Wrap Up
So that's all from us on email signatures! If you already have an email signature, we hope our detailed tips will help you overcome blunders that you overlooked in the past. If you want an expert to design your email signature, you can always get in touch with an email marketing agency like Email Uplers.
Get going and get that email signature into action!