The Holiday season begins from Halloween in October and lasts all the way to the New Year and a few weeks beyond. This is a very important period for marketers across industries whether B2C or B2B. US and Canadian consumers typically spend between 1000-1100 USD during this season. Over half of this spend is on gifts, one fourth on decorative items and the remaining on food and other goodies. The key trends of consumer buying behavior during holidays are:
E-commerce and online purchases from aggregators and company websites will continue to dominate, while there will be reluctance and slowness in physically visiting stores. 2020 is expected to see a never-before cluttering and blitz of consumer omni-channel marketing
Loyalty rules: For many categories of products, almost 2/3rd of their consumers will continue buying from them out of loyalty. This translates into huge up-sell and cross sell opportunities. Also, the importance of referrals and word of mouth cannot be stressed enough.
Consumers will continue to download, browse choices, make purchasing decisions, and conclude their transactions through Apps
Considering the above trends, there will be an unprecedented digital clutter and a boom of malware, phishing, and other cyber-attacks through email. Over 90% of attacks originate through email; while most are targeted at the marketers themselves, customers are wary of and reluctant to open emails which can expose their personal or credit card/ bank account information
It is hence obvious that Holiday Email Campaign Management is of paramount importance during this crucial period and smart campaigns would make the marketers:
Stand out from the digital clutter and entice customers to open, absorb and click on the CTA; responsive campaigns will leverage the customer's mobile and app preferences as well
Plan and do the pilot testing early, fine tune the campaigns, and move ahead full blast
Continuously monitor, and modify to make these resounding successes

KEY CONSIDERATIONS FOR A SUCCESSFUL HOLIDAY EMAIL MARKETING CAMPAIGNS
All these strategic and tactical parameters play a vital role in email campaign management and are important at different stages of campaign management, which we will explore in the following sections.
PRE-PLANNING PHASE
It's all in the planning. Successful campaigns are 80 % planning and 20% execution and fine-tuning. Let's begin with pre-planning which includes:
1. Setting campaign objectives
These must be clearly spelled out and metrics identified. All marketers would typically define the following objectives for different customer segments during the holidays:
Getting more sales through holiday offers and discounts
Acquiring new customers and commencing relationship building
Cross-selling, upselling to existing customers
Increasing engagement with existing customers
Reviving former customers
2. Mapping out a plan – holiday by holiday
The holiday season continues for around 2 months. It is important for email campaign managers to carefully plan an email strategy basis the specific holidays during this period. You primarily need to consider:
Halloween
Thanksgiving
Black Friday and Cyber Monday
Christmas
New Year
You must plan tactical strategies based on the customer segment, and corresponding message, frequency, and timing mix on the basis of the Holiday Calendar. This will, of course, depend on the industry segments, products, state-wise presence, positioning, and other variables.
3. Getting together the right mix of talent
In the pre-planning phase itself, it is important to define the responsibilities and get the right resources onboard as you might need extra help for Holiday Email Campaigns. Here are some positions you must fill:

Depending on your email marketing strategy, you should debate and answer the following considerations:
Do we need specialists for all the above roles, or can your current resources handle multiple responsibilities?
Roles in house vs outsourced. For Outsourced partner considerations: Experience, adept in similar industries and so on and so forth
PLANNING PHASE
Now that the pre-planning phase is done, and we have defined the objectives, calendar, and the team needed, we shall now begin the campaign planning:
1. Prioritizing List cleaning
It is super critical to carry out list cleaning before the holidays. There are many smart steps to have a good, clean list and the most important one is capturing relevant website visitors through mailing list opt-ins, subscriptions, and using exit-intent popups. However, it is highly recommended to carry out email scrubbing every few months to ensure accurate customer email lists and improve the open and click-through rates and reduce bounce rate. Some smart ways for this are:
Analyze bounced rates and fix errors
Re-engage with inactive customers
Dedupe/ duplicity email check
Remove inactive customers
2. Segmenting the cleaned up list
Mailchimp's finding shows that segmented campaigns get close to 49% more clicks and 23% more open rates than non-segmented campaigns. Once the customer email list is cleaned up and updated, segmentation can be easily done by slicing and dicing on the basis of factors like:
Demographics
Website behavior
Position in the sales funnel
Past purchases
Amount spent on your website round the year or during the holidays
You can leverage the data from the CRM to segment subscribers and create targeted, personalized emails for them. Moreover, you need to pay special attention to and have an extra level of personalization with customers who are in the highest stratum, have exhibited High Value and/ or volume of past transactions, and who are strong on referrals. These are the high-value customers who contributed the maximum to the seller's revenues
3. Following deliverability best practices
You may create the best of holiday campaigns but what if they don't reach your target audience? Deliverability can prove to be the key to successful holiday email marketing. So, before we look at email creation, it is worthwhile to reiterate the fundamental aspect of email marketing- No matter what, the message must reach my customer mailbox.
While reviewing your email lists and segmenting your subscribers will boost deliverability, there are other practices too which will prove useful. Some of them are:
Do NOT make sudden changes to email sending pattern
Personalize your emails
Create mobile-friendly emails
So the email must circumvent the barriers of automated spam filters and low customer attention span and get opened, read through, catch attention, and propel the customer towards the Call to Action. So now, let's get to creating the email.

EXECUTION PHASE
1. Creating a beautiful, pixel-perfect Email – Copy, Design, and Coding
To begin with, let us examine the type of emails which need to be created in a very eye-catching manner especially in the holiday season:
Promotional Emails: Limited period, last minute and early bird offers. Creating time bound urgency
Transactional Emails: Welcome email formats, product ordering forms, subscriptions, cart abandonment, rewards and returns
Relational Emails: Newsletters, catalogues, gifts, product teasers & comparatives, membership, freebies, service camps, quizzes, and games
Recommendation emails – Upsell and cross-sell
Strong Referral programmes and incentives
Re-engagement Emails for former customers
Let's now start with the email copy…
EMAIL COPY
The content of your email is of paramount importance. Once your subscriber receives the email in their mailbox, the email should immediately galvanize the customer to open, read through, assimilate the takeaways, and propel them towards the Call to Action. Here are some dos and don'ts for effective and efficient Email copy :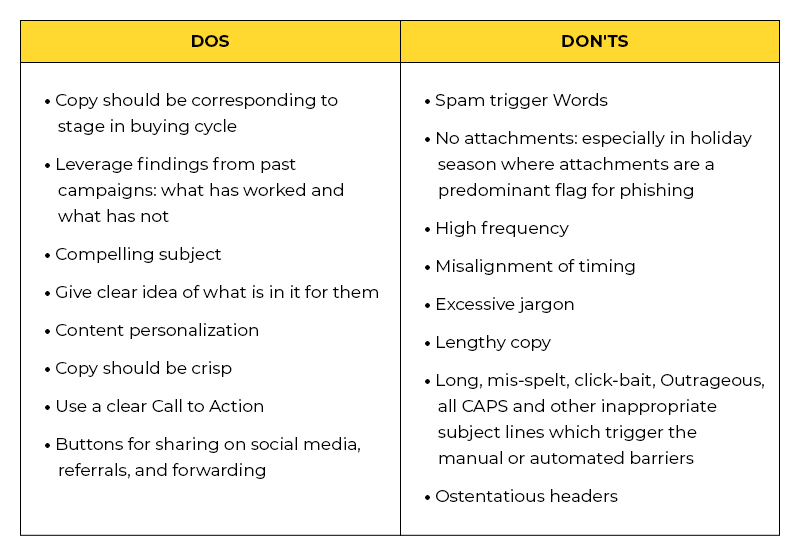 EMAIL DESIGN AND CODING
While the email content is very important, it is all in vain if your email design is not attractive enough or the subscriber sees it garbled on their handheld device. As a result, they either forget about it or worse, mark your email as spam or add it to their junk. Here are some key aspects to be considered for efficient email design and coding that will grab the interest of your subscribers, make them read, assimilate, get wowed and further propel them towards the Call to Action: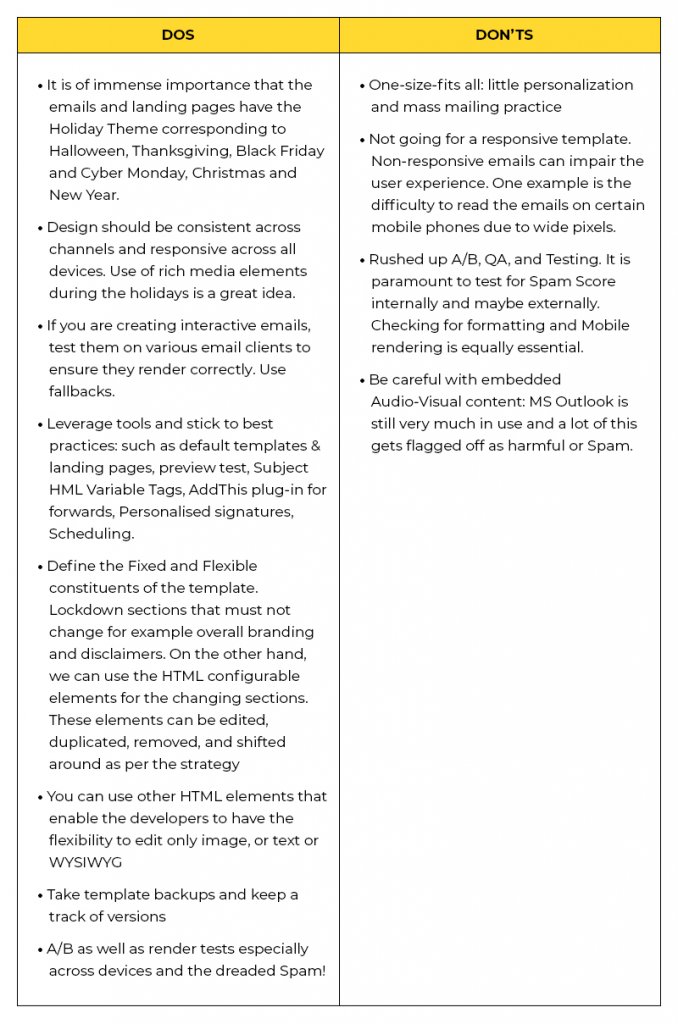 2. The Actual Email Campaign Execution
Now that we have an accurate, cleaned up and well-segmented customer list, personalized powerful marketing messages with holiday themes, and clear CTA, the next step is to set up the email and click send. Here are some important considerations before you hit send:
Leverage key learnings from past campaigns
Choosing between manual and automated campaign
For the automated campaign, set up the complex workflows accurately – triggers, follow-ups, reminders with day/ week, and time wise frequency. Cart abandonment triggers matter even more during the holidays
Test the triggers

CAMPAIGN ANALYSIS AND OPTIMIZATION PHASE
It is very important to continuously monitor the Performance Metrics (PM) of your holiday email marketing campaigns.
This includes open rate, click-through rate, bounce rate, unsubscribe rate, conversion rate, forwarding rate, spam complaints, sharing rate, and similar metrics for mobile devices and tablets reporting.
Leadership teams are most interested in:
Overall KPIs of revenues, customer satisfaction Indexes, cost, response time, customer adoption, churn
Slicing, dicing, and drilling down the KPIs by products, campaigns, geographies, customer demographics
Comparing trends of these KPIs with historical data
'What if' analysis
Considering the limited and lucrative holiday period, these dashboards and measures need to be monitored and analyzed at a very high frequency. The campaign dynamics should be quickly fine-tuned depending on the customer segment, and the campaign needs to be spruced-up. Ultimately, we all need to be:
Continuously moving the customers and prospects to the next favorable stages of buying
Keeping customers and prospects always engaged
Delivering a special level of personalization to VIP and top customers
Improving CTA outcomes and lead times
Minimizing churn and helping retention
Incentivizing referrals
Proactively testing new campaigns
Providing insights into what works and what doesn't, including the send time
Balancing consistency with smart customization across channels

WHAT AFTER THE HOLIDAYS?
It is also worthwhile to mention that there is a significant market for products and services helping in lifestyle/ fitness/ detoxification/ getting back to work, which will immediately take off after the holiday season is concluded in early January. We can apply the same guide with some tweaks to the after-holiday Email Campaign Management and have a great start to the New Year!
TAKEAWAYS
This holiday season, fix your Measures, Map the season, segment the Market, customize and beef up the Message, closely Monitor and timely Modify the Campaign. That's the trick to successful holiday email marketing.