Of course, acquiring new customers is central to growing your business. But you know what's equally important? Nurturing your existing customers. Marketers these days enjoy the luxury of having abundant customer data at their fingertips. As a result, they are constantly scratching their heads to figure out the best possible way to put it to use. Here's where milestone emails come into the picture.
What Are Milestone Emails?
Milestone emails are behavior-based emails that are sent automatically to existing users on specific occasions such as birthdays, anniversaries, or just about any other significant milestone. Primarily, milestone email campaigns are designed to remind your customers of the value they're deriving from your business and how your company makes a difference in their lives. Now, this serves two vital purposes- firstly, it incentivizes your consumers to continue using and endorsing your product or service, and secondly (and more importantly), it makes your brand appear more friendly and personable, paving the way for more word-of-mouth marketing (read referrals) in the process.
Since these emails are extremely personalized, they help in boosting click-through and conversion rates. Although milestone emails were traditionally the prerogative of subscription-based companies, nowadays, they have come to be associated with any brand that is offering a recurrent product or service to its consumers. However, setting up a milestone campaign just for the sake of having one is not going to do your business any good. You must have clear, predefined business goals in mind before you sit down to craft one. Ask yourself what you're trying to achieve through these emails.
Are you looking to:
Enhance customer engagement?

Increase online traffic?

Drive more conversions?
Answers to these questions will enable you to gain clarity regarding your overall goals and empower you to curate incredibly well-thought-out milestone campaigns.
Milestone emails come in many shapes and forms. In this article, we're going to explore these different categories by looking at how the best in the business do it. Hope you have your snorkels on, cause we're going to dive deep!
Birthday Emails
If you're new to the world of milestone emails, then birthday emails are an excellent starting point. The only data you need to dispatch these emails are your customers' dates of births, information that is not at all difficult to obtain. It is something that you can collect either at the time of account creation or while they subscribe to your newsletter. But, don't just send a run-of-the-mill birthday email. Personalize it, add a thoughtful and well-written message, and make it festive! Let your reader know that you're equally stoked about their special day as they are. Oh, and do not forget to include a special offer or discount. After all, what's better than a birthday treat, right?
Pro tip: If you do not have any decent offer up your sleeve, you can just as well provide them with free shipping for the day. The idea is to do away with any hindrances that might possibly discourage them from placing an order with you on or around their birthday. At the end of the day, no gesture is too big or small; it's the thought that counts.

Here are a few examples of birthday emails from brands that absolutely hit it out of the park.

# St. Ives: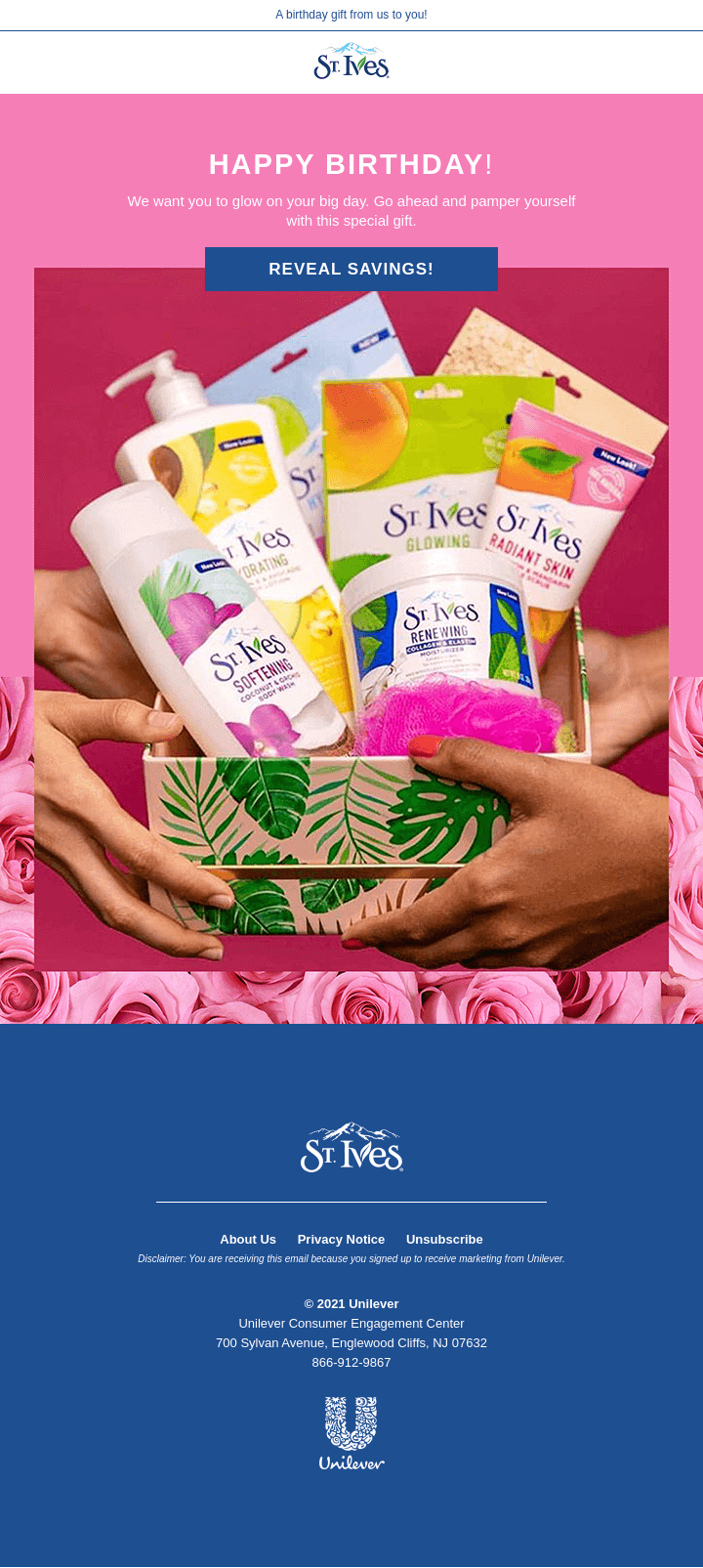 Source
Let's start proceedings on a simple note. The bold colors and large imagery of this birthday email from St. Ives make it fun, festive, and playful. But what really works in its favor is its disarming simplicity- A short and sweet message coupled with a clever CTA. Remember, when in doubt, always keep it simple.

#Intuit: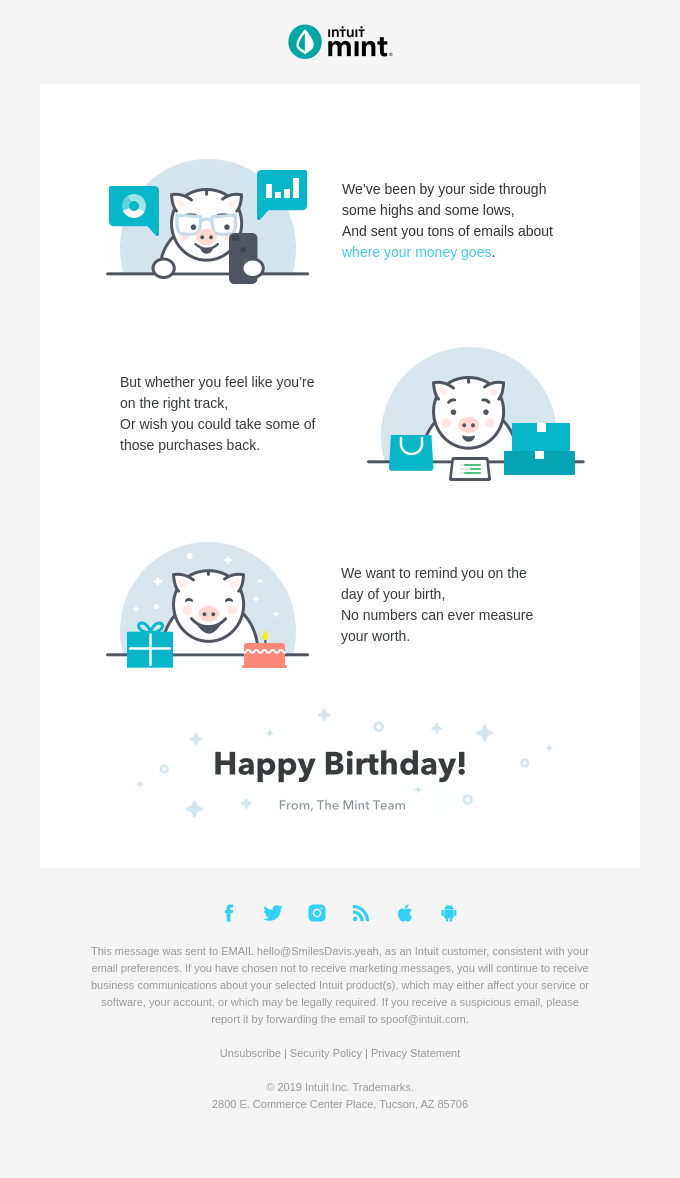 Source
Moving on to some slightly more elaborate things, we have this neatly crafted email from Intuit Mint. The strength of this email lies in its cleverly written body. While the language used is no doubt thoughtful and warm, at the same time, it subtly calls the attention of the recipient to the many ways in which the company has added value to their lives.
#Puma: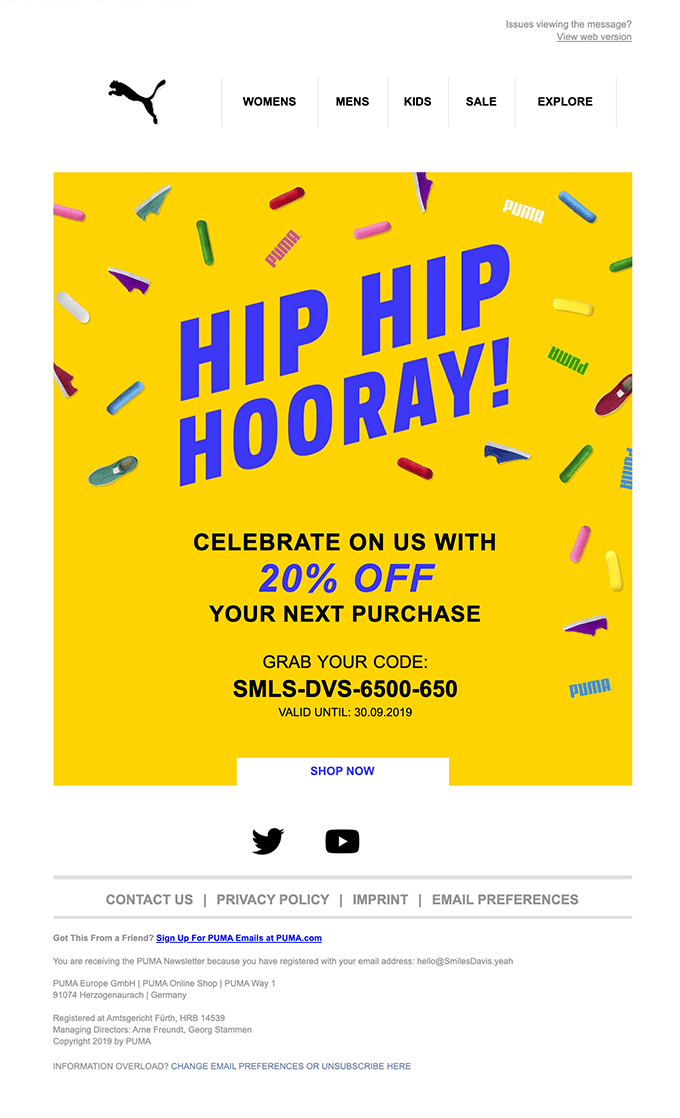 Source
This milestone email from Puma checks all the boxes of a good birthday email- crisp copy, special offer, and no clutter. If there's one trick that they missed here, it's probably not personalizing their subject line (which reads: "Happy birthday to you!) and their content. But, from their perspective, they probably counted on the discount code to compensate for that. Not a bad call considering that the majority of people would instead prefer a birthday treat over a personalized birthday wish (right?).
#Pizza Hut:

Source
Pizza Hut makes use of the classic "birthday wish" trope to come up with this delightful birthday email. What really stands out in this email is its content hierarchy. The elements have been arranged so that one can't resist but scroll down to the CTA once they open the email. Free cinnamon sticks are, of course, the icing on the cake.
While birthday emails are typically customer-oriented, in some cases, the brands send out emails on their own birthdays as well. Guess what? They are equally excellent. Take a look.
#Care/of:

Source
Care/of has used their birthday email to encapsulate their one-year-old journey and the milestones they have bagged in the process. It is informative, reflective, and has a touch of humor as well. Pretty neat, if you ask us.
#Casper:

Source
Casper celebrates its 5th birthday with this effective birthday email that offers its new and old users alike a discount of 10%. What better way to celebrate a birthday than to share joy with your customers.
Anniversaries
No matter the nature of the relationship, inter-personal or brand-customer, anniversaries are always special. For brands, an anniversary is representative of the fact that a certain individual liked their products or services enough to remain associated with them for a period of one whole year (at the very list) since their subscription. Frankly, there's no greater form of validation for them than that. Therefore, you should use every inch of your anniversary emails to let your customers know how grateful you are for their loyalty.
Looking for some inspiration? We got you.
#Wemo:

Source
Short, crisp, and to-the-point, Wemo's anniversary email wishes its users while offering them with a unique personal code to ensure that their loyalty remains unwavering in the times to follow as well.
#Grammarly: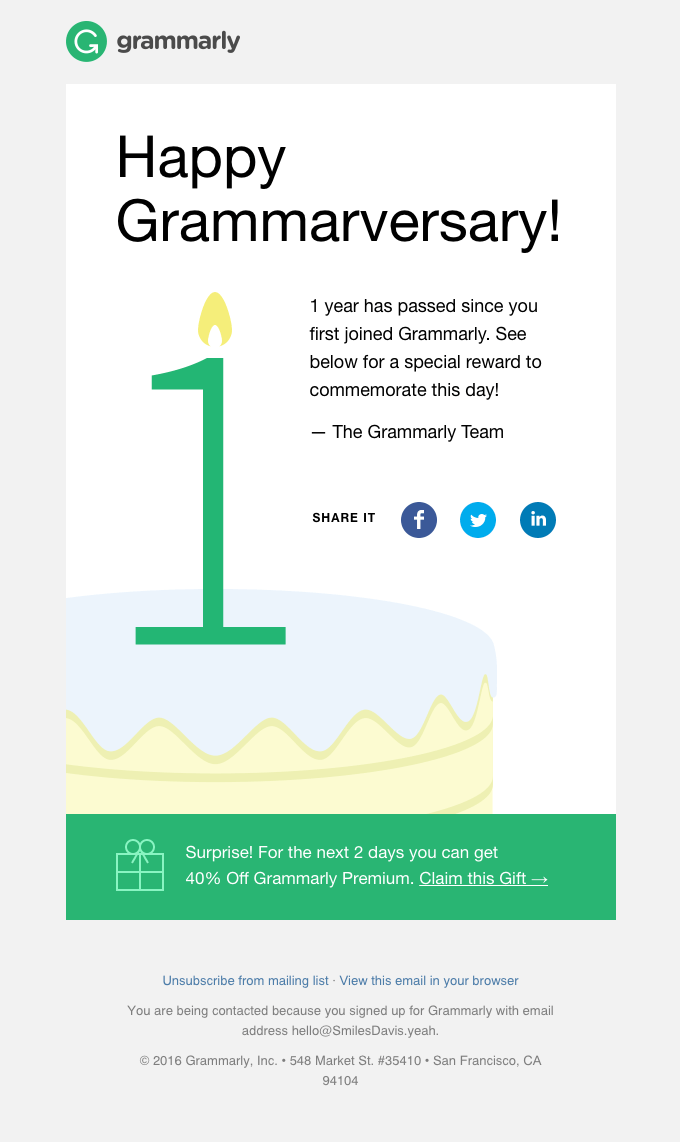 Source
#A Book Apart: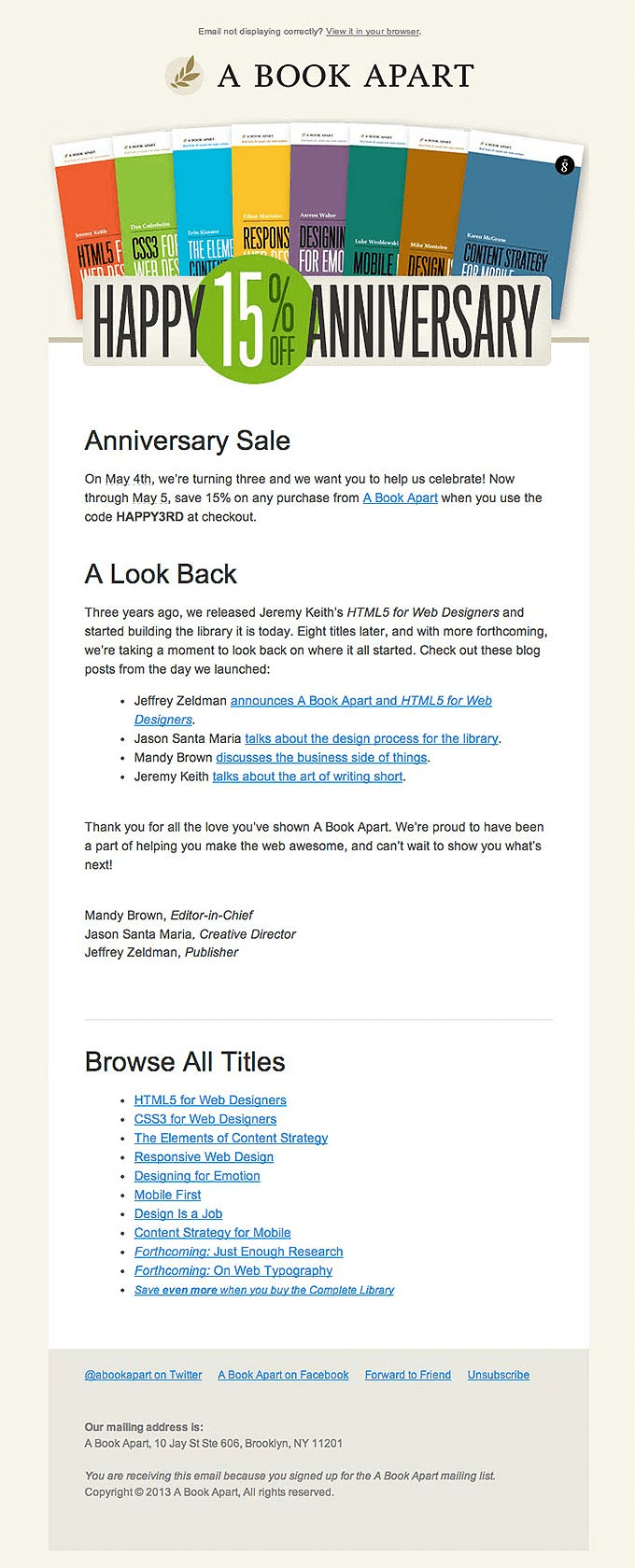 Source

Sometimes, brands use their anniversary emails to highlight customer data in the form of milestones. This clever tactic helps them paint an accurate picture of their involvement in their users' lives. For example, take a look at this milestone email from Uber.

Source
Year-In-Review Emails
Thanks to Spotify, customer's year in review has really started to catch people's imagination these days. A year-in-review email is a simple yet effective method for brands to show users how they have made use of their product or service over the course of a single year. Data doesn't have any bias, so the insights might not always be relevant or exciting. Here's where the onus shifts on brands to glean only those nuggets of granular data which they're sure will grab the attention of their customers.
Let's take a look at some examples.

#Spotify: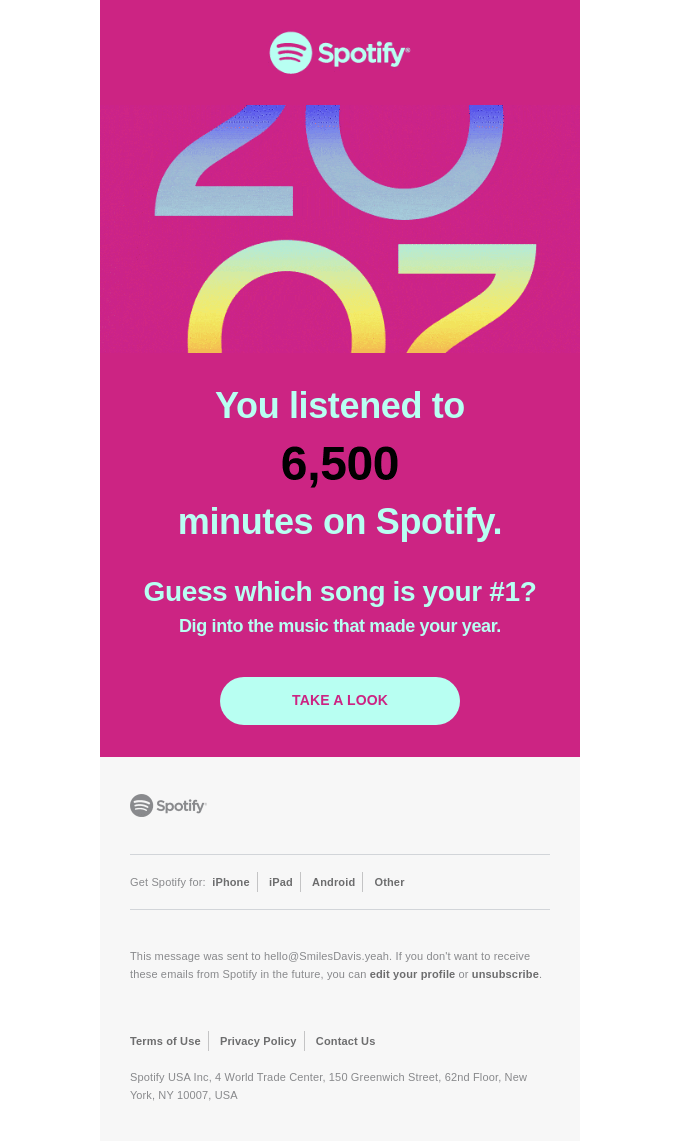 Source
#Resy:

Source
#MileIQ:

Source
#Lyft:

Source

#Eventbrite:

Source
Wrapping It Up
In the course of delivering personalized experiences, brands occasionally happen to get too close for comfort. This is where milestone emails become all the more crucial. Sure, they're crafted out of customer and usage data, but how they're composed makes them insightful to readers rather than intrusive. Therefore, milestone emails are not just a great way of interacting with your customers but also a compelling way of informing them that you care deeply about their patronage and endorsement.