Black Friday and Cyber Monday Email Examples: A Brand New Curation
Your subscribers are likely to get inundated with numerous Black Friday and Cyber Monday emails right from the onset of Fall. So, how will you create an opportunity out of this competitive bottleneck?
The answer is – think out-of-the-box while adhering to the email design best practices.
Let's understand how exactly you can create high-converting Black Friday and Cyber Monday emails (with some stunning examples).
1. SHOW, don't tell
Rather than just talking about the discount in your Black Friday and Cyber Monday emails, display the products that are on sale. Visuals speak louder than words and attract the customers to make the purchase. If you are just highlighting the discount in your emails, your subscribers might skip taking action. On the other hand, showcasing the products with relevant images or GIFs will pique their interest and increase the likelihood for conversion.
Here's a Black Friday email template by Vlado Footwear.
In the first fold itself, they have highlighted the kind of products on sale and the 50% discount on all products. The next fold gives the recipients early access to four of their amazing footwear.

Take a look at this Cyber Monday email by Simplilearn.
At the outset, they have intrigued the subscriber with a discount offer and a GIF. When the subscriber scrolls through, they will be able to check the different courses on sale. Isn't it a great idea?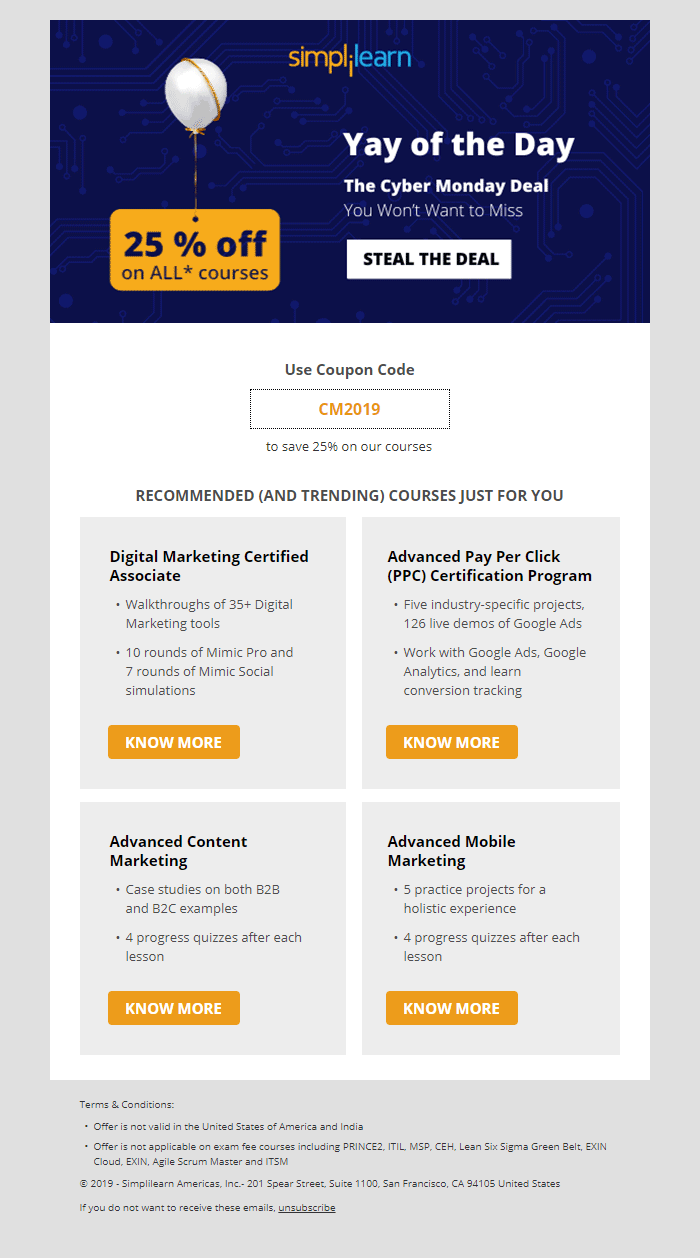 2. Try to build visibility on social media through emails
Use emails to build brand visibility on other social media channels. This becomes all the more important during the Holiday Season when people are willing to spend more than the "usual" days.
It will also facilitate word-of-mouth publicity and help you bring more business.
Here's how Insight Vacations does it in their Black Friday email. They have promoted the hashtag #INSIGHTMOMENTS along with real photographs of their guests from Facebook and Instagram. (Of course, you must have the consent of the users to share their pictures in your emails.)

This also brings us to the third point – create urgency!
3. Create a sense of urgency to drive instant purchases
Did you notice the countdown timer in the previous email example? That's how you must instil "FOMO" in your subscribers and get them to take action. The email copy creates a sense of urgency by letting the subscriber know that the deal will end soon. It will compel the users to book their tickets instantly (with the fear that the offer will be gone and they will miss out on it).
4. Think out of the box
Take a look at this graph depicting Black Friday online sales over the last seven years.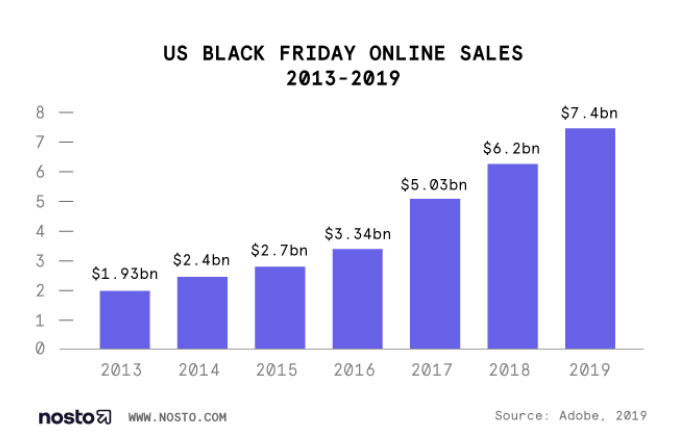 Shoppers for the Black Friday have only grown during this period. The same applies to Cyber Monday sales. Customers spent $9.4 billion on Cyber Monday in the year 2019 which surpassed the Black Friday sales of $7.4 billion.
To make sure that your business can use this opportunity to its maximum potential, your email campaigns must reflect originality and entice the user to click-through the CTA.
Get your creative juices flowing and design an email that would make your subscriber go "WOW".
Korres has sent out an interesting email with the perfect use of animations in their Black Friday email. They have ditched the traditional column layout and designed their email in such a way that all the necessary information and images can be accommodated in the first fold itself. It is an impactful minimalistic email.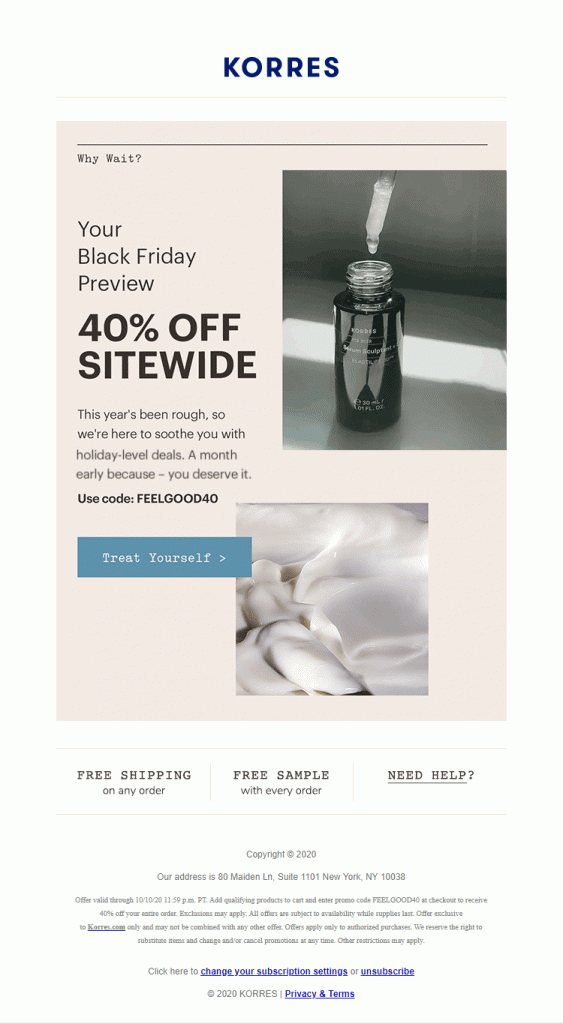 Here's another unique approach to promote your Cyber Monday sale. My Name Necklace has displayed a chat message interface to endorse their Cyber Monday VIP Presale. Did you notice the CTA zooming in to draw the subscriber's attention?
In the second fold, they have handpicked the best necklaces for Christmas to tempt the customer to make the purchase. It is a good idea to promote Christmas sale from November itself as it would contribute to a higher ROI.

These emails also advocate the thought of using the right rich media element matching the purpose as well as the vibe of the email.
That tempts me to share yet another email that I received in my inbox.
WoolOvers Ireland has promoted its NEW knitwear with some of the most appealing images supported with a succinct copy. To ensure an optimum deliverability rate and bypass the spam filters, they have maintained the text to image ratio at 80:20.

Thankfully, unlike some other brands, they have not forgotten to write an engaging preheader text too. (Grab Yourself a Bargain!!!!!)
5. Do not forget the copy
I think I have emphasized quite a lot on the use of 'correct' visuals. However, I do not mean to say that you can forget your copy and the power of words. Besides deliverability, it would help you to make your emails more accessible and inclusive.
Let me share an example with you.
While the header image of the email from KSCY stands out from the rest of the emails, it still does not leave a mark because of the lack of 'other details'. Of course, your subscribers are busy people and they might not have the time to read a long paragraph in their email. Nonetheless, you must showcase the products and have a relevant copy to get people to purchase from you.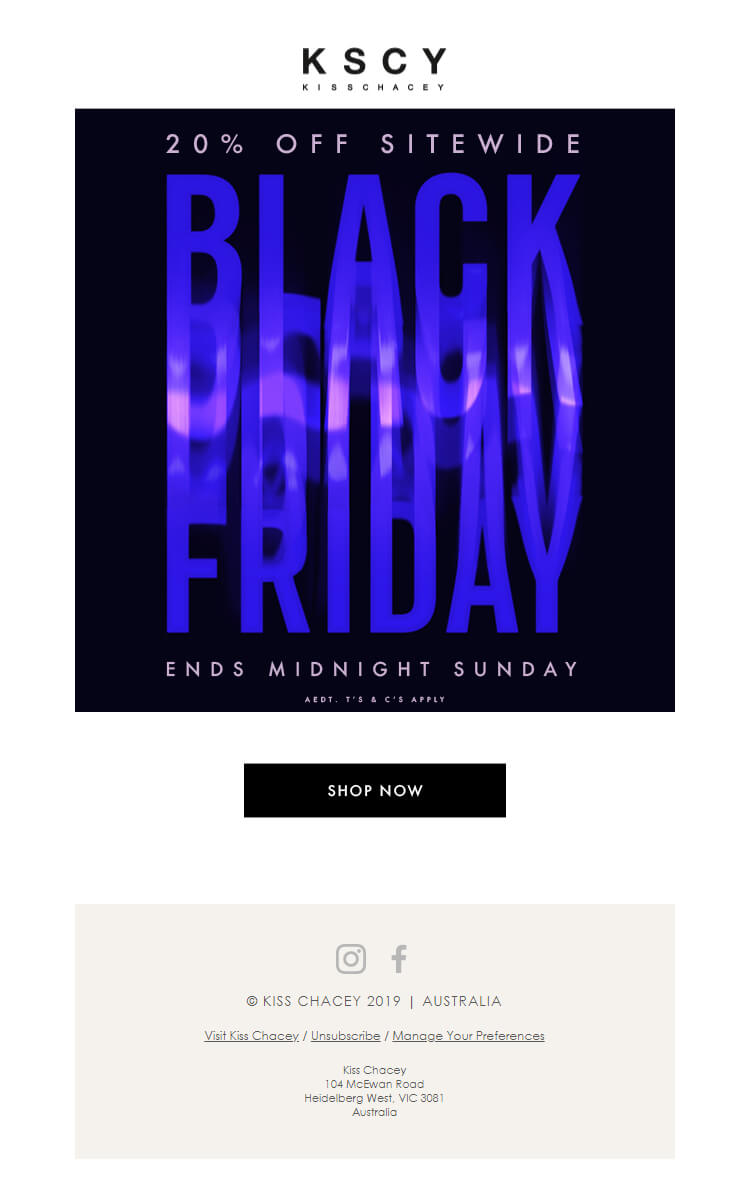 Wrapping Up
Just like writers struggle with writer's block, I am sure email marketing professionals also deal with a similar thing where they are unable to find new ideas. To eliminate the need of staring at the ceiling fan for inspiration, we have curated the top email examples for Black Friday and Cyber Monday.
So, why don't you just try out these simple ideas?
If you still find yourself in a fix, let us know. Email Uplers would love to help you out, and Holidays is our favorite season!