Businesses and marketers, are you all geared up for the biggest retail weekend of the year? Yes, I am talking about Black Friday and Cyber Monday, of course! While they might just occupy two days on the calendar, businesses spend days, weeks, and months creating their Black Friday and Cyber Monday (BFCM) email campaigns, leaving no stone unturned. Why is that? Last year alone, the National Retail Federation reported, a staggering 179.8 million unique shoppers (in the US) made in-store and online purchases over the BFCM weekend. Globally, BFCM online sales amounted to $275 billion. I believe that sufficiently answers your question.
Simply put, if you play your cards right, there's no dampening the chimes of your cash counter. But, to serve up aces, you first need to ensure your campaigns are immaculate, down to the last, tiny, details. If you've been scouring the internet, looking to mine creative energy for your BFMC campaigns, I'm happy to tell you that your search ends here!
In this blog, we'll be taking a closer look at some design inspirations which will help you add a unique zest to your BFMC campaigns. Excited to see what's in store ahead? Dive right in!
Embrace Single-Column Layouts
You might be seeing more and more brands these days adopting the single-column layout while designing their marketing emails and newsletters. Wondering why? Well, for starters, a single-column layout helps you steer clear of issues that are commonly associated with multi-column layouts such as overlapping of columns, shifting of images, and overflowing text, among other rendering issues. Additionally, single-column layouts are excellent from an accessibility perspective as well. You see, the vast chunk of HTML emails out there are coded with the help of tables. In this approach, it is critical to specify content in the right order. Should it fail to comply with the standard left-to-right and top-to-bottom reading order, your emails will end up being inaccessible to subscribers using assistive technologies such as screen readers. Moreover, it is easier to define a visual hierarchy in a single-column layout.
This striking Black Friday email from Magic Spoon perfectly drives home the arguments made above. Take a look.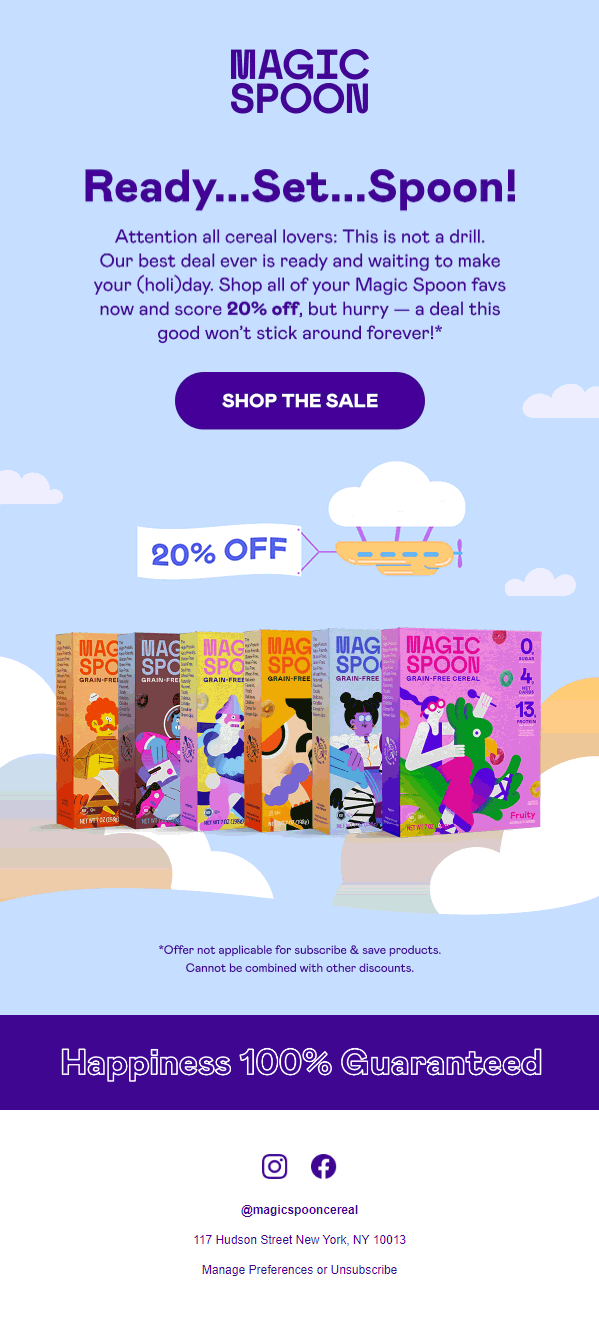 Align Your Design Language With The Occasion's Theme
One of the best ways to make noise with your holiday season campaigns is by using your design to evoke the sentiment of this period. This can be done by using colors, iconography, and other visual elements related to the occasion at hand.
The following email from Minga London is an excellent illustration of this point.

Be it the bitmap font or the desktop-like arrangement of the hero section, the design perfectly mimics the aesthetics of a "cyber" space. Another thing to appreciate about this email is how rich it is in images. Your products should be, without any doubt, the heroes of your BFCM campaigns and that's exactly what Minga London has done over here.
Use Bold Typography To Grab Eyeballs
Want to make your BFCM emails engaging while also keeping it subtle? Two words- bold typography. Often brands who have a reputation for playing with content fear that their content-oriented emails might fail to garner the same level of attention compared to their visually dazzling counterparts. Well, not as long as you are using bold typography. Among the most popular design trends in the market, bold typography elevates your storytelling by leaps and bounds. From emphasizing critical portions of your email to guiding the reader's eye in the desired direction, bold typography significantly improves the manner in which you communicate with your subscribers.
Look at this Black Friday email from Everlane.

Sure, it is text-heavy but it's neither overwhelming nor visually demanding. Why so? Because it has been segmented into small, neat, sections with the help of bold typography. Also, notice how the font colors have been carefully chosen to strike a sharp contrast between the foreground and background in each section of the email. This has been done to maxmize the readability.
Give The Centre Stage To GIFs
As an email marketer, you ideally want subscribers to be hooked to your email the very instant they open it. Do you know what gives you an extremely realistic shot at actualizing this? Using GIFs in your email's hero section. They work well for all scenarios- be it previewing products, breaking down complex ideas, or making a grand announcement. If done well, they can drastically minimize your email bounce rates, something you can very well use this BFCM season. A small note of caution: if you're planning to incorporate a GIF into your Black Friday or Cyber Monday email, try to minimize the usage of other visual elements. Otherwise, you might face trouble keeping your email file size in check. And large emails, as you might already know, have incredibly slow loading times. That's the last thing you'd want for your BFCM campaigns, wouldn't you?
Moreover, there are various email design services that can help you create the GIF of your dreams!
Cricut-Destination's Cyber Monday email deftly illustrates how one should attach GIFs to their emails.

Make Animation Your Best Friend
There's just something about animation- maybe it's endearing imperfection, it's ability to transcend boundaries, or the ease with which it evokes the most primal of our feelings- that makes it a highly powerful visual medium. So, why not weave it into your BFCM campaigns?
However, one must keep a few things in mind while implementing animation:
Do not add an animated element simply as a source of entertainment. Make sure it has a purpose and tap into its immense potential tp spur your subscribers into action.
Look to place important links around the vicinity of the animated element. This will increase their chances of getting noticed.
If animation doesn't align with your brand image, do not include it forcibly.
Keep your email copy crisp and to the point while using animation; allow it to steer the storytelling.
Wondering how you can go about adding animation to your email? Take pointers from this brilliant Black Friday email from Bonobos.

The uber-cool (and downright adorable!) cat in the hero section isn't just eye candy; it also infuses an element of humor into this email. And there's nothing better than humor to get subscribers to warm up to your emails. Also, see how brief the copy is over here?
Add High-Quality Images Of Your Products
This is something that is absolutely non-negotiable as far as your BFCM campaigns are considered. Competition during this weekend reaches ridiculous heights. So, if you are not using high-quality images to showcase your products, you are going to have a tough time channeling any traffic your way. Additionally, it also helps in strengthening the credibility of your brand. Although, make sure that the images are optimized before adding them to ensure your email file size doesn't go beyond proportion.
Take a look at Feiyue's Cyber Monday email.

Along with presenting their offerings, they have also highlighted the USPs to further incentivize the subscribers.
Create FOMO Using Countdown Timers
The BFCM season is characterized by brands offering a slew of attractive discounts to their customers. Now, how do you get them to act on these offers? By instilling a sense of emergency in their minds. This, you can achieve by adding countdown timers to your BFCM emails. 400%– that's approximately the factor by which a well-placed live counter can boost your conversion rate. That's as good a reason as any to work them into your BFCM campaigns, surely?
Now, there are two routes you can go when it comes to incorporating a timer in your BFCM emails- as a GIF and as a live timer which operates in real-time. The latter while, arguably, delivers a comparatively better user experience, the former is far more reliable and a lot easier to implement too. Besides, with animated GIFs, you get the liberty of unleashing your creativity to the fullest. That said, you must keep a few things in mind as well. For starters, do not forget to loop your GIF- whatever duration you set your animation for, ensure that it resumes at the end of the said time period and not stop. Additionally, you must also check that it loops afresh when a reader re-opens the email. Looking for some inspiration? Take a look at these examples.


Seal The Deal With Compelling CTAs
If you want customers to act on your exciting BFCM offers, your campaigns have to hook them in with absolutely enticing CTAs- there are no two ways about it. The placement of your CTA button, its size, shape and color, as well as your CTA phrase, everything has to be up to the mark. Now, the all-important question: What makes a winning CTA? Well, many things but we're going to focus on the aspects that will help your BFCM campaigns steal the show.
Firstly, it's always a good practice to align your CTA with your theme, be it in terms of copy or design. We've already seen above, in the case of Minga London, how one can visually sync their emails with the BFCM ethos. On the content front, you could write your CTA phrase by incorporating buzzwords commonly associated with Black Friday and Cyber Monday. That will definitely do your campaigns a whole world of good. And if you're facing trouble cracking that code, aim to be undeniably distinct, at the very least. The end goal is to make your CTA conspicuous and grab your reader's attention, irrespective of the philosophies you're employing while designing it.
Here are a few examples that will help you understand.

Wrapping It Up
Now that you have taken a look at these stunning examples, we are sure you're bubbling with ideas for your own BFCM campaigns. So, what are you waiting for? Unleash them and soar above your competitors!