In 2020, as many as 174 million shoppers in the US turned up during the Thanksgiving to Cyber Monday weekend, with Black Friday-Cyber Monday sales amounting to a staggering $39 billion. But, it's not just the businesses that get incredibly busy during this short period; customers' inboxes do too. 
Businesses and brands worldwide flood their subscribers' inboxes left, right, and center with promotional and marketing emails to make the most of this lucrative phase. So, how do you ensure that you get noticed by your target audience during this incredibly competitive time of the year? By hitting it out of the park with your email designs. Easier said than done, we know. But, we aren't here to just talk the talk; we walk the walk too! To help kickstart your preparations, we've handpicked some of the choicest Black Friday and Cyber Monday examples from the best brands out there. Dig in and draw every ounce of inspiration that you can!
1. Walmart
Subject line: 🥳 Surprise! Get EARLY BLACK FRIDAY DEALS.

From a gripping subject line to an enticing GIF to an extremely minimal and neat layout- Walmart hasn't really put a foot wrong in this fantastic Black Friday Email template. The GIF in the header itself contains the CTA, and that's a pretty smart move for two reasons:
The GIF is arguably the most eye-catching part of this email, so placing the CTA button in that region increases its likelihood of getting noticed and clicked.
When the CTA button is placed above the fold, the readers' attention is drawn immediately to it as soon as they open the email. Subsequently, this paves the path for higher conversions.
2. Lenovo
Subject line: Black Friday Sneak Peek – Up to 33% off deals on gaming PCs & accessories

One thing that you'd observe across all the best Black Friday email examples out there is this- a heavy emphasis on visuals. And not just any random visuals, images of their products and services. This, we feel, is critical to winning at high-traffic email campaigns. Irrespective of how much you talk up your special offers and discounts, customers will not be tempted by it unless they get to see the products for themselves. This is precisely why this Black Friday email from Lenovo emerges on top. The template is endowed generously with captures of their choicest PCs and accessories, all of which are ably complemented with crisp and to-the-point copies.
3. Apple
Subject line: Get an Apple Store Gift Card of up to $200. Starting this Friday.

Sometimes, simply announcing a sale is not enough. You also have to convince your customers why shopping from you would be their best bet. Wondering how you should go about it? Take a leaf from Apple's Black Friday template over here. Besides the compelling pitch, what also stands out over here is the delectable use of white space in this layout, which accentuates its visual appeal by leaps and bounds.
4. Amazing Cosmetics
Subject line: Cyber Monday EVER MONDAY Starts NOW!

Including discount coupons in your promotional email itself is an excellent way of inviting interaction from your readers' end. And especially when you have highlighted the margin of your discount as clearly as Amazing Cosmetics have done over here, the customer has all the more incentive to use the discount codes. Another thing worth noting in this Cyber Monday email is the subtle way in which Amazing Cosmetics have plugged in their social media handles over here. During high-traffic periods, such as these, you ideally want traffic on all of your different marketing channels- websites, mobile applications, and of course, social media platforms. Using emails to drive traffic to other channels is a clever tactic.
5. Designmodo
Subject line: Cyber Monday: The Final Countdown! 60% OFF on Designmodo 🔥

If you are unable to come up with any creative ideas for your Cyber Monday sale, do what Designmodo has done over here- create a sense of urgency! Want to make your customers grab their shopping carts? Tell them that the products they've been eyeing the most are going to be out of stock soon! Either give them a time window or, better still, leave them to contend with a ticking clock. That aside, there's an important design observation to be made here as well. Compared to most Cyber Monday examples, this one is a little heavy on text. However, it still doesn't disturb the overall design aesthetic of the template. This is in large part owed to the neat rectangular layout in which the content has been assembled.
6. Boundary Supply, LLC
Subject line: 【LAST CALL】CYBER SALE — Save up to 50% ending soon

Very few design maneuvers are as effective at capturing people's attention as bold typography. From billboards and print ads to TV commercials and emails, bold typography has always been the weapon of choice for brands during the holiday season (and other high traffic periods). This incredibly stylish Cyber Monday email template by Boundary Supply, LLC is ample proof of that. Typically, using multiple fonts in an email is frowned upon, but if you were to do it as tastefully as the folks at Boundary Supply, LLC have done over here, we're sure it'll be smooth sailing for you.
7. Darn Good Yarn
Subject line: Get zenned out with 40% off!

A simple glance at this Black Friday email from Darn Good Yarn is enough to tell you that it is an absolute standout. Look at those color strokes and splotches; aren't they really something? They render an artsy vibe to the template, thereby making it highly inviting for the readers. The presence of the cheerful images, as well as a good-humored email copy, further accentuates the upbeat vibe of this email.
8. Article
Subject line: Biggest Sale of the Year is Back 🏁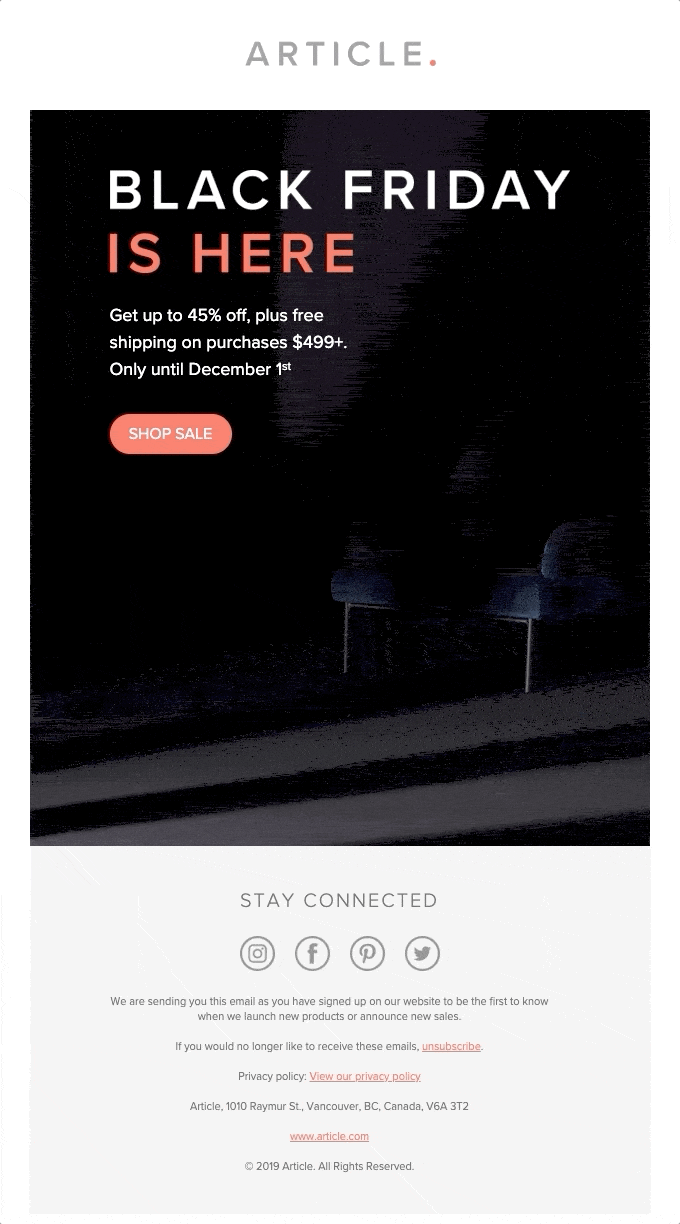 What allows this Black Friday template from Article to be thrillingly minimalistic is the presence of an animated background image. It's a thumb rule, really- when using animation in your emails, all other elements should be kept to a bare minimum- and Article have followed this to the T over here.
9. Tattly
Subject line: It's the last day to save 30%!

Tattly's Cyber Monday email is a visual treat on many levels- soft background in the header, attractive illustrations, aesthetic fonts, and generous white space. Although this template has plenty of elements on it, it's far from looking cluttered, thanks to its immaculate placement and arrangement. Additional points for the CTA, which is not only prominent size-wise but also contrasts wonderfully against the backdrop.
10. Roxy
Subject line: Final Cyber Monday Hours

The use of monochromatic pictures against a soft background makes this Cyber Monday email template from Roxy very pleasing and soothing to the eyes. Guess you need a little beat of tranquil to overcome the traffic that generally accompanies Black Friday and Cyber Monday, don't you?
Wrapping Up
Now that you have gone through some of the best Black Friday and Cyber Monday email examples out there, do you have an idea as to how your campaign should look like? Don't worry if it hasn't hit you yet; we're sure the right idea is around the corner. In the meanwhile, keep scrolling up and down these templates while your brain cells are at work; you never know what could trigger them!