Expert Interview Series: Part 1
In Conversation with Bhuvan Desai About His Journey with Email Uplers and
The Past and Future of Emails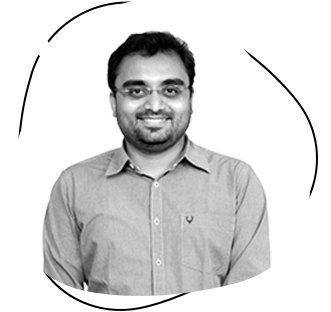 Bhuvan Desai
VP (Technical Operations)
at Email Uplers
We started as EmailMonks with a vision to make email design and development easier for brands and agencies. Today, we've transcended to be one of the largest email template production companies across the globe. Through our journey of 7 years, there has been one person who has stood as the backbone of our organization and has been at the forefront of email design and coding tasks. Bhuvan Desai.
Bhuvan has mentored so many designers and developers to give their best, helped them to grow as professionals, and brought out their true potential. Besides, he has been there through all the important milestones that Email Uplers (EmailMonks) has achieved along the way.
Be it that golden day when we completed coding 3500 email templates or the launch of additional services like data integration and migration, Marketo automation, and SFMC, Bhuvan has been an integral part of every benchmark that we have achieved so far.
Recently, we got an opportunity to know about his journey with Email Uplers and how it has shaped the realms of email design and development.
So, are you ready to go behind the scenes and get some great insights? Let's start.
How would you describe your journey with Email Uplers (erstwhile EmailMonks)?
Bhuvan: In January 2013, I had two most important things to accomplish in my life—one was to get married and another was the inception of EmailMonks. I was fortunate enough to have both these events happen simultaneously. On 26th January evening, we made EmailMonks live and I went on my marriage leave on the same day. From here started the journey with our CEO, Sales VP, and the super talented team of just 5 people. Our primary objective was to deliver the best and the fastest email production capacity to all the email marketers and CRM teams. With our enthusiastic team as well as our past experience in the email marketing industry, we were able to set up the right processes, hire the right people, and build the right culture. That helped us shape our bright future.
In this journey, I have not only grown as a professional but also as an individual. I also got some amazing opportunities that made all the difference. It made me dive deeper into setting up efficient operations and optimizing them. Eventually, it helped us build the right processes and systems to achieve this operation of email and landing page production at a scale of 3000+ templates in a month.
We believed that if we focus on three things – Processes, Right People, and Experience, then everything else would fall in place. We knew that we had to keep adapting ourselves to become more agile and be open to challenges. The entire team was never hesitant to take up new challenges, learn, experiment, and set up new products' offering out of those learnings. That spirit enabled us to serve all our customers across diverse email marketing tools in just 1.5 years, owing to which we can proudly claim to be ESP agnostic.
The right people, processes, and experience helped us be more agile and set up new product offerings.
Today, with this independently operated model, our core team has been managing entire operations so proficiently that we could focus on adding different offerings. We were able to add up a team of SFMC certified professionals and marketing automation experts who are assisting the CRM team worldwide to achieve their marketing automation goals.
I feel immensely proud to say that we have a team of the best 200+ people who are focused on delivering a flawless customer experience.


What is your professional philosophy? How have you made the most of the opportunities and roadblocks that came your way?
Bhuvan: Professional philosophy is always derived from two factors – Firstly, the core values we imbibe as we grow, and secondly what we learn during our professional journey. I would say I am blessed that my core values are strongly aligned with those of my team.
There is no alternative to hard work. You need to work hard to build a smart solution using which people can do smart work.
Personally, I value commitment. Also, I believe in diversity, as it brings to the fore various angles in thought processes and facilitates interpersonal learning. We trust our people, our team, and so do they.
We as a team have coined our core values from our experiences – Trust, Humbleness, and Care to help.
With the new age of Data, being process-driven and data-driven is a must and that has just added to the experience we deliver. We can now measure the experience and improve it.
Roadblocks have helped us create new opportunities and our people and culture have helped us transform so that we can turn down our roadblocks into opportunities. Back in 2018, we noticed that marketers and business professionals are counting a lot on automation and personalization. We were adaptive enough to transform our current strength into Marketing Automation and started helping our clients in the same direction.
How has the realm of email marketing and design
evolved since the last decade?
Bhuvan: We have created a beautiful infographic on how things have shaped email marketing in the last couple of years. You can refer to that as a lot of information has been curated from our experience.
But to summarize, the customers have been more vigilant – so from unsolicited emails, the world has risen to GDPR and CCPA guidelines where consent of every customer matters. Also, today's CRM team is more focused on one-to-one emails rather than bulk marketing emails. The Marketing automation tools have become so robust that they allow us to slice and dice every piece of record and target individual subscribers/customers to receive personalized email content, that is specific and targeted.
Today's designers, specifically email designers don't talk just about design but about data as well.
We are now in an age of Marketing Automation and AI.
From the point of design, we have evolved to design emails that help to incorporate dynamic data with the balance of functionality and innovation.
What, according to you, was the most difficult-to-achieve but gratifying milestone at Email Uplers?
Bhuvan: There were quite a few milestones that we have achieved along the journey. Initially, we had to set up 24×7 operations with a team of only 7 people on board. We consider ourselves fortunate enough to have supported 50+ customers at that point in time by making sure each of them gets an instant response and quick solution from any of our team members. The collaboration within the team, trust, and enthusiasm to deliver a quick and accurate solution was incredible and that helped us achieve a lot despite the small team size.
As we grew, managing the same 24×7 operations with such a huge team and the same quality that we used to deliver (when we were just 7 of us) was the most difficult part. The exclusive training mechanism, our extremely well-trained account management, and the CX team, as well as our processes, helped us achieve and deploy the right people for the right outcome and we were able to achieve the same quality even at the scale of 150 people.
Even today, we get 5+ reviews at the same pace as we used to get earlier. And of course, we still cherish every testimonial we receive from individual customers.
What is the most effective tool that has supported the business goals?
Bhuvan: Tools are usually a support mechanism in any service organization. It was not just one tool but a couple of systems we used that helped us achieve our goals – HubSpot CRM, In-house built ORP, our invoicing application Zoho, Adobe design Suite, great ESPs and marketing automation platforms, AWS, Trello, Microsoft Excel, and we surely can't forget Mailchimp and SFMC as we have a huge customer base for both these tools.
Besides the software programs, it was the people and strategy that helped us to use these tools in the right way and accomplish our goals.
What would you advise someone who is putting the first step in the profession of email development?
Bhuvan: I would say you are lucky as you are going to reach AI faster. Be ready to keep learning at every step. Have an inclination to understand about marketing and customer journey, on top of development.
Be patient enough to master what you are learning, as email marketing is all about end to end customer service and effective communication.
How has COVID-19 changed email marketing? Do you see any changes in the approach?
Bhuvan: COVID-19 has changed email marketing for the better. One of the earliest reports says that people are more engaged now than they were before COVID-19 outbreak. Audience engagement has shown an upward trend from early March and it's increasing steadily even today. It seems that for smaller businesses, frequency of sending emails might have reduced, but consumers are now having more time and are demanding to hear more often from businesses.
There have been several changes in the email marketing industry.
I would suggest you adapt to automated and more personalized messages and try to expand your reach to customers beyond email as well, using some amazing marketing automation tools.
What do you foresee for the industry in the years to come?
Bhuvan: It's going to be more exciting for sure.
Big Data Operations – Required and right data ingestion, data storing, data unifying, and data extraction are going to drive key email marketing or marketing decisions.
Humans and AI working together – Both complement the strength of each other. Strategy, leadership, team work, creativity, social connection, the relationship of humans and accuracy, speed, scalability, volume, etc., when working together, would deliver some amazing results for marketers and businesses alike.
Marketing Automation to CDP (Customer Data Platform) – First-party data will make more sense in the coming days and with privacy rules getting injected heavily in this industry, relying on third party data would not be of much use. That is where CDP will help a lot. With CDP in place, first party data collected and unified across different data sources helps in getting complete and accurate information about a customer.
Is there anything else you would like our readers to know?
Bhuvan: We as Uplers (erstwhile EmailMonks) have been the largest email production company in the world, and have always believed in delivering excellent experience while we were serving in email production or campaign management. We are making our team ready to serve all our customers in marketing automation with almost every marketing automation tool right from SalesForce, Adobe (Marketo), Oracle Responsys, Braze, Microsoft 365 as well as Mailchimp. We now have a team of 80+ marketing automation professionals and most of them are certified.
We are training new team members and encouraging them to get certified in the leading marketing tools like Mailchimp, Marketo, Salesforce Marketing Cloud, and HubSpot. Needless to say, it is so gratifying to see their zest to learn.
Thank you so much, Bhuvan Desai for taking us back in time and giving us deep insights into the future of email. With mentors like you to back us, we will surely reach great heights in the future to come.
To all the readers out there, we hope you enjoyed reading this as much as we did, throughout the conversation.