As the fragrance of gingerbread cookies, plumcakes, roasted turkey, and apple pie rents the air in every household during Christmas, marketers around the globe look to cling to an additional whiff- that of prodigious profit-making opportunities. The most joyous time of the year is well known for launching folks into feverish shopping sprees, giving brands abundant avenues to fill up their coffers. Last year, Christmas sales in the US rose by 9.3% compared to 2020, with the total sales figure reaching a massive $889.3 billion.
That, there's a lot up for grabs is no secret to anyone. The major question is this: "How do I go about it?" Well, for starters, you focus on rolling out incredible Christmas campaigns. During the holiday season, email ends up being the go-to channel for several businesses, courtesy of its high market penetration, stunning ROI, and ability to drive better interaction and engagement, among a host of other reasons. So, if you want to sway the momentum in your favour during Christmas, your email marketing campaigns should come second to none.
And what's a better way of crafting winning campaigns than by taking inspiration from the best in the business? Today, we are going to dive deep into a slew of stunning Christmas emails to help you mine some crucial tips and tricks. Hang on to your sleighs, this journey is going to be memorable!
Anthropologie
Subject line: The sleighs standing by

Making a GIF of your products is an excellent way of showcasing them in your Christmas emailer, even more so when said GIF is placed in the hero section. This is exactly the route that Anthropologie have taken over here. There are two major advantages of doing so:
1. GIFs, being a visually dynamic medium, are more than useful when it comes to holding the attention of readers.
2. Your subscribers won't have to scroll down to find, what is arguably, your email's most critical part. It's right in front of their eyes as soon as they open the email.
There are other takeaways from this email too. For instance, look at how they have delivered the express delivery deadline right at the very top. A brilliant move because this is vital information and not something that the brand can afford the reader to overlook. Now, the GIF, no doubt, screams Christmas, but its festive exuberance is further accentuated by the sparkly email background. We are also quite fond of the animated illustration that accompanies the "Find Your Nearest Store"- perfectly in line with the general tone of this email.
Innovet Pet
Subject line: Innovet Christmas Sale 2021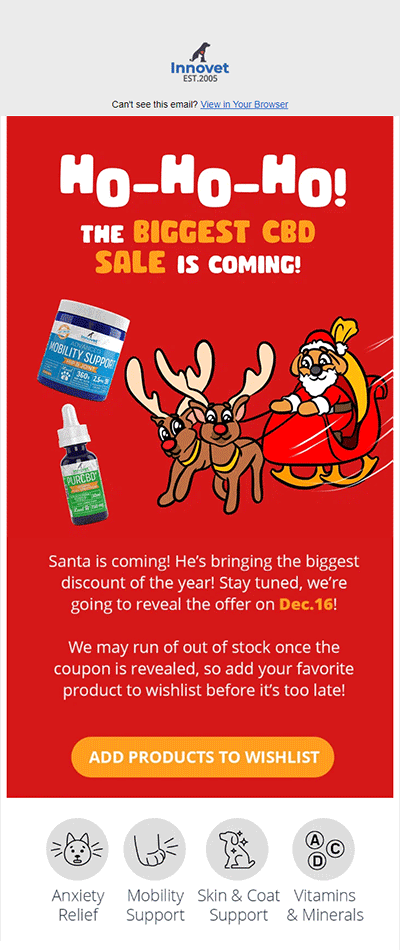 Now, if you are unsure about including a GIF in your email for fear of cranking up its size (and thereby its loading time) beyond proportion, you can always use illustrations. And if your attempts turn out to be as adorable as Innovet Pet's over here, you don't have to worry about grabbing eyeballs.
To further drive home the Christmas feel, they've smartly used red for the email background, the color that is synonymous with the occasion. Even the CTA ticks all the right boxes- size-wise, it is prominent, is placed nicely, and the CTA phrase incites action. During Christmas, competition among brands is immense. So, it doesn't hurt to include a neat social proof section in your email, just as Innovet Pet have done over here. This can go a long way toward getting customers to show faith in your products.
Another thing we want to call your attention to in this email is the animated email footer. While it might seem like a small detail, trust us when we say that it can help you cast a formidable impression on your readers.
Uncommon Goods
Subject line: 'Twas 50 nights before Christmas…


To get a headstart during the Christmas season, many brands choose to reach out to their customers way in advance. Look at Uncommon Goods, for example. They've started their countdown 50 days before Christmas day. Now, one can possibly argue that with this approach, holding the reader's attention consistently would prove to be a major challenge. And they wouldn't be wrong either. But, if you manage to whip up emails that are as visually delectable as this one, your job will be much easier. Here, Uncommon Goods have gone for a picture-intensive and clutter-free approach. What this does is prevent the information from becoming overwhelming, even when there's a lot of it in the email. In way of section demarcators, we have the headings of each section, which, courtesy of bold typography, are pleasantly conspicuous. The absence of traditional section dividers, such as lines and borders, helps the layout appear in a seamless form.
Union Hand-Roasted Coffee
Subject line: Merry Christmas, From Everyone at Union Coffee

Christmas is a great occasion for brands to establish a personal connect with their customers. And there's perhaps no better way of going about that than by sharing how your team is celebrating Christmas with them. This email by Union Hand-Roasted Coffee contains a lovely collage, where one can see the myriad manners in which its staff is observing Christmas. The picture is accompanied by an equally warm message which is sure to bring a smile to your face. Among many things, this email is a solid reminder that, at times, it is perfectly alright to keep things simple with your holiday emails, so long its heart and soul are in the right place.
Collagerie
Subject line: Serena's Christmas Wishes
Single-column layouts can be astonishingly elegant- this Christmas email by Collagerie is undeniable proof of that. The background is bathed with the rich green of Christmas, and hence to conjure a sharp contrast, the images used in the email are within self-contained spaces where the backgrounds are mostly white. Every product listed in the email is paired up with a charming description which does a wonderful job of pushing the readers toward the "Shop Now" button. At the bottom of the email, a few additional recommendations have been showcased within a GIF.
Email Uplers
Subject line: Glam up your Christmas tree!
At Email Uplers, interactivity forms the central component of our holiday emailers. We look to drive it by leveraging gamification. Our Christmas email from last year is well representative of this ethos. Here, we are inviting our readers to decorate their own Christmas trees. In the game frame, users are shown an empty tree. They have three kinds of decorations at their disposal- Garland, Tree Star, and Ornament. Each of these categories has three options within them, offering subscribers multiple ways to channelise their creativity. Once the player is satisfied with the outcome, they have to click on the CTA button at the bottom of the page. This leads them to the last frame of the game, which prompts them to share their work with their Twitter followers.
Carnival
Subject line: Pssst, you can unwrap this gift early 🎁🛳️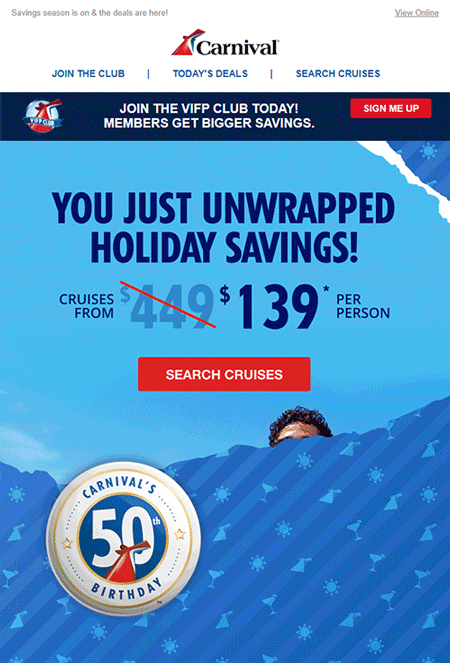 There are few things as beautiful as a monochrome design done right. This email from Carnival bears testimony to that. The hero section has a captivating GIF, and the animation style actualizes the copy, producing a rather mesmerizing effect. The information in this email has been presented via bold typography, making sure that subscribers don't lose out on anything important. Also, notice how the social media icons have been moulded in the brand colors instead of their original ones; this is a good practice to ensure brand consistency among various design elements in the email.
Soundcore
Subject line: Enjoy the Sound of Christmas in Style

The best illustrations are undoubtedly those that manage to blend both the event and the brand in the most organic manner possible. Fair to say, thus, that Soundcore has achieved perfection in that regard over here. Besides the fact that this illustration can easily pass off as a movie poster, let us take a moment to appreciate just how effortlessly it weaves the brand's products (earphones, headphones, speakers, and the like) into the Christmas motif (which is highlighted with illustrations of Santa Claus, Christmas caps, candy canes, and the like). Once you move past the hero section (if at all you're able to), the rest of the email adorns a minimalistic garb, and rightfully so- adding too many visually rich elements will only make the email look cluttered. This approach lets Soundcore really put the spotlight on its products.
tiffany & co.
Subject line: Christmas Shipping Is on Us

The thing that stands out about tiffany & co's Christmas email's visual language is its fluidity. This can be attributed to two major reasons:
1. The email has a single-column layout in which the information flows, quite literally, from top to bottom.
2. The images in the email haven't been put inside any frame-like structure and have been allowed to bleed into the text, even out of the frame at one point.
This design aesthetic pumps oodles of sophistication and suavity into the email, ensuring readers don't bounce from it easily.
The Conran Shop
Subject line: We Wish(bone) You a Merry Christmas

Now, The Conran Shop has highlighted only one product in their Christmas email, but so solid is their presentation that you'll find it hard not to engage with it. A high-resolution picture of the product in question, a vibrant background, and a crisp description- what else do you need to grab your reader's attention?
Wrapping It Up
We hope the examples shared above have given you plenty of ideas to shape your own Christmas campaigns. Turn over the internet for more gorgeous inspirations, study them carefully, and use your learnings to keep your readers spellbound!