Crowded markets, delectable gingerbread cookies, meticulously decorated Christmas trees, and delightfully harmonious Christmas carols- the most wonderful time of the year is not far now! Why should you take note of it? Well, because, besides bringing warmth, peace, and joy to households across the globe, Christmas also presents businesses with an excellent opportunity to fill up their coffers.
The fact that holiday retail sales were forecast to grow to about 843.4 billion U.S. dollars in 2021 really puts things into perspective. However, laying claim on that bag of gold is no duck soup. You'll face stiff competition from all around, and staying unfalteringly on your customers' radars can become a real challenge. Like every time, email will be leading the charge in driving traffic and engagement for your brand this time. So, if you manage to nail your Christmas email campaigns, consider the job more than half done! To help you get started, we've cherry picked some of the best Christmas email templates out there and compiled them in this article. Hope it serves as the inspiration you're looking for!
1. Uncommon Goods
Subject line- 🎁These gifts are timeless, but you're running out of time⏰
While there's much to admire and gush over in this Christmas email template from Uncommon Goods, including the urgency created by the subject line, our favorite part is hands down the crafty usage of red and green throughout the template, a color combination that practically screams Christmas. By using a color palette that is synonymous with the season, Uncommon Goods scores heavily on the subliminal messaging format. Another standout in this template is the manner in which the categories have been presented- placed above the fold, in rectangles of bold shades that contrast gorgeously against the soft background and announced by unfussy sans serif fonts; the visual harmony conjured by that arrangement is pretty commendable.
2. Wayfair
Subject line: OUTDOOR CHRISTMAS INFLATABLES 🎅⛄

What makes this template from Wayfair irresistible is that whatever products they have displayed over here appeal directly to your Christmas spirit. Moreover, how many people would dare to turn their heads from an email that has a biker Santa and three extremely adorable reindeers as its header image? All their offerings have been displayed generously using a photo grid format, thereby ensuring that the reader doesn't run out of options while building their Christmas shopping cart.
3. Walmart
Subject line- 🎁 WRAP IT UP—stores close at 6 PM local time!
Want customers to rush to the shelves of your store? Create a sense of urgency; it never fails! If you're wondering how, look no further than this template from Walmart. This gorgeously minimalistic email comes straight to the point with a neat animation and crisp and to-the-point copy. Walmart's adherence to its brand colors is something worth noting here as well. During the holiday season, in particular, brands often attempt to paint their email templates in colors that are characteristic to the different occasions (orange and black for Halloween, red and green for Christmas, and the like) rather than their brand colors in a bid to capture the attention of their customers instantly. Walmart decides against it over here, and that is frankly quite remarkable in its own right. Tastefully leveraging your personal brand is never a bad call.
4. Starbucks
Subject line: Gifts for everyone on your list 🎁
Minimal layout, a visually pleasing color scheme, and impactful copies- Starbucks hasn't really put a foot wrong with this Christmas template of theirs. If we have to be absolutely nitpicky, we would have preferred having the texts written on the dark backgrounds in a lighter shade for better visibility.
5. Everlane
Subject line- It's Time For Free Express Shipping
Why wait for the reader to open the email to grab their attention when you can do so from the subject line straightaway? That's precisely what Everlane has done over here. Free Express Shipping and that too during Christmas? We're pretty sure that not many are going to look past that. The template has a pastel background punctuated with a serif font, which gives it an endearing retro look. The copy is crisp and good-natured, while the photographs used align perfectly with the mood of the template. What's particularly clever here is the use of two CTA buttons, one each for men and women, which makes matters really convenient for the readers.
6. Bose
Subject line- Get an early look at special offers
Bose's Christmas template is a masterclass on making your products and offerings the hero of your emails. Appearing as if they're dramatically suspended in mid-air, every product has a 3D feel to it, thereby wasting no time whatsoever in grabbing your attention. Moreover, each of them is accompanied by a witty copy and a snappy description. What this does is elevate their status from being inanimate objects to sentient entities. This marriage of thoughtful spatial positioning with top-notch content and an unassuming design is what makes this Christmas email template a thoroughly deserving entry in this list.
7. Bonobos
Subject line: Hey First, Shop Our Holiday All-Stars

This stylish email template from Bonobos places its products in a zig-zag manner which serves the purpose of gently guiding your eye towards its products as you scroll down the email. As you can already probably notice, the color red is a prominent feature of this email- no points for guessing why. The header image containing the pile of clothes is perfectly on-brand as well. Is it just us, or is that pile also uncannily representative of the warmth that Christmas brings along? Guess we're being too sentimental at this point.
8. Bath & Body Works
Subject line- fa-la-la-FREE candle! 🎶🎄
Everyone's idea of the perfect Christmas is different. While for some, it might be humming to Christmas carols and feasting on lip-smacking food, for others, it might be spending a long, refreshing, and therapeutic session immersed in their bathtubs, completely removed from the din and chaos of life around them. Bath & Body Works understands that, and to express their solidarity, they decided to present their customers with Christmas-special scented candles. The template is vibrant, upbeat, festive, and perfectly encapsulates the joy of Christmas.
9. New Look
Subject line- You can still get it in time for Christmas
Whoever said that there are no secret ingredients for a winning Christmas email template has clearly never come across a GIF of a Santa and his reindeers. From sharp-witted copies to inventive CTA phrases to a cheery design aesthetic- New Look has left no stone unturned in making its Christmas emailer as engaging as possible.
10. Email Uplers
Subject line: Santa's video calling to wish you Merry Christmas!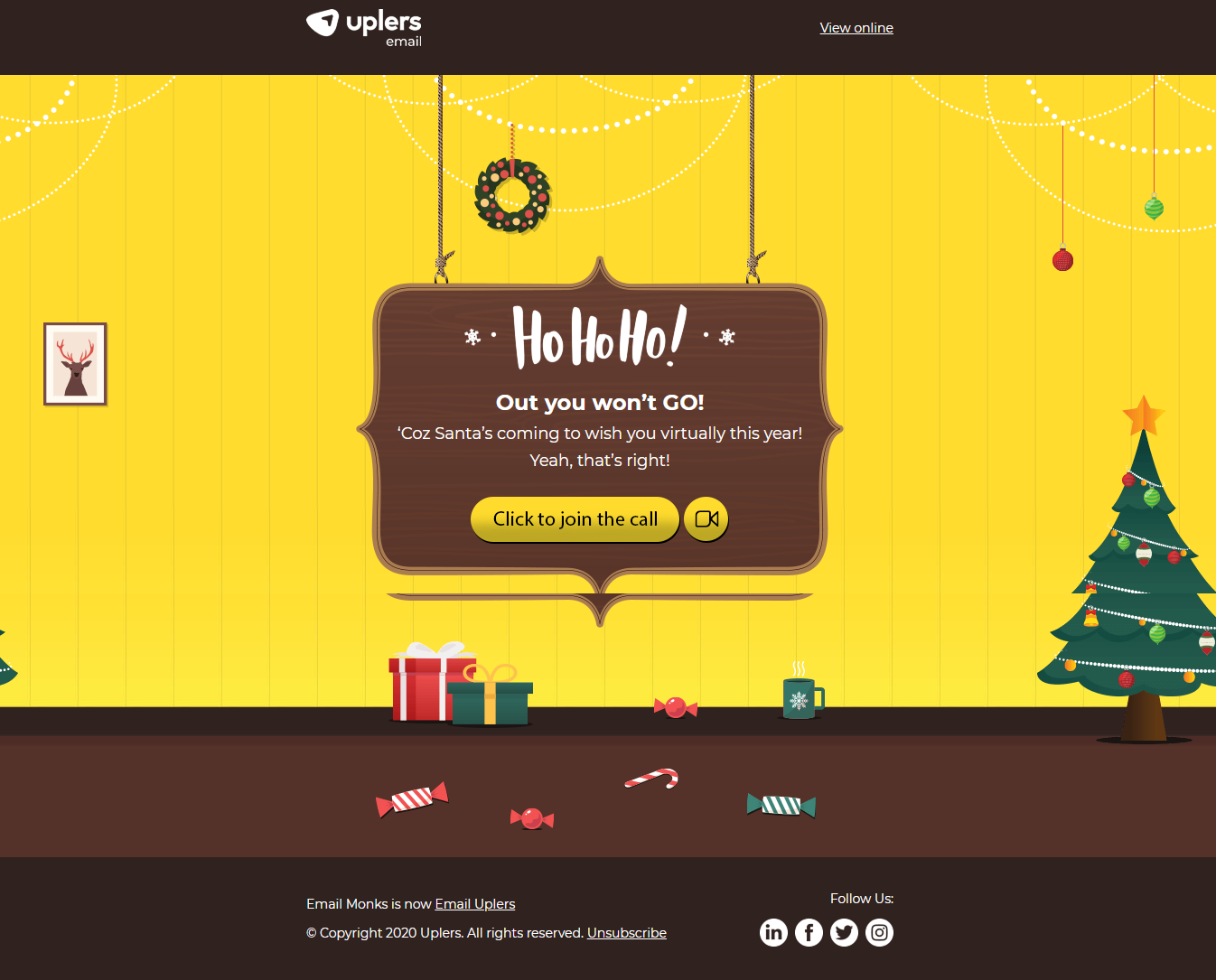 There's perhaps no better way of ensuring engagement for your Christmas emails than by making them interactive. That's precisely the route we take every year. Last year, in a time where video calls became a substitute for interactions of every hue and flavor, we decided to greet our clients by arranging a video call with none other than Santa himself! Upon opening the email, the screen shared above greeted them. When they clicked the CTA, they were led to this: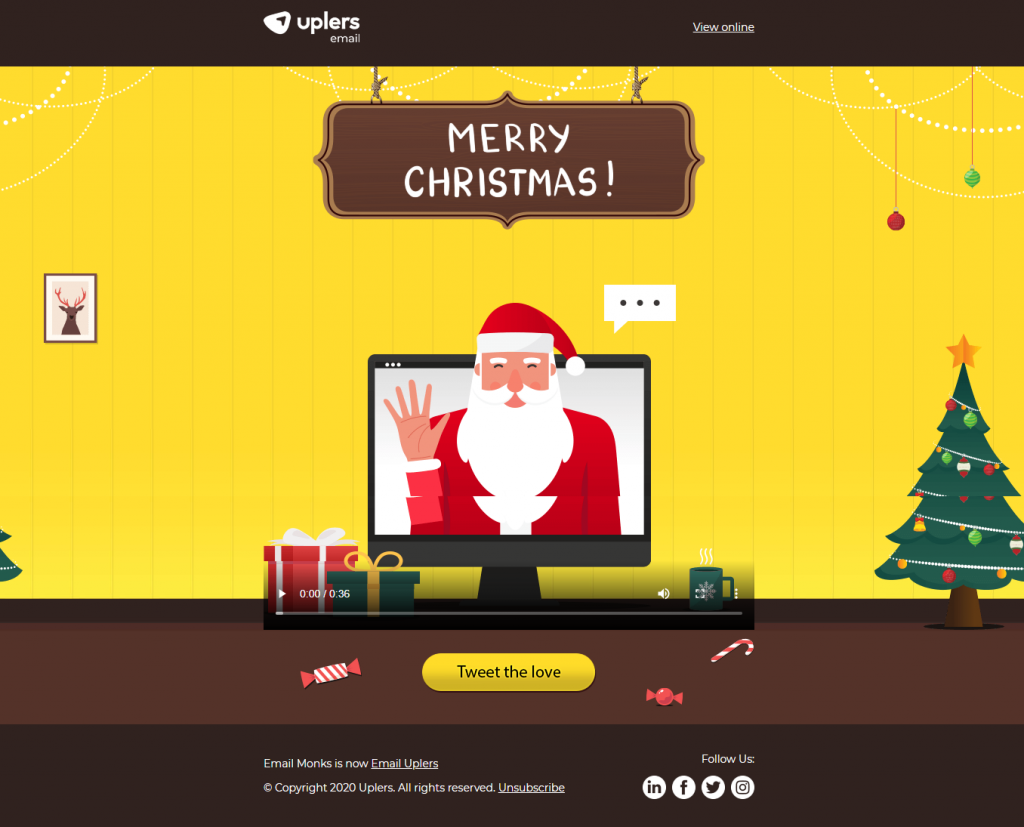 On this screen, an animated Santa Claus wishes them a merry Christmas. The CTA prompts them to tweet this sweet and thoughtful message with their friends and loved ones.
You can check out the live email here.
Wrapping It Up
Now that you know how the best in the business go about their Christmas templates, what shape will you give yours? Will it be a vibrant display of red and green or a subtle animation conveying your Christmas message? Whatever might be the case, we're sure it'll turn out to be great if you're taking a leaf from the book of the impressive templates discussed above!