The most awaited time of the year is almost here and it is the season of celebrations, family time, and splurging on gifts for yourself and your loved ones. In the year 2019, U.S. households spent an average of $1,496 during Christmas break. Deloitte has revealed that over 60% of the people in the U.S.A. choose to buy their holiday gifts online.
These figures make it pretty evident that Christmas is one of the finest opportunities to boost the conversion rate and drive higher profits for your business. Therefore, you must invest in your marketing efforts and pay special attention to your email campaigns as it brings an ROI of $51 for every $1 spent. So, if you want to please your subscribers and get maximum conversions, we are here with the top 10 Christmas email templates to inspire you.    
Haven't yet thought about your Christmas email design?
Just put your worries aside and read on!
1. Boden's Christmas wish 71 days in advance
Early birds are likely to start shopping forChristmas right from September. Therefore, you must send Holiday emails well in time to cater to their shopping needs. See how Boden has started Christmas email marketing 71 days before the occasion. The entire look and feel of the email along with the copy are perfectly in sync with the Christmas mood. The imagery exudes a warm, wintery feeling reflecting parties, families, and gifts.    

2. The huge discount offer by Lenny Lemons
Lenny Lemons has sent out a simple Christmas email design to wish their customers and promote a 50% off discount on everything. The best part of the email is that its purpose is clear from the hero image itself. When the subscribers scroll through, they will be able to check out the best sellers, trending products, and new arrivals. It will make the subscribers curious and get them to click on the CTA.  

3. The warm Christmas wish by High Spirit
Christmas email marketing is not just about driving sales and business. It is a lot about spreading joy and wishing your customers. High Spirit has sent out a heartfelt wish in their Christmas email and subtly promoted their YouTube channel where they share actionable travel tips. Also, note how they have included the CTA in both the first as well as the second fold of the email to facilitate conversions.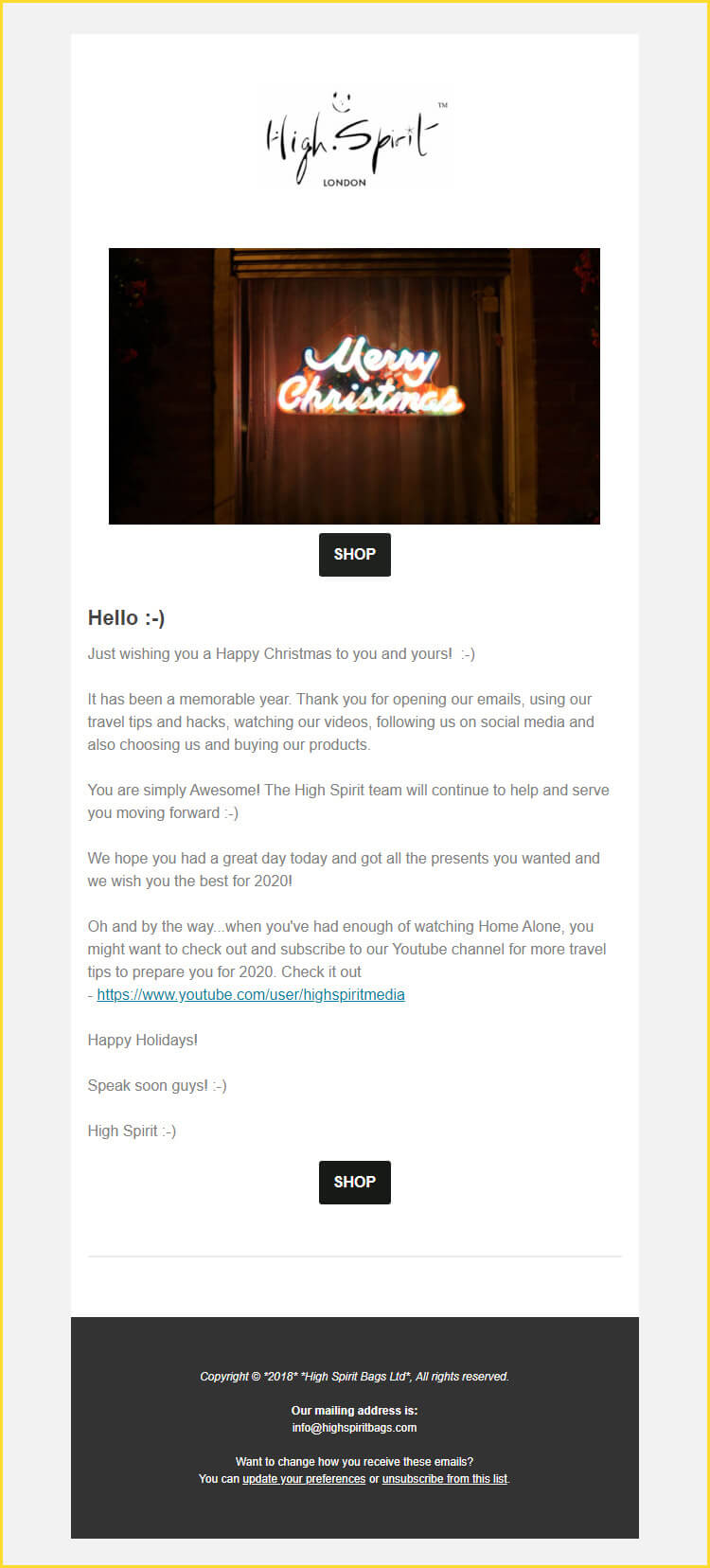 4. Goal Zero's Christmassy animation
While High Spirit has wished Merry Christmas with a sweet copy, Goal Zero has made use of animation in the hero image. It is supported by words of gratitude and wishes for Christmas and New Year. The email ends with four different CTAs and social media links. 

5. Promotion of deals with GIF animation by Scheels
Another interesting Christmas email design is that of Scheels. They have emulated the mobile shopping experience through the GIF animation showing their in-app user interface. The CTA "Save at Scheels.com" will surely get people to click on it to "save" on their Holiday shopping. The next section of the email shares the customer service email address and contact number to help the customers with any questions that they might be having.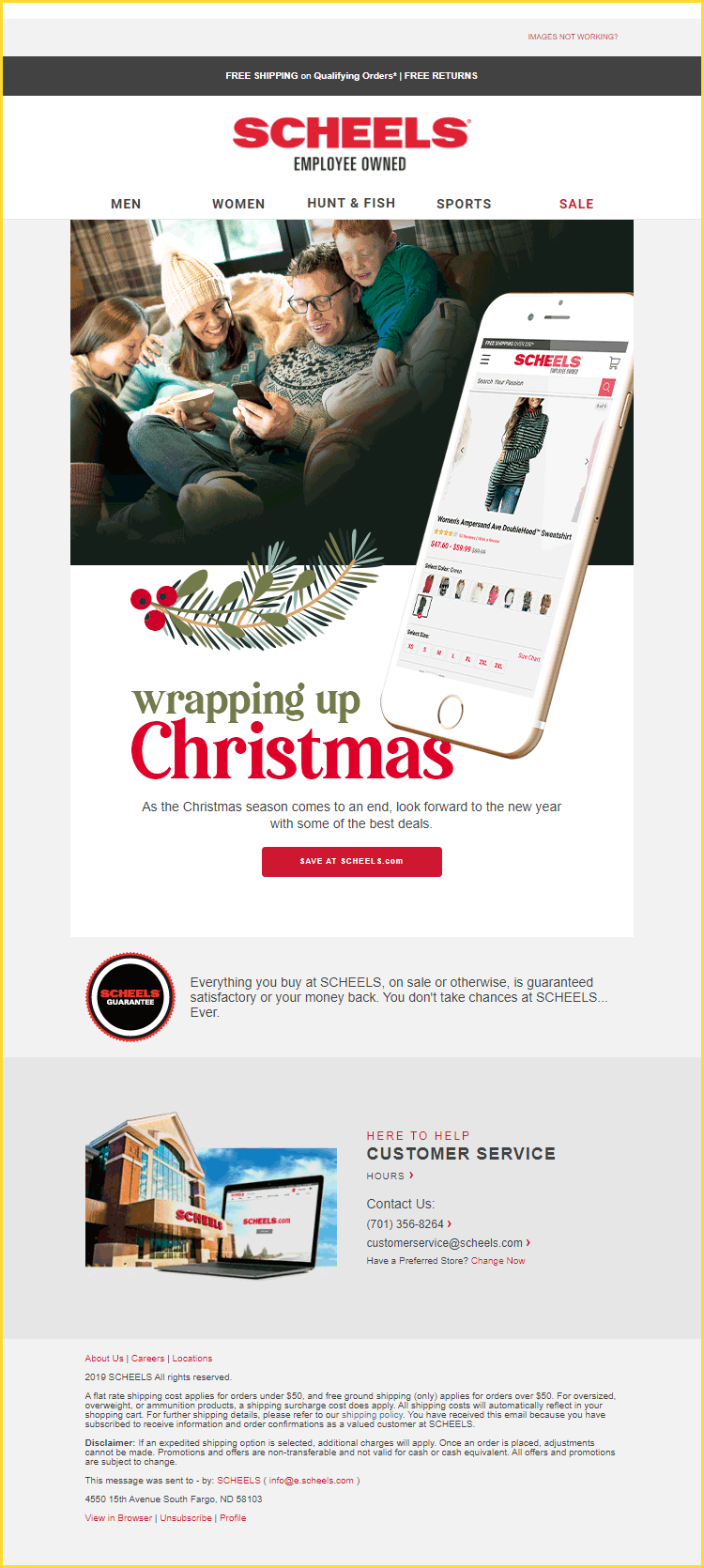 6. Chynna Dolls' subtle way of wishing Merry Christmas 
Chynna Dolls has sent out a beautiful Christmas email design to their subscribers with the help of a lovely image and copy. The CTA prompts the recipients to check out the Christmas Faves that are most popular among the shoppers.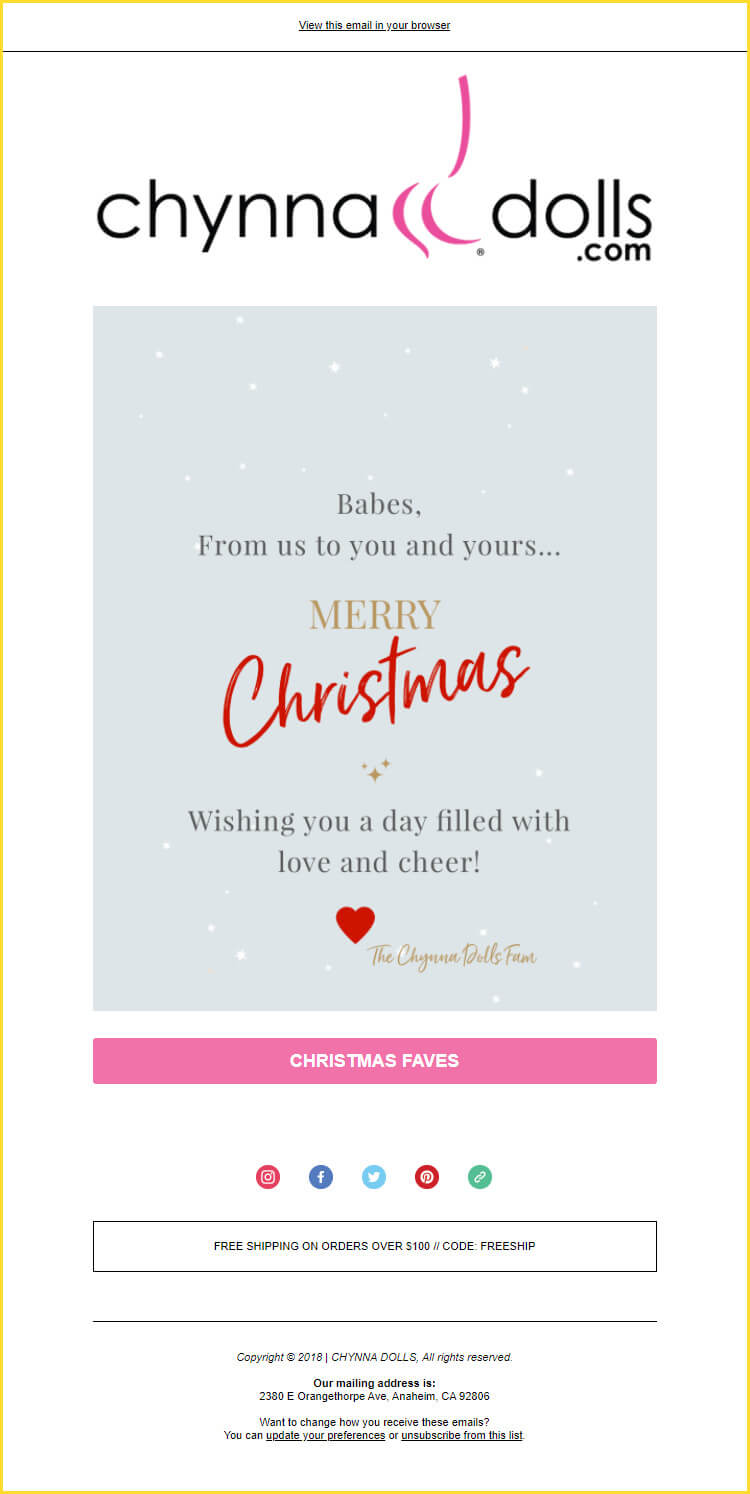 7. Christmas wish list by Kurt Geiger
Kurt Geiger's vibrant Christmas email works wonders in drawing the subscriber's attention and compels them to inject rainbow joy in their Christmas wish list. The animated hero image that paints a rainbow on the leather bag, quench, mask, sweatshirt, and sneakers is a unique approach to promote the "rainbow collection".

8. Christmas sale announcement by Brooks Brothers
Brooks Brothers has announced their Christmas sale clearly in their hero image. The animation creates urgency by flashing Final hours to avail an additional 20% off on the 50% discount offer. They could have used a countdown timer too, to add interactivity to the email.
Oh, by the way, did you notice the preheader text that highlights their semi-annual sale?

9. Pillow Talk's sweet Christmas email
By far, my most favorite email!
The Christmas email by Pillow Talk melts your heart and fills it with joy just like Holidays are supposed to feel. Besides the hero image animation and visually attractive images matching the Christmas feels, they have also added a video thumbnail that redirects the recipient to the YouTube video showcasing Australian Christmas. The video already has more than 1000 views which reflects the fact that people love watching videos. It is also commendable how they have shared gifts for summer along with gifts for secret Santa, stylish gifts, and gifts for her. It would give the recipients diverse options to choose from and increase the chance of conversion. 

10. Christmas and Boxing Day combination email by Happy Bunch
I have included this particular email here because it wishes the email subscribers for Boxing Day too, that falls on 26th December, a day after Christmas. It is a great idea because it reminds the customers of yet another occasion to buy gifts for their favorite people. Take a look at the flowery email by Happy Bunch.

Wrapping Up
It cannot be denied that your customers will receive countless emails during the Holidays, considering the different occasions in the season. Therefore, your email must stand out and give the customer a reason to convert. 
The Christmas email templates shared above will surely give you a direction to design your Christmas email campaign. However, if you still find yourself stuck with a marketing or designing block, just get in touch with us. We would love to design your Christmas (or Holiday) email templates this year (and of course, the future years too).