Table of Contents
Differences between email notifications and push notifications
Advantages of email notifications
Email notifications best practices: 8 mantras to swear by
17 types of notification emails
Miscellaneous email notification template examples
Two categories of email notifications: An overview
Introduction
How many times do you check your phone for notifications? Almost all the time, right? That's how important notifications are! They give you real-time updates about almost everything under the sun, whether it is the weather, marketing offers, or messages.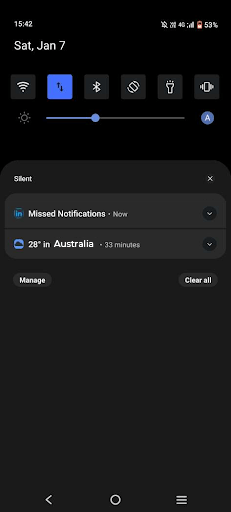 Notifications are the most coveted form of communication as the user has opted in to receive them. These messages are sent in response to a particular action taken by the customer. So, they are like your favorite guests who have informed you about their arrival and you are looking forward to their visit. Text messages, push notifications, and emails are the three channels extensively used to send notifications.
Through this article, we shall focus on email notifications, what sets them apart, and email notification templates used in different situations to give you a practical overview.
What are Email Notifications?
Email notifications are emails sent to inform/notify subscribers regarding the changes to your products. They also help communicate any new features or timings of the scheduled maintenance. These emails keep the prospects or customers updated and allow them to plan their tasks better. They are better than marketing emails or newsletters as they provide valuable information that users are looking forward to. (For example: Order shipped notification emails)
A close competitor of email notifications is its little brother push notifications. They serve as instant messages broadcasted to everyone on your list.
Differences Between Push Notifications and Emails
Although they are quite similar in their objective of notifying people, they are different in certain aspects as discussed below:
1. Email notifications have no length limitations
Push notifications have limitations when it comes to the length. It depends on the browsers and devices. Mostly, the title text should be 30 to 50 characters while the body text should be up to 125 characters. You can also add an image to support your notification. But with custom email templates, you have a huge playground to explore. You can add text, images, animations, and whatnot!
2. Push notifications have a lower tolerance threshold
Push notifications can get quite overwhelming for an average user. That leads them to turn off the notifications and unsubscribe. With emails, people are more tolerant. Even if they mark your emails as read, ignore, or delete them, they might not unsubscribe on a whim. And the best part is you can even re-engage and reactivate the dormant subscribers with the help of email notifications.
3. It is easier to A/B test push notifications
Emails involve too many variables and elements to test. On the other hand, push notifications have fewer parameters to evaluate. So, it is easier to A/B test the latter.
Considering all these differences, it is easy to deduce that email notifications work better than push notifications.
Here's how email notifications have the upper hand when it comes to engaging subscribers.
Advantages of Email Notifications
1. Emails have a good open rate
Notification emails have a higher open rate in comparison to marketing emails and email newsletters. As they include only important information, subscribers will be keen to open and click-through. A good open rate translates to higher deliverability for the future email campaigns and better email sender reputation.
2. Email notifications keep users posted
Suppose you are discontinuing a feature in your product. It would be great to send out an email notification so that the users don't get caught off guard. They should get enough time to make changes to their usage or try a new product.
3. Regular notification emails contribute to customer retention
When you send out regular email notifications, you stay at the top of the subscriber's mind. It helps reinforce brand recall and enhance awareness. Besides, it helps build trust and boost loyalty.
4. Email notifications help in promoting new features or products
When you want to announce a new product or feature update, email notifications work well in informing the readers. They pique the subscriber's curiosity and prompt them to try it out.
Email Notifications Best Practices: 8 Mantras to Swear By
Notification emails must conform to certain best practices if you want to make the most out of them.
Take a look at the 8 tips you must learn by heart.
1. Write subject lines that instantly convey the purpose of the email
"Your notification email is the most important email that the user should see and read."
If you want the user to agree with this self-proclaimed statement, write a subject line that reflects the exigency of your notification email. For example: Subject lines like "Your free trial is about to expire in a day" or "Scheduled maintenance on 15th February 2023" instantly inform the users what the email is about.
2. Include a single message in the email
Brevity is the key when it comes to emails… and it becomes all the more important for notification emails. Be clear, crisp, and only include the necessary information related to the notification.
Take a look at this email by HDFC Bank in which they have clearly communicated every minute detail to the subscriber. Also, they have informed the users about alternative usage methods in case of any urgency.
3. Personalize the emails
Personalized notification emails add a human touch to the emails and help build the subscriber's trust. They feel like a breath of fresh air amidst those bot-driven, automated emails. Include the subscriber's first name and other relevant information to create tailormade notification emails like the one by Google Local Guides shown below:
4. Place an actionable CTA in the email
Notification emails are not only about notifying the users. They could also expect action from the subscriber. It could be something like "Learn more", "Upgrade my account", or "Start my free trial". Make sure you add a single CTA button and keep the email free from any distractions. It's good to have plenty of white space around the CTA to get it easily noticed.
Take a look at this email by Audible.in. They have added a CTA button in the first fold and repeated it in the second fold so that the readers don't miss out on it.
5. Be proactive and send the email well in advance
It is advisable to inform the subscribers about any changes well in advance. Take a look at this notification email template that informs the user about the scheduled maintenance. It was sent a week prior to the maintenance date. So, the users will get enough time to plan their usage despite the downtime.
6. Adhere to all the branding guidelines
Notification emails, just like every other email type, should follow all the brand guidelines. They should reflect the brand personality and impart a consistent experience to the readers.
Here are two email examples from WazirX. See how they conform to the same brand guidelines.
The first email is a notification email informing the reader about the change in the two factor authentication while the second email informs them about reactivation of INR deposits.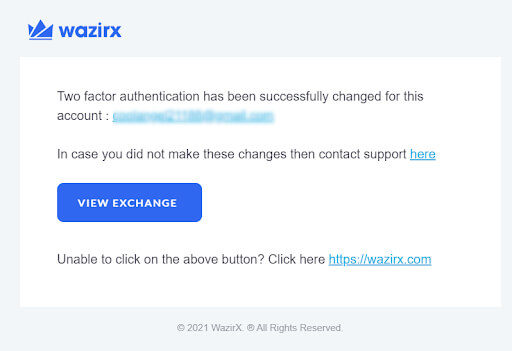 7. Always include contact information in your notification emails
It is most likely that your notification emails contain information that might bring some questions to the reader's mind. So, you must add your contact details in the email without fail.
8. Allow the subscribers to set their preferences
Many subscribers prefer to receive important notifications through text messages or push notifications. Allow them to opt out or set their preferences about which notifications they wish to receive and how often.
With that said, we shall now move on to the types of notification emails.
Types of Notification Emails
Depending on your industry and business operations involved, you will need different types of email notification templates. eCommerce industry marketers would have to send order update notifications through emails. Contrarily, SaaS business owners would prefer sending notifications about the free trial or product update emails.
Let's take a look at the wide range of notification emails that peacefully coexist in the marketing landscape.
1. Password reset email
In case a user forgets the password and requests to reset it, password reset emails come to their rescue. You might find a bunch of these notification email samples in your inbox if you sift through it.
You can either choose this opportunity to cross-sell or upsell your products or keep it simple like the example by Twitter below.
What I liked about this notification email is that they have talked about the user's security. They have explained how to avoid email spoofing attempts and stay safe in a world of rampant cyber attacks.
2. Support confirmation emails
Often, you have to send an email to the customer support team for troubleshooting any issues. Support confirmation email notifications are sent in response to these emails. They confirm the receipt of your email and let you know that the support team will get back to you.
ProWritingAid sends out a detailed email that attempts to resolve the user's concerns without any manual intervention.

You can also use these email notifications for subtle promotion of your products without coming off as a salesy brand. First, try to resolve the customer's problem and then proceed with the promotion.
3. Email notifications from the support staff
Recently, my account was charged USD 119.40 for the auto-renewal of Canva Pro subscription. It just slipped my mind that I had to cancel the subscription. So, I approached the customer support team at Canva and thankfully, they were generous enough to cancel the subscription with a full refund.
Here's a sneak peek into the email from their support staff.
It exudes emotions and imparts a human touch to the emails. Reading it doesn't feel like you are reading an email notification but a friendly note from an acquaintance. It strengthens the feeling that there is an empathetic human at the other end of the digital device.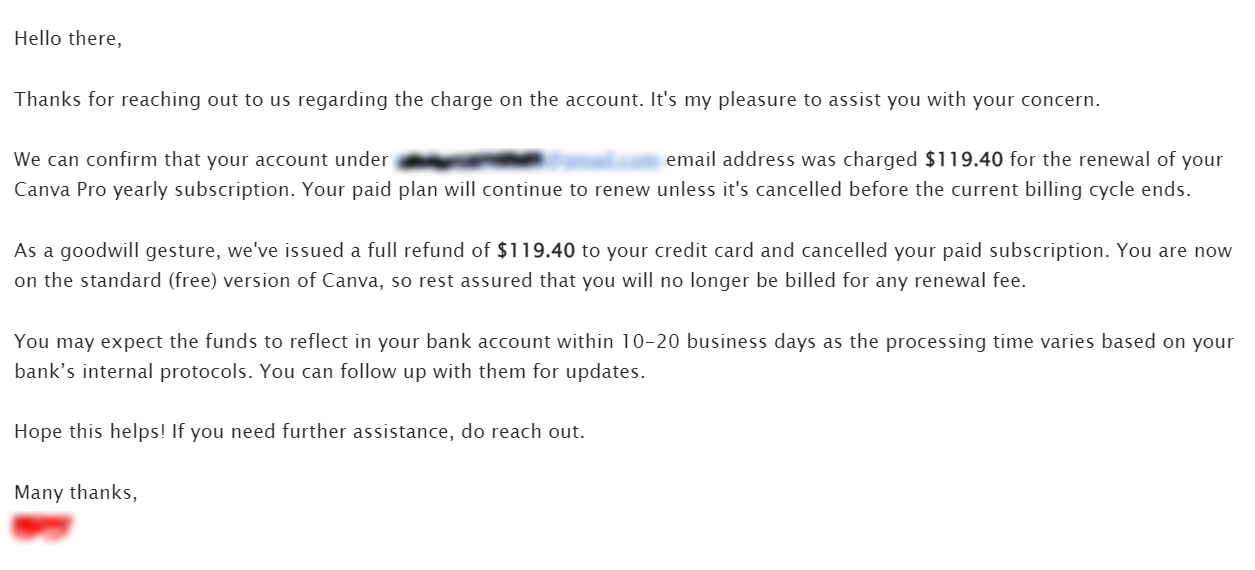 Of course, as mentioned previously, you can recommend relevant products in these customer email notifications or choose not to do so. It's all up to you.
4. Customer support feedback email
Subsequent to the email shared above, I also received a notification email requesting my feedback for the customer support.
Here's how it goes.

These emails make the customers feel special and build their trust. They are more likely to buy from such brands in the future, if not immediately.
5. Scheduled downtime notification
As shared previously, scheduled downtime notification emails are commonly sent by the banking and finance industry. They allow the users to plan their transactions properly without missing out on any due dates.
6. Security notifications
With cyber threats on the rise, it is inevitable to send email notifications related to the security of the account. If there's any suspicious activity or login attempt, the user should be immediately informed.
Does this meme ring a bell?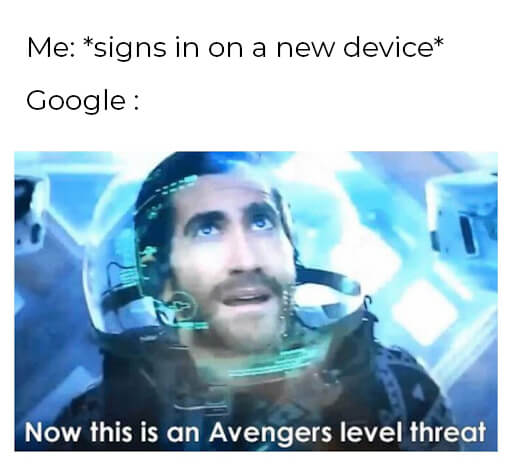 Memes and jokes apart, Gmail does a great job at protecting the user's security.
Take a look at this notification email template by Gmail.
These notification emails play an important role in the banking industry too where there's a huge scope of getting unauthorized access to sensitive information.
7. Order confirmed emails
Now, we shall enter the world of email notification template examples in the eCommerce industry. The first in the list is the order confirmed email notification.
Whenever you place an order, you wait for those magical words – "Your order is confirmed". Take a look at this order confirmation email by OLIPOP. They have signed off the email with "Stay tuned for the shipment email" to keep the readers hooked.
As the customer has already made a purchase from you, you can share a discount coupon code in these emails. It will help retain them and encourage them to purchase again. In addition, you can also ask them about their purchase experience, like Myntra has done. It will allow you to improvize and impart a better experience each time.
8. Shipping confirmation notifications
After the order confirmation emails come the shipping notification emails. These email updates keep the users posted about the progress of their order in real time. MeUndies sends out a brilliant shipping confirmation notification email.
It serves 3 purposes:
a. Informs the user about the tracking details
b. Shares the referral offer
c. Highlights the link to the help center in case the user has any questions
9. Shipment out for delivery notification
Is that you after placing an online order?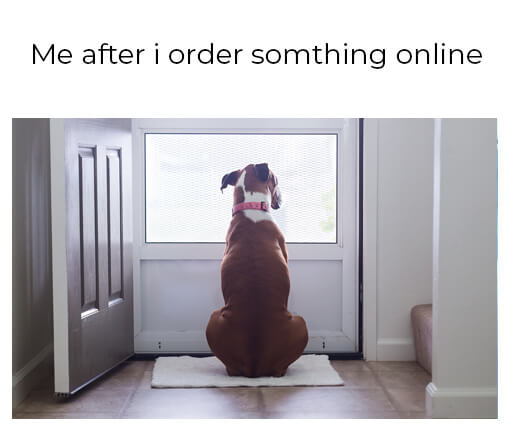 Well, that's exactly why order notification emails are so important. They make the wait easier and let you know about your order in real time. You don't need to sit by the window sill after placing the order. Instead, you can do so after receiving the shipment out for delivery email notification.
Shipment out for delivery emails let the users plan their availability and inform the delivery executive in case they are not available at the delivery address.
Take a look at this out for delivery email notification template.
10. Shipment delivered emails
Once the order is successfully delivered at the location, they receive these delivery notifications. If you have someone else receiving the order on your behalf, shipment delivered emails prove to be very useful.
Take a look at this example in which they have notified the user about the shipment delivery and also explained the usage of the product. It's like killing two birds with one stone.
11. Order canceled email notifications
If a user cancels the order, they receive confirmation emails about the same.
Here's an order cancellation notification email template for your reference.
Sometimes, you might have to send cancellation emails for an event or webinar. Now, it can get quite frustrating for you and the readers alike. So, why not make it fun and optimistic like Really Good Emails has done?
Here's an example that notifies the readers about the cancellation of UNSPAM events in 2022.
12. Refund initiated email notifications
After a user applies for an order return request, they will receive a series of email notifications:
1. Return request accepted
2. Return out for pickup
3. Refund initiated
4. Refund processed
For order cancellation requests, the first two email notifications are eliminated. You just need to send a confirmation for the canceled order and refund-related notifications.
Here's an acknowledgement email that lets the user know that their return request has been accepted and explains to them how to ship the item.
13. Updates about the free trial
We have become over-reliant on Google calendars and reminder emails to notify us about our meetings, holidays, expiry of free trials, and almost everything. Take a look at this email by Google Play that reminds the subscriber that their free trial is about to end. It will encourage the user to take action in case they wish to extend the subscription. Also, it will help avoid any inconvenience caused due to a canceled trial.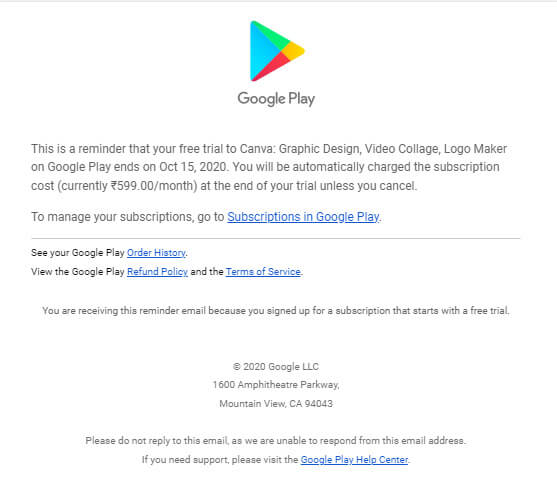 While this was a bit boring reminder email, you can give it an interesting twist like Wistia. They have also added a dash of humor and cuteness to increase the subscriber engagement.
14. Cart abandonment emails
Abandoned cart emails are notification emails sent when a customer leaves products in the cart without completing the purchase. You can revive this lost conversion opportunity by sending out cart abandonment emails. These email notifications will remind the distracted users about the item in the cart and get them to complete the purchase. You can also use cart abandonment emails to upsell and cross-sell your products as shown in the abandoned cart notification email template below.
If we talk from a business perspective, they contribute a lot to "recovered revenue". It makes managers happy and helps unravel unexpected business growth and profitability. To make it work, send out a series of 2 to 3 cart abandonment emails over a week. That's the recommended frequency.
15. Welcome emails
Welcome emails are important notification emails that serve many purposes:
i. They work as a subscription confirmation email.
ii. They let the users know what the product is all about.
iii. You can share your brand story, vision, and mission with the readers.
iv. You can add an incentive or special offer to make the new subscribers buy from you.
v. It can be used to share useful links with the readers.
Here's the mobile responsive email template by Stripe that welcomes the subscriber and enlightens them about everything they should know about using the product.
16. Account activation email
Some businesses prefer to send a confirmation email before activating the user's account. That's where an activation email notification comes into play. See how EmailOctopus has sent out a simple yet effective account activation email.
17. Out of office notification
Last but not the least is the out of office notification email. It lets the users know that you won't be available for some time. These notifications come in the picture especially for agencies, freelancers, and physical stores.
Take a look at this out of office email notification by Email Uplers:
Now, we shall take a look at some miscellaneous email notification template examples that could inspire you to create your own.
Miscellaneous Email Notification Template Examples
1. Account updates by freelancing portals
Freelancing portals like Upwork and PeoplePerHour have to send email notifications for various reasons. It could be an unread message from a client, transfer of funds by the client, or policy updates. Once in a while, it could also be bad news like account suspension.
Take a look at this email notification by Upwork that conveys the news of account suspension. The good part is that they have allowed the freelancer to appeal the decision to their team.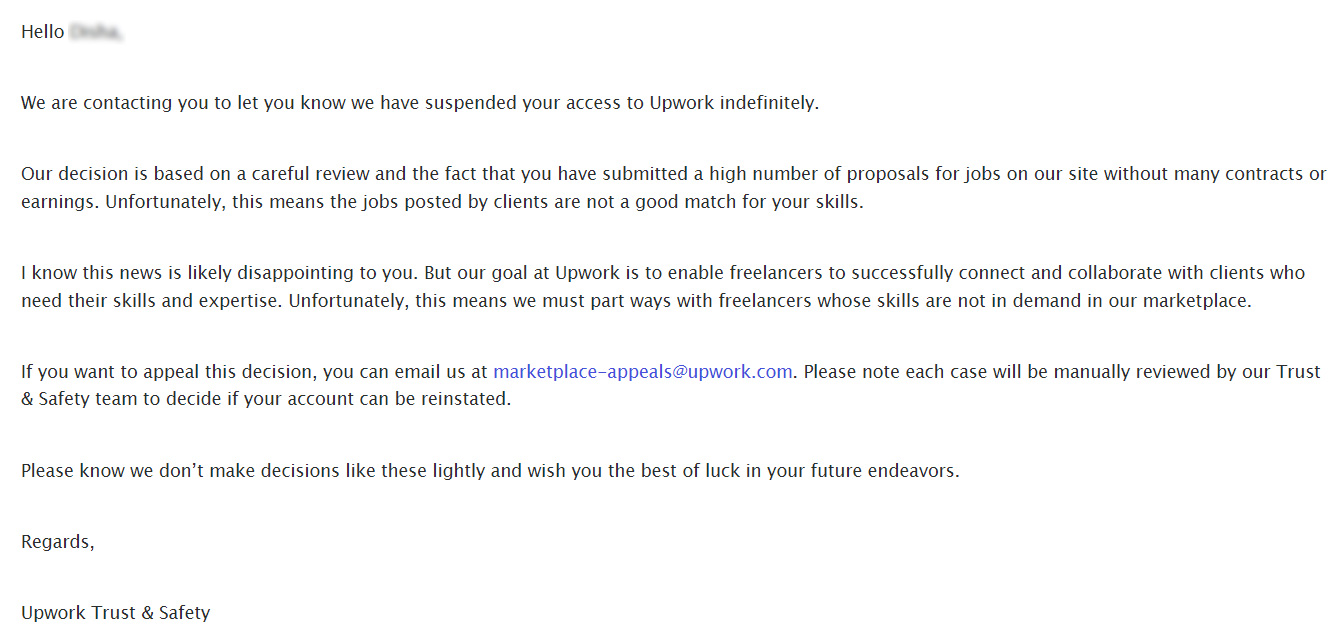 2. Notification email conveying changes made to Google Docs
Most of us are working on Google Docs these days. It becomes editing, suggesting, and saving our work so much easier. And to make things even better, we get real-time notifications about the changes made to the doc. Take a look at this notification email. It allows the user to read the comment without the need to go to the doc. It makes the task such a breeze, right?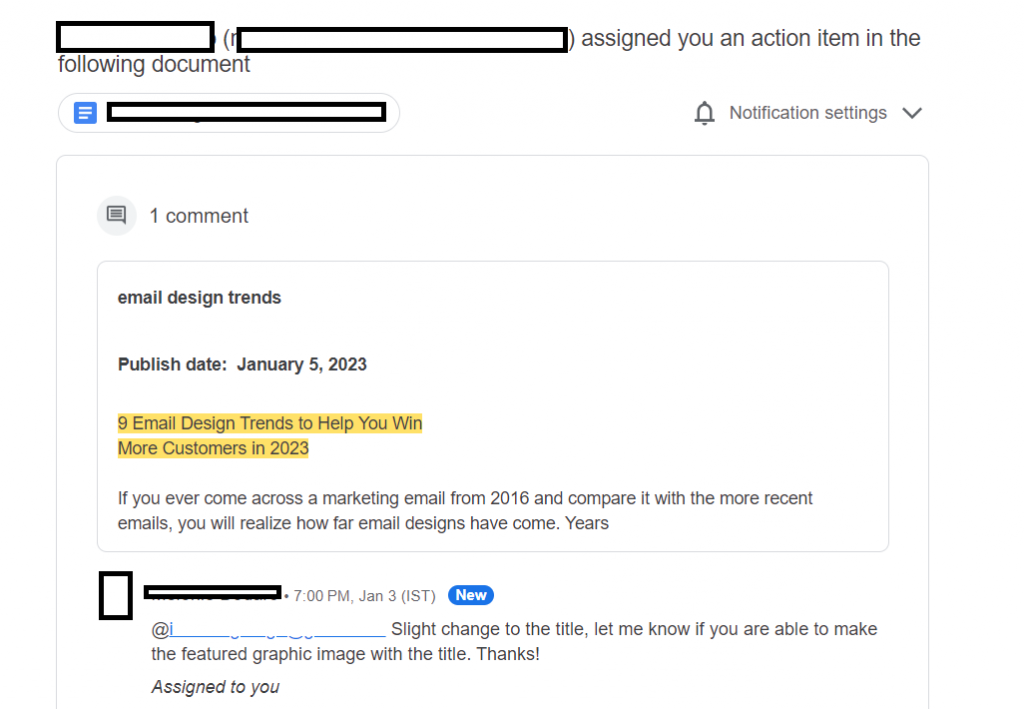 3. Changes to the privacy policy or legal terms and conditions
Whenever you make changes to your privacy policy or legal terms, you must inform the customers about it as soon as possible.
Here's an email by PayPal that notifies the users about the legal updates. It includes a link to the Policy updates page in case the subscribers wish to learn more.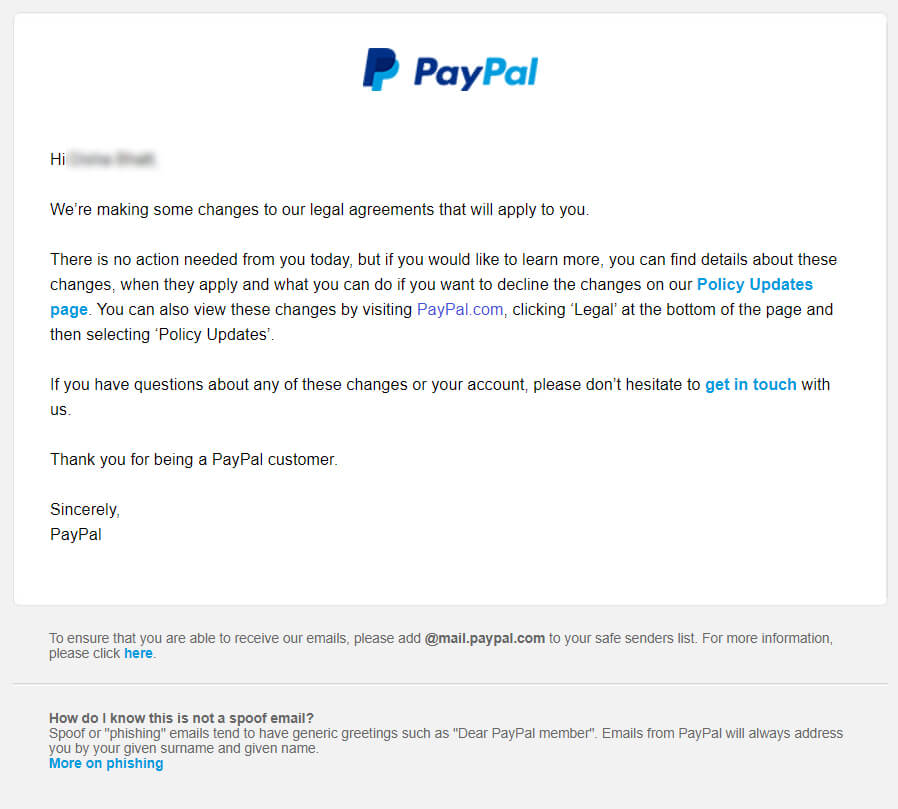 4. Social media updates]
Social media platforms like Twitter, Facebook, LinkedIn and Instagram have several reasons to send out email notifications.
a. Password reset
b. Suspicious login
c. New follower
d. New message/ message request
e. Friend request or connection request
f. Paid ads-related notifications
Take a look at this notification email by Facebook. It calls the users to boost their listing and increase the reach of their sponsored post.
Two Categories of Email Notifications: An Overview
Notifications for email can either be triggered in response to an event or sent as a conventional email campaign. While the former is a part of an automated workflow, the latter has to be scheduled or deployed manually. Generally, password reset emails, cart abandonment emails, or order update emails fall in the triggered email notifications. On the other hand, updates in the privacy policy or legal terms are one-off emails sent as regular campaigns. You should check your ESP or CRM to get an idea about the same.
Sounds confusing? Turn to email campaign management services by Email Uplers.
Wrapping Up
Most brands send boring, plain-text notification emails without utilizing the opportunity that lies underneath. I would advise you to go a step beyond the traditional methods and bring innovation in your email notifications. Create custom email templates — animate the hero image, demonstrate the feature update, and try to bring the emails to life. Incorporating such elements and interactivity will take the user experience to the next level and enhance the campaign performance. And as always, if you find yourself stuck anywhere, help is just "an email to email@uplers.com" away.