You have to send a flawless email to your subscribers, no doubt…
Now, if we were in the stone age of email marketing, you would have to test the email across all email clients individually to check the subject line, deliverability, sender score, and so many other things. Can you imagine how tedious it would have been? I don't even want to imagine such a dreary thought. Thank God for email testing tools. We can get instant results in no time and optimize our emails based on the insights provided by the tools.
So, what are these INSIGHTS that the email testing tools offer and why should you use them?
Perquisites of Using Email Testing Tools
1. With the help of the email testing tool, you will be able to preview the email design and layout. It will help you determine how your subscribers will perceive the email in their email client. It will also let you figure out whether your email is accessible or not.
2. The tool will allow you to test HTML validation. You need to know that your email code is free from any syntax or format errors (like open tags or misspellings, unnecessary elements, and commented-out code)
If you try to search for such errors in a 2000-line interactive email, it will be one hell of a task but an email template testing tool can be your savior.
3. The HTML email testing tool will allow you to check your email sender reputation and in turn improve your deliverability rate. As a result, it will improve the subscriber engagement and overall performance of your emails.
Let's take a look at the best email testing tools that are most popular among the email professionals.
For ease of reference, we shall divide the tools into five distinct categories.
1. Email address validation tools
2. Subject line testing tools
3. Deliverability tools
4. Sender reputation testing tools
5. HTML validation and email previewing tools
Let's start…
1. Email address validation tools
These tools come first because they help you in verifying whether the email address is valid or not. Without validating your email list, you risk getting a lot of bounces, which will ultimately affect your deliverability.
The tools that can help you with email list verification are:
1. NeverBounce
NeverBounce gives you the features of real-time email verification, bulk email list cleaning, and automated list cleaning. It is among the most trusted cleaning solutions for its highest accuracy, lowest pricing, fastest turnaround, and awesome support via email, live chat, and phone. They offer a free trial with 1000 credits (1 credit=1 email verification). Once this limit is exhausted, you can choose from two payment models: Pay-as-you-go and subscription plans. Details are shown in the screenshots below.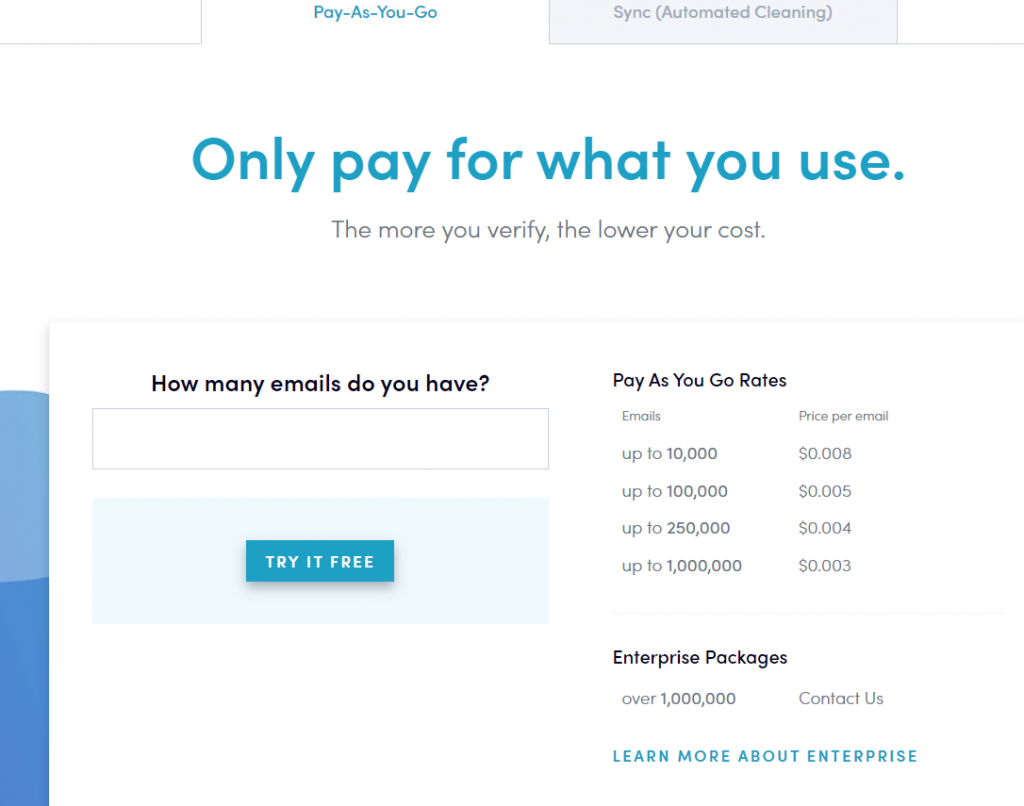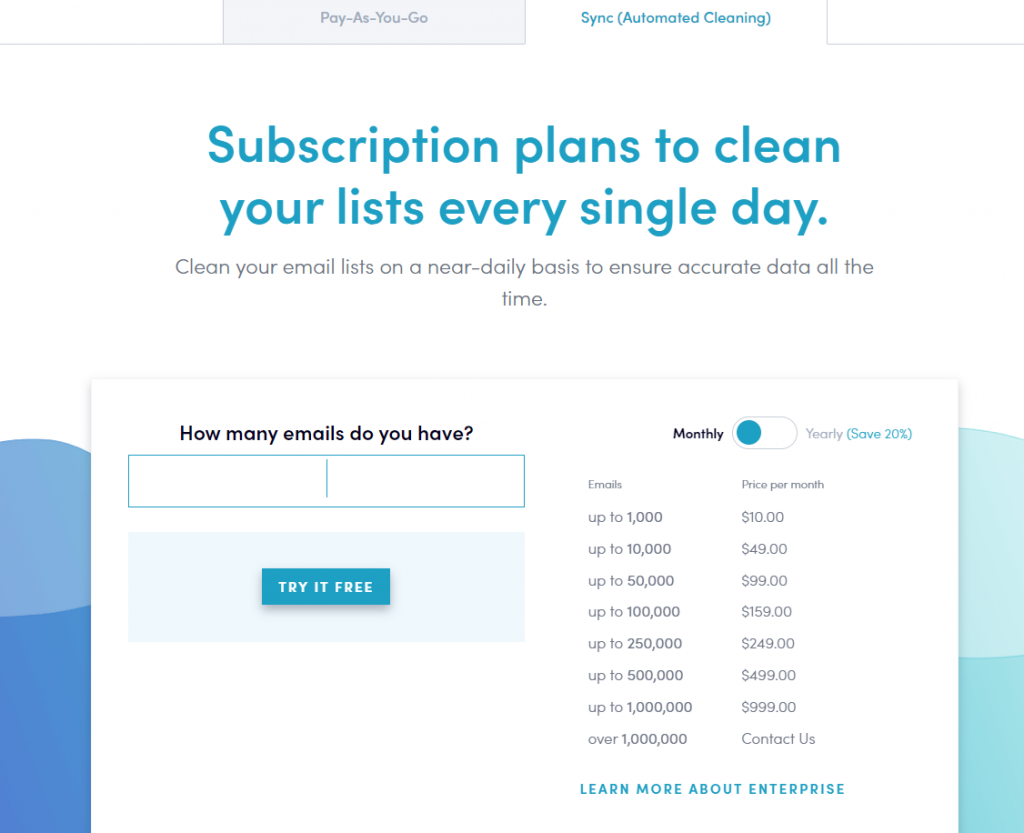 You can choose according to the features you need and budget preferences. This email validation tool is suitable for startups, nonprofits, and enterprise level businesses. It can be integrated with almost all the ESPs, Zapier, Zoho Forms, and Google Contact which adds to the ease of use.
2. Clearout.io
Employed by 30,000+ growing businesses such as Truecaller, Adobe, and Inmobi, Clearout.io offers accurate validation checks with 20+ features including:
Greylisting verification
Catch-all verification
Syntax validation
Blacklist verification
Yahoo! , AOL validation
Gibberish check
Sub address removal
Auto suggestions
Removal of duplicate email addresses
Disposable email verification
Spam trap detection
MX Record and Domain verification
Mailbox quota verification … and many more
Clearout gives you 100 free credits at the outset. If you want to continue using it, you can either go for the subscription model or pay as you go.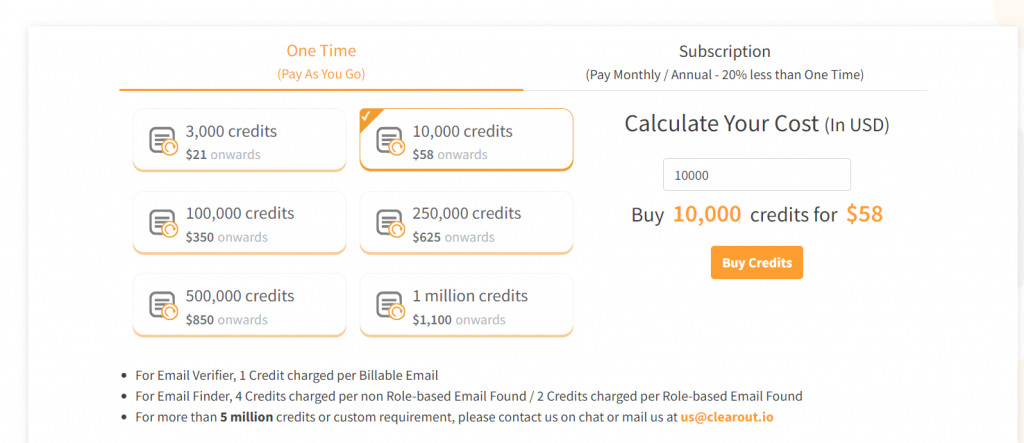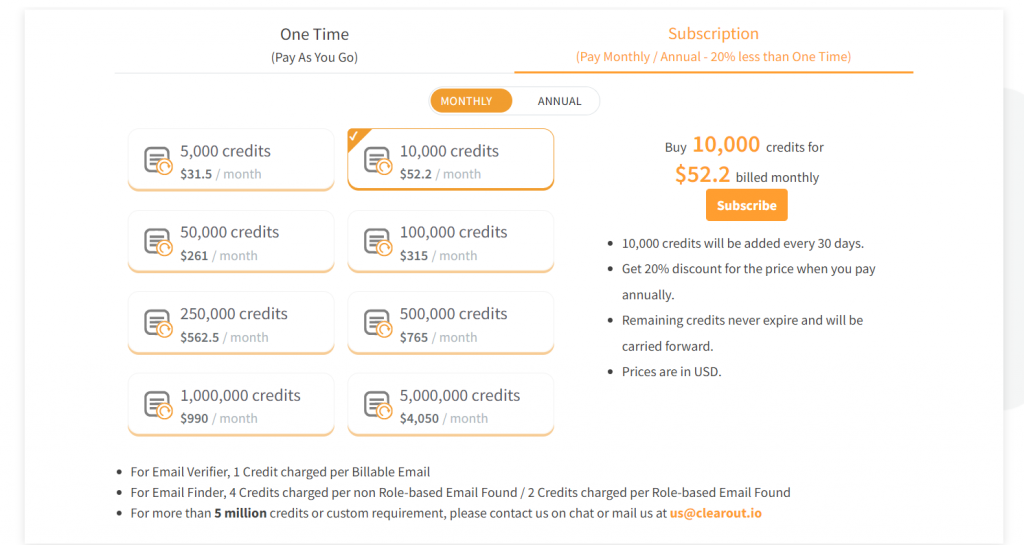 3. Emailable
The data validation tool by Emailable offers 250 free credits. Then, just like the two tools discussed above, you can choose from pay-as-you-go and subscription models. On average, 10,000 email addresses will be verified in about 2 to 5 minutes while 100,000 email addresses will take about 30 minutes. The features offered are mostly similar to Clearout.io. With Emailable, you even get the feature of verifying emails before they are added to your database. They even offer 50+ integrations with other tools.
2. Subject line testing tools
Mobile email clients mostly truncate the subject lines if they are not under the character limit specifications. Other aspects to be considered are grammatical correctness, spam triggers, and audience appeal to drive open rates. Here are the tools you can use to check your email subject lines.
1. SubjectLine
SubjectLine is perfect for you if you are looking for valuable, real-time details to make informed decisions for your subject lines. This tool uses data collected from its partners and helps to create attractive subject lines that help increase open rate and bypass spam filters. The only downside is that you might get somewhat inadequate data through this tool.
2. Email Subject Line Grader
Net Atlantic came up with a tool that checks the emotional appeal, length, and grammar of your subject line. You have to simply copy and paste the subject line into the action box and you will get all the required information. Accordingly, you can then make changes and get better results.
3. Zurb TestSubject
Zurb TestSubject will give you the preview of your email sender and subject information on a mobile device. You can ensure your subject line looks good across all devices and email clients with the help of this tool.
4. Send Check It
If you are looking for scannability, reading grade level, and character and word count of your subject lines, Send Check It is the tool for you. It evaluates the emotion in your subject line, spammy words, and punctuation. In case your open rates are dwindling, this tool might help you understand what you might be doing wrong.
3. Sender reputation testing tools
There was a time when batch and blast emails worked and no one really bothered about things like domain reputation, sender reputation, and things like that. However, these aspects have become crucial for the success of your email marketing strategy in the present times. Some tools that can help you retrieve your sender reputation are:
1. SenderScore
I personally love the usability of the SenderScore tool from Validity. You just have to type in your domain or IP address in the box on their website and you will get your sender reputation report. You will have to register to get access to the detailed results. It offers free email testing and the best part is that if your sender score is 80+, you may qualify for their Sender Certification Program.
2. Postmark
Many marketers do not like to send emails to tester links. Postmark is the best tool for them. With the help of this tool, you just need to copy and paste your HTML email code in the tool. The tool will then generate your score and help you optimize it as per the results.
3. Mail-Tester by MailPoet
Mail-Tester helps check your email for red flags that can trigger the spam filters. It will assess your email for SPF and DKIM records and keywords that might come off as spammy. It will also notify you if you are blacklisted by major email clients. You just have to send an email to the tester link to get the analytics report.
4. Deliverability tools
Even after checking the sender reputation, if you still need help with your deliverability rate, you can use the email deliverability testing tool discussed below.
1. SendForensics
One of the most comprehensive email deliverability testing tools SendForensics evaluates the email deliverability by checking the sender score, email content, loss to spam filters, and other relevant parameters. It scores your campaigns in real time and compares the performance with industry benchmarks. A unique feature offered by this tool is that you can set deliverability alerts to track your email performance and maintain your sender reputation.
5. HTML validation and email previewing tools
Besides all these factors, one of the most important things to validate is the HTML code, rendering, and accessibility of the emails. The tools that can help you with these insights are as follows:
1. Litmus
Litmus is one of the most powerful tools for HTML validation and email preview. According to the plan you choose, you get a variety of features displayed in the screenshot below.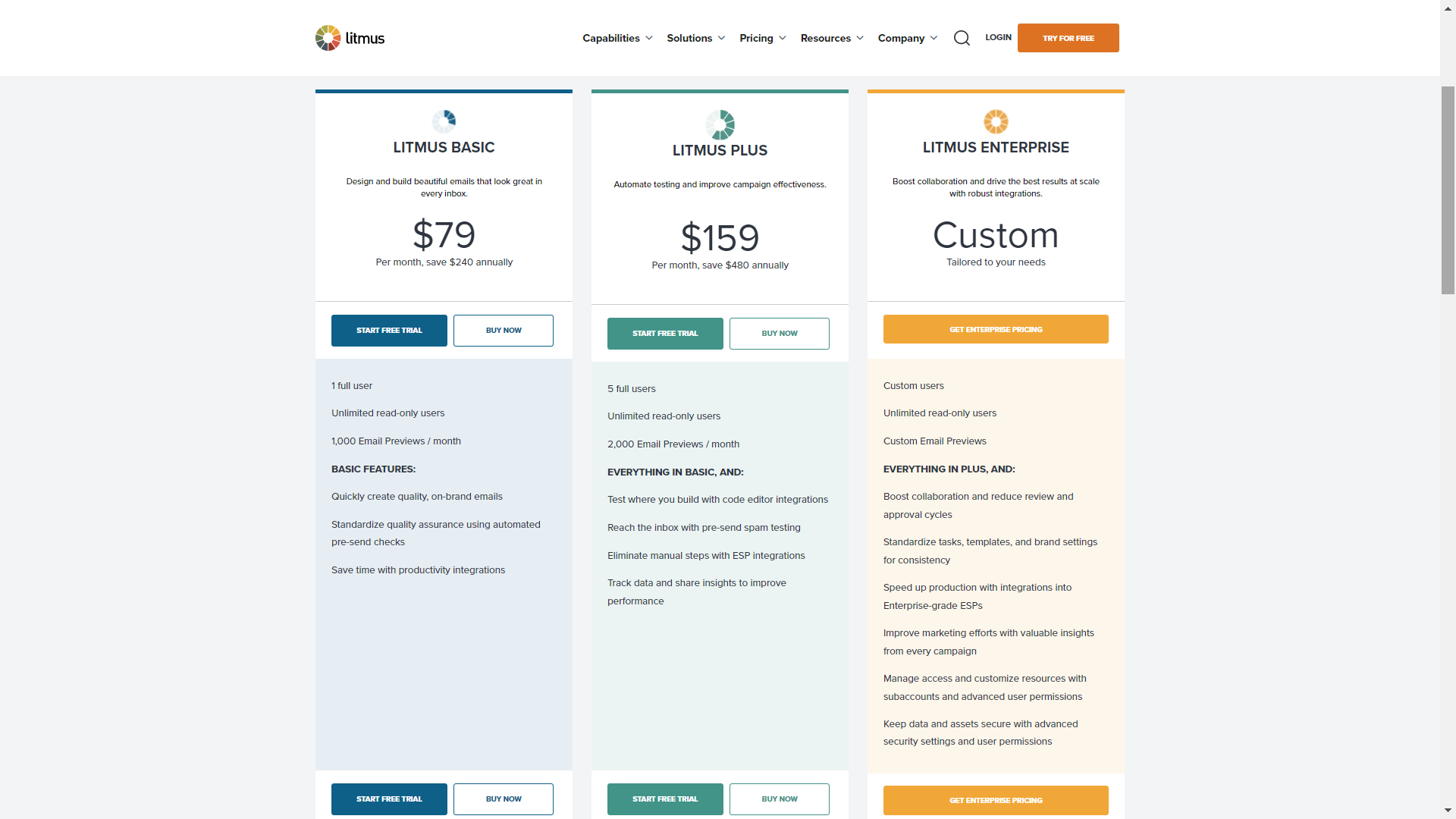 Litmus also gives you a report on how accessible your email is in addition to the rendering-related insights.
Take a look at this image to get an idea of how the report would look like.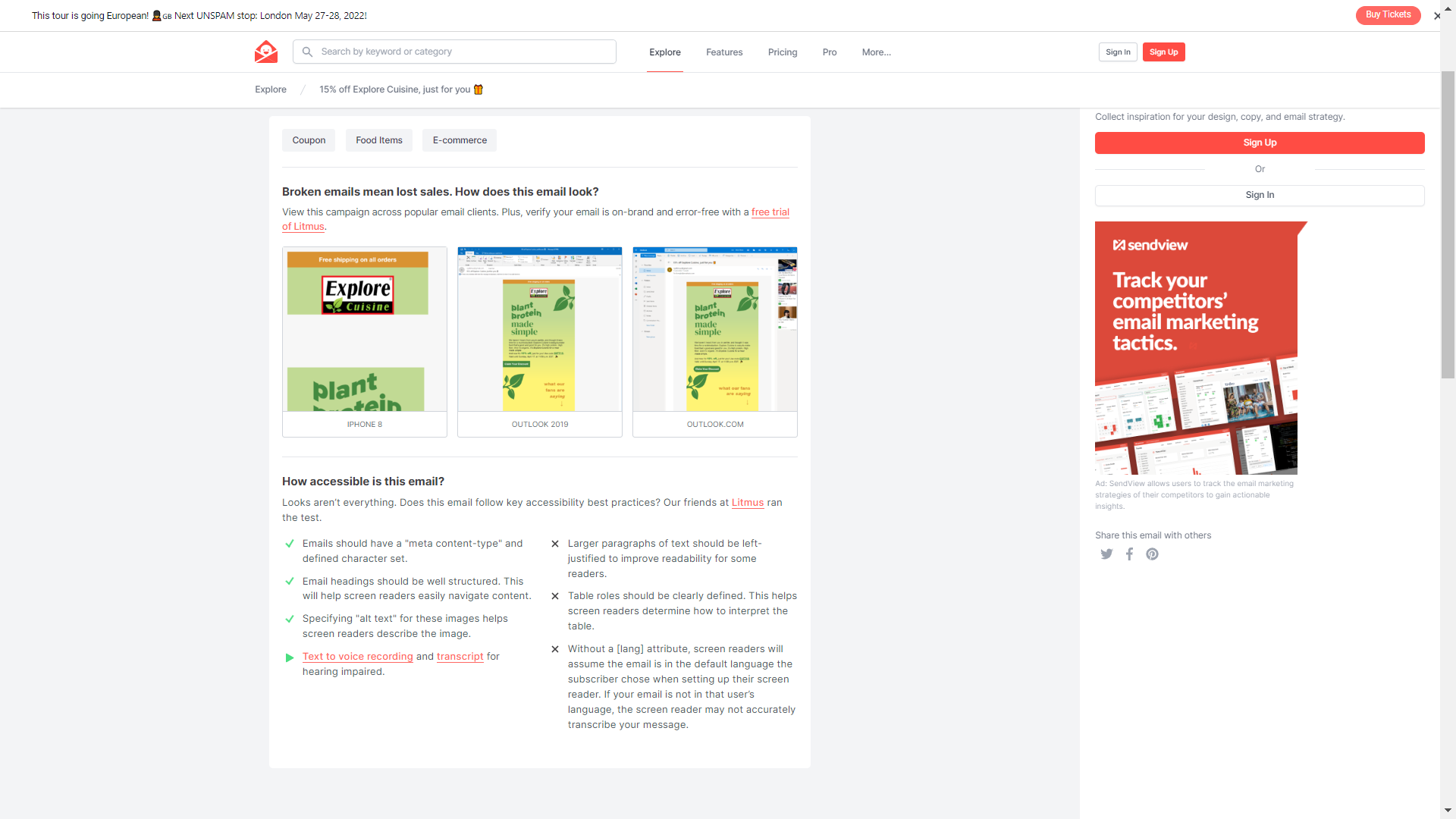 2. Email on Acid
Email on Acid is my second most favorite email testing tool. It offers an email pre-deployment checklist, content checks from UTM validation to accessibility checks, and deliverability testing. You will also get email previews to make sure that the email looks just like the way you want it to. EoA also gives you a collaboration platform for better communication with your team members and streamline email production. After a free trial for 7 days, you can choose from four different plans: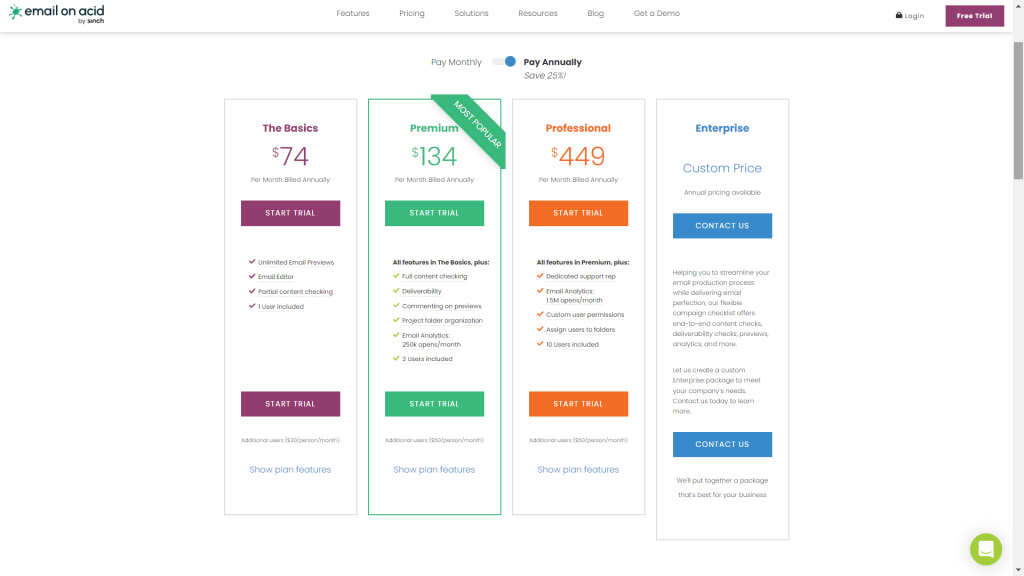 Pick the right one after comparing and studying the offerings in detail.
The report will look as shown in the screenshot below: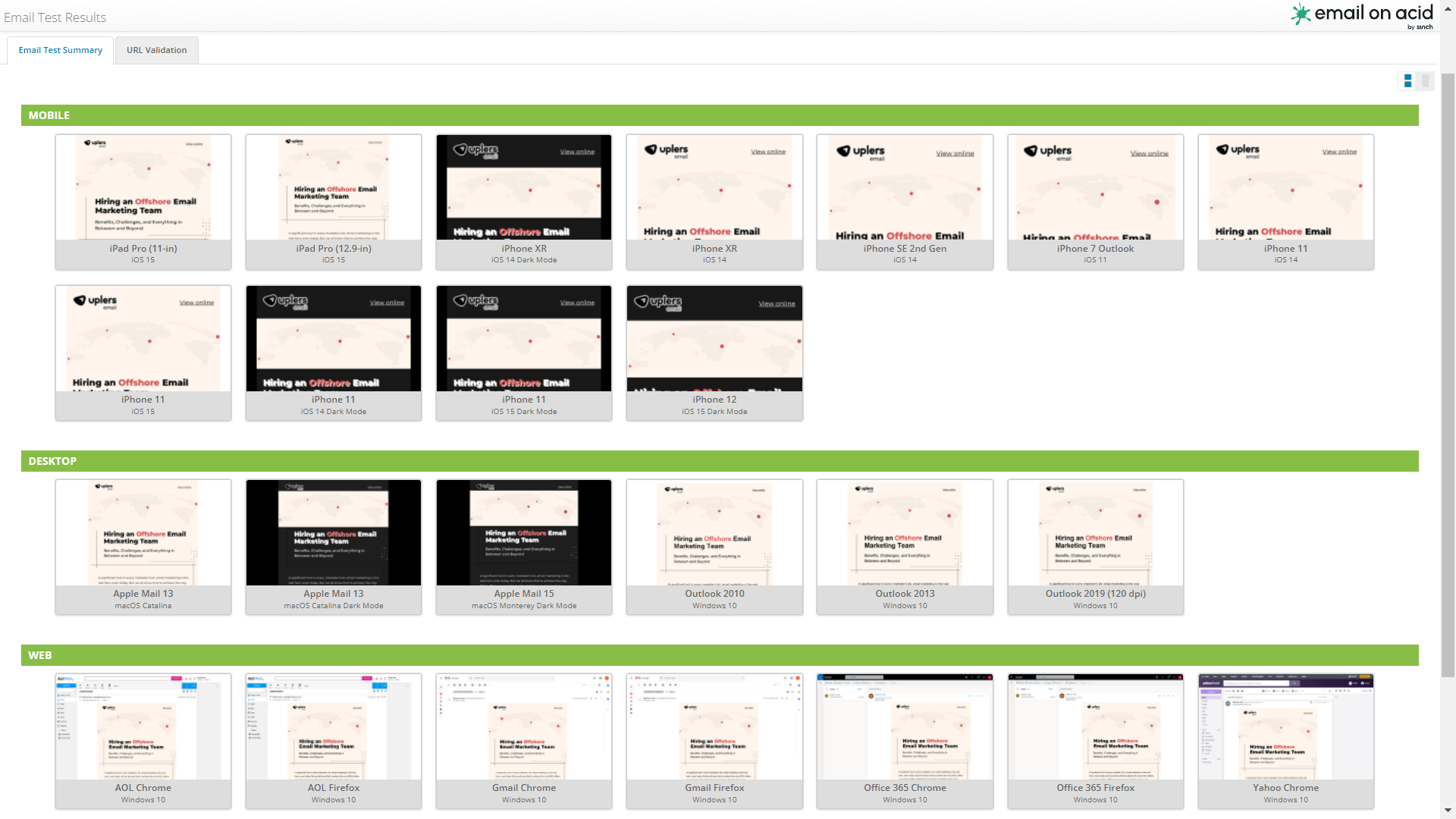 3. Mailchimp
Mailchimp testing tool allows the users to preview and test their campaign content for free. In the Preview mode, the marketers will get to see how their campaign will appear in the recipient's inbox on desktop as well as mobile. You can switch between the Desktop and Mobile tabs to get the respective preview of your email. The Inbox tab will give a preview of the email in the inbox. In addition, the Header info will display the subject line and reply-to email address.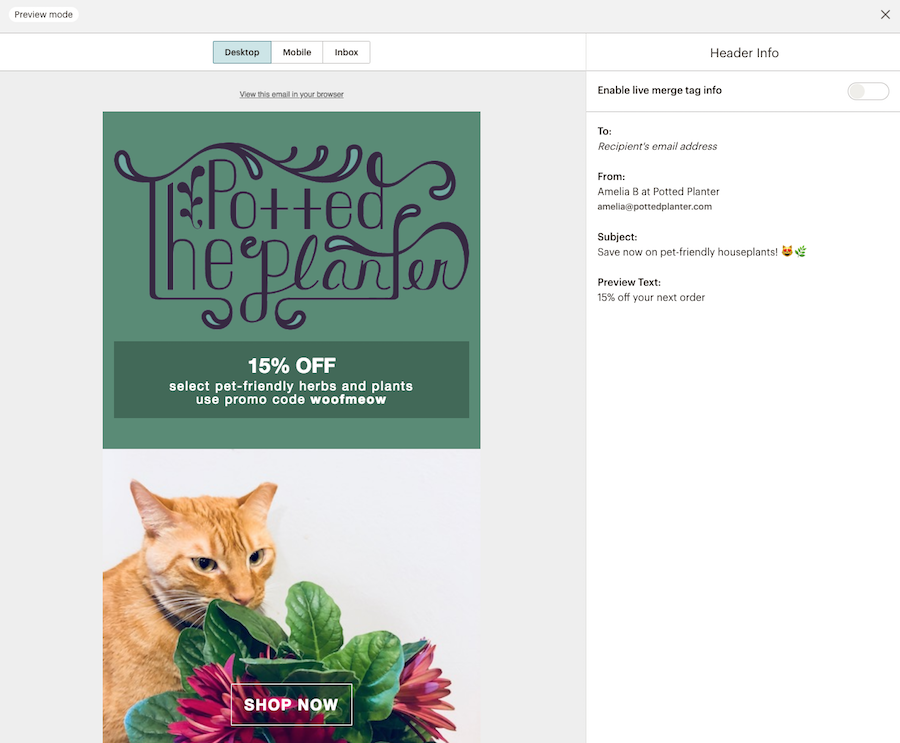 If you have used merge tags in the email, you must toggle on the Enable live merge tag info slider to see how it will look to your recipients.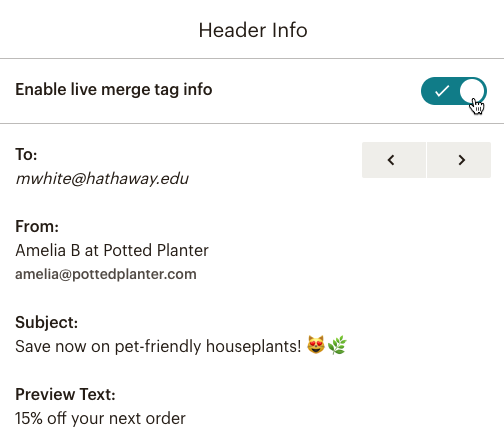 Their Link Checker will ensure the validity of all the links added in the campaigns.
4. Mailtrap
Mailtrap executes all the testing on a fake server. So, there is no risk of sending an email accidentally to your subscribers. There are a variety of email tests you can carry out with the help of Mailtrap. You get access to QA Automation, HTML check, and email deliverability testing with Mailtrap tool.
Here's how the pricing model looks like:
5. Preview My Email
Preview My Email allows you to see and resolve any email related problems that can lead to embarrassing inbox experience. It is useful for marketers, designers, and developers alike.
Marketers can preview the email before hitting the send button and enhance their click-through rates.
Designers can solve any email design problems that can lead to rendering issues.
Developers can integrate their tool with Preview My Email tool for ease of use.
The pricing models are: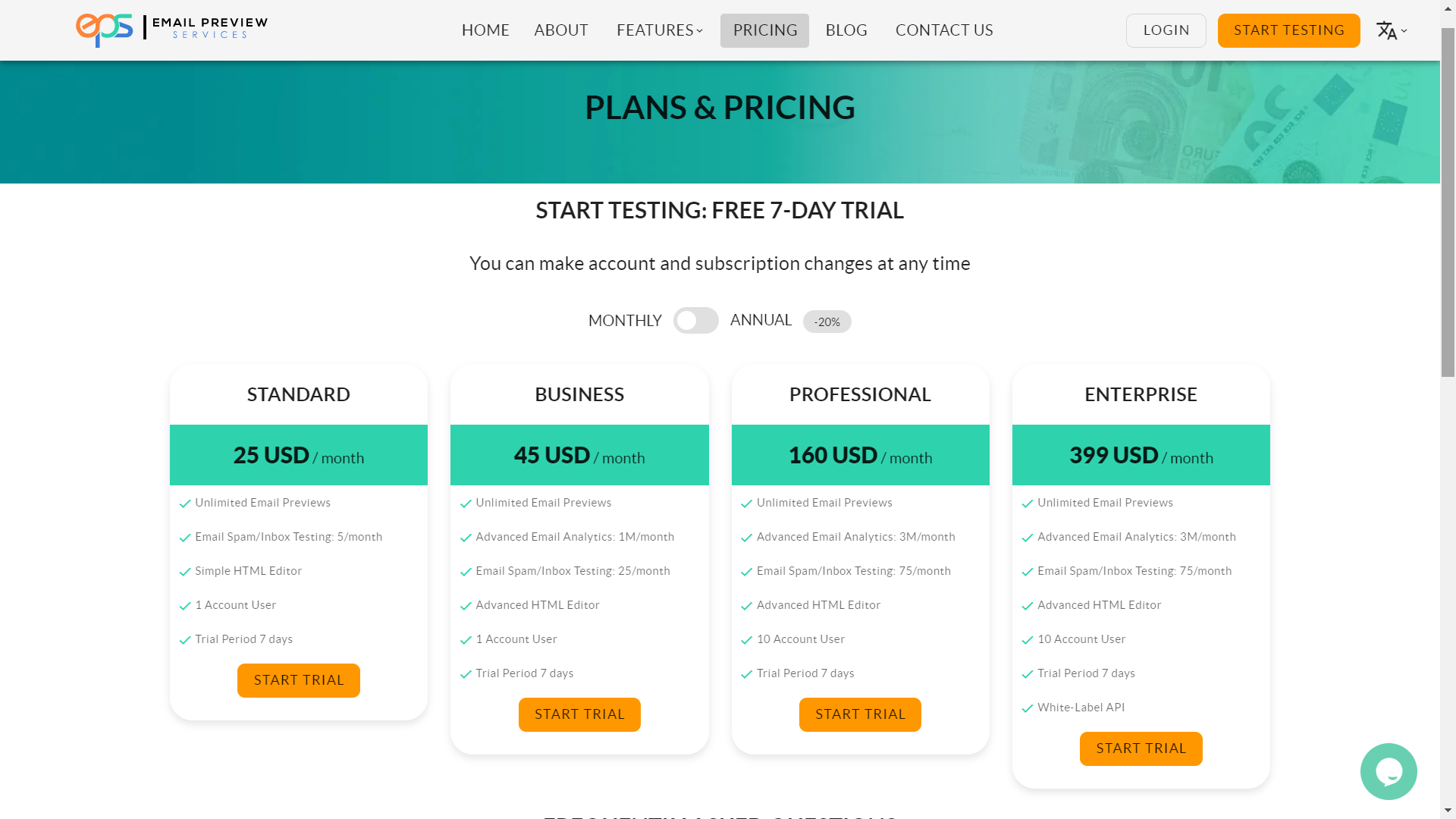 Wrapping Up
Email deliverability test, renderability checks, and overall look and feel of the email — There are tools for all these components of email marketing. And if you want to skip to the "GOOD PART" without all this mess, just get in touch with Email Uplers.
We create customized, pixel-perfect emails for our clients, Litmus-tested and compatible with all ESPs. Moreover, we also offer end-to-end email campaign management services starting from audit to automation. We have certified experts to help you out. What's more? You can even hire a dedicated developer to be your extended team.
Just reach out to us with your requirements and we will surely support you in the best way possible.