Table of Contents
Introduction
What's the ultimate mantra to get an instant conversion?
Well, there are five mantras that can help.
1. Make the offer clear and relevant
2. Establish your value proposition
3. Increase trust and mitigate apprehension
4. Eliminate any distractions
5. Add a sense of urgency
Once you have nailed the first four, creating a sense of urgency would work wonders in getting the conversions you have aimed for. This applies to email marketing as well. The best way to get conversions and drive faster business growth is to set a deadline and build on the vibe that time is running out. Besides segmentation and personalization, it is important to write a compelling copy that helps customers make quick decisions.
That said, let's understand why you need to create urgency in your emails?
How Does Creating Urgency in Emails Help?
People often get stuck between choices and dilemmas, which delays the decision. Creating urgency facilitates the decision making process and prevents procrastination.
For instance: Suppose a user is checking and comparing the prices of a mobile phone on two different websites. Now, if one of the websites displays the message "10% Off, Just for today", the user might get "FOMO" and is more likely to convert. That's the magic of infusing a sense of urgency around the entire shopping experience. It will make the users choose you over your competitors. After all, FOMO works!
Now, consider the same scenario in email marketing. Two brands have promoted a similar product through their emails. The user will be keener to purchase from the one who has added an element of urgency in their emails.
It increases the perceived value of a product. If you add a phrase "Only 4 left" or "Last 2 items", people will see it as a highly coveted product and consider buying it.
Urgency-generating phrases increase the desire for your products. Imagine you want to book a hotel in Paris and you see a popup "Only 1 room left" for the hotel you want to stay in. Wouldn't it trigger the FOMO response and make you complete the booking instantly?
Creating urgency reduces the chances of alternate purchase decisions.
Some Use Cases For Creating Urgency in Emails
There are some instances when it is especially useful to create urgency and get the results you wish to achieve.
Here's a low-down on the subject.
1. Get more attendees for your event or webinar
Let the readers know how many days they have left to register for the event. You can promote an early bird offer to get instant registrations. Also, offer an incentive or free giveaway to attract more visitors.
2. Drive more conversions for the Holidays
The Holiday season is a good time to generate higher conversions. By creating urgency in the Holiday emails, you give the users a reason to act fast. Combine scarcity with urgency to encourage more people to purchase from you.
3. Remind the users to take immediate action
If you are in the eCommerce sector, you can send out reminders about the expiring offer. You can also create urgency through the cart abandonment emails and bring back the cart abandoners. Promote a limited-time discount coupon code to make them complete the purchase.
4. Re-engage the inactive customers
You can win back the inactive customers by incentivizing them with a fleeting offer. Give them something they cannot say no to and couple it with urgency or scarcity. It will persuade them to engage with your email and take action.
Now, we shall discuss how you can incorporate urgency in emails, starting with the subject lines and then moving on to the copy and CTA.
1. Email Subject Lines
Urgency email subject lines should comprise of words that reflect the purpose of the email and the action to be taken.
Take a look at this image.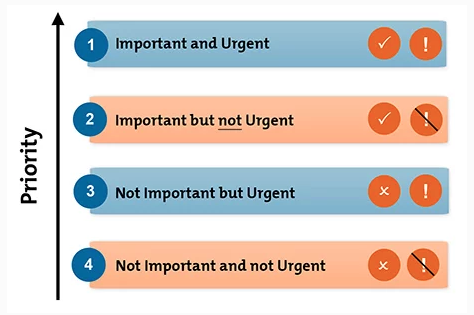 Army General and former US President, Dwight D. Eisenhower has created this time management model. It holds true for your email subject lines too. Write subject lines that appear both important and urgent. When the subject line reflects urgency and importance, the users will avoid procrastinating and take action right away.
Let's take a look at some urgency-generating phrases that can work in your favor.
Deadline approaching
Deadline today
Buy now
Limited-time offer
Till stocks last
Hurry
Time's flying
Time's running out
Don't miss this offer
Today only
Till midnight only
Ends tomorrow/today
Instant savings
Free shipping for today
Next-day delivery for today only
Save today
Limited items available
Last chance
1 day left
Today is the day
[URGENT] You've got a day
Few hours only
2 days left
Deals will disappear at midnight
The products are getting sold out fast
Your trial is ending today
Your trial has expired
Our last email to you
Just 3 seats left
A day to go for the webinar
We're starting (the webinar) in 15 minutes
Get it now before it's too late
The timer's going off
Weekend only sale- Your chance is NOW
Alert! You need to act now
The 35th example can get somewhat intimidating for the readers but it might work for banks and financial institutions where the user has to take action immediately. In other cases, it comes off as clickbait. It reflects disrespect for the readers. Avoid using words like "ASAP" that depict informality. It would create a feeling that you can always call the person if it is such an urgent situation.
According to a 2015 study by Return Path, 'still time' was the best performing phrase. It worked better than the word "extended".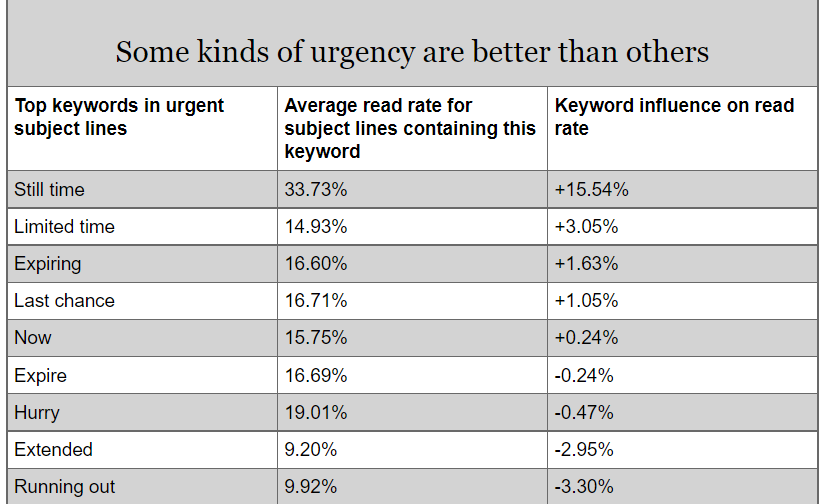 Rather than using the day of the week, use the word "tomorrow" in the subject lines. Select specific date and time like "Avail of the offer by 12th December 2022, 12 AM PST".
You can also add emojis in the subject line that depict time is running out. Here are a few examples: ⌚⌛⏳
Some marketers also experiment with capitalization and exclamation marks. If you want to take this route, make sure you don't overdo it. Avoid capitalizing the entire subject line as it might trigger spam filters. Exclamation points are good to depict urgency but using too many of them can come off as someone shouting at the reader. So, it is best avoided.
Here are some urgent email subject line examples, according to the points discussed above — capitalization, emojis, exclamation mark, urgency-generating phrases, and tapping on the FOMO.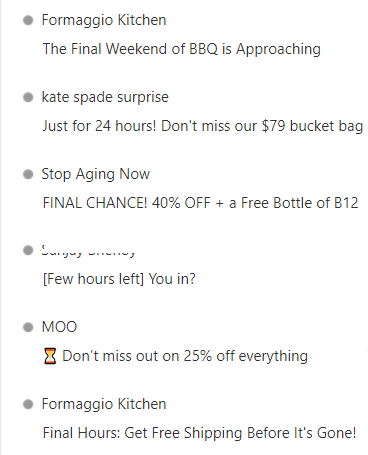 We shall now discuss how to create urgency through the email copy.
2. Urgency-generating Email Copy
Once you have conveyed the sense of urgency through your email subject line, convey the same through your email copy. Let's see how you can achieve this.
1. Add the deadline in the copy
Incorporate the deadline in the email headline or hero image. Phrases like "Offer expires tomorrow" or "Sale is till midnight only" can help. Make sure you mention the correct deadline with the time zone. The user should not be confused about the offer deadline. For example: If the offer is ending at 00:00 AM PST on 12th December, include all these details. Make it clearly visible to the readers so that they don't have to look for it. Adding the time zone adds further clarity about the deadline, especially when you have a global audience. It is not a good idea to add the deadline details only in the footer.
Anthropologie has added the deadline right at the top so that it doesn't go unnoticed by any chance.

2. Use your language and tone correctly
Draft the copy in such a way that it inspires the subscribers to take action but doesn't come off as pressurizing them. Just like you did in subject lines, add time-related words like now, hurry, don't miss out, last chance, clearance, and today only in your copy.
Maintain brevity in the emails. Your subscribers are busy people. So, they would not have time to read long blocks of text.
Take a look at this email by Food52 that has used a clever way to put forth their gifts under $100. (A toast to showstopping gifts that don't break the bank…)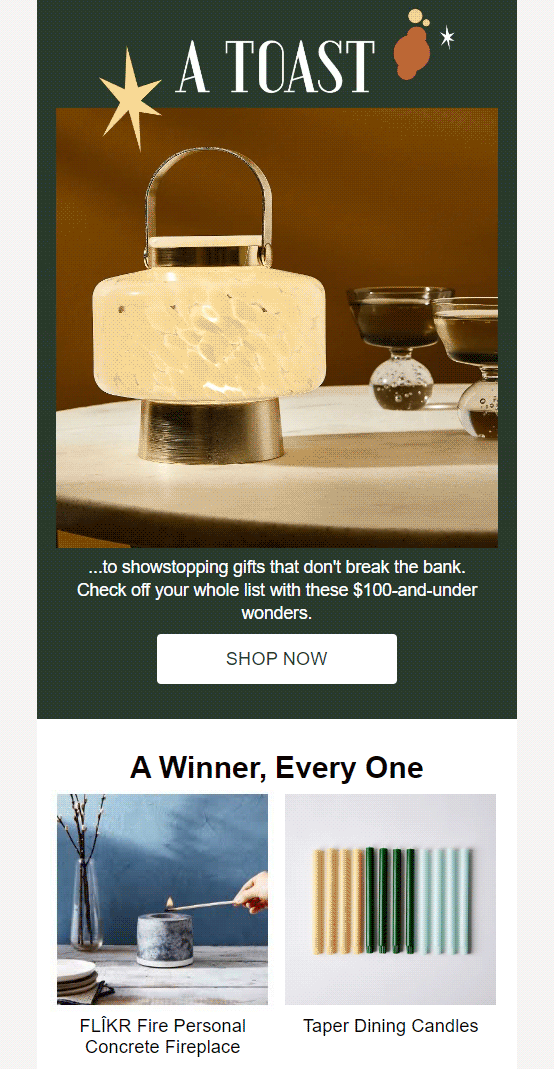 3. Offer something that will be useful to the readers`
Creating urgency will be effective only for products that people are looking for, something that will make their lives easier. If your product doesn't pique the subscriber's interest, all your tactics will go in vain. Urgency doesn't work if the user doesn't want the product in the first place. Understand the user's purchase intent and journey in the sales funnel to promote a relevant product. Create a personalized offer according to the subscriber's actions. For instance: If a user has searched for jewelry items on your eCommerce store, share customized offers related to those products. Or send reminder emails to the cart abandoners to notify them that they have a limited time to buy the items in the cart.
Pottery Barn has used a nice cart recovery email saying that the item is almost yours. We always have a feeling of loss aversion and we hate "almosts" in life. That's exactly why this email would work well to bring conversions.

4. Unite scarcity with urgency
If there's a dearth of something, people are more likely to want it. Supply and demand are inversely proportional to each other. Let the users know that the product is available in a limited quantity. It will trigger their fear of losing out on it and inspire them to take action. eCommerce businesses can create an entire campaign by announcing that there are only a few items left in stock. The illusion that the product will go out of their hand will compel people to click and convert before anyone else. Use this strategy in your cart abandonment email and let users know how many people are viewing the item at the moment. It will create a sense of competition with other customers and drive purchase.
Take a look at this email by Flat Tummy Co in which they have highlighted the low stock of their flat tummy tea product with a succinct, engaging copy. Also, did you notice the green CTA buttons that perfectly depict urgency? And the social proof to build the reader's confidence? 10/10, isn't it?

If you are a freelancer, consider sending an email that says – "I am almost booked for the month. I can still accommodate 2 more clients. Get in touch if you have any <insert service name> needs."
Businesses can also follow this practice in their out-of-office emails. Inform the customers about your limited availability and that you will be taking only urgent orders during the Holiday season. It will give people the required push to place an order.
5. Combine the offer with an attractive incentive
A reason to purchase, personalized offer, close deadline, and scarcity are all good tactics to increase your conversions. The cherry on the top is an extra incentive like free shipping or a surprise gift to the first few buyers. People are always game for such incentives. So, it increases the likelihood of conversions.
Pizza Hut has incentivized their buyer with a chance to win the grand prize of $20,000 and instant prizes like: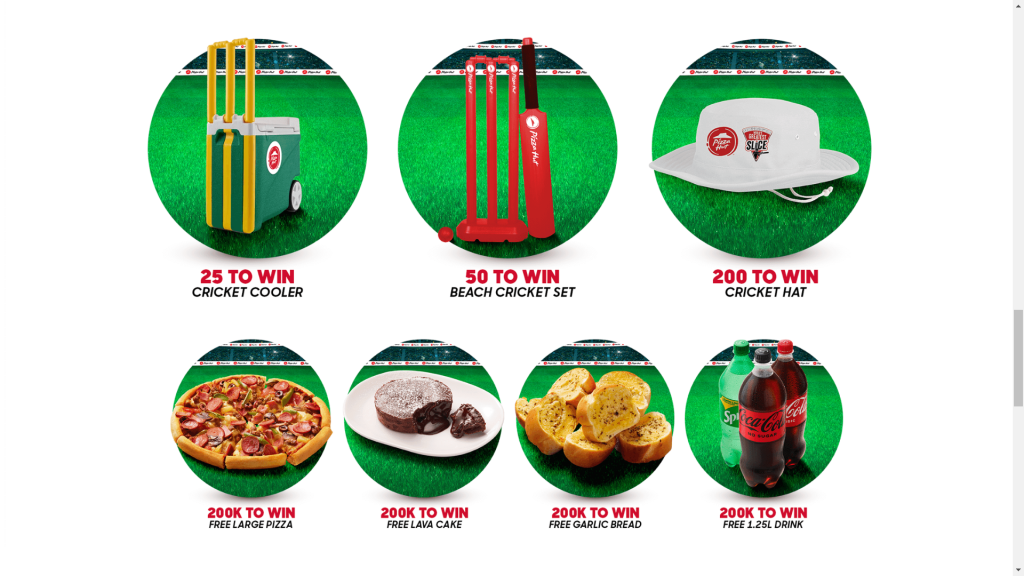 Check out their email below.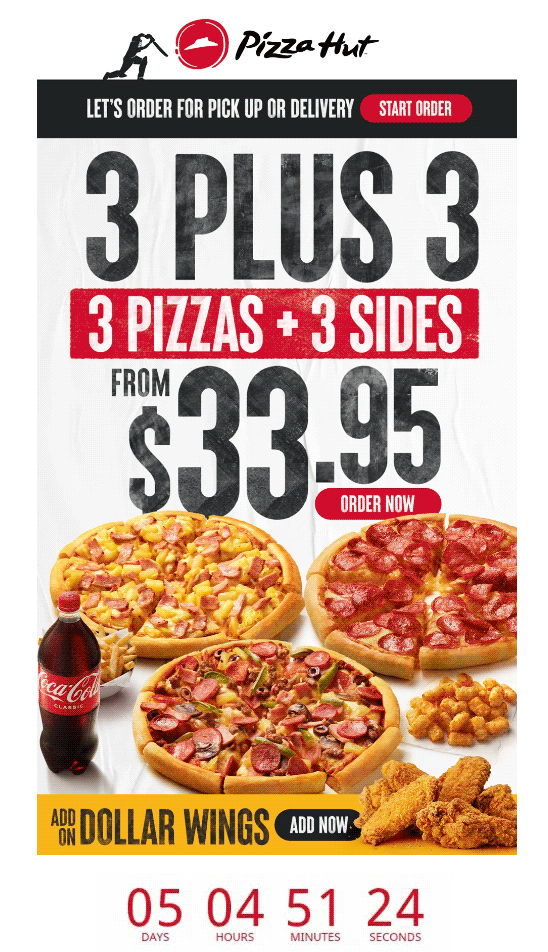 6. Put the potential savings in the spotlight
While promoting a sale, highlight the potential savings. Let the readers know how much they will save by availing of the deal. Use the header section to include all these important details.
ArtistWorks, Inc has sent a brilliant email that informs the user about the potential savings and how it will take their playing to new heights.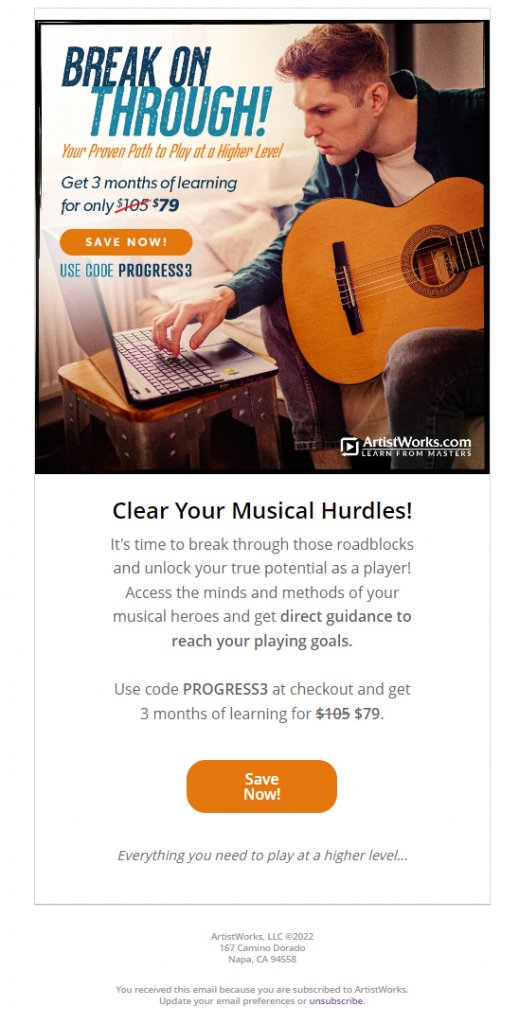 7. Include social proof in the emails
Just adding urgency is not enough. You must also share the benefits of your product and customer success stories. Feature customer testimonials in the emails as proof and instill trust in the subscriber's mind. It will also reflect your brand credibility and make more people click through.
You must have seen how to use social proof in the email by Flat Tummy Co. Alternatively, you can do it like Purple.

They have redirected the user to the testimonials section to show how they are better than their competitors.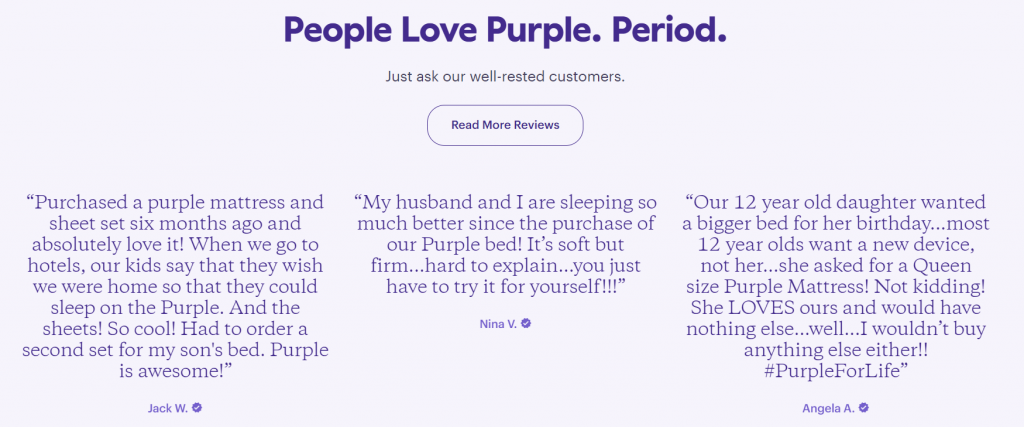 8. Repeat the time-sensitiveness throughout the email
Power of repetition is extensively used in promotional campaigns across all channels and industries (including political campaigns). Email marketing is no exception. Repeat the main message, offer, deadline, and potential savings throughout the email. Add key phrases that stress on the time-sensitiveness and uphold the idea that the user needs to act fast.
See how Hip Kids has emphasized throughout the email that it is the last chance to get the discounted products.

9. Urgency + Referral marketing strategy = Compounded conversions
If you want to drive faster business growth, promote your referral marketing strategy and offer rewards to the people who bring the first few referrals. As an example: Send an email that informs the readers that they stand a chance to win an Amazon gift card of USD 1000 if they bring in referrals by 25th December 2022. It will help you with word-of-mouth publicity and get you new customers while retaining the existing ones.
Scott's Cheap Flights sends out an excellent referral email incorporating a sense of urgency. The referral has to join before 31st January to qualify. It will make the referrals keener to sign up for their free trial and get instant conversions for your business.

4. How to Design Urgency-generating Emails?
As important as it is to create suitable subject lines and copy, your overall email design is equally important.
Let's see which are the design best practices to create urgency-generating emails.
1. Design with a warm color scheme
The overall color scheme has a huge impact on how the readers perceive your emails. Whether or not they will take action depends on the kind of vibe it created in the reader's mind. For example: Using a warm color scheme will exude an inviting feel.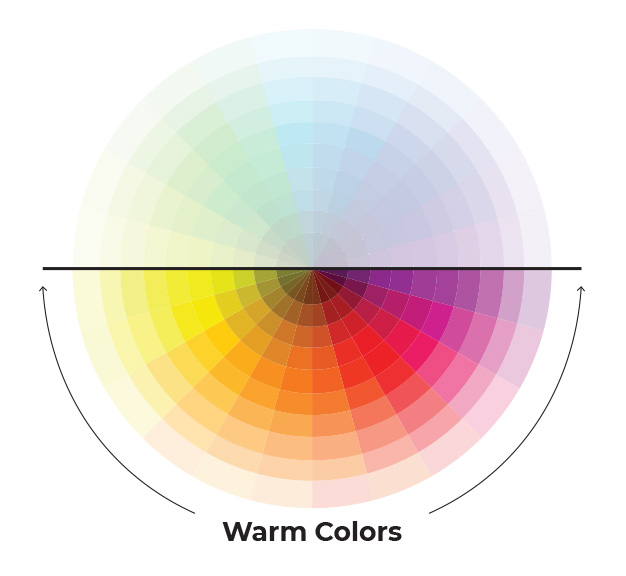 Shades of cool colors like blue and green stand less chance of getting clicks when compared to warm ones.
Pick bright colors to surround the urgent message. It will have a greater impact in comparison to muted colors.
This also holds for the CTA button. (We shall discuss it in later section)
2. Utilize the power of GIFs
GIFs have an upper hand in drawing the reader's attention. As compared to static images, users are likely to notice animations in the emails. You can animate the typography, countdown timer, or product images to entice the users to make the purchase. Use the zoom in-zoom out effect to zero in on the offer.
J.Crew has created a nice GIF to promote their extended sale ending at midnight.

3. Incorporate interactivity
The most effective interactivity that I can think of is a countdown timer. It lets the users know about the time left for the offer to expire and prompts them to make the purchase. eCommerce sites with a huge churn of products can use countdown timers to reinforce the fast-approaching deadline and the message that "time is NOW". Other industries like banking, travel, and B2B services can also use this interactive element to promote their products. It can also be used to pique curiosity before the launch of something new. Before launching the new range of Fall outfits, you can send out a countdown timer email that allows the users to register and get early access to the store.
Macy's uses a countdown timer in almost all their promotional emails, as seen in the example below.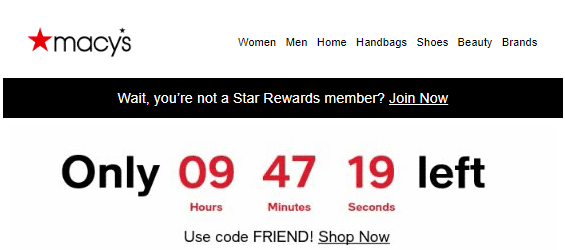 You can reach out to Email Uplers for custom email design services at the fastest turnaround time.
5. How to Create Urgency-generating CTAs in Emails?
Ultimately, it is the CTA that acts as the gateway of conversions and brings business for you. Here's how you can generate a sense of urgency through CTAs in emails.
1. Include the CTA in the first fold
Keeping the CTA above the fold along with all the deadline details will make the users more inclined to make the purchase. It will also ensure that the users don't miss out on it. Your emails will be easy to scan and call attention to the action that needs to be taken. It will highlight the primary message or offer that your email conveys.
Shapermint has included a clearly visible CTA in the first fold. Also, they have used a warm color scheme with pink shades in the background to radiate urgency.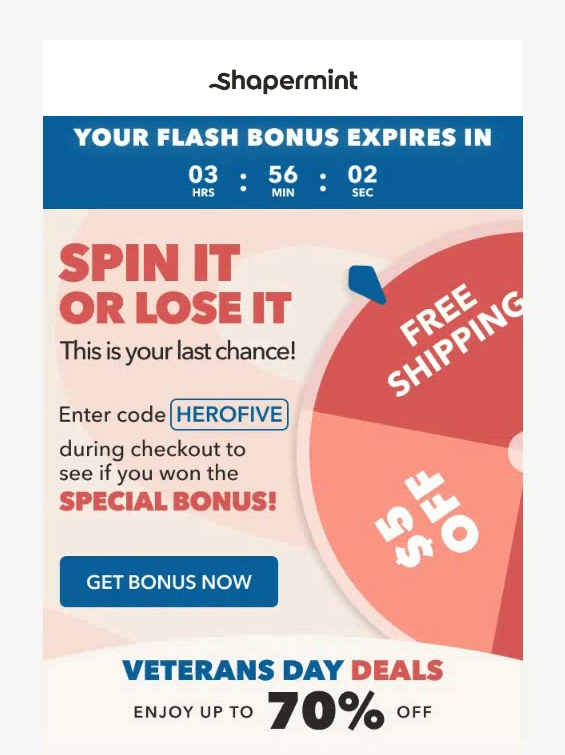 2. Write an actionable copy with time-sensitive words
Of course, you cannot make the copy of the CTA button too long. But you can always add words like NOW and Today only to convey urgency. Couple these words with an action verb depending on the purpose of the email and the action you want the users to take. To make the button more impactful, add some negative space surrounding it. Also, write in the first person. For example: "Reserve my spot now" performs better than "Reserve your spot now".
See this webinar invitation email by Validity in which they have adhered to all these best practices.
3. Maintain a visual hierarchy
In all probability, your urgency-generating email has a hero image with a countdown timer, some copy, and a few relevant visuals in addition to the primary CTA. Make sure that the CTA stands out from the rest of the elements and draws maximum attention from the readers. If you are sending out a webinar invitation email talking about limited slots left, you must highlight the limited availability at the top, let the reader know why they should attend it, and then put a "Register now" button for them to take action. You can even add testimonials, photographs, and video links to the past event to make the email more convincing. Following a natural progression from the headline, copy, and CTA is of utmost importance while creating such emails.
Head Kandy has perfectly demonstrated these practices and followed visual hierarchy in their email.


4. Use bright and warm colors
The CTA colors should be chosen in such a way that they catch the reader's eye without being too flashy. Green and orange colors are the most effective when it comes to driving click-through rates. Consider your brand personality and business type while picking the color. Use a contrasting color that is most noticeable in the email.
La Colombe Coffee has used a red CTA button to bring the reader's attention and make them purchase in a flash.

Points to Remember While Creating Urgency Emails
1. Never come off as desperate
Everyone wants sales and ROI, and that too instantly. But it is important to remember that even after incorporating urgency in emails, people might not buy immediately from you. Some people are innately immune to FOMO or perhaps, they don't need your products at that moment. Business won't grow overnight and leads might not convert as you expect. Amidst all this, it is natural that you panic. No matter how hopeless you feel, never let your emails deliver that message. It will turn off your subscribers and make them unsubscribe or mark your emails as spam.
2. Address any obstacles that might be hindering the conversion
When you send an urgency email, be prepared to solve the challenges that a customer might be facing. For instance: The subscriber could be having certain questions before making the purchase or encountering technical issues during payment or checkout. In the B2B model, they could be having pricing concerns and needing onboarding help. Make sure you share your customer support email address or toll-free contact number so that the prospects can get in touch with you and convert.
3. Schedule the follow-ups considering your sales cycle
Follow-up emails with urgency and valuable information help increase sales. Often, the subscribers are interested in making the purchase but they have gotten distracted or stuck in something else. Remind them about any time-sensitive or scarce aspect of purchasing from you and why they should do it immediately. Answer the question: What's the advantage of purchasing the product NOW? If the answer carries the conviction the user is looking for, congratulations, you just closed a deal.
4. Do away with misleading urgency messages
Some brands make the grave mistake of sending out urgency emails on a daily basis. It will make the readers resistant and they might ignore your offers. Another tactic we come across on a regular basis is the "sale extended" emails. While it helps in bringing customers sometimes, this technique has also become stale. Readers find such repetitive urgent offers boring and avoid clicking. Your product should actually be a best seller or selling out fast. Remember that your customers are street smart and you cannot mislead them with any clickbait urgent emails anymore.
5. Put on your thinking caps
We have discussed all the best practices and some pro-tips to create urgency emails. You can definitely apply them but think of innovative ideas too. Try to create urgency by using humor or any other creative ways you can think of. As email clients are getting more receptive to advanced design elements, you can always incorporate AMP technology, gamification, or APNG animations to rise above the noise in the inbox. Every other brand is adding a countdown in emails and using time-sensitive phrases. So, what else can you do? Think about it and test how it goes.
Wrapping Up
Once you have crafted a time-sensitive or urgent subject line, your email is likely to get opened. What's more important is that it gets click-throughs too. And that will happen only if the offer is genuinely urgent, relevant, and has something that can help the user.
In case you need help with creating a visually rich email for your urgency email campaigns, feel free to reach out to us and we would love to help you out.