It's not every day that you come across some visual that catches your eye, lures you to watch it, mesmerizes you and provokes you to take action as well. (like this USB clock fan)
Email Marketers are under constant strive to capture the attention of the subscribers and motivate them to take action with innovative CTA messages, Clever preview text or lucrative offers. But nothing beats the feeling of getting left out, using countdown in emails as a tool for gaining significantly highly CTRs. Adding 'Limited stock' or 'Hurry up' headline along with a countdown timer are proven strategies that help boost sales.
What makes Countdown in email tick – Advantages
Countdown in email generates a sense of urgency and excitement amongst the subscribers. It lets your readers know the amount of time left for your next big sale to begin.
Form an enthralling limited period live promotion – Reminder emails backed with countdown can be used to inform the readers about the time left for the offer to end.
Countdown in email can also be used to create curiosity and excitement among the attendees of an event or pre-launch for your next big product.
Applications
Countdown timer in emails works great for ecommerce websites. You can boost sales by offering limited period discounts on different products through emails.
Event companies can send reminder to the attendees about the event.
Banks while offering a limited period loan offer to customers can show the validity of the offer.
Automobile industry can send emails with countdown before the launch of their new car.
Retailers can inform their readers about the expiry of the abandoned products in the cart.
Countdown Timer Email Examples:
Boden – I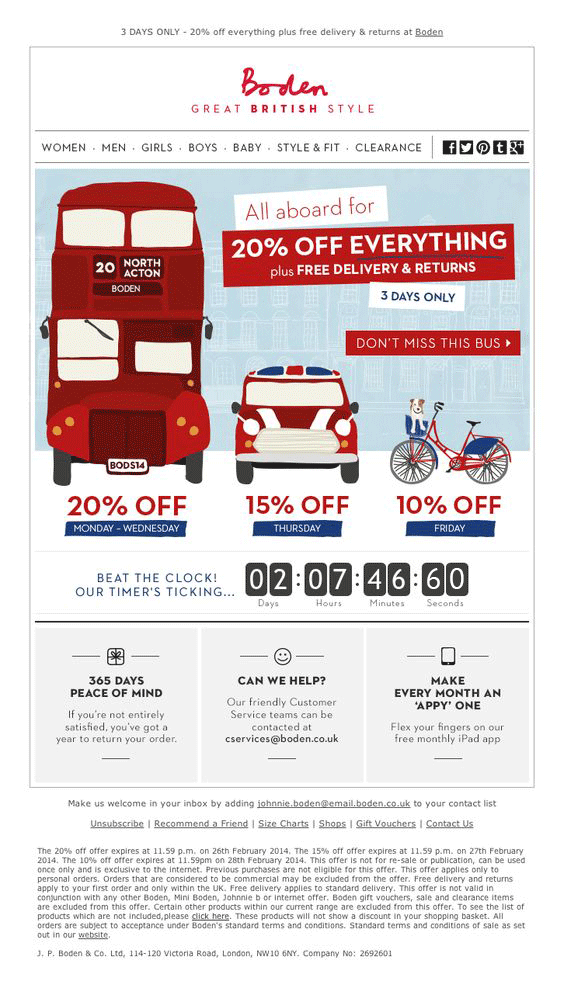 Boden – II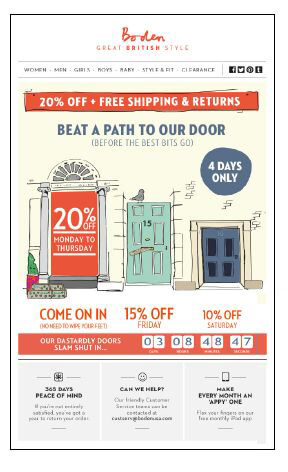 This is how the email looks at the beginning of countdown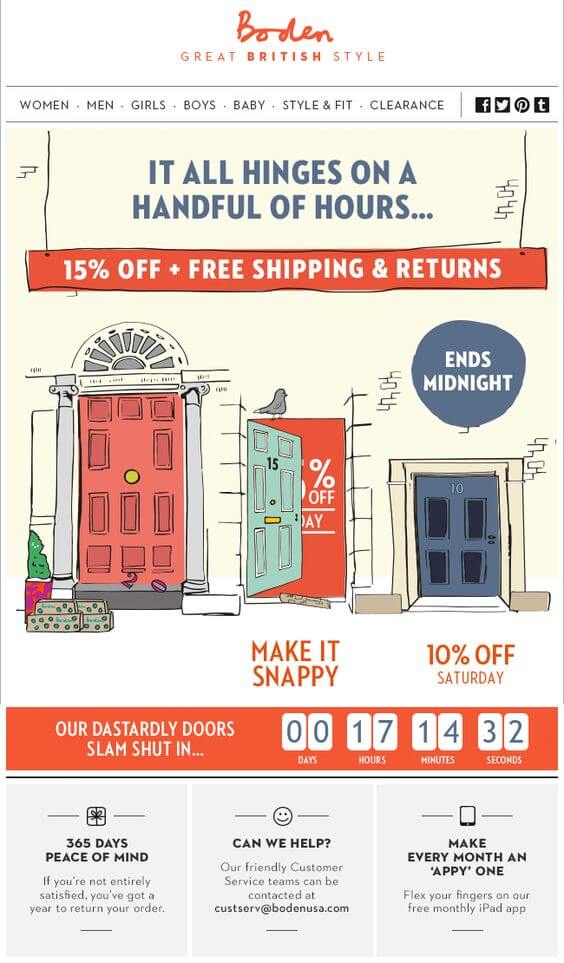 With less than one day remaining for end of sale, the first door closes.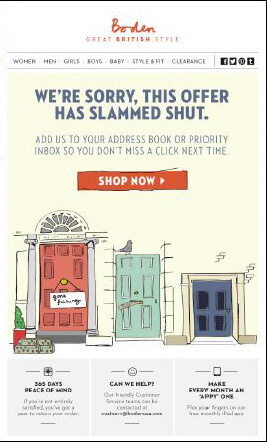 The email at the time of end of sale.
Dr. Marten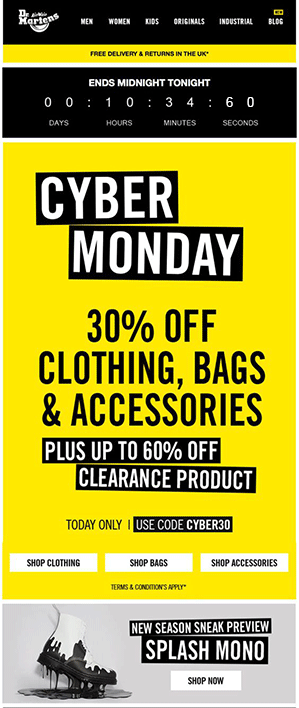 Macys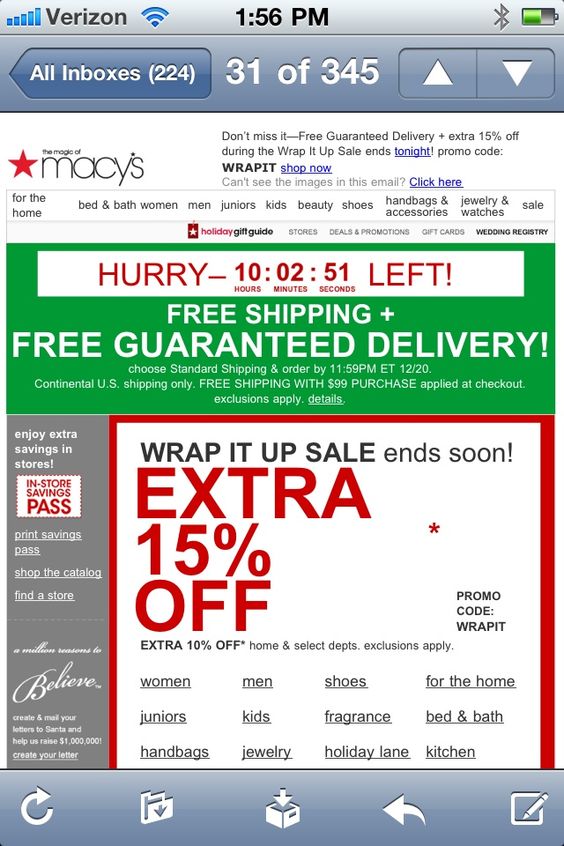 American Express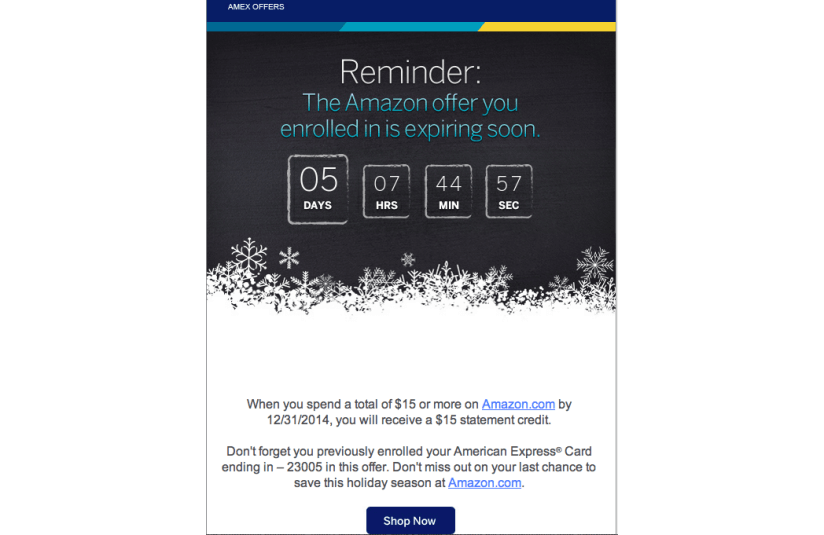 American Signature Furniture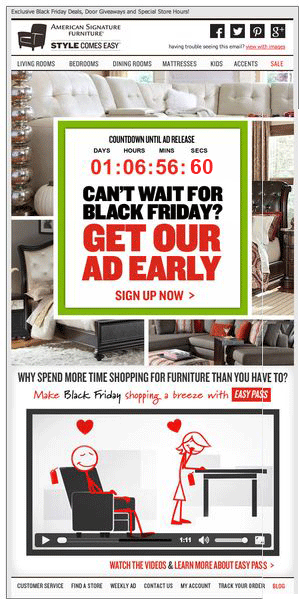 The email at the beggining of the sale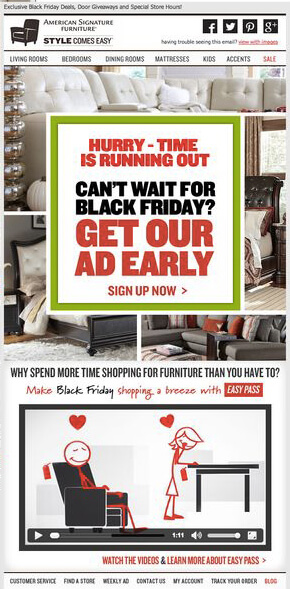 The same email when the countdown timer is zero
Humane Society

Learn more of the interactive email elements that bring out the zing in your emails.
What is your experience for using Countdown in emails? Spread the word in the comments below.