August might not have given you too many occasions to inspire your Email marketing campaigns, but it is the perfect month to get started with preparation for your Labor Day Email template.
Clothes? Check. Barbeque? Check. Long trip? Check. Email? Nope.
Before you are off to your trip, steal some time for templates that celebrates the hard work put in. Here are some of the most striking Labor Day Email examples compiled by the Uplers for you.
1. Carter
 Emphasized the huge sale of 50% off on entire store and online shopping site of Carter's brand products.
 Patriotic theme has been beautifully blended in the campaign with the US national flag stars.

2. The Children's Place
 Offered various types of discounts and offers.
 Personalized email by displaying name of the recipient on the very top left-corner.
 Highlighted the main discount offer of 60% off on entire store with US flag in the font itself.
 Gave out 50% off Back-to-School sale along with Labor Day sale (Double Bonanza!)
 Funky long Email coupled with creatively unique fonts and images.

3. Hershey Park
 Weather-centric Email.
 Best part: Utmost simplicity in the weather graphics used and the impact it has on the subscribers.
 People from the far-fetched area of Pennsylvania might be expecting less perfect weather. But, this weather forecast embedded in email itself, would tempt them to visit.
 Listed out all the reasons why subscribers should not miss out all the park attractions.
 Mentioned the upcoming events and lodging information, so that subscriber can find all the information within one email.

4. Adorama

 Addressed a strong sense of urgency in their Email campaign.
 Mentioning of "Deals End AT Midnight!", the "LAST CHANCE" stamp in Email, and text suggesting "Limited quantities left" promotes their sense of urgency.
 Last thing to notice is the sent date. Sent the Email on Wednesday following the Labor Day celebration/holiday.

5. The RTAStore.com
 Used different types of fonts to highlight discount of 30% on kitchen and bathroom wares.
 Clear value proportion: "SALE: Take Up To 30% off"
 Discount displayed over a black and white themed kitchen picture.
 Ended the Email by creating a sense of urgency.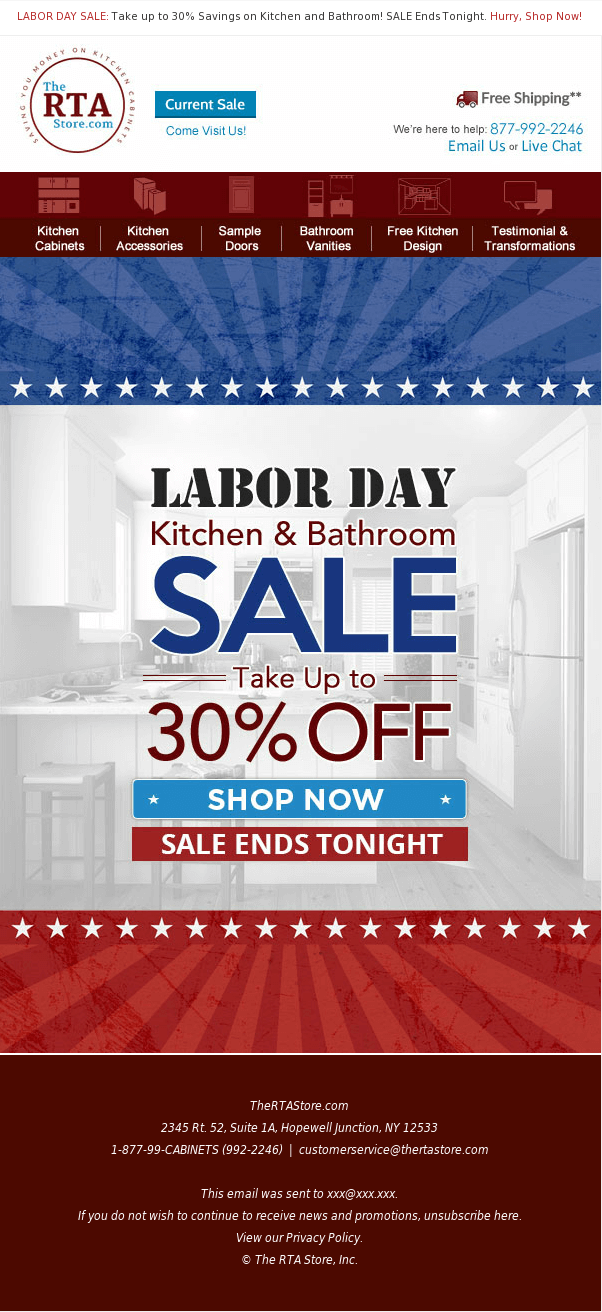 Well, it might not be having high impact as Thanksgiving or Christmas, but Labor Day serves as an excellent opportunity to bring more engagement to your Email campaigns. All you need to do is, include the following elements in your Labor Day Email campaign:
 Take Early Actions.
 Prep Emails with Creative and Unique Subject Lines.
 Focus on Theme that Makes Sense.
 Pure Selling without Social Media Element is Worthless. Get Social.
 Make it Mobile Friendly.
 Follow-Up quickly- that means NOW!
Figuring out, how to create such entirely different email template design for your Labor Day sale?
Uplers are all geared up to help you out with designing of your coming Labor Day holiday Email template!
Happy Labor Day Email template designing!