Hola, Readers! You entered the futuristic realm of automated email automation in 2023. We can't unsee the surge in AI-induced automation tools, but this is a surprise. They have incorporated AI and taken their platforms to new heights. Will they create a difference in email automation?
Having experienced my share of inbox nightmares, I can attest that dealing with a constant barrage of emails can be highly stressful. But don't worry; I'll show you the most powerful email automation tools to simplify your life. These tools can help you regain control of your emails and communicate more effectively with your audience.
Whether you're a busy entrepreneur, a marketer wanting to optimize your email campaigns, or someone who wants to spend less time staring at a screen, these 9 tools have been handpicked basis of their usability, sustainability, and variety. So unwind everything you have learned in the past, and let's explore the futuristic world of automated email!
What is Email Automation?
Email automation sends periodic emails to a specified audience responding to events or actions set up as triggers. These can range from first greetings to follow-ups after a customer purchases. And luckily, we have specific email tools for specific objectives.
You can save time and money by automating these emails, all while sending out communications more likely to engage with your target audience because of their timeliness and relevance.
You can increase engagement and click-through rates by dividing your target audience into smaller groups and tailoring their messages to each. For example, email automation allows organizations to improve customer communication while devoting fewer human resources to the process.
Look at the various types of tools that highlight the course of email automation.
Types of Email Automation Tools
Email automation tools come in a wide variety, each with its advantages.
1. Workflow Automation Tools: You can now automate email marketing campaigns using workflow automation solutions in response to user actions or events.
2. Lead Nurturing Tools: By sending prospective customers customized emails at different points in the sales process, lead nurturing solutions help businesses strengthen existing relationships with consumers and attract new ones.
3. Personalization Tools: Businesses may boost their engagement and conversion rates by using personalization tools to send out emails tailored to each recipient.
4. Analytics Tools: They offer insightful data on email performance, allowing organizations to fine-tune their email marketing strategy over time.
You can save time and enhance your engagement with consumers by using these email automation solutions, which streamline email sending and management. However, choose the one that fits your needs and requirements. Don't simply drool over the popular or cheaper ones.
But what parameter shall decide how I choose?
Here is a simple answer to the obvious question.
How to Choose the Best Email Automation Tool?
When it comes to streamlining and expediting business communication, email automation tools and platforms can be a game-changer. But there are so many products out there that picking the one that best fits your needs might seem impossible.
Consider your business's needs and email marketing plan as a starting point for making the right choice.
Think about things like how extensive your email list is, the kinds of emails you want to send, and how much customization you need.
Look for functions like segmentation, A/B testing, and analytics to enhance your email campaigns and monitor their efficacy.
The best email automation solution for you is one that works well with your existing processes, caters to your company's requirements, and makes it simple to reach your email marketing objectives.
Let's keep things simple, shall we?
Top 9 Email Marketing Tools That Are Doing Wonders in 2023
You might not always hear this, but sometimes what we are looking for is right before our eyes. And you might have encountered most of the tools listed below in some way or another. So today, I will help you eliminate your hesitation while choosing the best email automation tool for your business.
HubSpot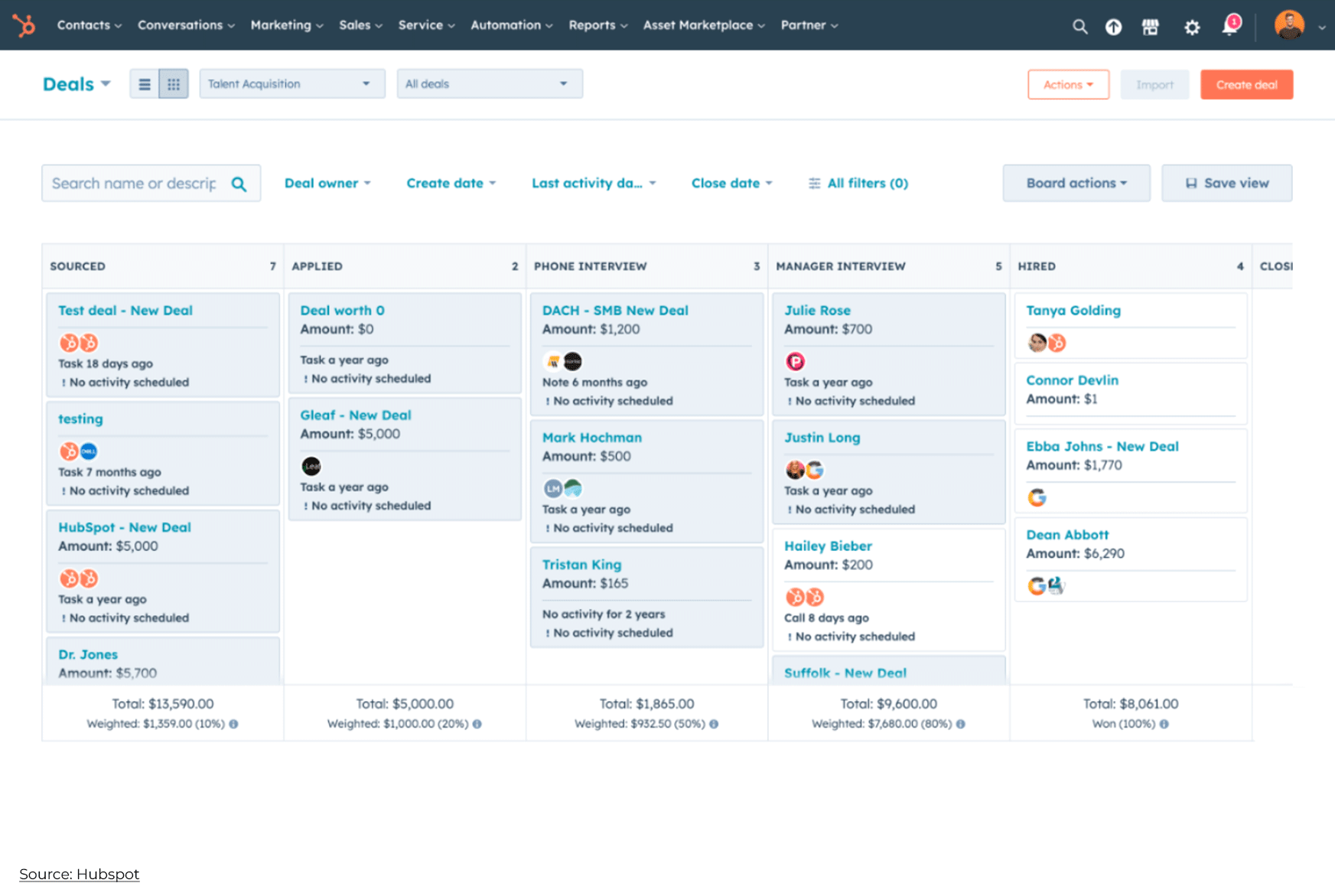 HubSpot is an integrated suite of marketing solutions, including email automation, customer relationship management, and social media management. Thanks to their email automation features, you may take advantage of automated workflow creation, consumer behavior tracking, and preference-based email personalization.
HubSpot's drag-and-drop editor and intuitive interface are the software's best features. Also, you get to personalize email content based on how your users have interacted with your website in the past.
Isn't that amazing? Ah! The best for a reason.
Mailchimp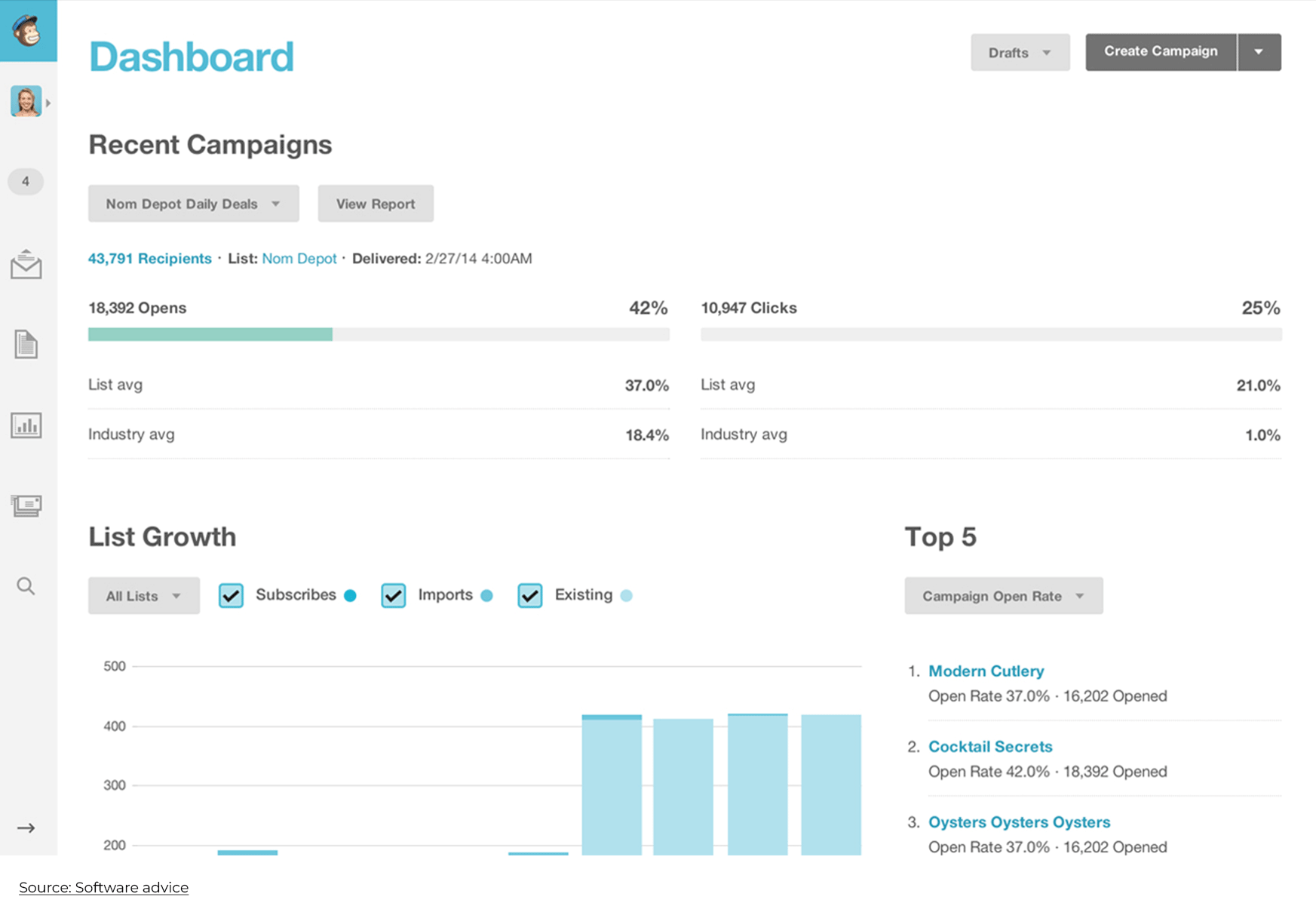 MailChimp is a popular email marketing tool with advanced automation capabilities. Mailchimp's one-month free trial plan is attractive because it allows users to send up to 10,000 emails monthly.
The dashboard displays key metrics like subscriber growth and engagement rates for you to keep a tab. You can also witness subscriber location and age range. In addition, you will receive regular tips and recommendations on improving your strategy and engaging with your subscribers more readily.
ActiveCampaign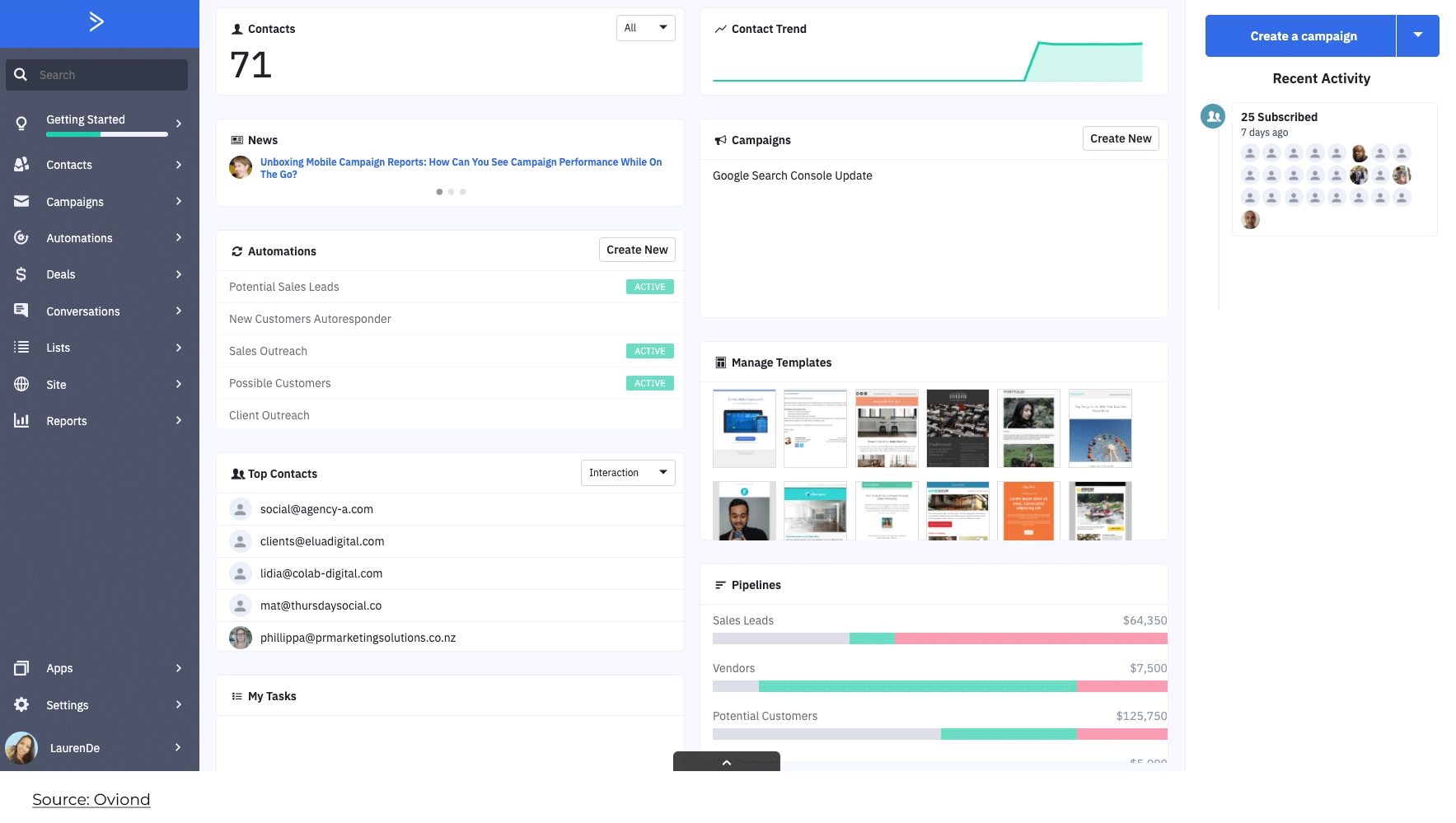 ActiveCampaign is an all-encompassing email marketing and automation platform with sophisticated tools like segmentation, lead scoring, and A/B testing. It uses machine learning algorithms to analyze a subscriber's behavior and determine an optimal time to send emails.
ActiveCampaign's site monitoring tool is handy because it allows you to monitor site visitors' actions and respond with predetermined automated emails. The automation features available include triggered emails and conditional logic. Eventually, it boosts the open rate and click-through rates.
Sendinblue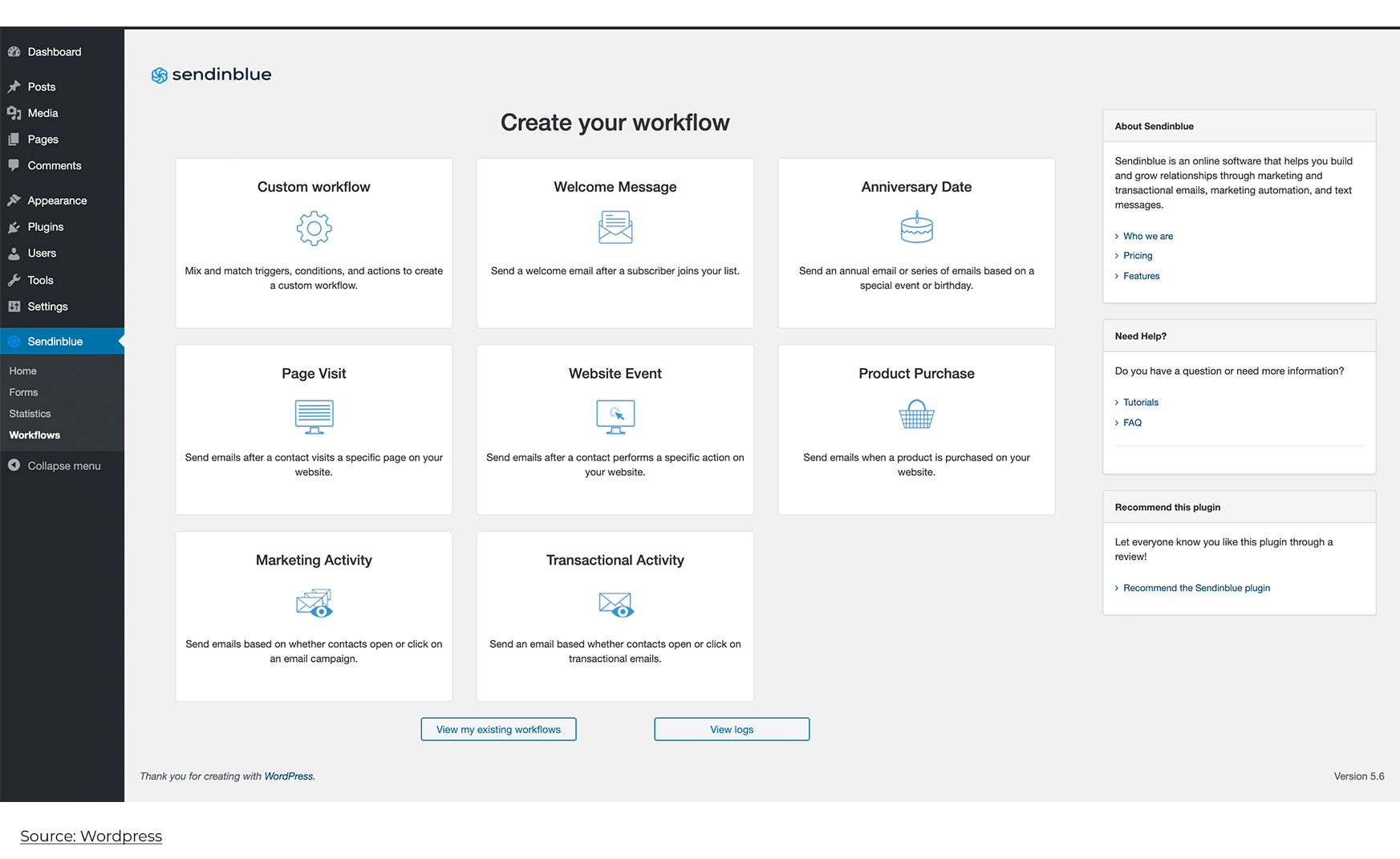 Sendinblue is an all-in-one platform for email and SMS marketing and workflow automation. It allows for managing contact lists, creating custom fields, and tracking interactions in one place.
This will assist you in segmenting your contacts and personalizing your email campaigns based on users' buying behaviors and preferences. The unique features, including workflows, triggers, and SMS marketing, put it in the favorites list of top email marketers.
ConvertKit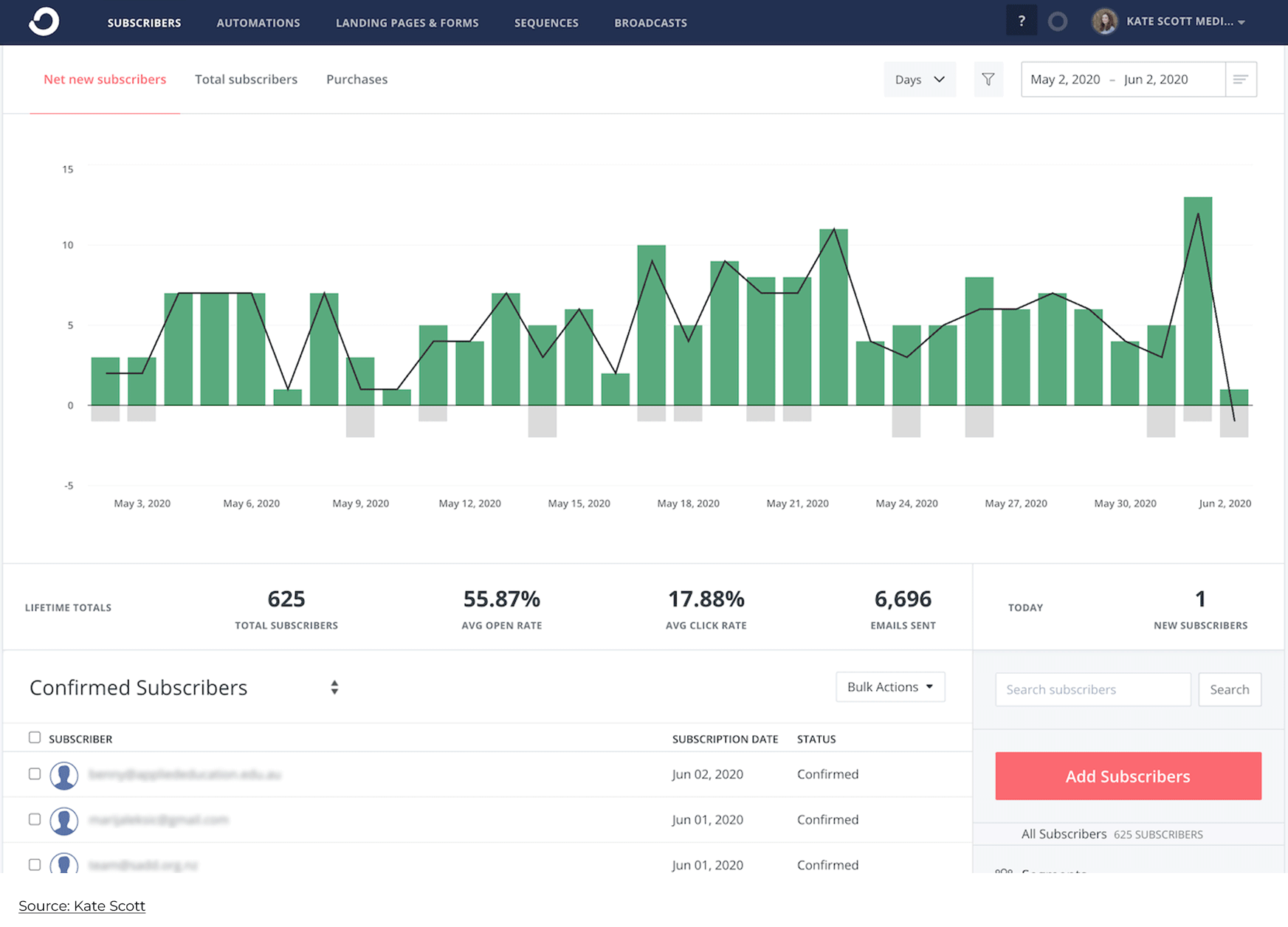 ConvertKit was developed for the needs of bloggers, content creators, and small business owners. Segmentation, lead magnets, and drip campaigns are all examples of automation features available.
The simplicity and ease of ConvertKit are two strengths. First, you can tag subscribers based on their interests. Then you can create complex email sequences with zero coding knowledge. Thanks to its visual automation builder.
Drip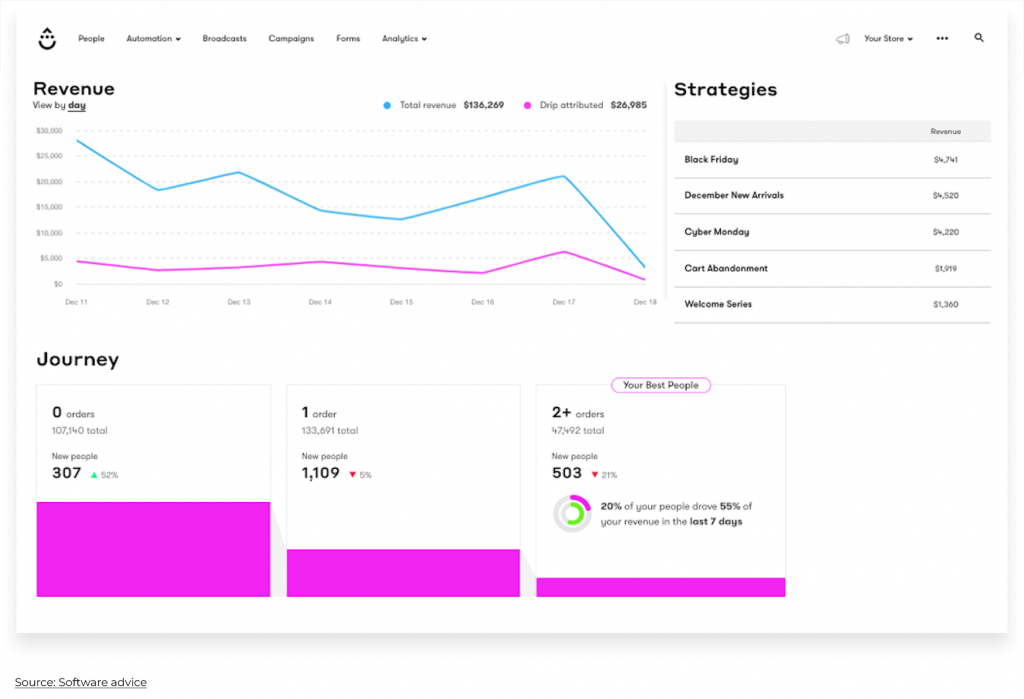 Drip is an email marketing and automation software designed specifically for the e-commerce industry, with capabilities including customer behavior tracking, lead scoring, and tailored product suggestions. Its real-time revenue dashboard tells you everything you need to know. Thus, enabling you to make data-driven decisions.
Drip's ability to connect with other e-commerce solutions like Shopify, WooCommerce, and Magento is a standout feature. It offers advanced segmentation options to help you create highly-targeted emails based on behavior, demographics, and purchase history.
Campaign Monitor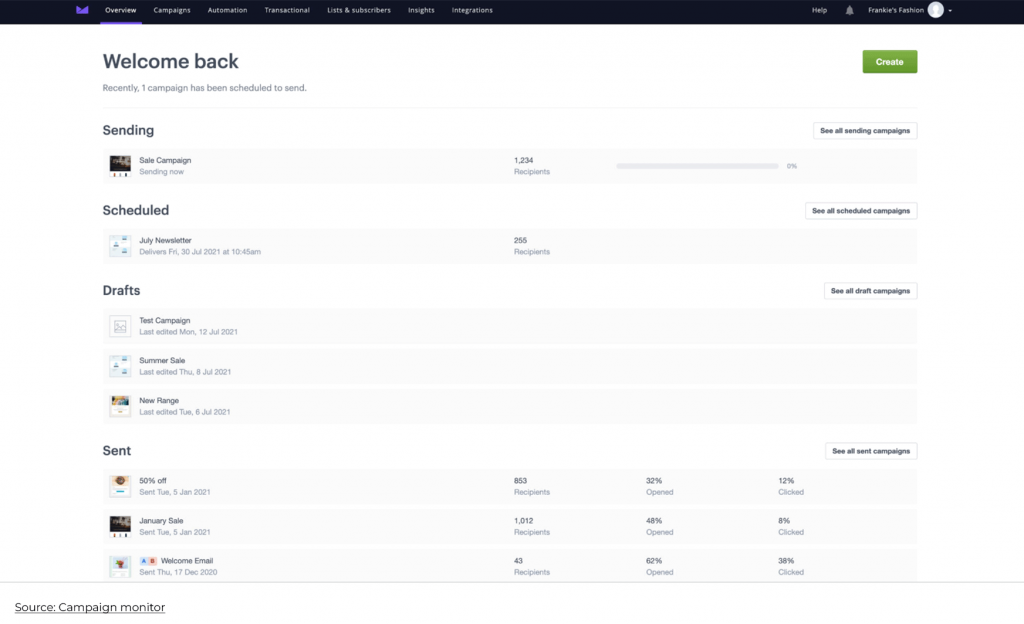 Campaign Monitor is an all-in-one solution for email marketing needs, including features like automated workflows, split testing, and more. Campaign Monitor's drag-and-drop email builder is a great feature for quickly and easily creating high-quality email newsletters. In addition, it enables sending aesthetically pleasing and customized emails.
You can do away without any coding knowledge. It allows a wide range of integrations with popular marketing platforms like Salesforce, Shopify, and Eventbrite, leading to a loyal readership and conversions at bay.
Klaviyo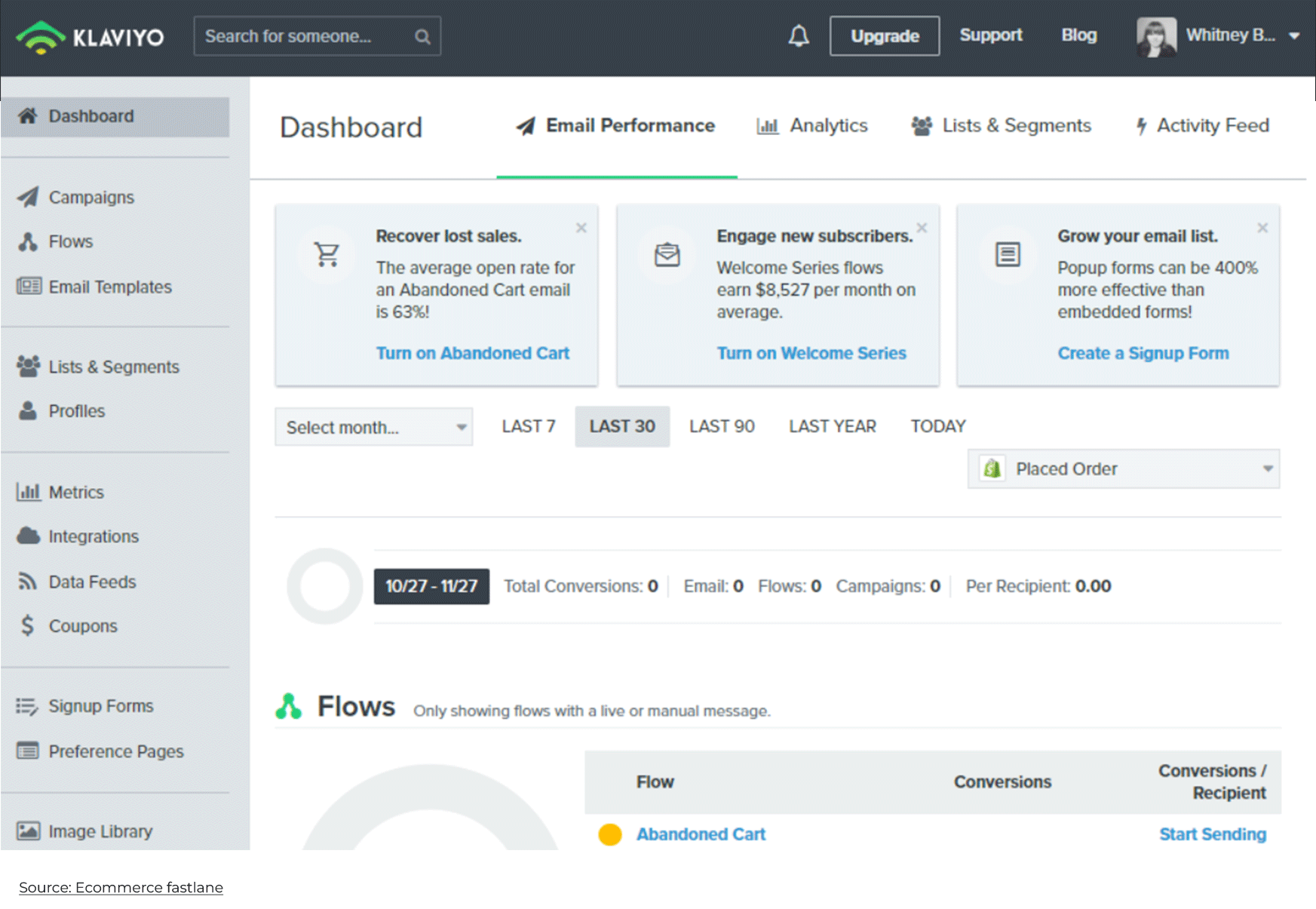 If you own an online store, you need Klaviyo, an email marketing and automation tool made just for you. Automation of processes, categorization, and tailor-made product suggestions are only a few of its characteristics.
For example, Klaviyo can track which products a customer has viewed on your website and can send targeted emails with recommendations based on their browsing history.
*remembers how I mistakenly tapped on that Barbie gift on Flipkart*
That's not it. Klaviyo can seamlessly integrate with other leading e-commerce systems like Shopify and Magento.
Omnisend
Omnisend is an email marketing and automation tool developed with the needs of online retailers in mind. Automation of processes, categorization, and tailor-made product suggestions are only a few of its characteristics. In addition, Omnisend can work with all the major e-commerce platforms.
Omnisend tracks and analyzes customer behavior like browsing history, purchase patterns, and cart abandonment. It offers unique features like SMS marketing, push notifications, and Facebook retargeting ads to help your eCommerce business reach customers on multiple platforms.
To learn more about how these tools function, try using Nykaa, Flipkart, or Myntra and add some products to your cart. You will receive magic emails about how 'the prices have dropped.' I am not even kidding.
Looks like simplicity wasn't that simple. Let me make it more evident by tabulating the pricing strategies of these tools. It will help you compare easily while choosing.
Plan/Pricing Comparison of the Best 9 Email Automation Tools
Email Marketing Tool
Paid Plan
Key Features
Hubspot
Starter: $50/month
Professional: $800/month
Enterprise: $3,600/month

CRM,
Email Marketing,
Lead Generation,
In-Depth Analytics

Mailchimp
Essentials: $9.32/month
Standard: $13.91/month
Premium: $278.25/month

Behavioral Targeting,
Marketing Automation,
Custom-Coded Templates,
Insights & Optimization
ActiveCampaign
Lite: $29/month
Plus: $49/month
Professional: $149/month
Enterprise: Custom pricing.
Email Marketing,
Marketing Automation,
CRM,
Sales Automation

Sendinblue
Lite: $25/month
Premium: $65/month
Enterprise: Custom pricing

No Daily Sending Limit,
Marketing Automation,
SMS Marketing,
WhatsApp Campaigns

ConvertKit
Creator: $9/month
Creator Pro: $25/month
Creator Max: Custom pricing

Visual Automation Builders,
Third-Party Integrations
Automated Email Sequences,
Sell Digital Products & Subscriptions

Drip
Starts at $39/month for 2500 contacts with a 14-day free trial
Unlimited Email Sends
Onsite campaigns,
Deep Behavior Segmentation,
Smart A/B Testing

Campaign Monitor
Basic: $9/month
Unlimited: $29/month
Premier: Starts at $149/month

A/B Testing,
Custom Coded Templates,
Real-Time Reporting Analytics,
Dynamic Content
Klaviyo
Starter: $20/month, for up to 500 contacts, with 5000 monthly emails.
Growth: $150/month, for up to 10,000 contacts, with 1,00,000 monthly emails.
Pro: Custom pricing

Automated A/B Testing,
Hyper-Precise Segmentation,
Drag-and-drop Automation Builder,
300+ pre-built Integrations

Omnisend
Standard: $16/month
Pro: $59/month
Enterprise: Custom pricing

Customer Success Manager,
SMS Marketing,
Unlimited Segmentation,
A/B Testing

*plan pricing is subjective to change

Key Takeaways
Tools that streamline and expedite the sending of emails can help organizations better connect with their customers.
Workflow automation, lead nurturing, personalization, and analytics are just some of the many uses for email automation tools.
When deciding on an email automation platform, you must consider your business's email list size, the content of the emails you want to send, and the degree of personalization you desire.
It is essential to find an email automation solution that works well with your current procedures, meets your specific needs as a business, and makes it easy to reach your email marketing objectives.
The most important thing to remember is that you shouldn't just go with the most well-liked or least expensive email automation solution on the market.
I hope you had a great time learning some new facets of these top 9 tools that are working wonders in 2023 already. Do not wait any longer. Instead, choose one tool that fits your needs and requirements. Rest assured, good luck with your email marketing campaigns.
Singing off. See you again. Until next time.