Email marketing has proved to be the most future-proof channel for banks and financial institutions to communicate with their customers as well as promote their new services (Source). Users exhibit great anticipation to messages focused on their finances… And why not! After all, "it is a great stress reliever to have your finances sorted." That's exactly the aspect banks should consider while sending out their emails.
It's interesting to know that financial email messages enjoyed acceptance rates above 97% in 2015. This implies that financial institutions focus on capturing accurate email information from their users and take help of automated list hygiene processes. Moreover, unsubscribe rates remained at 0.1% throughout the year. All these facts reflect how emails have enjoyed a superlative place in the world of "financial marketing" by engaging maximum users.
To enhance your financial communications and help you with future marketing strategies, We are here with some interesting email template inspirations.
Wells-Fargo

What are the positives

Pre-header text is followed by 'View Online' link.
Brand logo is above the fold for easy recognition.
A summary of the email body at the top, with CTA button right beside the hero image.
What could be improved
The email could have been lesser text heavy as the subscriber may skim over the entire content.
Notre Dame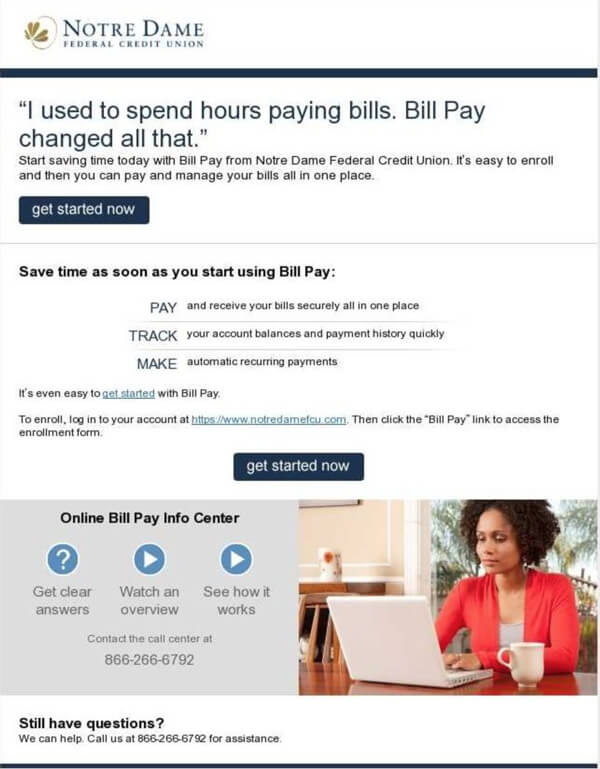 What are the positives

The headline is structured as a testimonial which immediately grabs attention.
Brief explanation of their services is immediately followed by a CTA button.
The banner in the footer acts as a redirection service to commonly asked questions.
What could be improved
A CAN-SPAM compliant footer with unsubscribe link and physical address is missing.
Aspiration Summit

What are the positives

A prominent header image with recognizable brand logo
Step by step explanation about their product's USPs followed by a banner with a prominent CTA.
The emailer content is very comfortable to read. It gives the feeling that this email is written by an actual person.
What could be improved
Overall, the email is too long to be viewed in mobile devices.
No first name or any other personalization tag may give an impression of this being a mass mailer.
The chances are that anyone who is not aware of the brand may be hesitant to click the CTA button at the first fold itself.
GoBank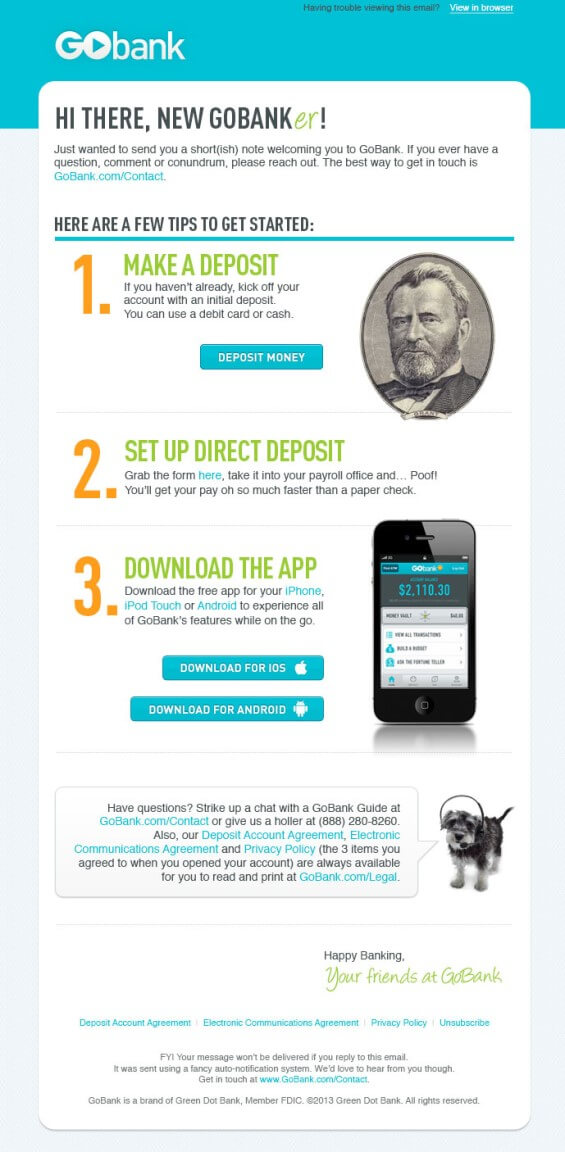 What are the positives

"View in Browser" link has been provided
Addressing the subscriber as 'you' makes the email as a one to one conversation which builds trust with the brand.
Excellent use of welcome email to shine light on their mobile app.
Before signing off the email, they have listed out links for any queries that the subscriber may have.
What could be improved
A pre-header can be really helpful for a welcome email
Personalization during greeting could help in trust building although the existing greeting "Hi There, GoBanker" is also a good one.
Regions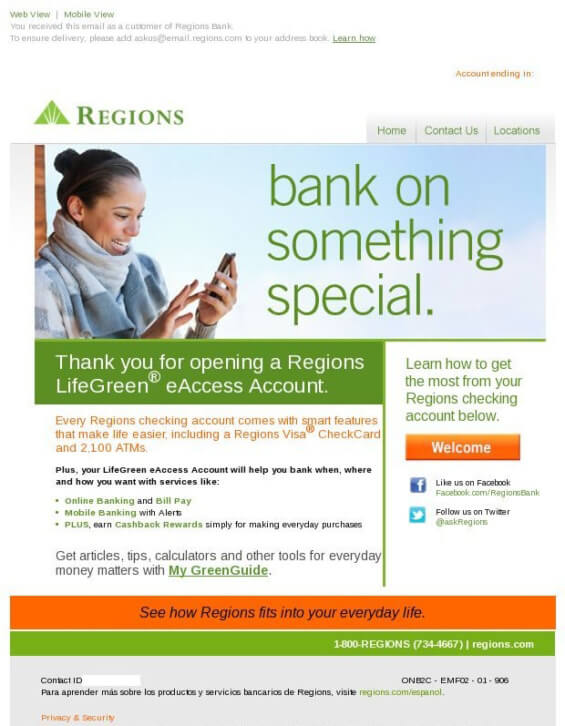 What are the positives

Portion of account number at the top gives the feel of personalization.
There's a request for whitelisting their email address. This is one of the major things overlooked in a welcome email, nowadays.
Headline is bold enough to grab attention and concise enough to convey the message in a line.
Social buttons for social media engagement are in place.
What could be improved
The pre-header text could be more relevant.
There are too many actionable links that divert the attention from the CTA button.
No CAN-SPAM compliant footer.
Wrapping Up:
Banking sector is the one that is mostly affected by SPAM and phishing emails, so it is important for your emails to be as assuring to your customers as possible. Make good use of the available resources such as subject line and pre-header text to convey your message even before the email is opened. For such emails templates, head down to our Email Template Library for some pre-designed email templates ready for coding.