Life is a grand festival filled with small celebrations. And every celebration is incomplete without sharing the joy with our near and dear ones. What better way than to throw a party for those friends and family. Though we, Uplers are miles away from a party scene yet we know that a party is empty without a theme.
Today's set of email marketing samples are from Lifestyle and Home Décor stores that can add the zing to any Holiday-themed party.
Crate and Barrel
This holiday email by Crate & Barrel is a good example of cross-selling within a promotional email. Conveying the message right from the image is a big gamble for those with images disabled. But in such cases, alt-text can come to the rescue.
Uplers loved:
Really good and connecting tagline
A relevant image to support the tagline
The footer containing their gifting guide for those who wish to do their shopping within the comforts of their home while sipping hot cocoa.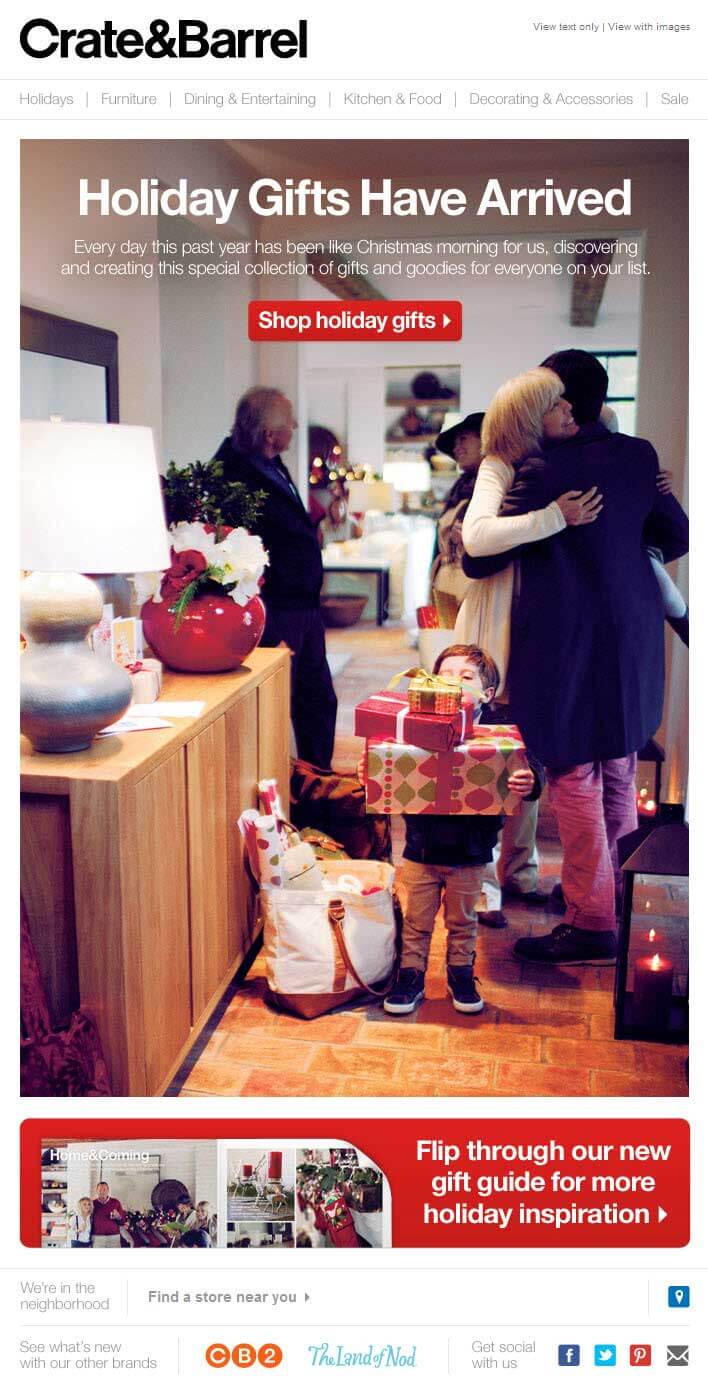 Hayneedle
New Year is infamous for people making resolutions that don't last even a week. Playing on this ideology is the central theme of this New Year sale announcement email by Hayneedle.
Uplers Loved:
The bold headline is a really an attention stealer.
CTA copy draws an analogy between their products and its relevance to different resolutions made by people.
In the top navigation, 'Sale' has a color that stands apart from the rest – a subtle, yet strategic approach.

H&M Home
Christmas comes early with this Christmas email by H&M home. The email divided into two sections, showcases how their Christmas themed products can add the holiday spirit into the subscriber's décor.
Uplers Loved:
The hero image showcases a sample living room decorated with their products inspiring the subscriber to checkout the buying process.
The subscribers are encouraged to connect with the brand via Instagram through a banner in the footer.

Novica
Multicultural Décor retailer Novica's email showcases an overall design theme revolving around Mexico.
Uplers Loved:
Central theme of blue is reflected in the email as well as the showcased products.
Creating a sense of urgency by showing only '2 days left' to grab the offer.

Pottery Barn
This holiday email by Pottery Barn is a wake-up call for last moment shoppers.
Uplers loved:
The top banner is for last minute procrastinators who don't mind shelling extra for shipping.
The Gift of the Day section
A great example of Omni-channel marketing by providing an option to find a physical store.

Williams-Sonoma
Lifestyle brand Williams-Sonoma Thanksgiving email is one with an overall clean layout.
Uplers loved:
Offering Free Shipping right at the beginning of the email.
Thanksgiving Day offers ending the same day to persuade last minute shoppers.
Sense of urgency by using terms like 'Last Day', 'Limited Quantities' and 'While Supplies last'.
Connecting the promotion with CSR (at the footer) makes the emailer more human(e).

Paper Source
Party element retailer Paper Source's Thanksgiving email is a connecting one with the giant hero image depicting thanksgiving theme.
Uplers loved:
Pre-header text reminds the subscriber that only one day left for them to avail the Offer. The same message is replicated at the footer too.
The handcrafted turkey blend well with the backdrop set up in the Thanksgiving color scheme.
The section showing 'limited' stock urges the subscriber to take action out of fear of missing out.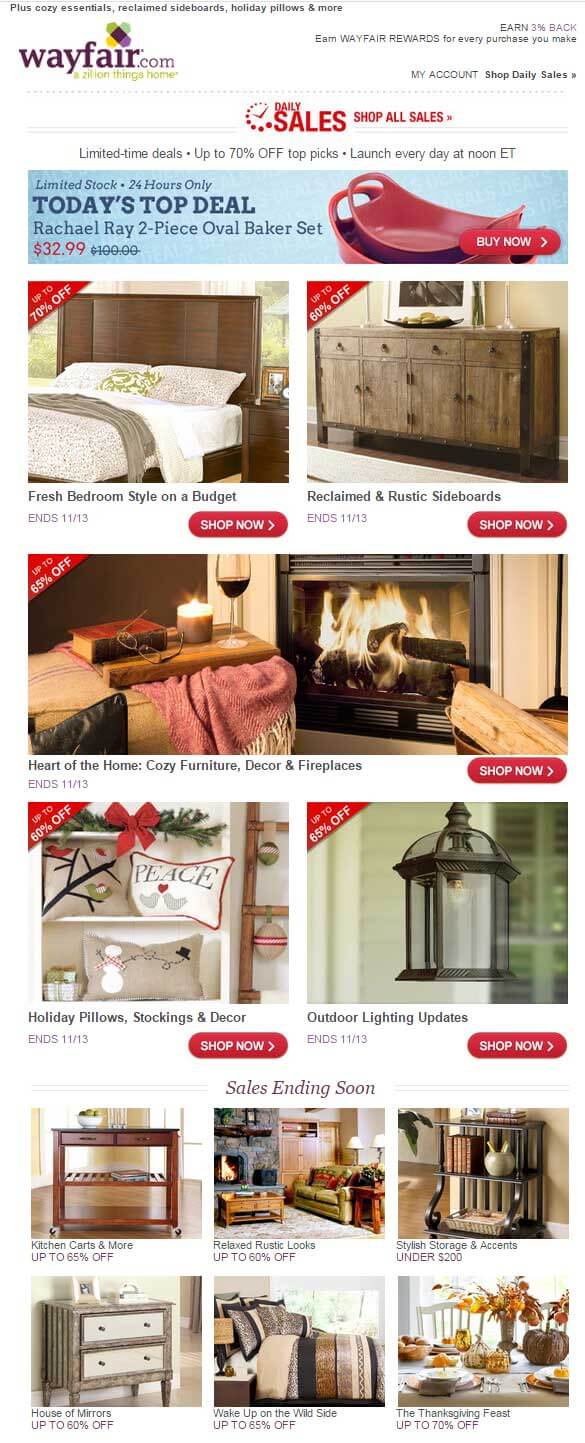 Dot & Bo
This promotional email / newsletter by Dot & Bo is an exceptionally long email but the content distribution enables the subscriber to skim through them, till they chance on something that catches their attention.
Uplers loved:
Overall clean section arranged in a single column layout.
The image, witty headline, and preview of the content followed by 'Shop Now' maintain continuity.
A banner notifying referral bonus.
A preview of the latest posts from their blog.

Uplers would suggest implementing an accordion effect for those viewing in their mobile devices. To understand how Accordion effect can shorten an email, head down to our blog.
Seeking more email templates examples? Head down to our Samples page to kickstart your campaigns this holiday season.